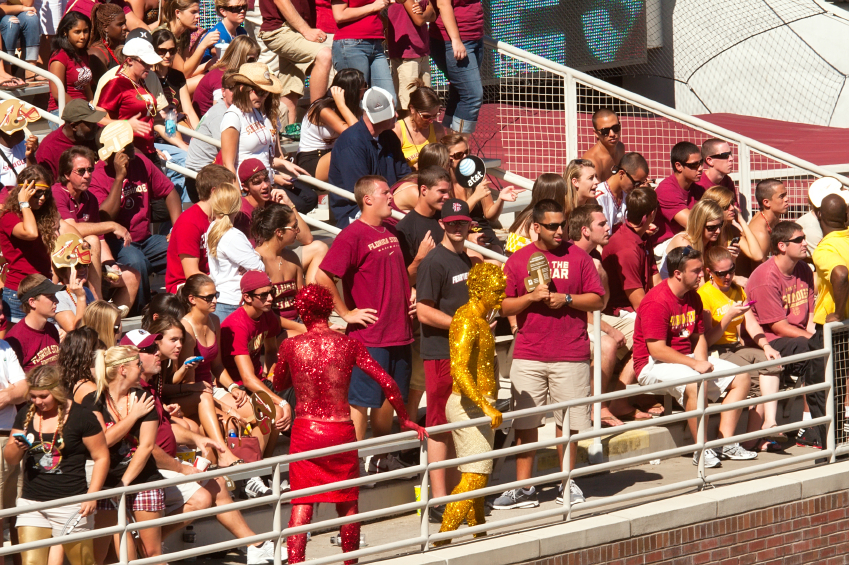 Manish Tripathi and Mike Lewis of Emory Sports Marketing Analytics released their annual report on college football fan equity yesterday.
Our approach is data and statistically driven, as we look at how fans support their teams after controlling for how well the team performs on the field, the market it plays in, and school characteristics.  For the fan equity analysis, we build a statistical model using publicly available data from the last fourteen years that predicts team revenues as a function of metrics related to team performance such as winning percentage, bowl participation, and other factors such as number of students, stadium capacity, etc.  We then compare actual revenues over the last few years to what is predicted by our model. 
When it comes to the Southeastern Conference — arguably the most popular around Emory University — the local school comes out on top for the second-straight year.
The University of Georgia has the number one ranked football fan base in the SEC according to our study.  It should be pointed out that this study covers a ten year period, and that the top four ranked schools in the SEC are also among the top ranked football fan bases in the country.  So, what separates Georgia from Alabama?   Over the period of our study, both Georgia and Alabama averaged between 9 and 10 wins a season.  However, Georgia averaged 12% more in revenues per year than Alabama.  Alabama also had a couple of years in the beginning of our sample (2002 & 2004) where the home games were not all filled to capacity.  Thus, over the period of our study, when we control for team performance and other institutional factors, the Georgia fan base is just a bit more loyal and devoted.
About Emory Sports Marketing Analytics
The Emory Sports Marketing Analytics website was started to provide an outlet for research on how sports entities (Leagues, Teams, and Players) create valuable marketing assets.  The term "sports marketing assets" may be unfamiliar, but we feel it is useful terminology for thinking about sports marketing.  In particular, we are interested in how sports organizations create brand equity and customer loyalty.   The idea is that sports organizations and their marketing staffs should focus on creating valuable brands and intense fan loyalty.  Valuable brands and loyal fan relationships are both best viewed as assets in that they provide long-term value to organizations, and because these items need to be managed and protected.  As academics, our work tends to use a combination of statistical tools and consumer behavior theory.