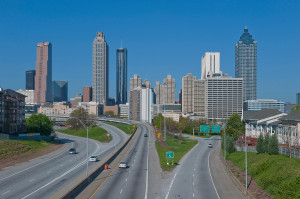 Atlanta has long been known as a destination city for American business. However, growing beyond its history as a transportation and logistics hub has come with its share of challenges.
In recent years, the city has grown larger on the global stage.
Mayor Kasim Reed routinely leads business development trips around the world and Fortune 500 companies retain headquarters in the south's largest city.
Atlanta has the nation's third-largest concentration of Fortune 500 headquarters (second to New York and Houston). It touts 94 of the Inc. 5,000.
Top 10 cities and number of companies for 2014:

New York — 205
Chicago — 95
Atlanta — 94
Austin, Texas — 87
San Diego — 81
Houston — 76
San Francisco — 63
Dallas — 55
Denver — 47
Irvine, Texas — 47
On a related note, Atlanta is the third-best city for fast growing company. As reported in Inc.com:
Business opportunities abound when you share a home base with some of the nation's biggest companies. Coca-Cola, Home Depot, and UPS all call Atlanta home. Besides gaining opportunities to provide products for these big companies, startups in Atlanta also benefit from a solid pool of tech talent from one of the nation's best engineering schools, Georgia Tech, and the potential of press coverage from media giants such as CNN.Residential Capital Management, a property service company, leads Atlanta's fast-growing companies on the Inc. 5000. More…
"The metro Atlanta region is home to more than 5.3 million people and nearly 150,000 businesses, a world-class airport, multiple parks and green space, competitive schools and numerous amenities for entertainment, sports and restaurants that all offer a top-tier quality of life," says a release on the Metro Atlanta Chamber of Commerce website. "From its diverse economy, global access, abundant talent and low costs of business and lifestyle, metro Atlanta is a great place to call 'home.' Residents have easy access to arts, culture, sports and nightlife, and can experience all four seasons, with mild winters that rarely require a snow shovel."