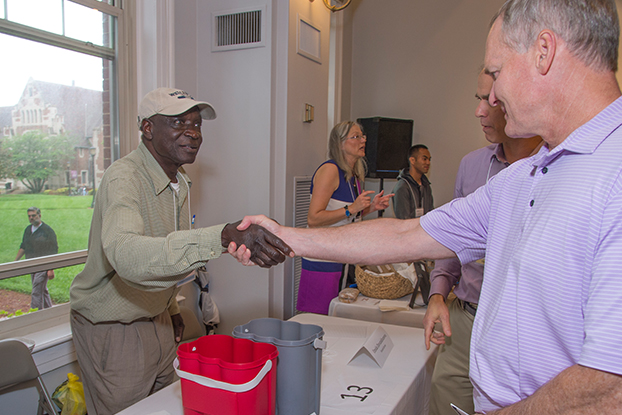 The Start:ME Accelerator is currently recruiting promising entrepreneurs in and around Clarkston, East Lake and the Southside through November 6th for its 2018 programs. Fifteen entrepreneurs in each community will be chosen to participate and qualify for up to $30K in small business grants. The inaugural program on the Southside is launching, in partnership with Focused Community Strategies and Purpose Built Schools Atlanta.
Start:ME is a free, intensive 14-week accelerator program for promising local small businesses. The program runs from January to April and operates within communities, drawing talented entrepreneurs that live, work, worship, and/or provide valuable products and services to the community. All communities offer peer-selected grant pools of $10,000 to invest in promising businesses looking to start or scale.
During the 14 sessions, and well beyond, Start:ME connects those entrepreneurs to the knowledge, networks, and capital needed to build and develop sustainable businesses. The program works across all business stages and industries – mechanics, artists/makers, bakers/caterers, farmers, tutors, and more – and focuses on entrepreneurs with promise and dedication.
The program's goal is to help entrepreneurs achieve business success and build neighborhood vitality.
"Start:ME provided the much needed 14-week dedication and refocus of my business that helped me propel to the next phase. No matter the stage of your business this program is a much needed refresher to quickly refocus and push forward!" – Jasmine Walker, Owner/Founder of King and Lola (East Lake '17)
"Start:ME helped me clarify the direction that I want to take my business. It was inspiring to be surrounded by so many motivated entrepreneurs, supportive mentors, & dedicated program staff. I would highly recommend the program to all micro-entrepreneurs who are serious about taking their business to the next level!" – Tia Culver, Owner/Founder of Tia Culver PR (Clarkston '17)
Since its inception in 2013, Start:ME has supported more than 110 local businesses that account for 186 jobs, 16 brick and mortar locations. The program has peer-selected 24 ventures to receive startup capital.
Applications are open through November 6, 2017. Learn more at an upcoming information session:
Clarkston Sessions:
Thursday, October 19th at 6 p.m. at Clarkston First Baptist Church Family Life Center
Saturday, October 21st at 10 a.m. at Clarkston Community Center
East Lake Sessions:
Tuesday, October 17th at 6:30 p.m. at Toomer Elementary School
Wednesday, October 25th at 6 p.m. at The Villages of East Lake
Saturday, November 4th at 1 p.m. at Zaban Recreational Center
Southside Sessions:
Saturday, October 21st at 9:30 a.m. at Villages of Carver YMCA- 1600 Pryor Rd SW, Atlanta, GA 30315
Thursday, November 2nd at 6 p.m. at Thomasville Heights Elementary- 1820 Henry Thomas Dr. SE, Atlanta, GA 30315
Start:ME also engages 60+ volunteer mentors with significant professional business and/or entrepreneurial experience to provide critical support for entrepreneurs participating in the program. Start:ME welcomes applications from interested business professionals.
Visit startmeatl.org for more information.