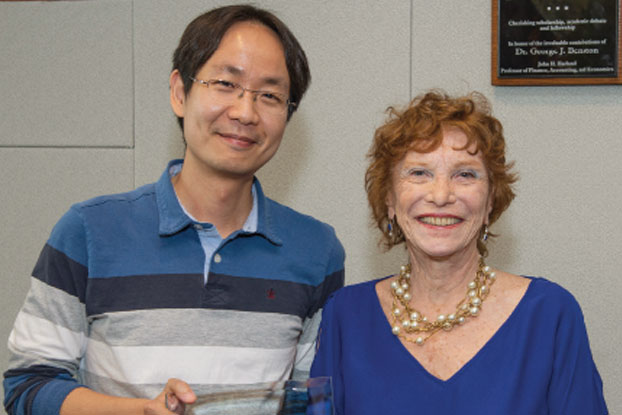 Joonki Noh, a doctoral candidate in finance, is the first recipient of the George J. Benston Scholar Award. The award recognizes a doctoral student in either finance or accounting who shows outstanding potential for academic research.
Benston was a chaired professor at Goizueta before his death in February 2008. An internationally known advocate for fairness and quality in finance and banking, Benston was outspoken regarding accounting standards and government's role and responsibilities. He wrote many papers and books on these topics and testified in Washington, DC.
"To honor George, a Benston memorial fund was  established and the monetary award we're giving out today comes directly from that fund," explains James Rosenfeld, associate professor of finance.
Alice Benston 61G, who now lives in New York, presented a plaque and monetary award honoring her husband. "With all of this anticipation, George would have just purred," she told the audience of faculty, staff, and students. To Noh, who has advanced degrees from the University of Michigan, Alice said: "I hope you have a career like his. George loved his research; he loved working with puzzling questions. He loved the people he worked with, and I really hope the same joy for you."
No stranger to Emory, Alice is a retired professor of theatre studies and has an award named after her that is presented to a theatre student or students who have shown exceptional dedication, promise, and intellectual rigor.