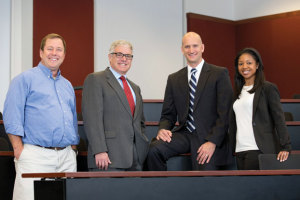 Goizueta welcomed four new faculty members for the Fall 2014 semester. They were featured in the Fall/Winter 2014 edition of Emory Magazine.
Erika V. Hall, Assistant Professor of Organization & Management
Erika Hall's (PhD, Northwestern University, 2014) research studies implicit perceptions of femininity and masculinity in the workplace. A recent study, for example, found that gender and race overlap in their stereotypes (e.g., in the US, Asians as an ethnic group are perceived as more feminine in comparison to whites, while blacks are perceived as more masculine), which has profound consequences in a variety of contexts, including interracial marriage, leadership selection, and athletic participation. Her dissertation research focused on gender, race, and person-position fit. Professor Hall's work has appeared in academic journals that include Psychological Science and Journal of Experimental Social Psychology, and her  research has been the subject of articles in media outlets such as the New York Times. She is a member of the Academy of Management, International Association for Conflict Management, and Society for Personality and Social Psychology. In 2014–15, she is teaching the Negotiations elective in our BBA program.
Edward L. Owens 03MBA, Assistant Professor of Accounting

Edward Owens (PhD, UNC Chapel Hill, 2010) comes to Emory from the faculty of the Simon School of Business at the University of Rochester. Professor Owens's research interests are in the debt and equity market consequences of financial accounting information, the effects of financial distress on the production and use of accounting information, and international accounting issues. In a recent paper published in the Review of Accounting Studies, Owens and his co-authors develop a novel approach to disentangling the relationship between stock market returns and a firm's earnings. Owens is a member of Beta Gamma Sigma, a recipient of the 2008 Kenan-Flagler Outstanding Student Teacher Award, and the recipient of a 2009 Deloitte Foundation Doctoral Fellowship. In 2014–15, he is teaching the required undergraduate Financial Accounting course.
Michael G. Miller, Associate Professor in the Practice of
Information Systems & Operations Management

Michael Miller's (PhD, Massachusetts Institute of Technology, 1996) area of focus is management science and information systems. Prior to completing his PhD, he spent 25 years in the manufacturing industry and in call center operations. He has taught at Curry College, Suffolk University, Tufts, Boston College, and most recently at UMass Boston. He describes his teaching philosophy as "focused on problem solving and pushing students hard." An avid cyclist, he annually participates in a two-day charity ride for diabetes research. In 2014–15, he is teaching Strategic Decision Analysis in the Full-Time and Evening MBA programs, and the core Data and Decision Analysis class in the BBA program.
W. Trexler Proffitt Jr, Assistant Professor in the Practice of
Organization and Management

Trex Proffitt (PhD, Northwestern University, 2001) joined Emory from Muhlenberg College in Allentown, PA. He has also taught at Franklin and Marshall College, University of California Riverside, and Copenhagen Business School. He describes himself as a passionate and innovative teacher with a range of experiences in strategic management, organization behavior, negotiation, social responsibility, and entrepreneurship. In 2014–15, he is teaching the core Strategic Management course and the Corporate Strategy elective, both in the BBA program.