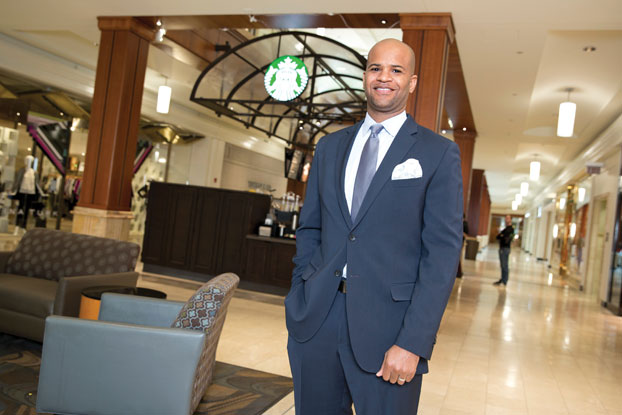 Receiving a sign that one is on the right track is good, but getting one by fax? Now that's a story, one that Jerald Estime 96MBA tells often. "I was brainstorming with a friend inside Goizueta's Career Management Center office. We were just looking for space to grab a room, talk over our interests in real estate, and put together a plan for post-graduation. Then a paper came over the fax machine."
The fax was from the investment and property management firm Hines Interests, announcing that representatives from the company would be conducting interviews at Goizueta for students interested in real estate. "It was wonderful fate," Estime recalls.
Fate, indeed. Hines Interests would be Estime's entrée into the real estate world. He joined the company after graduating from Goizueta in 1996 and for the next four years handled leasing, development, and project management. "It was excellent training ground; I learned a lot," he says.
In 2000 Estime joined clothing retailer GAP as the company's real estate manager, responsible for real estate development in the Southeast region for all of GAP's retail concepts. Over the next 10 years he climbed the ranks to senior director of real estate, working across different regions in the US, and even managing the company's mid-Western region out of Chicago and the South-Central region out of Dallas. Estime enjoyed the work, but by 2010 he was ready for something new. "I decided to stretch myself and gain experience in strategic development, facilities, and construction," he says.
That opportunity came from international coffee giant Starbucks. Estime is currently director of Starbucks's National Mall Division, where he oversees the company's 400 stores in mall locations around the country. Estime says he enjoys the job and the challenges it presents—namely deciding whether to open or close stores in certain locations in economically uncertain times. "What we do is affected by national retail trends and economic shifts. You have to be adaptable and ready for the next curve, skilled at forecasting those changes and understanding how it will affect what
we do."
The impact of online shopping on brick and mortar retailing, financial returns, construction cost, location, and strategic store deployment are all factors Estime considers when evaluating potential real estate transactions. "It's my job to ensure every deal I review meets the company's financial goals and strategic plan, not for just year one but for 10 years and beyond," he says. "At Starbucks I have the opportunity to build a business beyond the numbers. I can create a third place for customers and communities that have a legacy beyond a cup of coffee."
When Estime is not wrangling multimillion-dollar real estate deals, he's with his de facto family: the countless young athletes he coaches in baseball (Georgia Stars) and basketball. "I enjoy watching them grow—helping them grow beyond the game," notes Estime. "Sports are just a way to help many minorities stay on the right path. I tell them: most things in life are fleeting (including sports) and can be taken away, but education can never be taken from you. Continue to focus on education!"
– Nichole Bazemore