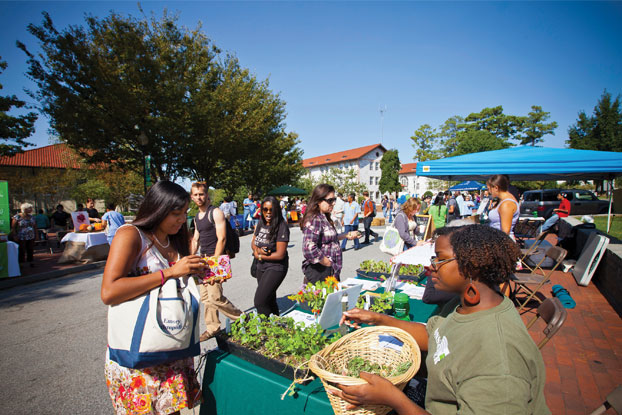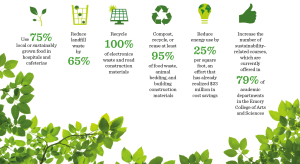 Today's leaders in sustainability approach the topic with a wide-angle lens that considers both a healthy society and a healthy planet. Emory is among those institutions leading the way, formalizing its approach in its 2005 strategic plan. "We define sustainability very broadly to
relate it to the quality of life in the community," says Ciannat Howett, director of sustainability initiatives at Emory. "It says we are going to measure our progress by looking at the environmental, social, and economic systems the University supports." In other words, the University has embraced the concept of the triple bottom line. "This was a paradigm shift for us," Howett notes, "and it's something we see the corporate world and other universities embracing, too."
A living laboratory
Emory's water reclamation facility is a prime example of its leadership in the area. Overall, the facility is expected to save the University approximately 300,000 gallons of water per day by cleaning and reusing its sewage water, saving Emory millions of dollars in potable water costs over the term of the contract.
For educational institutions, the ability to plan well into the future enables them to take on these kinds of ambitious projects and offer a proof-of-concept for municipalities and businesses. "We can show long-term savings and beta test it for folks to be able to see and study it, thereby helping to spread that technology," Howett says.
Among US campuses, Emory has one of the largest inventories by square footage of LEED- certified building space, including Goizueta's main building and the Goizueta Foundation  Center. But it doesn't take high-tech approaches to realize tremendous cost-savings; simply reducing the heating and cooling at times when buildings don't see much use reaped nearly instantaneous financial rewards for the University.
The cultural shift
Rallying others to the benefits of sustainability is a challenge Howett welcomes. "It's much more about how ready we are to change the way we live and how we use the resources," she says.
In persuading University stakeholders, she's taken what she calls "grass-top" mobilization and combined it with grassroots mobilization—a mix of leadership support and on-the-ground  advocates. "Change happens somewhere in the middle," she says. "I believe it's important in this work to meet people where they are."
Business leaders looking to make a change in their workplaces can adopt a similar approach. Howett also recommends articulating the five Rs: recruitment, retention, reputation, risk management, and return on investment. "It's easy to say 'this is the right thing to do,'" Howett explains, "but there are other very tangible, concrete benefits that come from sustainability initiatives."
– Layla Bellows