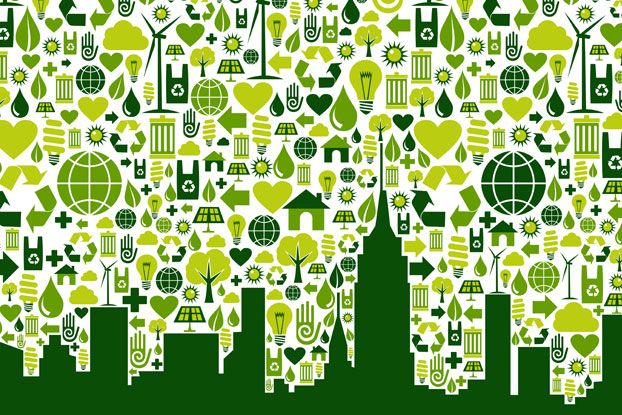 Sustainability is based on a relatively simple idea: our survival and well-being depends in large part on the extent to which we can live in productive harmony with the natural environment. Yet sustainability initiatives require a multifaceted approach, drawing on the expertise and commitment of academia, corporations, and nonprofits. The following profiles of alumni showcase just a few of our many graduates working in the area of sustainability, be it in alternative energy, community planning, product design, recycling, scholarly research, or corporate initiatives. Together they offer perspectives on what sustainability entails, how we can advance it, and what the future holds.
[accordion]
[acc title="Omar Rodriguez-Vila 12PHD
Asst. Professor of Marketing at Scheller College of Business at Georgia Tech"]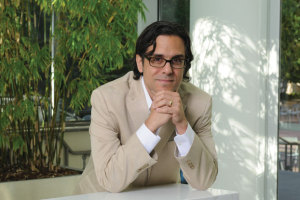 How would you define sustainability?
In business, sustainability can have many definitions. It could be about the sustainability of your financial performance or of your position in the market. To me, however, sustainability in business is about managing your company in a way that helps sustain the communities in which you operate. If your business practices or outcomes have an adverse effect on the natural environment or on community conditions (e.g., health, education, etc.), your offering will not be sustainable.
As a researcher, you study the intersection of sustainability and business performance. What are the emerging trends?
For a long time businesses have found ways of contributing back to society. Originally, most formal societal contributions were made through philanthropy. Since the 1970s and increasingly in the 1990s, the concept of corporate social responsibility (CSR) began to take a more formal role in influencing the business practices of companies. Today, primarily due to concerns in the marketplace, companies are embracing the idea of sustainability as an evolved way of finding market opportunities.  As a result, the world of NGOs and for-profit companies is coming closer together in the form of social entrepreneurship.
Companies are increasingly thinking about the integration of commercial and societal benefits in their value propositions and marketing strategies, meaning sustainability has become an investment, not just a responsibility.  Companies still do CSR and philanthropy—but they're now also looking at societal needs as opportunities for innovation and growth.
How has this evolution impacted companies' strategy and planning?
It is impacting how companies study the market.  It is not enough to understand the needs of your customers.  You need a better understanding of the stakeholder issues linked to your products as part of your business intelligence process.
Other changes I've observed relate to branding and the reasons people buy products. For many years brands appealed to consumers by emphasizing functional and emotional benefits. A third area is now on the rise: societal benefits. This is something I believe is important to many consumers today. If that's the case, then a company must be strategic in determining which societal needs it supports and how to connect it to their marketing. And those conversations need to take place at the very beginning of their planning process.
– Layla Bellows
[/acc]
[acc title="Jill Schreifer 05MBA
VP of Strategic Support Initiatives, The Urban Collaborative"]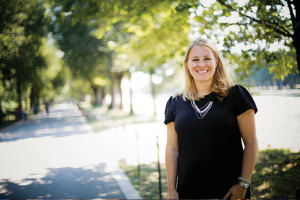 What does The Urban Collaborative do and how did your work there support sustainability?
The Urban Collaborative does a lot of  work around community planning, master planning, and sustainable  design for the Department of Defense (DoD). The DoD wants to  demonstrate leadership in the sustainability arena and already has a  number of net-zero water, waste, and energy pilot projects at its installations—a carport topped with solar panels, for instance, and a waste- to-energy facility in California.
At The Urban Collaborative, we worked with DoD teams and stakeholders at installations around the world to consider what we thought the installation facility, transportation, and green space infrastructure would look like 20 years down the road. We considered the strengths and weaknesses of a given area and assessed the opportunities to make an installation more sustainable, more energy efficient, and more functional for the people living and working there. The DoD is the world's largest builder, so if we can construct their facilities in a very energy-efficient, sustainable way, we can have a huge impact.
During your 17-year career in master planning, how has the perception and implementation of sustainable design changed?
People are thinking more critically at the outset, or as part of a planning process that incorporates sustainability. As a whole, people have a better appreciation of the fact that a building doesn't just impact the land today; it impacts it for another 50 years. People are more invested in maximizing the value of the land they're using, perhaps by going multistory or constructing buildings closer together.
For example, we can do a lot today in terms of energy-efficient design just by making buildings narrower. A building that's 50- to 60-feet wide gets a lot of natural light and ventilation, so it isn't as reliant on HVAC systems. Not every improvement needs to involve expensive technology. Solar fields are great, but that isn't the best solution for every project.
You're currently working for an organization that develops leadership qualities in teachers in order to improve the classroom experience and student achievement. What connects this job to your last one?
I was a military brat growing up, so the idea of service, or contributing to something bigger than myself, was instilled in me from a very young age. I've carried that into everything I do, from serving in the Air Force to helping design communities that can improve the way we live long into the future. Today I'm helping to empower teachers, whose work benefits the surrounding community and the next generation as much as sustainable design does.
– Layla Bellows
[/acc]
[acc title="Jim Hartzfeld 93EMBA
Management Consultant, Founder of Hartzfeld Sustainability Advisory Services"]
How would you define sustainability, and how did you become involved in it?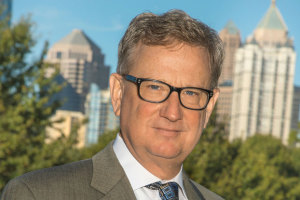 After 20 years in this field, I now see that sustainability is about "creating the conditions for thriving lives within the means of nature." Many times business perceives it as an externally imposed burden to reduce its negative footprint—a cost. The often-missed growth opportunity is to do what business does best to solve economic, social, and environmental issues.
I became involved in sustainability begrudgingly. I was a chemical engineer with a background in marketing and branding working at a carpet company, Interface, in 1994. I was assigned to lead a new task force to respond to a California customer who was asking about environmental issues. To draw participants to the task force, I pressed Interface's founder, the late Ray Anderson, to personally launch it. That challenge stimulated Ray's epiphany, leading him to become one of the biggest champions of sustainability in business. While initially many thought Ray had lost his mind, the transformation was so successful in business terms that a consulting arm was created to advise other companies.
What advice do you have for corporations on the design and implementation of sustainability practices?
It's about understanding sustainability in business terms rather than regulatory or environmental terms. It's also about understanding the connections between sustainability and your business model—translating that to saving money, materials, and energy, but also in creating growth opportunities. It can be helpful to reduce risk in the supply chain or get ahead of risk by being proactive on regulatory issues on the environmental side, but more importantly, attention to sustainability can stimulate innovation that translates to business opportunities.
Can you describe the evolution of corporate America's response to sustainable business efforts?
There's much more traction today than when I started working in sustainability. It's shifting from a burden of responsibility or regulation to an opportunity to find new platforms for innovation and value creation. Smart leaders are taking it beyond the old political debate and "jobs versus the environment" stereotypes. Unfortunately, transformation isn't a high priority when the economy dips. But you can't indefinitely forestall the need to "innovate or liquidate." The work has to be focused on integrating sustainable practices into the value engines of business, not just as bolted-on PR or efficiency programs.
– Myra Thomas
[/acc]
[acc title="Robert Brawner 06MBA
Interim Executive Director and Program Director Atlanta Beltline Partnership"]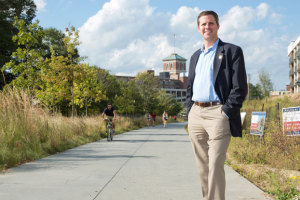 What sparked your interest in sustainability?
I had a desire to use my business skills in the nonprofit world. I had developed a strong general management background working for McMaster-Carr, a distributor of industrial supplies. That gave me a firm understanding of how business worked, while Goizueta gave me the ability to support what I wanted to do professionally and refine my business experiences. After I graduated with my MBA, an opportunity came up at the Atlanta BeltLine Partnership.
How does the Atlanta BeltLine Partnership, a nonprofit revitalization organization, incorporate sustainable practices into its strategy and operations?
Our role is to serve as a gateway for philanthropic foundations, community-based organizations, nonprofits, and businesses hoping to make a transformational impact through their support of the BeltLine, which is one of the most sustainable projects in Atlanta's history.
What attracted me to the Partnership in the first place was that it was fundamentally changing the urban core of the city, connecting sustainability and economic development. The things we are doing will shape the way Atlanta develops for centuries. We're working on supporting transportation options beyond cars—walking, biking, and public transit. Sustainability is reflected in the way infrastructure is built. For example, we've helped institute solar panels and organic land care in the parks, including the Historic Fourth Ward Park, which has a lake that serves as a storm water detention basin and attracts wildlife to the area.
Now that sustainability has become a buzzword for nonprofits and corporate America, how is the idea of sustainable building changing?
It's gone from "show me if this makes money" to an acceptance that there is value in sustainable building. But like so many things, some businesses and nonprofits do it well and others don't. Many more companies want to be associated with sustainability, from designing new buildings to retrofitting existing ones to minimize energy consumption. It's not always easy to do, but if you're willing to put innovation and critical thinking into solving problems, it's a win-win.
– Myra Thomas
[/acc]
[acc title="Lewis Perkins 00MBA
SVP Cradle to Cradle Products Innovation Institute"]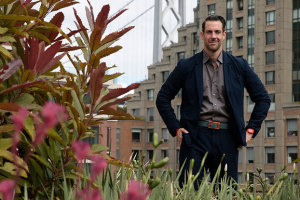 In his 1997 Goizueta admissions interview, Lewis Perkins 00MBA declared his goal "to help corporate America find its soul." Seventeen years later, he has helped diagram the future for more than 150 companies, each of which has completed the nonprofit's rigorous Cradle to Cradle Certified™ Products Program. Starting from the bottom to restructure how a product is sourced, created, distributed, and disposed, the C2C program teaches companies to think ahead and design products for reuse or recycling.
Perkins notes that corporate sustainability is "a rapidly evolving initiative." He says he is now seeing the advancement of "a more holistic and true cost approach to business" that considers not only consumer demands but also the goals and expectations of other businesses: "Most leaders are realizing that if you do not produce or provide your goods and services in a way that at a minimum has a net-neutral negative impact on people and the ecosystem (let alone creating a positive impact), then your competitors will surpass you and you ultimately won't survive."
He adds that smart companies incorporate two central aspects of the new economy: circularity and clean energy. "Unlike the linear model, where you make, use, and then toss goods, the circular economy keeps resources in use to reduce waste and environmental impacts. It also uses resources to their highest ability (ultimately saving money, as virgin materials typically are more expensive) and avoids future scarcity issues." In a clean energy economy, Perkins adds, efforts to expand clean energy production and to increase efficiency stimulate investment and generate jobs.
Perkins credits the Internet and the rise of social media as tremendous drivers in the call for accountability and transparency. "Consumers are forcing the hand of better production, safer product formulations, and improved impact on communities where we do business," he says. That means every person can have a positive effect.
His advice for becoming a more conscientious shopper? "Start small. Pay attention to what you care about most—healthy materials, landfill reduction, fair wages, or even clean water for every human—and look for products that score highly within systems such as Cradle to Cradle Certified, Fair Trade, Energy Star, USDA Organic, FSC certified, and Green Seal, to name a few."
– Alyson-Kate Long
[/acc]
[acc title="Robb Herzfeld 98MBA
Director of Sustainability and Strategy, Georgia-Pacific"]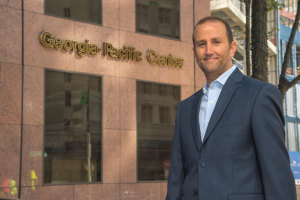 How do you—and your company—approach sustainability practices?
I'm a big advocate of how Georgia-Pacific thinks about sustainability—it's sensible and succinct. We define it as meeting the needs of society today without jeopardizing our ability to do so in the future. My personal evolution has gone from viewing sustainability purely in terms of environmental issues to seeing it as encompassing environmental, social, and economic factors. I think looking at sustainability across all three dimensions is the best way to make optimal business decisions.
What factors influenced the evolution of your thought?
It started happening after Koch Industries purchased GP in 2005. Koch's overarching philosophy is that businesses create value by
improving lives and contributing to prosperity in society. This
requires providing products and services that customers choose over alternatives in the marketplace, and doing so while consuming the fewest resources possible. This leaves more resources available to satisfy other needs in society.  As I started to learn more about "sustainable value," I realized you can't make people's lives better through environmental efforts alone. Making decisions with social and economic implications in mind, in conjunction with environmental ones, is the only way to truly improve the quality of life for all of a company's internal and external stakeholders.
You've been with Georgia-Pacific since 2001, working mostly in marketing and strategy. What motivated your move to a sustainability role in 2013?
As my career at GP progressed, I began realizing that I wanted to pursue a business position that focused on improving quality of life for customers, my fellow employees, and the communities we live in. It's a good feeling to come to work each day knowing that is the paramount goal of my job. I continue to do marketing work though; one of the areas I'm involved in is developing strategies to effectively get our sustainability story out to the marketplace.
As sustainability practices come under increased scrutiny in news outlets and social media, how has that exposure impacted businesses?
Customers and consumers are demanding more transparency regarding how companies and their suppliers go about doing business. One example of how Georgia-Pacific is responding to that demand in the marketplace is by participating in the Carbon Disclosure Project, an international nonprofit that has developed an extensive supply chain questionnaire to measure a company's level of sustainability disclosure and performance. As a private company, we aren't required to release all this information, but we have begun to do so for our customers who ask for it.
Georgia-Pacific has a long tradition of sustainability, and we want to make sure that our positive story is getting out there. In today's media environment, we've realized that if we don't tell our own story, someone else might make one up for us.
– Layla Bellows
[/acc]
[acc title="Eric Duchon 07BBA
Director of Sustainability Strategies, Cushman & Wakefield"]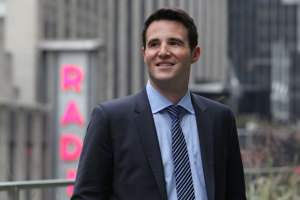 How would you define sustainability, and what led to your career in this area?
There are many definitions, depending on who you ask and their focus, but I think it all boils down to The Brundtland Commission's definition, which is "meeting the needs of the present without compromising the ability of future generations to meet their own needs." In my line of work, sustainability means making our buildings more efficient—whether that's energy efficiency, water conservation, or materials and waste management—in order to reduce the building's carbon footprint. It was actually Professor Allison Burdette who sparked my interest in this area. While I was not the most astute business law student, she knew I had interned and planned to pursue my career in real estate. She pushed me to take her B-Law 2 class, introduced me to LEED, and planted the seed of a very rewarding career for me.
Please tell us a bit about your current role and how sustainability is challenging your industry.
I have the great pleasure of coordinating the sustainability services globally for a major global real estate service firm, as well as running the US platform to help our buildings become more sustainable. Sustainability is challenging in the industry because decisions to invest in a building need to have both an environmental payback and a financial return on investment. As environmentally conscious as a building owner may be, we need to ensure they are making the right decision financially for their asset.
How do you expect sustainability to affect business in general going forward? How important are these ideas not just in terms of "responsibility," but also from a bottom-line perspective?
Going forward, I hope that sustainability becomes less of an "impact" and more a normal part of everyday business, which I think is already starting to happen. In terms of new buildings, nothing is built to a nonsustainable standard. Tenants are choosing the green building over the brown building. Whether there are higher rental or sale rates has not yet been proven, but you can already tell the quality of tenants and time to lease is impacting the capital flows of buildings. From a corporate perspective, leading global real estate services firms need to have strong socially responsible practices, as our clients, whether institutional owners or large Fortune 500 corporations, not only expect this but demand it.
– Tim Hyland
[/acc]
[acc title="Balaji Jayaseelan 14 EMBA
Head/Program Manager, Global Environment and sustainability, Newell Rubbermaid"]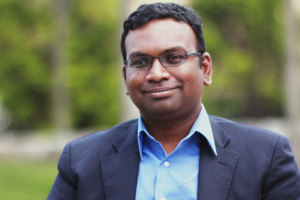 Which aspects of sustainability are especially relevant to you?
Personally, I focus on the social component of sustainability. You certainly have to look at it in terms of the impact of climate change. But there is a much more social element to it—access to water, education, and more. Sustainability is about balancing the environmental and social elements.
With your background in chemical engineering and current business leadership role, what's your perspective on the things manufacturers need to consider when thinking about sustainability initiatives?
Manufacturers have to be oriented to making the manufacturing process as green as possible—energy efficiency, waste management, and water conservation—looking at it all in terms of the supply chain and their own manufacturing. It's about launching biodegradable or recycled categories of a product and working with innovation and brand teams. Employee engagement is also a part of it. You have to change the culture of how a company thinks.
How do you get corporate America to buy into the innovation necessary to implement sustainability initiatives, given that companies are responsible to shareholders who might be concerned about costs?
It's true that companies are still answerable to shareholders, so you need to sell sustainability by explaining it in terms of the business value. There's only so much cost you can take out of the business. From the consumer end, they aren't there yet. People can say that sustainability is great, but companies are the ones that have to take the leadership role.
What's the best argument for persuading manufacturers to commit to sustainable business practices?
You have to make a solid business case for all of a company's stakeholders. Predictive analytics can help. Say we use fossil fuels to make our plastics—we are in the commodities space. Everyone is focused on short-term results, but if we don't have enough resources to manufacture our products down the road, then that's a very real problem.
– Myra Thomas
[/acc]
[acc title="Scott Bernard 09BBA
VP of B Green Group"]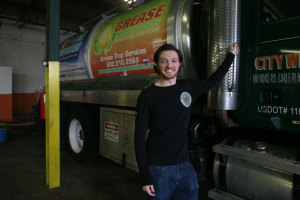 How would you define corporate sustainability, and how does it fit within your company's business objectives?
I would define sustainability in business as having multiple core values that focus on both succeeding financially as a company and improving the environment. B Green Group feels that our side of the business—producing alternative energy—truly fulfills the definition of sustainability, as we work primarily with waste products, transforming them into environmentally friendly biofuels. Our raw materials come from local sources such as a restaurant's cooking oil or trap grease, or fat and grease byproducts from animal processing plants. Instead of having these waste products go to a landfill, we recycle them and produce a sustainable fuel that can be used to heat homes, power cars, and serve a multitude of different purposes in countless industries.
How has the idea of "corporate sustainability" evolved?
Given the importance of social media, many businesses go out of their way to promote their sustainable attributes, whether they are, in reality, numerous or few. The term "green" can be found everywhere, from cereals and household cleaners to cars and big businesses. It has evolved into a simple buzzword used to improve people's views of a company and
attract consumers, without having a legally established meaning. In regards to our company, when we introduce new projects, we focus on both the financial benefits for all parties concerned and a positive environmental impact.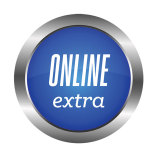 How do you expect sustainability to impact businesses going forward?
I believe that sustainable business is the future of our economy. The other day I visited a plant that takes waste concrete road dividers, grinds them up, and uses the waste concrete as filler for new dividers. It's brilliant, both as a business model and as an innovation for the sustainability movement. Companies that practice recycling not only turn waste into useful products, they also reap the benefit of decreased costs by handling the byproducts of others. The best part of our business is that it is truly green all around; it makes money and helps the environment—a win-win for all.
– Tim Hyland
[/acc]
[/accordion]