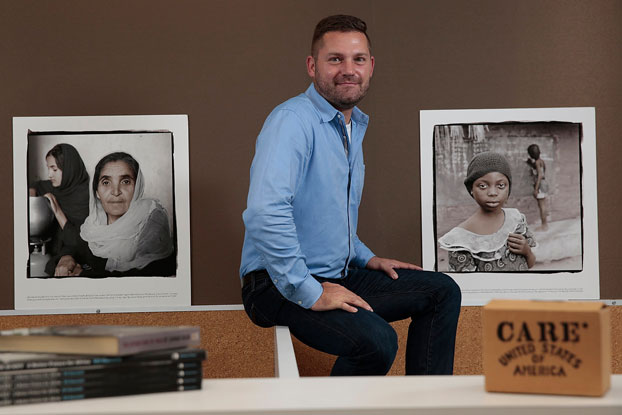 In 2013 nonprofits in the United States received more than $330 billion in charitable donations, according to a report by the Giving USA Foundation. This represents an increase of 4.4 percent over 2012, and the fourth straight year donations have been on the rise. Clearly, nonprofits are excelling in their fundraising efforts.
There's a great deal more to running a successful nonprofit, however, than bringing in money. To maximize their ability to support worthy causes, these institutions need smart strategy, efficient operations, and top-notch talent.
"Foundations, philanthropic organizations, and other nonprofits need to be run like sound businesses," says Dwayne Marshall 96BBA, director of programs and partnerships at the Southeastern Council of Foundations. "They need strong leadership, a well organized  governing board, and the talent to manage the organization day-to-day."
Working in philanthropy
Marshall's work at the Southeastern Council of Foundations focuses on the planning, development, and delivery of educational programs for the organization's 330 member foundations. He also identifies and works with partner organizations that have services and tools that can benefit the council's membership.
Operational roles like Marshall's are crucial for nonprofits to deliver on their missions.
Another example is what Kerry McArdle 99MBA does at the Metro Atlanta chapter of KIPP (Knowledge is Power Program), a network of charter schools serving low-income communities. As managing director of external relations, she is responsible for finding and marshaling the wide variety of resources KIPP needs. "While fundraising is a critical part of my team's work, our goal is to connect with people outside who want to support KIPP in any number of ways," she says. "That may be through their dollars, their volunteer efforts, or their advocacy for what we do in the community."
McArdle's lifelong dedication to education motivated her decision to work with KIPP. "I joined the Peace Corps to be a teacher but realized over those two years that, while teaching was a great match for my passion, it wasn't the best fit for my skill set," she says. So instead of teaching, McArdle supports the educational field by applying business acumen to her organization. Jordan Knight 08BBA 16MBA also served in the Peace Corps and learned that business skills can apply to almost any work scenario. Shortly after graduating with his BBA in 2008 he was stationed as a teacher in Samoa, an island in the South Pacific, and drew on what he had learned at Goizueta to help create efficiencies in how the team there operated.
Efficient internal and external communications are critical for foundations, since both the grant-making organization and the grant recipient can have numerous stakeholders involved with every project. At the John S. and James L. Knight Foundation, grants administration associate Lindsey Greenberg Linzer 04BBA works to streamline the communications process. She helps lead the team that handles the foundation's grants management portal, Fluxx, making this crew the communications hub.
"We manage everything related to a grant from start to finish," she says. "We're the point of contact for the grantee, but we also do a lot of internal operations, such as working with the staff at the foundation to put together the agreements and making sure the checks are going out the door." This role takes about 60 percent of Linzer's time. The rest is spent managing operations for internal projects as the need arises.
As director of Gap Inc.'s P.A.C.E. (Personal Advancement and Career Enhancement) program, Lucien Chan 99BBA dedicates the bulk of his time to strategy and operations. The program seeks to provide women in the garment industry, predominantly in Asia, with technical training, education, and general life skills. To support this, Chan engages with a variety of external partners to evaluate success and continue innovating and enhancing P.A.C.E.'s work. In the past year he began working with various NGOs, including CARE USA, to expand the program into new countries and communities. Bringing a business mindset to philanthropy, Gap Inc.'s P.A.C.E. program seeks to do much more than donate money to good causes. "We're very intentional and deliberate and want our efforts to have benefits for the businesses involved in addition to the social benefits," Chan says. It focuses on empowering women in Asia, for instance, because women make up about 80 percent of the garment industry, and a better-trained workforce will in turn improve the quality of the supply base there. Another Gap Inc. program, This Way Ahead, provides access to job readiness training and paid internships for underserved youth in New York City, Boston, Houston, and San Francisco.
Chan describes Gap Inc.'s approach as social investing rather than charity. This distinction is part of a broader movement, says Paul Towne 07EvMBA, senior director of strategic partnerships for CARE USA in San Francisco. "Initially, corporate social responsibility was focused primarily on improving public perception of a business," he says. Much like Gap Inc., many companies today are thinking about how their philanthropic work can feed back into organizational success: "The lines between philanthropy and new business development are becoming increasingly blurred as companies invest in new markets."
As a result, positions like Towne's have become critical for nonprofits. He works with companies to leverage assets of all kinds—cash, talent, in-kind products and services, etc.—to address issues surrounding global poverty. "As the field has evolved, it has expanded beyond cash support, now taking into account for-profit companies' core competencies," he says. "Taking a business approach rather than a philanthropic approach encourages greater scale, innovation, and sustainability."
This evolution is one reason why René Bartholomew 15EvMBA decided to pursue an MBA at Goizueta. He has been with CARE for six years now and recently became program manager for the CARE/Amway partnership. The program will deliver a micronutrient supplement to impoverished developing countries, and Bartholomew is responsible for all aspects of the relationship between the two organizations. Already he is finding himself drawing on what he has learned in the evening program. "The MBA provides a broad understanding of how companies work," he says. "Today, I can create better partnerships that will fit into a for-profit company's strategy and help strengthen their brand."
– Layla Bellows