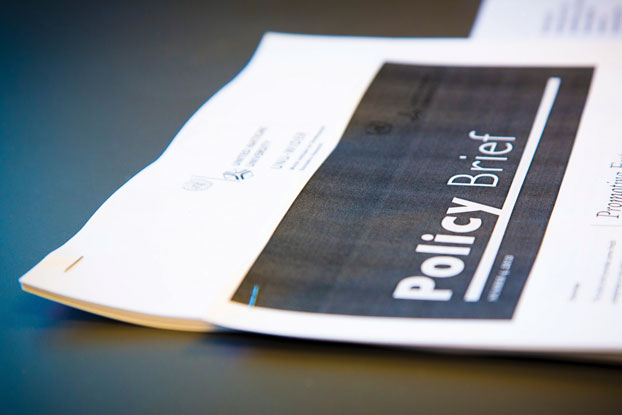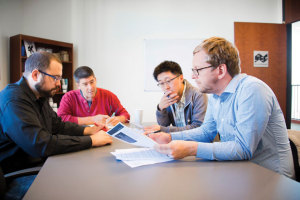 Mention the phrase social entrepreneurship, and it's likely to conjure up inspiring notions of young business people with their sleeves rolled up toiling away for a good cause. But the rather naïve ideas typically associated with the term undermine the very real business acumen required to create a business organization that promotes social change. Social enterprise exists somewhere at the crossroads of the charitable and business worlds, with social entrepreneurs applying market-based solutions and business expertise to help solve specific societal or environmental problems. When done well, it's all about moving beyond short-term fixes to the difficult challenges people face and achieving long-term change.
Peter Roberts, professor of organization & management at Goizueta, admits that social entrepreneurship doesn't have a clear definition, be it in academic circles, business leadership, or the nonprofit world. Much of the debate about terminology arises from the fact that the field is still in its infancy, and the study of it even newer. If a universally accepted definition were to exist, Roberts says it would have to take into account the externalities associated with it. "Traditional entrepreneurs create wealth for themselves, but social entrepreneurs work to create value for others," he says.
Social Enterprise @ Goizueta
It's less about coming up with a hard and fast definition than it is about pushing the work and the research to support it, admits Roberts. That's where Social Enterprise @ Goizueta (SE@G) comes into the picture. As academic director of SE@G, Roberts oversees the research center as it capitalizes on a multifaceted approach to understanding and building upon the mission of social enterprises. "Simply put, the role of SE@G is to figure out how to make businesses and markets work better for more people," he says. The program partners with a wide spectrum of for-profit, nonprofit, and hybrid organizations, with faculty and students not only doing in-depth research into social entrepreneurship but also volunteering their expertise to community organizations in the Metro Atlanta area and abroad.
SE@G takes a three-pronged approach. Research is a hallmark, with faculty and students involved in rigorous investigations that build on the school's relationships in the business and charitable worlds, as well as in the scholarly community at Goizueta and beyond. Fieldwork and outreach at SE@G engage professors and students in real-world projects, creating social change both in Atlanta and in communities outside the US. Teaching and student support activities run the gamut from targeted classes for BBA and MBA students, to mentoring and fellowship opportunities, to active impact investing and consulting.
[pullquote align="right"] 'Business as usual' just isn't producing all of the positive societal results that we need in this challenging global economy. Thus there has to be more courageous inquiry and more genuinely principled leadership to push this movement forward. – Peter Roberts [/pullquote]
By touching all these bases, SE@G is better able to learn about the work of effective social entrepreneurs, as well as to take real-time information and apply it in the field, Roberts says. While social entrepreneurship continues to gain traction, there is scant research on it, he admits. Roberts views SE@G's research-focused efforts as an important step in effectively measuring the results generated in the nascent world of social enterprise. Without those measurements and evaluations, he says, social entrepreneurs are simply spinning their wheels.
The value of data
At SE@G, research takes place both within and beyond the academic setting, with students and faculty working directly with organizations and current data to assess and improve the societal impact of social enterprises. "It's academic research in practice," says Sean Peters, SE@G program director. Peters oversees the Impact of Entrepreneurship Database program, which collects data from entrepreneurs through active partnerships with accelerator programs. These data help the accelerators to better understand the entrepreneurs they attract and support.
Roberts and Peters launched the database project in 2013, starting with a group of four accelerators, Village Capital, Points of Light Civic Accelerator, Agora Partnerships, and Accelerating Appalachia. The number of participating accelerators grew to nine by the end of 2013 and to 20 in 2014, with plans to increase the number by an additional 30 in 2015. Since its inception, the program has collected comprehensive data from more than 1,500 entrepreneurs worldwide. "It's quite timely to collect this information now," says Peters. "There's been an explosion in accelerator activity and hundreds of millions invested across the globe, but no real information on whether or not they have a lasting impact on the entrepreneurs they support."
Understanding the research
According to Peters, some of their initial findings are shedding instructive light on the success paths of entrepreneurs. For instance, the data indicate that entrepreneurs in lower and lower-middle income countries are no more or less likely than entrepreneurs from wealthier countries to find equity investors or to post positive revenues in the prior year. Ventures with women on their founding teams are much less likely to secure equity investors, yet they are more likely to show positive revenues. Li-Wei Chen 16PhD is using the Impact of Entrepreneurship Database for his dissertation to study the effectiveness of accelerators. "There's an intense and short training period for the cohort," he says, "but do people really learn from those experiences?"
In addition to the database project, a number of other research streams underpin the activities of SE@G, including work by faculty and students on microfinance, company sponsorship of philanthropic foundations, and the cross-national dimensions of charitable activity. Chen is also working with Roberts and others on research projects that examine B Corporations and the drivers of their social performance. "Social enterprise is a real hybrid, and so we wanted to understand how the backgrounds of founding teams affect their emergence and social performance," says Chen. The preliminary findings seem to indicate that B-Corp founders are more likely to come from the nonprofit world, but even more interestingly, high-performing B Corps are more likely to have a woman on the founding team.
Social enterprise in the field and classroom
Educating the next generation of entrepreneurs entails  providing opportunities for fieldwork and outreach for  Goizueta's students and faculty. Working with several local and international partners, SE@G's field programs—its economic development efforts—target social, environmental, and economic issues of concern to the Metro Atlanta community, as well as outside the country, including communities in Nicaragua, Honduras, and Bolivia. "We have scholars here who understand business and the value of networks and social capital," Robert says. "But Emory alone can't fully leverage the results of SE@G research without excellent community partners."
For example, SE@G is partnering with CDF: A Collective Action Initiative, a community-based nonprofit organization, to deliver the Start:ME accelerator program. The program leverages the Village Capital model of peer-based enterprise development to create a unique 14-week experience for entrepreneurs in Clarkston, GA. Promising micro-entrepreneurs are offered the business know-how, networking opportunities, and early-stage financing necessary to develop their businesses. Since 2013, 30 entrepreneurs have completed the program, and six ventures have received low-interest business loans. In 2015 the Start:ME program will expand to support additional micro-entrepreneurs in other Metro Atlanta communities, starting with the East Lake neighborhoods, thanks to a new partnership with the East Lake Foundation.
The intent is two-fold—creating successful entrepreneurs and strengthening local neighborhoods—says Brian Goebel 09MBA, program director for Start:ME. "This is a bit different than the usual model," he adds. "We're operating in marginalized communities that typically don't have a lot of entrepreneurial support or the ecosystems more common in affluent communities. There will always be a need for traditional philanthropy and traditional nonprofit organizations, but there's also a real place for hybrid organizations and social enterprises in community development."
Whenever possible, the Start:ME program brings Emory students into its communities. Jeff Kim 15MBA served as a business mentor to the 2014 Clarkston entrepreneurs, while Eva Zenilman 14C and  Jonathan Cheng 15BBA offered weekly support to the same cohort. "We believe that these early exposures to real micro-entrepreneurs will help us develop a new breed of social entrepreneurs in the years ahead," says Roberts.
Understanding principled leadership
And while some might question this deep commitment  within a business school to social and environmental issues, Roberts points to Goizueta's mantra of "principled leadership." Although he sees Goizueta's current efforts as small steps in what is becoming a growing global movement, the value of this research-centered program can't be underestimated, he says. "I do believe that as a top-ranked business school and research university, we must be devoted to figuring out how markets can make things better for more people. Business as usual' just isn't producing all of the positive societal results that we need in this challenging global economy. Thus there has to be more courageous inquiry and more genuinely principled leadership to push this movement forward."
– Myra Thomas