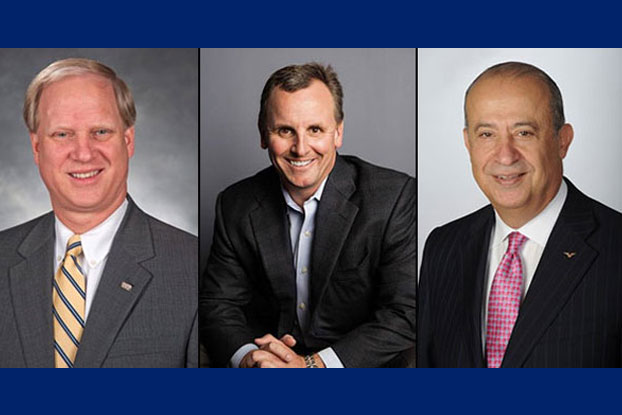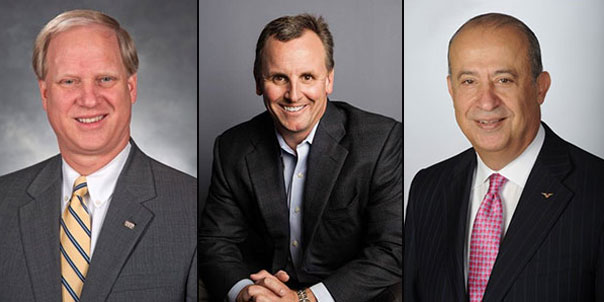 The spectrum of leadership development within the Goizueta Business School has gained another dimension.
[pullquote]"Being a successful leader, it's important that you listen, you learn, then you lead."[/pullquote]Starting this month, students will be offered a chance to hear from top business executives in settings not found in a traditional classroom. Goizueta's Leaders-In-Residence Program will equip students with tools to enhance their MBA experience. Starting with three prominent leaders, the program will provide connections with students and faculty, impact the next generation of leaders and build on their established connection with Goizueta.
"This, among everything else we're doing in leadership development, builds upon providing our students an opportunity to hear from leaders that have been successful in life," said Ken Keen, Associate Dean for Leadership Development at Goizueta. "Being a successful leader, it's important that you listen, you learn, then you lead."
Keen added it's important to learn about leadership from all sectors of society, including areas of nonprofit organization, government and business.
One goal of the program is for the leaders to connect with students from a range of ages and academic levels, from undergrads to seasoned executive MBA. A secondary goal of the program is to create a network of leaders who are connected to — and affiliated with — Goizueta that can develop collaboration in the business community.
Three experienced executives have accepted appointments to join the program, and their commitments mean at least one two-day visit each semester for one year. They will serve as guest lecturers in business and leadership courses and meet with faculty and students in small group sessions.
Tony Charaf recently retired from Delta Airlines after nearly 18 years where he served as a senior executive. During his career at Delta, Charaf was Senior Vice President and Chief Cargo Officer.
A Goizueta alumnus, Tom Beaty is founder of Insight Sourcing Group and SpendHQ, and has more than 20 years of strategic sourcing and management experience. He received the 2012 Alumni Entrepreneur of the Year Award from Emory University, and was named an Ernst & Young Entrepreneur of the Year Finalist in 2013.
Thomas Kuntz recently retired from SunTrust Banks, Inc. where he served as Corporate Executive Vice President and as President and Chief Executive Office of SunTrust Banks, Florida. Kuntz was the Commercial and Business Banking and Geographic Leadership Executive for SunTrust.
While the leaders will provide a wealth of varied experiences about business and leadership, students will hear from them in a variety of settings, including lunches, dinners, question-and-answer sessions and other panel discussions.
That expertise will come from people who have done something that students aspire to do themselves, said Robert Kazanjian, Vice Dean for Programs at Goizueta and Professor of Organization and Management.
"We're really quite energized about what this will bring to the school," Kazanjian said. "I would like it to be something students benefit from, but Leaders-In-Residence also see it as a growth opportunity for themselves."