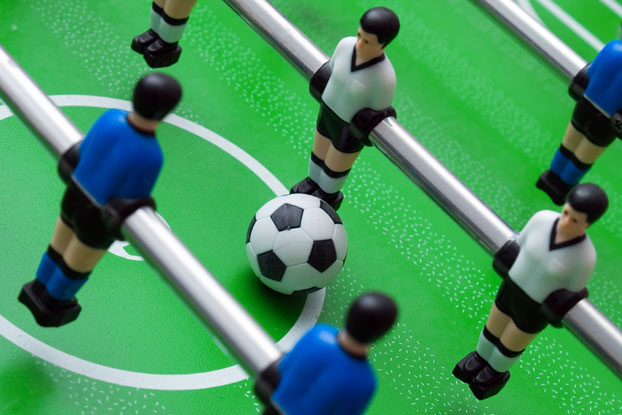 Tuesday evening the United States Women's National Soccer Team defeated Germany to advance to the final match of the 2015 FIFA Women's World Cup. It's one of the premier events for FIFA, the world's premier soccer governing body.
It should be a happy time, but the association is mired in controversy of late due to a series of scandals and events.
According to Emory marketing expert Manish Tripathi, long-term struggles with sponsors loom on the horizon. According to a sports finance expert, FIFA's shortcomings and corrupt behavior could easily be predicted.
"I was not surprised, even a little bit, when I heard last week that the top officials of FIFA were involved in bribery," Goizueta Business School's Tom Smith writes in The Conversatin. "In fact, my first reaction was 'Of course.'"
[pullquote]I am sure the last thing they wanted was the negative publicity of a drawn-out public fight between Sepp (Blatter) and the authorities.[/pullquote]
Wide scale accusations of corruption in FIFA's ranks led its president, Sepp Blatter, to step down from the organization last month. Smith says FIFA's structure itself leeds to shady business.
There are 209 nations in FIFA. Each sends one representative to the organization's "congress." Congress elects 24 of its members to an executive committee of vice presidents and at-large members which oversee operations. The committee has complete power with "virtually no accountability," Smith notes.
"… It's not as easy to fire your VP or committee members," Smith writes. "So the VP and the committee members take care of themselves. They take bribes and make decisions regarding the World Cup and other tournaments in such a way that they are compensated."
Enter corruption, accusations of bribery and human rights violations connected to the 2022 World Cup in Qater and any number of sponsors looking to bolt from association with FIFA and its leadership. McDonald's, Coca-Cola, and Electronic Arts have each weighted in publicly on the issue.
Sponsors "make up such a large part of FIFA's revenues," Emory's Tripathi told The Associated Press. "I am sure the last thing they wanted was the negative publicity of a drawn-out public fight between Sepp and the authorities."
And the drama continues.
Just this week FIFA took criticism for an article it released mentioning U.S. women's star Alex Morgan with additional comments on her "looks." According to FOX Sports: "One Twitter user asked if FIFA would be commenting on Ronaldo's looks on the day of a World Cup semifinal. FIFA also was criticized after the match tracker on FIFA.com referred to the players by male pronouns during the tournament-opening match between Canada and China in Edmonton."