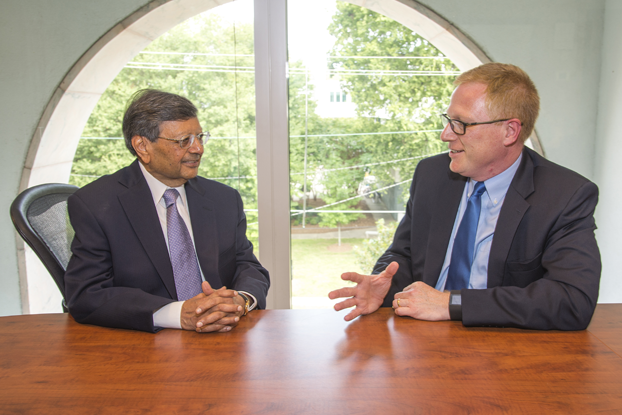 [soundcloud url="https://api.soundcloud.com/tracks/235448950″ params="auto_play=false&hide_related=false&show_comments=true&show_user=true&show_reposts=false&visual=true" width="100%" height="600″ iframe="true" /]
From economists to entrepreneurs, the business world has its eyes on India. With its ever-expanding population, newly successful stock market, and the increasing wealth and education of its middle class, India is an emerging superpower with unlimited potential for growth. Indian native Dr. Jagdish Sheth, Charles H. Kellstadt Professor of Marketing at Goizueta, and Philip Wainwright 85C 85G, vice provost for global strategy and initiatives and director of the Claus M. Halle Institute for Global Learning at Emory University, sat down with Emory Business to discuss Emory's involvement in India.
The university's new "Global Vision," directed by Wainwright, will expand Emory's reputation as a leader in international scholarship and service by deepening its work in five countries, including India. The country was pinpointed as an area of opportunity because of the extensive work Emory is already doing in India and as a commitment to further develop relationships there. For example, the Emory Vaccine Center and other public health initiatives represent a large portion of Emory's work in India, but as Dr. Sheth explains, there is potential for more than just foreign aid. India needs and wants consumer goods, education, and professional training—and they're willing to pay for it. As someone so closely connected to India and to the scholarship of emerging markets, Dr. Sheth provides invaluable insight into ways Emory can not only be a benefactor in India but also greatly benefit from partnerships there.
Podcast audio edit by Kyle Calloway