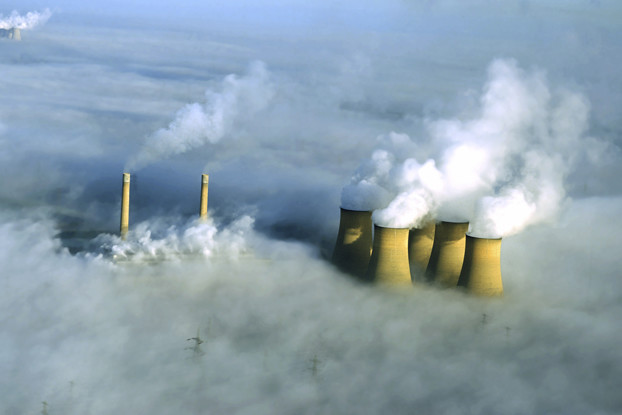 EDITOR'S NOTE: The following report is from an EmoryBusiness.com series on the intersection between business and politics. The comments of faculty experts are not meant to reflect a political leaning, merely an understanding of issues and what — if any — involvement the government can have.
A catalyst to move the conversation about climate change will most likely appear when the debate on its authenticity ends.
Fierce rhetoric on the existence of climate change (and human involvement) remains between Republicans and Democrats. In many ways it's an old argument — business versus regulation.
But is there a new hope?
"I'm optimistic on this that we'll see some movement on the debate," said Wes Longhofer, assistant professor of Organization and Management at Goizueta Business School. "I think there's enough of a growing consensus among Americans that climate change is real."
Longhofer said many of the early moves in Washington have come from executive order. Republicans, however, still resists some forms of regulation.
Greenhouse gas emissions cuts are among several initiatives already cast by the White House. They include freezing construction of new coal-fired power plants, stopping methane leaks from oil and gas production and increasing vehicle fuel economy.
Longhofer's research on the topic across several nations suggests energy efficiency is a cost-effective strategy for reducing aggregate energy consumption and greenhouse gas emissions. However, skeptics contend that, since efficiency lowers the price of energy and energy services, it may increase demand. That could lead to a rise in total emissions.
Longhofer said 97 percent of scientists believe climate change is real and that 60 percent of Americans agree. Economic impact could help mobilize a movement about climate change and convince others that it needs to be addressed.

The issue was also studied by The Risky Business Project in an effort to quantify and publicize the economic risks from the impacts of a changing climate.
Risky Business Project co-chairs Michael R. Bloomberg, Henry Paulson, and Tom Steyer tasked the Rhodium Group, an economic research firm that specializes in analyzing disruptive global trends, with an independent assessment of the economic risks posed by a changing climate in the U.S.
The Risky Business Project divided the country into regions.
In the Southeast, for example, which in 2013 accounted for 12 percent of the country's GDP and 88 percent of its exports, climate change poses a risk to productivity. Climate change could negatively influence agriculture yields, lead to increased electricity demand, and in some cities, such as Miami and New Orleans, sea level rise will put significant amounts of existing coastal property at risk.
The White House's plan is to reduce greenhouse gas emissions by nearly 30 percent over the next 10 years. The plan is a joint pledge with China, which has laid out a plan to drop emissions after 2030.
"We can achieve this goal using laws that are already on the books, and it will be in place by the time the president leaves office," said Brian C. Deese, Obama's senior adviser on climate change, in The New York Times.
Once the issue is viewed through a prism of a magnitude of economic costs and not a scientific debate, policy progress could be made, Longhofer said.
Globally, the discussion centers on efficiency from technological investments that could give way to an unintended consequence of a more efficient power plant generating more carbon emissions.
While the issue is not among the most talked about during the current Presidential campaign, Longhofer sees two events that could spur further conversation. The Pope's recent visit to the United States, and United Nations meetings in Paris in December could set a tone for the political campaign.
During his visit to the U.S., Pope Francis said climate change can no longer be left to a future generation. The Pope added that he sees climate change as a peril to what he called our "common home."
But any agreement reached in Paris may not be adopted by the U.S.
"There's a good chance it won't mean much for U.S. policy," Longhofer said.
Obama favors a cap and trade program, which China recently adopted, but there's a chance the next President could repeal or end that program. Republican leaders have strongly opposed Obama's plan and said the United States could not meet its targets.
"This is the challenge of something so big and complex," Longhofer said. "It really has a hard time of being anybody's top issue."
Also, a natural disaster could cause climate change to rise above the rhetoric. In recent years California droughts and Hurricanes Sandy and Katrina have moved the needle.
"If climate change is real and gets worse, are we prepared for it," Longhofer said. "It might get folded into discussions about, 'Is the U.S. prepared for a natural disaster?"