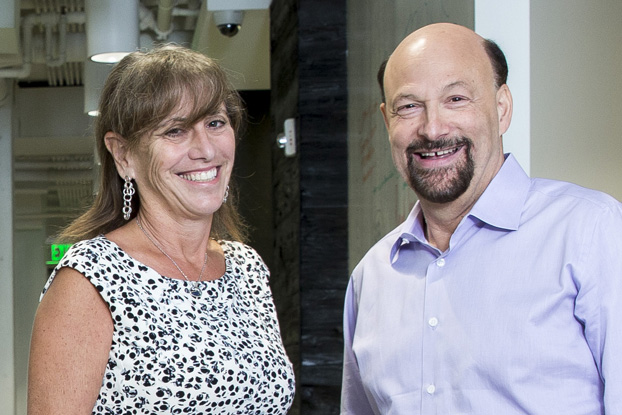 Charlie Goetz, senior lecturer in organization & management, and Andrea Hershatter, senior associate dean and BBA program director, believe in empowering others to unleash their entrepreneurial dreams. In a recent conversation, they shared ongoing projects and the experiential elements that make Goizueta a destination for entrepreneurship.
Q: Goizueta is actively and intentionally expanding its support for students with entrepreneurial interest. Are there any new and exciting programs under way that emphasize the plan?
Hershatter: Entrepreneurial initiatives moved into higher gear as a result of the strategic planning process. One of the most exciting is our sponsorship of Atlanta Tech Village (ATV), a collaborative office space for startups. Through an innovative "Pitch the Professor" program, student ventures compete for one of eight designated desks in the Emory ATV suite.
Additionally, we have added courses including Applied Lean Startup, Entrepreneurial Accounting, and a class that places students in new ventures to solve real-time problems. We have also introduced a BBA area depth in entrepreneurship.
Goizueta has launched additional initiatives such as the RAISE Forum, which helps Southeastern startups connect with investors, and the African National Drug Discovery Institute (ANDI) partnership, which enables Goizueta students to work with Emory faculty and African scientist-entrepreneurs to commercialize biotech innovations.
Q: The Emory Entrepreneurship Summit is entering its third year, and alumni have been an integral part of this offering. Why do alumni play such a vital role in its success? How do students benefit?
Hershatter: The Summit has been an amazing opportunity to fully tap into the power of our alumni network, and it has featured a tremendous assortment of alumni speakers. Additionally, an incredible array of alumni entrepreneurs have traveled across the country to serve as panelists, judges, and mentors. Their successes serve as an inspiration to our students, and their insights add immeasurable value to the student experience.
Q: You recently took 27 MBA students on a trip to Israel. What impact did it have on you and them?
Goetz: The students came away with exposure to a country that is fully behind initiatives to foster entrepreneurial ventures. Israeli entrepreneurs often think outside the box for business solutions. Our students were able to observe this process up close and were amazed by the vast number of startup tech companies.
Q: The Emory Entrepreneurship Ecosystem includes space at the ATV. How will this move raise Goizueta's profile and benefit our students and alumni?
Goetz: While many business schools have recently introduced incubators on their campuses, these incubators do not provide students with anywhere near the value offered through our ATV partnership. Our students get to interact with almost 1,000 people working at 300 entrepreneurial ventures. In addition, all of our students have access to proven entrepreneurial mentors and weekly workshops, as well as access to funders who come to seek out their type of businesses. That makes for a much more robust atmosphere.