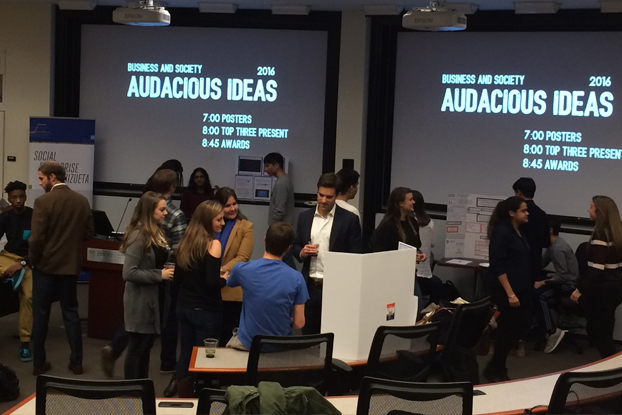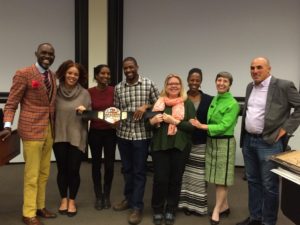 That's audacious. Business ideas to solve the most pressing societal challenges.
What audacious idea do you have to solve society's most pressing problem? More than 100 Emory University students recently answered that question at Goizueta Business School's 2nd Annual Audacious Ideas Night. Thirty-eight teams pitched impactful business solutions as part of Assistant Professor Wesley Longhofer's Business and Society course. 
Some of the most promising ideas included delivering food to rural food deserts via drones and urban food deserts via pop-up grocers made from converted shipping containers; incentivizing companies to reduce the gender wage gap by tying it to the corporate tax rate; eliminating the "pink tax"; and reducing California recidivism through renewable energy jobs.
"This night asks students to use business acumen to turn complex social problems on their heads," Longhofer said. "Many of the projects are audacious simply because they seem so sensible. We hope to continue this tradition to see which solutions might stick as future entrepreneurial ventures or policy discussions down the road."
The winning team took home the Audacious Championship Belt for their innovative idea that works to solve sanitation and energy challenges in urban slums of India by building community biodigesters. 
A panel of judges/investors included Derreck Kayongo of the Center for Civil and Human Rights; Ann Cramer of Cox & Curry Associates; Brandon Hatton of Bank of America Merrill Lynch; Nicole Richardson of Goizueta; and Brian Goebel of Social Enterprise @ Goizueta.