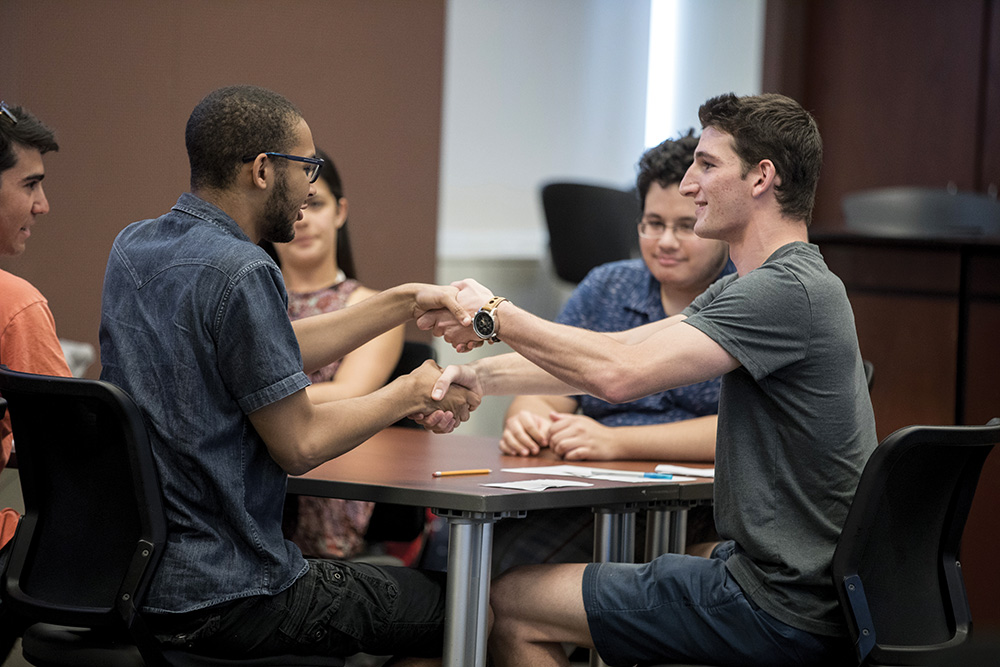 Age 18 is often seen as a rite of passage, swinging open the doors for students to enter college, the workplace, and increased independence. But for young adults with special needs, graduating from high school ends the legal mandate public schools have to provide support and training. This closes the door on their ability to maximize and broaden their skills and talents.
That's why a group of dedicated BBA and Emory students started the Spark Mentorship Group. Every Thursday, these students welcome a group of young adults ages 18 to 24 from the Emory Autism Center on the Clairmont campus to Goizueta to gain essential business and life skills.
"Very often, young adults with autism, who possess many gifts and talents to add to society, are left to figure out the next stage of their lives without necessary support systems," says Spark founder Jacob Lepler 18BBA. "Our goal is to unlock the true potential of our participants."
The idea for Spark ignited in Lepler because his brother, who has Asperger's, will turn 18 soon and no longer receive services. His volunteer work at the Emory Autism Center solidified the plan. "As I interacted with young adults at the center, I witnessed the same potential I see in my own brother. I knew I had to help foster that in some way," he adds. Along with Jared Linsky 18BBA, Isaac Feiner 18BBA, and others, a partnership between the Emory Autism Center's myLIFE program and Goizueta was cemented. The Spark curriculum includes one-on-one coaching and group trainings, all of which focus on initiating a career and life path participants might not otherwise pursue.
"What makes Spark unique is something we call 'peer-level mentorship.' As students of a similar age, we provide coaching and training, but at the same time develop a friendship that makes the relationship between us and our participants more sacred," says Lepler. For more information, contact Lepler and team at Jacob.Lepler@emory.edu or Jared.Linsky@emory.edu.
For more on autism, visit the Emory Autism Center at emory.biz/autism.