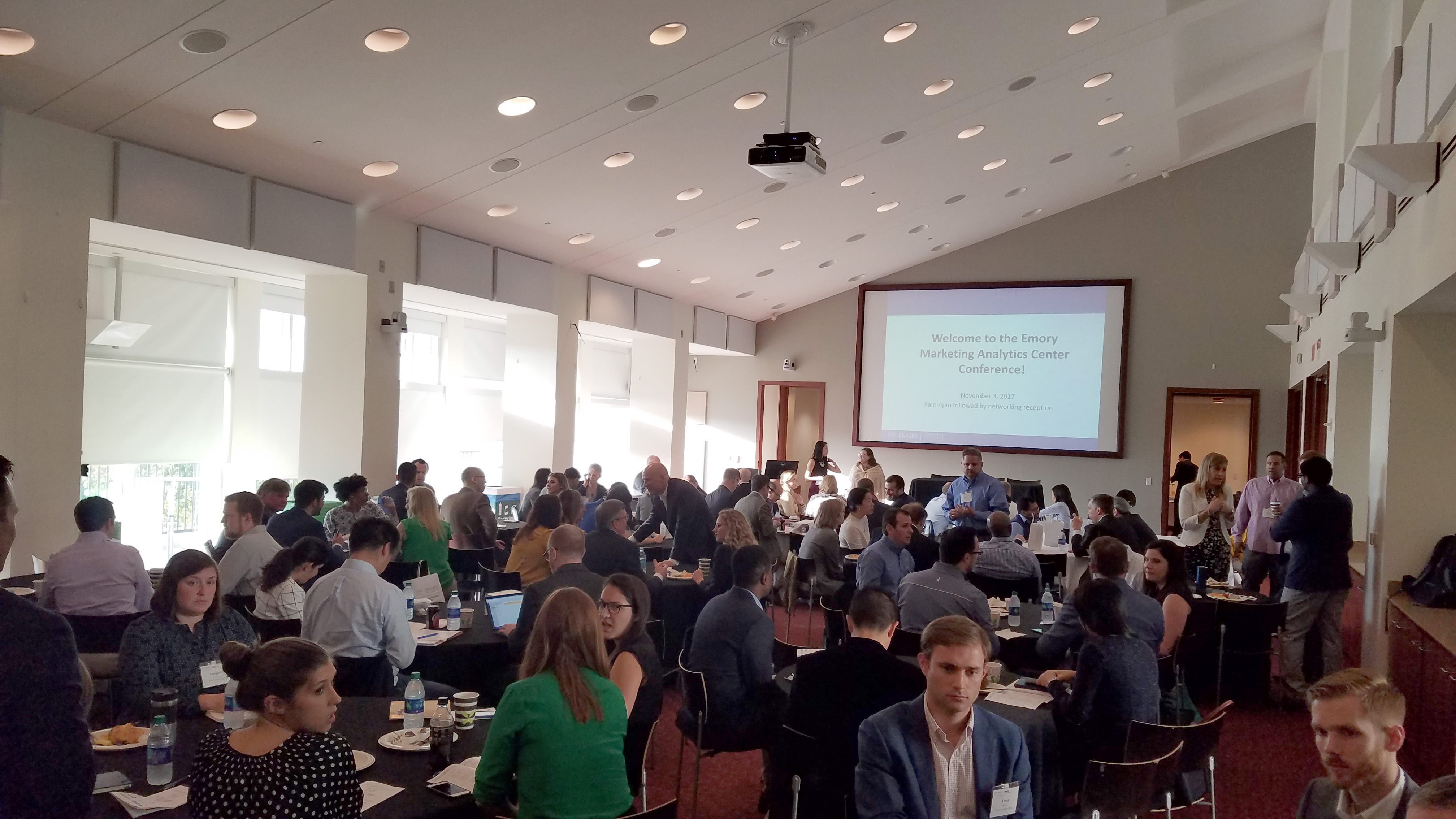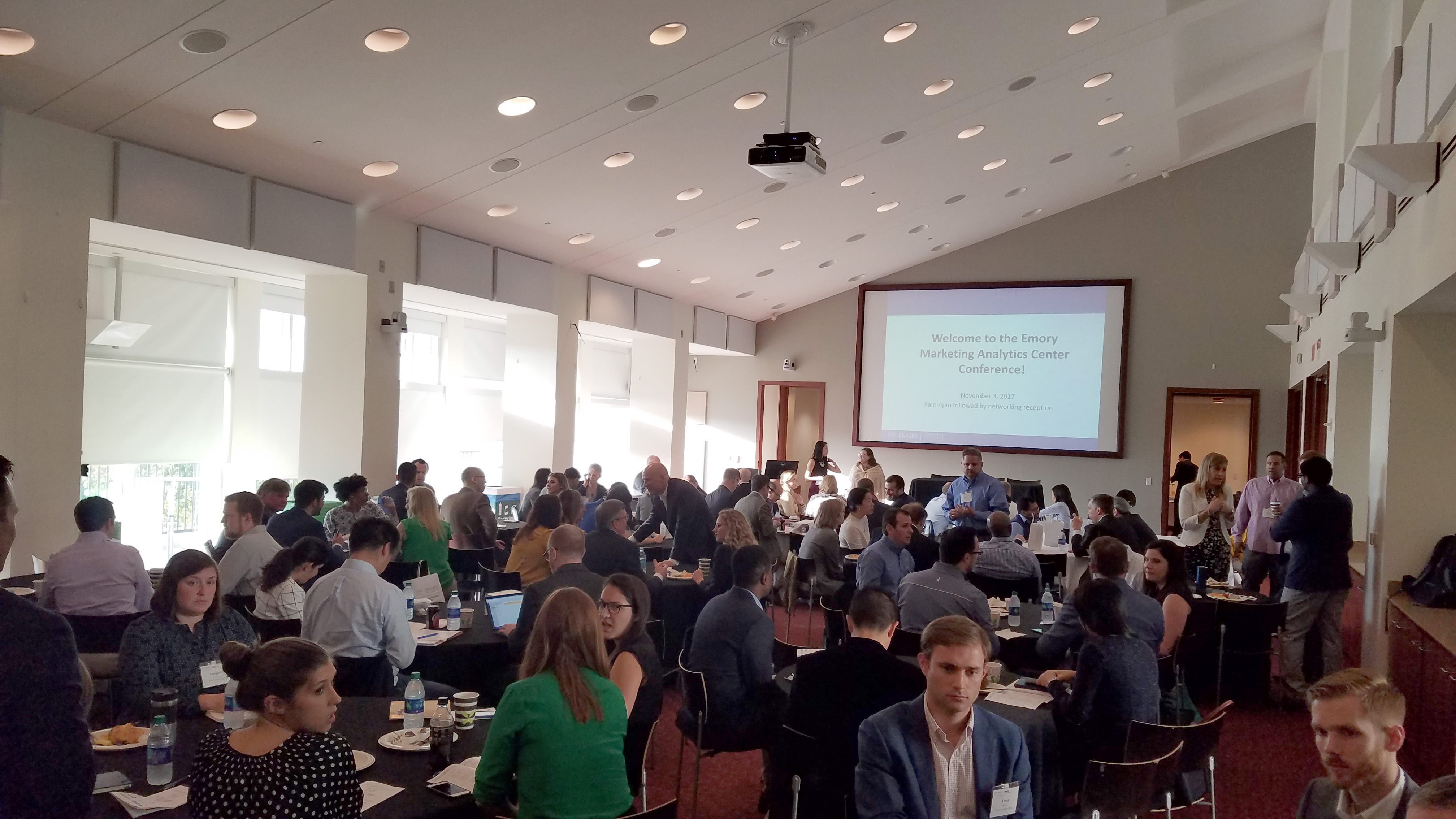 The continual evolution of the analytics landscape made for new discourse through panel discussions and speaker presentations at the 7th annual Emory Marketing Analytics Center (EmoryMAC) Conference.
Below is a summary of the day's events.
Marketing analytics powered by data fusion and machine learning
Wes Chaar, senior vice president of analytics, data and decision sciences at Time Warner, kicked off the first session by discussing marketing analytics being powered by data fusion and machine learning.
"If you look at the history of data fusion, it actually started in engineering," Chaar said. "The idea of data fusion is when you have a couple of sensors, for example, and you're measuring a particular process, they're not necessarily measuring the same thing. They could be measuring different things about that same process."
Chaar and his team work under the strategy sector of Turner Broadcasting System, a division of Time Warner, and focus on projects that are impactful on a global scale.
His message focused on the launch, evolution, success and future Turner has with two audience-targeting concepts called TargetingNow and AudienceNow. Both of which run on the primary model of what Turner calls Competitive Audience Estimation, a model that uses data to target efficiently and effectively across various TV channels.
The line of best-fit: hiring for marketing analytics
Founder of Logosphere, Julia Andrle, spoke with Ramesh Sundaram, senior analytics director at Moxie, Chirag Tasker, managing partner at TrendScend Marketing, and Manish Tripathi, senior manager of analytics at Amazon Web Services, on the hiring process for marketing analytics, including the challenges companies may face, as well as what candidates are looking for when applying to jobs.
How marketing analytics is evolving
Bill Franks, chief analytics officer at the International Institute for Analytics, led a keynote discussion on how marketing analytics are evolving and how companies have had to rethink their marketing strategies.
[Read more from Franks' keynote presentation]
"What's happening now is the idea of using the connected products and analytics to really customize things for customers and make it better all around," Franks said.
Open source analytics
Greg Pharo, the global director of media analytics and advertising research at the Coca-Cola Company, led a dialogue on the emergence and staying power of open source analytics in marketing with Brian Backer, director of digital technology and analytics at UPS, and Damon Samuel, VP of marketing analytics and insights at Vantedge Group.
Practice meets academia: how industry and universities can collaborate
Presenters Mike Lewis, associate professor of marketing at Goizueta, and Manish Tripathi, senior manager of analytics at Amazon Web Services and former Goizueta professor, took a more collaborative approach with their discussion on the potential for collaboration between industry and universities. Lewis and Tripathi previously taught classes together and actively engaged to develop projects with the local community and students.
One partnership they highlighted was their work in brand equity with the Atlanta United, which originated in a sports marketing course and a marketing analytics consultancy course.
Based on the research, they were able to take that material to the classroom in a sports analytics class where they looked at personnel analytics and used it as a vehicle to teach R, an open source programming language.