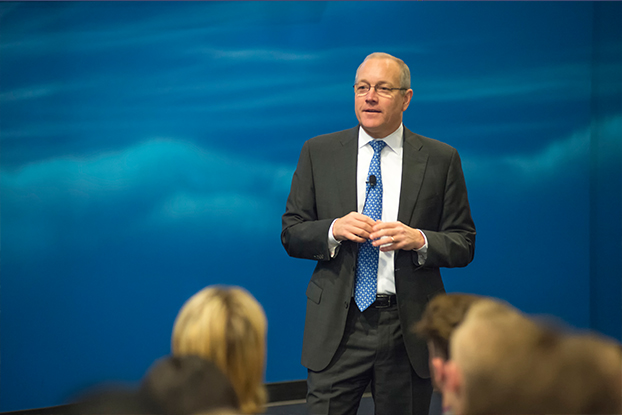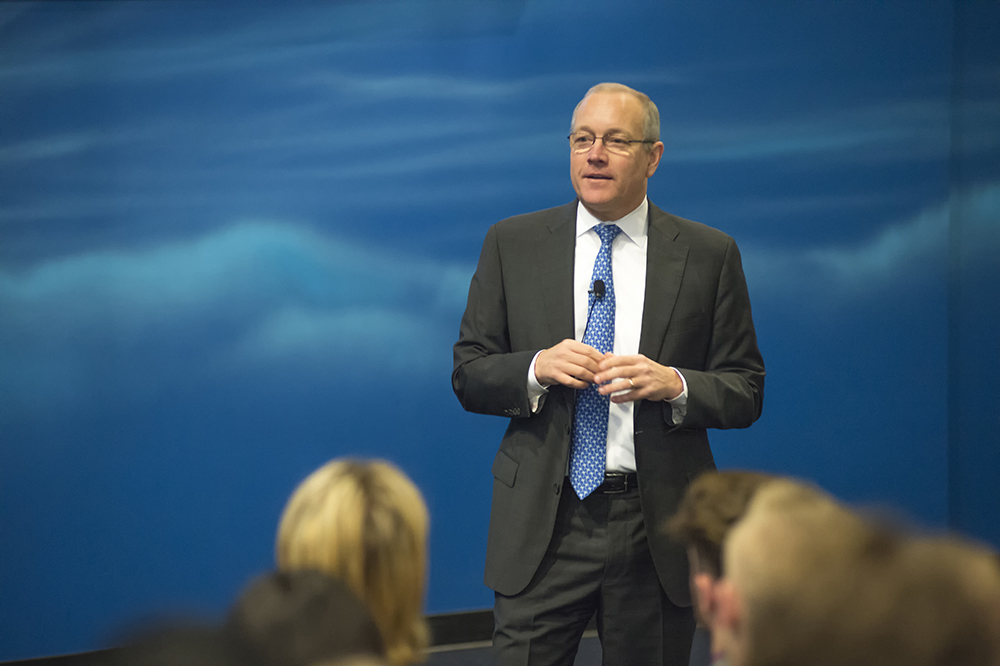 In the world of business, understanding and establishing global relationships is key for young professionals entering the marketplace in the near future.
Forty-five undergraduate students from 23 schools around the world experienced the importance of global relationships firsthand at the annual Undergraduate Business School Leadership Conference.
For almost 20 years, the UBSLC has created a forum for student leaders at top business programs to meet with leading business executives. With this year's theme focusing on global partnerships from a leader's perspective, it only seemed fitting to have Delta Air Lines' Steve Sear, president-international and executive vice president of Global Sales.
Sear's experience is in developing Delta's global alliances and expanding the company's global reach to its present state.
"I think about the mission at Delta, and it's all about making the world smaller," Sear said. "In fact, we say internally that no one better connects the world. The word that I like in there, in addition to 'connect,' is the word 'one.' That means every individual at Delta Air Lines has the responsibility and the accountability to provide those connections on a global basis."
Sear helped guide Delta through the merger with Northwest Airlines in 2008, and subsequent integrations of the Air France-KLM and Alitalia joint venture sales teams and customer contracting.
While working for Northwest, Sear worked as an expatriate, or "expat," in Tokyo for four years, something that was not quite part of his planned career track.
"That just informs you that every experience that you guys are going through might end up directing you a little bit here and there on your career paths," Sear said. "So be open and flexible because you never know. Almost every job I've been in has been created because the market evolved or the organization evolved. Keep that mind as you're going through the connecting of the world and making it small, and you guys are already on that path there."
While living in Tokyo, Sear learned about the "three P's." Always be prepared, persistent and patient, all of which helped him when traveling the world and experience new cultures.
"You'll create a personal brand equity," Sear said. "It'll just open up a lot more views — your view on your current organization and what might work. Mapping it out might work, but at least from my view, that just limits what your own view is. There might be changes in the marketplace or changes in the company that are going to create more opportunities."
Although Sear's permanent residence is now in the United States, there is still a strong emphasis to create a more globalized workforce within Delta. The company has approximately 150 expats today, and it's looking to double that number soon.
"We're going to continue to globalize, and the most important part, though, is we take care of our people. This place is special. I never take it for granted."
Gallery
[ngg_images source="galleries" container_ids="15″ display_type="photocrati-nextgen_basic_slideshow" gallery_width="600″ gallery_height="400″ cycle_effect="fade" cycle_interval="3″ show_thumbnail_link="0″ thumbnail_link_text="[Show thumbnails]" order_by="sortorder" order_direction="ASC" returns="included" maximum_entity_count="500″]