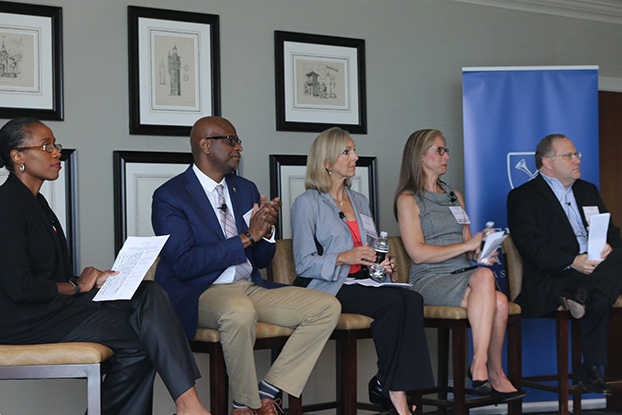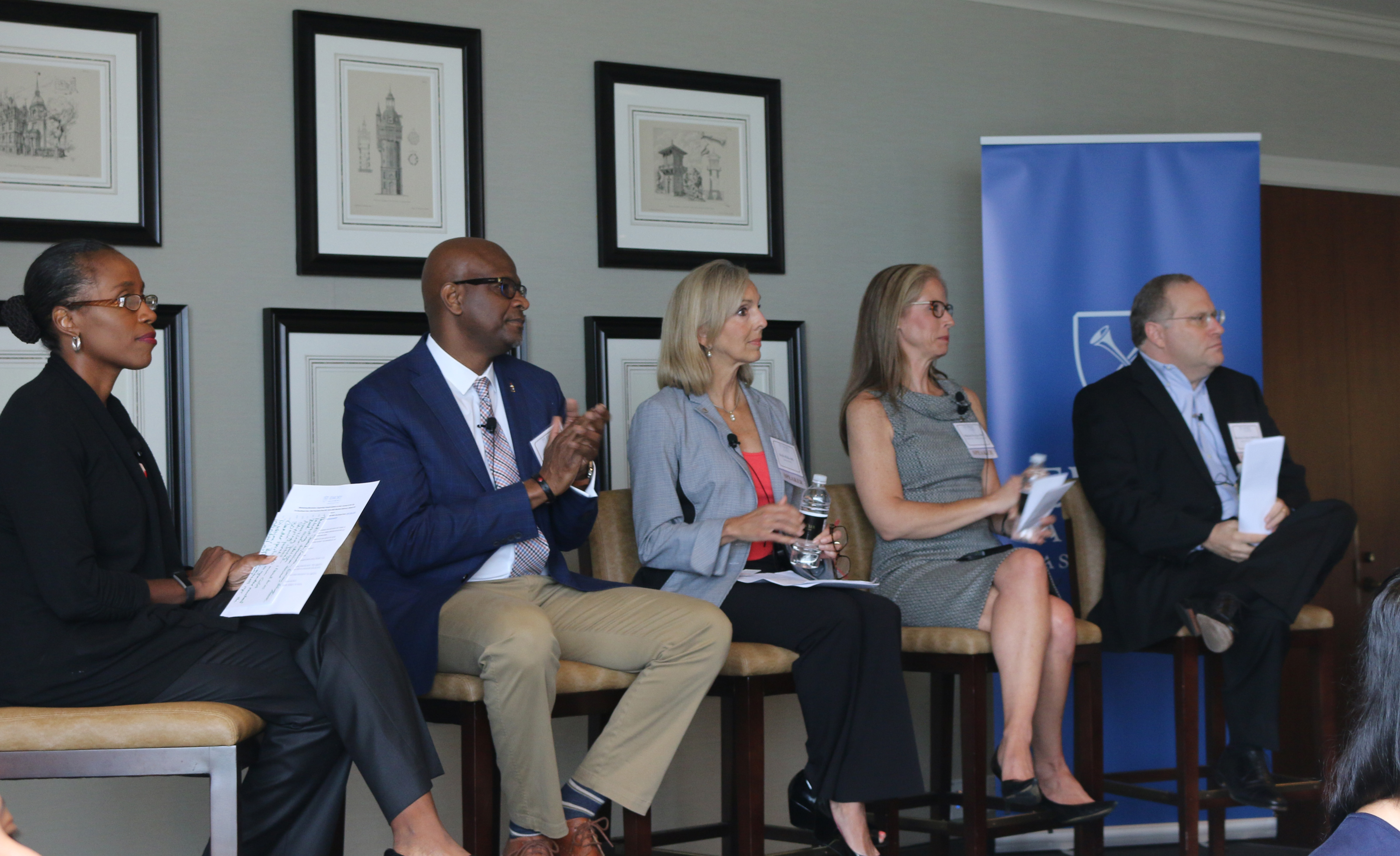 Communication and perception might be the two most important aspects that determine whether a woman is promoted or not.
These themes continued to bubble to the top during a recent alumni panel discussion hosted by the Emory Alumni Association and the Emory Office of Corporate Relations. Entitled "Maintaining Momentum Supporting Female Leaders on their Journey to the Top," the event featured alumni offering insight and strategies on how to reach the C-suite.
Promotions
"There is almost a double standard where some men feel if a woman is up for leadership roles, 'She's got to be ready,' but with men they look at potential," said panelist Andrew Davis 08MBA, global chief diversity and inclusion officer at The Coca-Cola Company. "On the flipside, women tend to not raise their hands for promotion unless they do feel ready — like 80 percent ready — while men will do it at 20 to 40 percent readiness and will say, 'Hey, c'mon just put me in the job.'"
Davis urged each person to examine their own motives and to be vocal.
"There is a lot more opportunity if you let it be known you want the promotion," Davis noted. "Assess what is keeping you in a position whether it's an internal mindset or something in your prospective organization. Is there a ceiling that is blocking you from the top? If so, find ways to manage around it."
Shelli Willis 89L, senior vice president and deputy general counsel for SunTrust Bank, reiterated the need for women to advocate for themselves and to cultivate courage.
"Don't wait until you are 100 percent confident you can do it to say, 'I got this,'" she said. "Be courageous: Ask for the hard feedback and for the next role or raise."
Additionally, Willis urged the audience to always be mindful of how one is perceived.
Tell your own story
"In general, men tend to be more confident, direct and forceful in their communications, and they are willing to self-promote, which inspires confidence in their leaders who are more likely to take the bet on them as opposed to someone who might be sitting in the background or collaborative," said Miriam Pechar 99MBA, vice president of strategy at Carter's │ OshKosh B'gosh Pechar. "By coming with confidence and self-branding, it inspires the confidence of those around you, in you, and in what you are able to bring to the table."
Equally important is to make your career goals known.
"Coming from the HR perspective, leaders now understand that they need to be more data- and fact-driven about their decisions, about who they promote, and not just by 'feel' because they have been burned," said Robert Cahn 83JD/MBA, president of Cahn Consulting. "It's very important to make sure people understand what your background is, what your strengths are and more importantly, what you want in your career."
Sharing this information is vital, Cahn added, especially when decisions are made and you are not in the room.
"Make sure that you are expressing what it is you want from your career," Cahn said. "Then when those executives are sitting around the table for the town review or the succession conversations, your boss or other people at the table understand what it is that you want."
Consistency is key
When it comes to home, family and personal time, the panelists agreed that communicating your priorities as well as boundaries also aid in controlling perceptions.
"What I always tell every person — male or female — is to stay consistent in your work/life choices," Davis said. "What drives a manager crazy or starts them having stereotypes in their mind is if you step into a job and you give it 150 percent, working 80 hours a week and then realize you took time from home and now you have to flip it. You've got to start your work/life choices consistently and early, especially when you are starting a new role."
Moderator Dana Brownlee 98EvMBA, president of Professionalism Matters, took it one step further.
"Once you establish boundaries, stick by them," Brownlee said. "No one is going to respect your boundaries if you don't. If Saturday is your sacred day, or vacation is vacation, don't start sending emails while you are on vacation. Think what kind of message that sends."
Finally, Cahn offered some actionable items by defining qualities he's seen rewarded:
Being strategic. Show you understand or have implemented change within the organization. Having a project is an ideal way to showcase this.
Establish a network. Relationship building is essential. Start meeting other people in other parts of the business, make connections, learn about others and share your story.
Continuous learner. We look for the person who doesn't mind being uncomfortable and thrown into uncomfortable situations.
Find your derailer. Organizations pay people for their strengths. If you have a drag that is shadowing your strengths, maybe communication or delegation, you need to address it.
Have a point of view. "When I look at some of the women who have been the most successful at the senior level, they have a voice," Cahn said. "It's not because they are aggressive, it's not because they are assertive, but they have a point of view and are not afraid to put it out there."