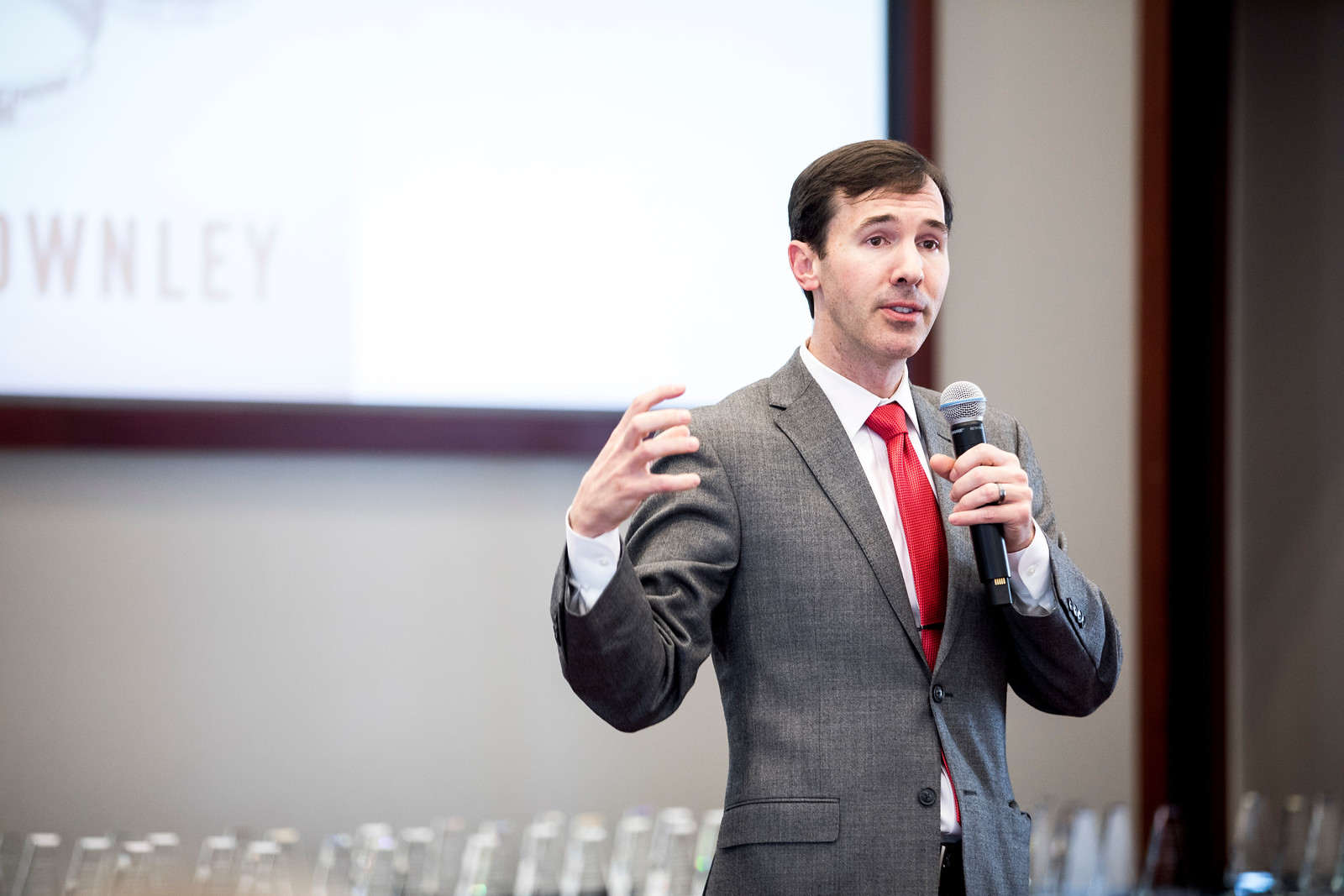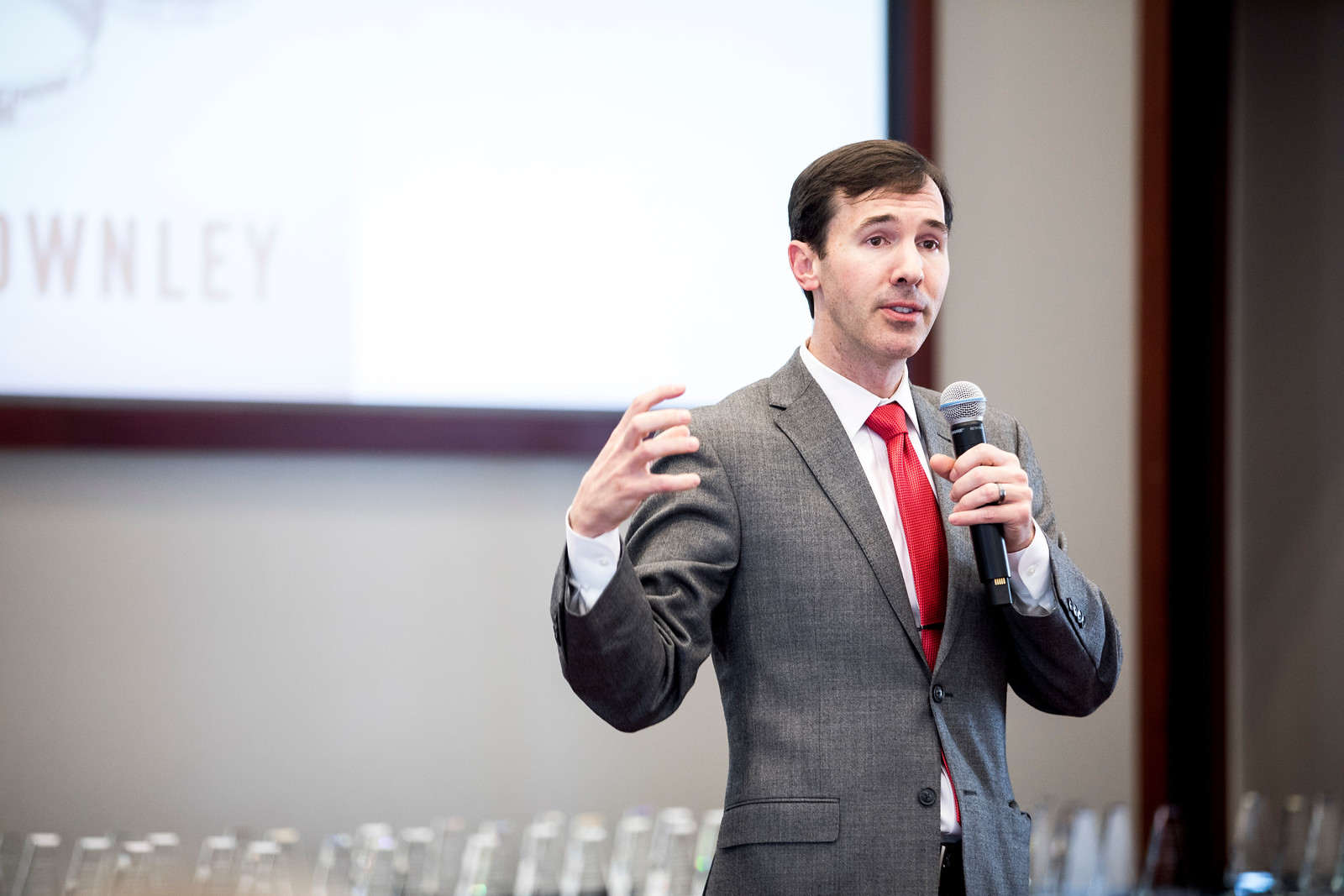 The Delta Air Lines Leadership Coaching Fellows program continues to provide MBA students with invaluable coaching and leadership skills. The 2018-2019 Full-Time MBA fellows received certificates and awards at a ceremony on December 6.
Alvin Townley, best-selling author and the Home Depot director of corporate philanthropy and veterans programs at the Woodruff Arts Center, was the guest speaker at the ceremony. Townley's most recent book, "Defiant," chronicles the journeys of American prisoners of war in Vietnam. In his remarks, Townley described many of the obstacles the POWs faced while imprisoned, and how their shared commitment to "return with honor" motivated them to endure the unimaginable.
"I was thinking about how to make this applicable to leadership in a business environment," Townley said. "I think all of us, in one way or another, are prisoners of something. The lessons we learn from POWs is that you can't get through a situation like that without your team having a sense of trust and a clear vision. Everybody needs to have a vision they can imagine for themselves, just like 'return with honor.'" This way, Townley explained, the team will be able to envision the greater goal and know the best way to act to support that vision, even if the leader is absent or unavailable.
"Vision is important at every level of an organization. It's not just something that happens in a CEO's office," Townley said.
Attending the ceremony was LCF executive coach Jodie Charlop 85C. As part of the LCF program, the student coaches are assigned their own coaches from the professional community. Charlop has worked as an executive coach for 15 years at a practice she started, Exceleration Partners. Charlop watched her two teams of student coaches transform over the course of the program. "They made remarkable shifts," Charlop said.
Charlop also found the experience personally rewarding. "As a coach, I get to learn something every time. I get to reflect back on my own growth as a coach. I had a great coach before starting my career, so now I get to give back. It's such an important skill set to have, not just for business, but for parents, kids, families — and the earlier we get it, the more successful we can be."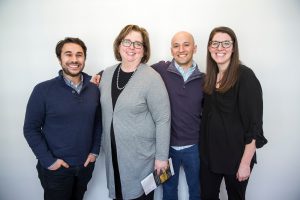 The students Charlop coached through the program agreed on the lasting value of coaching skills. Ranan Tannenbaum 19MBA received his certificate at the ceremony and was one of the students on Charlop's team. "The LCF program was a great introduction into the value of coaching and how it differs from mentoring a team. By working with first-year MBA students and our executive coach, we were able to learn and implement various coaching techniques in a noncompetitive environment. It was a great learning experience that will certainly pay dividends for me when managing and coaching my own teams outside of Goizueta," said Tannenbaum.
Another student coach on Charlop's team was Morgan Bullock 19MBA. "I was fortunate to work with a reflective team, insightful partner and dedicated executive coach that made my experience over the semester more impactful," Bullock said. Overall, the program was beneficial for Bullock because it provided skills that will be useful in a variety of situations. "There have been many times — and there will be more — when I don't know the answer or might not be the best suited to find a solution to an ambiguous problem. This program gave me the tools to ask the right questions and help frame the problem for those best suited to navigate a potential resolution. Skills that motivate and encourage others to reach their full potential will always be powerful."
After Townley's remarks, the 2018-2019 fellows received certificates of completion and awards from Ken Keen, dean of leadership at Goizueta, and Brian Mitchell, associate dean of FTMBA programs and Goizueta strategy and initiatives.