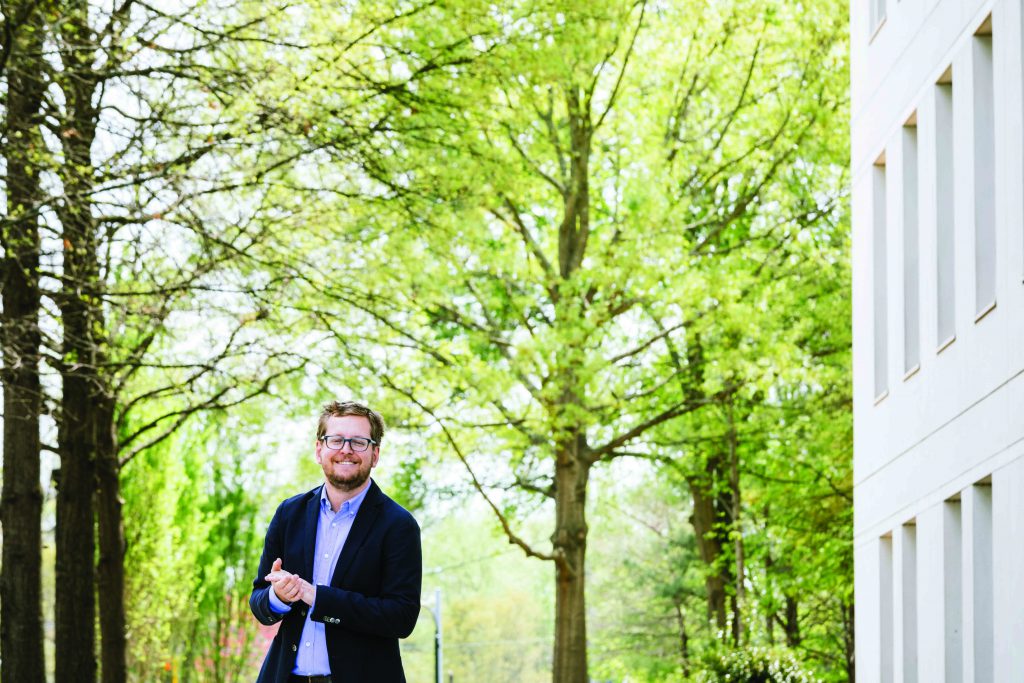 Wes Longhofer wants to know how and why people come together to effect social change.
A sociologist by vocation and training, the Goizueta assistant professor of organization & management is fascinated by the dynamics at play when civic groups form. He wants to unlock the puzzles within these organizations and measure how effective they are in achieving their goals.
While these kinds of questions have long absorbed sociologists, there's a new and growing imperative in business education to look at the drivers of social change and understand the mechanisms of social impact — an increasing affinity, says Longhofer, between what sociology does and what business schools want to do.
"Business schools have been bringing in different disciplinary backgrounds over the last decade to drive a more nuanced and comprehensive understanding of social problems and the role that business can play in effecting social change. If you look at the intersection of social entrepreneurship, you'll find business acumen and business principles being deployed to help drive policy change, tackle environmental issues and improve communities."
Longhofer's research explores organizational emergence: how NGOs, lobbies and civic and volunteer associations come into existence. He also looks at what he calls "organizational consequences" — the potential of these groups to drive change and, in particular, the impact they can have on policy change and implementation.
Much of his work is focused on climate change. And his approach is very much that of a sociologist.
"To frame a problem effectively, it helps to understand it from a broader social, historical and cross-national perspective. With climate change, we take power plants as the unit of analysis because they are the primary organizations driving carbon pollution, and we try to understand what motivates them."
Over the last few years, Longhofer and his colleagues have compiled a massive data set that covers every power plant in the world. His studies reveal that up to 50 percent of the total energy-related carbon pollution in many countries around the world can be attributed to a small subset of "dirty" plants. And the implications for policy makers and lobby groups are significant.
"Instead of setting general targets for the entire energy sector in each country, what this suggests is that we also need policy instruments to target the hyperpolluters — those big or older power plants that account for the lion's share of the emissions."
Another stream of his research explores how organizations respond to change as communities become more diverse and income inequality increases. A recent paper looks at the 2017 UNICEF Trick-or-Treat fundraising initiative in the U.S. Longhofer and his fellow professors of organization & management Peter Roberts and Giacomo Negro found that public schools, far more than churches or clubs, were effective in collecting money during these changes.
"What this tells us is that more homogenous groups like churches don't keep pace with societal change. In contrast, public schools reflect their changing communities. And they're incredibly important organizations because they serve as community mobilizers and not simply education providers. As societies change, schools change with them, helping to weather some of the adverse effects of change and ensure that everyone is thriving."
Recently named one of Poets & Quants' "40 under 40" and the recipient of a clutch of prestigious academic awards, Longhofer is as ambitious in his research output as he is prolific.
He currently has two book projects in process. The first combines his research on the distribution of carbon pollution across the world's power plants with his study on how energy efficiency links to greater demand and, ultimately, higher levels of pollution — what he calls the "unintended consequences" of cleaner energy.
The second project will examine what happens to the nonprofits and social enterprises that high school students found once they matriculate into college.
Inspiration for this stems from Longhofer's interactions with Emory students, many of who come to him with questions about social enterprises they have started or want to start.
"A lot of my students in the business school started a nonprofit or NGO while in high school. They're highly entrepreneurial — they really want to go out there and do something. Unpacking the biographies of some of these students helps us understand this 'NGO moment' and tells us something about this generation that I find really exciting."
Being a sociologist in a business school has not only enriched Longhofer's research, he said, it has also affected his outlook. "The interdisciplinary context is very rich. And with things like social enterprise, you're talking about social impact, which is my field of expertise, so it's on me and other sociologists to be at the table looking at this new phenomenon. Then there's the sociological mindset, where the world can become a very sad place very quickly. You see how things are broken and how solutions are hard to find. Being in the business school makes you realize that it's hard, but it's not impossible."