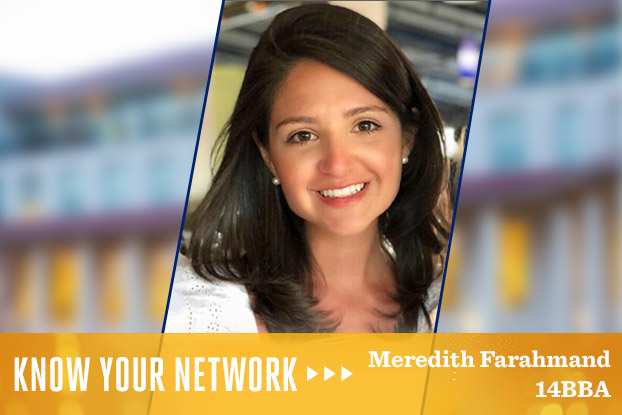 Goizueta alumni hold more than a coveted degree from Emory; they also boast a wealth of life experiences and business know-how. In this ongoing series, EmoryBusiness.com will share their sage advice, which you can add to your own toolkit.
_______________________________________________________________________________
Meredith Farahmand 14BBA

master's candidate in Real Estate Development
Columbia University, New York City
What influence from childhood still resonates with you?
Mom never let me settle for anything but my very best. Although that was slightly intimidating as a child, I am all the more determined to prove my potential as an adult. As Mom still reminds me, "Behind every successful person is a nagging mother!"
Who inspires you and why?
Dad, a literal testament to the old saying, "When life knocks you down, get up and keep going." After surviving a bicycle accident that resulted in a traumatic brain injury, Dad has continued to succeed by doing what he loves. If he can do that, I can do anything.
What's on your music playlist?
James Taylor and Billy Joel. Taylor Swift and Ed Sheeran. Ludovico Einaudi and Hans Zimmer. I'm an old, somewhat nerdy, soul.                    
What's the best career or life advice you've received?
Do what you love so you'll never have to work again. Thanks, Dad.
What hobbies or activities do you enjoy outside of work?
I love hosting dinner parties where I get to enjoy all of my favorite things: friends, food, and, of course, lots of wine!
How do you define success?
I'll find success when I fulfill my potential while simultaneously fostering my interests.
What is your favorite app?
I am currently training to run my first half marathon. As such, MapMyRun has been my go-to app for the past few weeks. Wish me luck! I need it!        
What is your best Goizueta or Emory memory?
As part of Professor Reshma Shah's class on Applied Integrated Marketing Communications, I had the opportunity to present to Coca-Cola executives live at Coca-Cola headquarters. Despite some nerves, I remember an overwhelming sense of pride as I was challenged to rise from student to colleague.
What is your biggest challenge?
I pride myself on being a highly detail-oriented individual, however, I do occasionally get mired in unnecessary specifics. This tendency proved to be a challenge at work, especially as I came to take on more independent responsibilities. For example, in preparing for my first loan presentation to senior members of portfolio management, I paid exceptional attention to organizing and formatting my notes with meticulously groomed bullet points and data tables.  Come the presentation, however, I found myself ill-prepared to answer questions without anxiously referencing my materials. I soon realized that I took more care in preparing my notes than I had in learning my notes. I walked away from that awkward meeting feeling as blue as the color-coordinated pie chart that sat atop the mess of papers I reluctantly brought back to my desk.
Rather than giving in to the temptation of tossing the notes and forgetting the meeting, I decided to keep the papers. Between my finance textbook and employee handbook, I placed the notes front-and-center on my bookcase. I even resisted the strong urge to reorder the notes and realign the pages. In this way, I created a visible reminder of my need to "let the little things go" and to focus on what is truly important. My ability to do so greatly improved and, as a result, so too did my confidence. Still, I look to overcome this challenge further as I progress in my career.
Many undergraduate alumni return to school for an advanced degree. What's it like the second time around?
I love being back in school! My undergraduate business school education was necessary for my general understanding of business. My graduate classes in real estate, however, prove most interesting as I enjoy applying detailed analysis to an inherently tangible, relatable, and creative asset class. I have also had the privilege of finding lifelong friends in several of my classmates. My only complaint with the program is that it is going by so quick. I don't want to graduate in May.