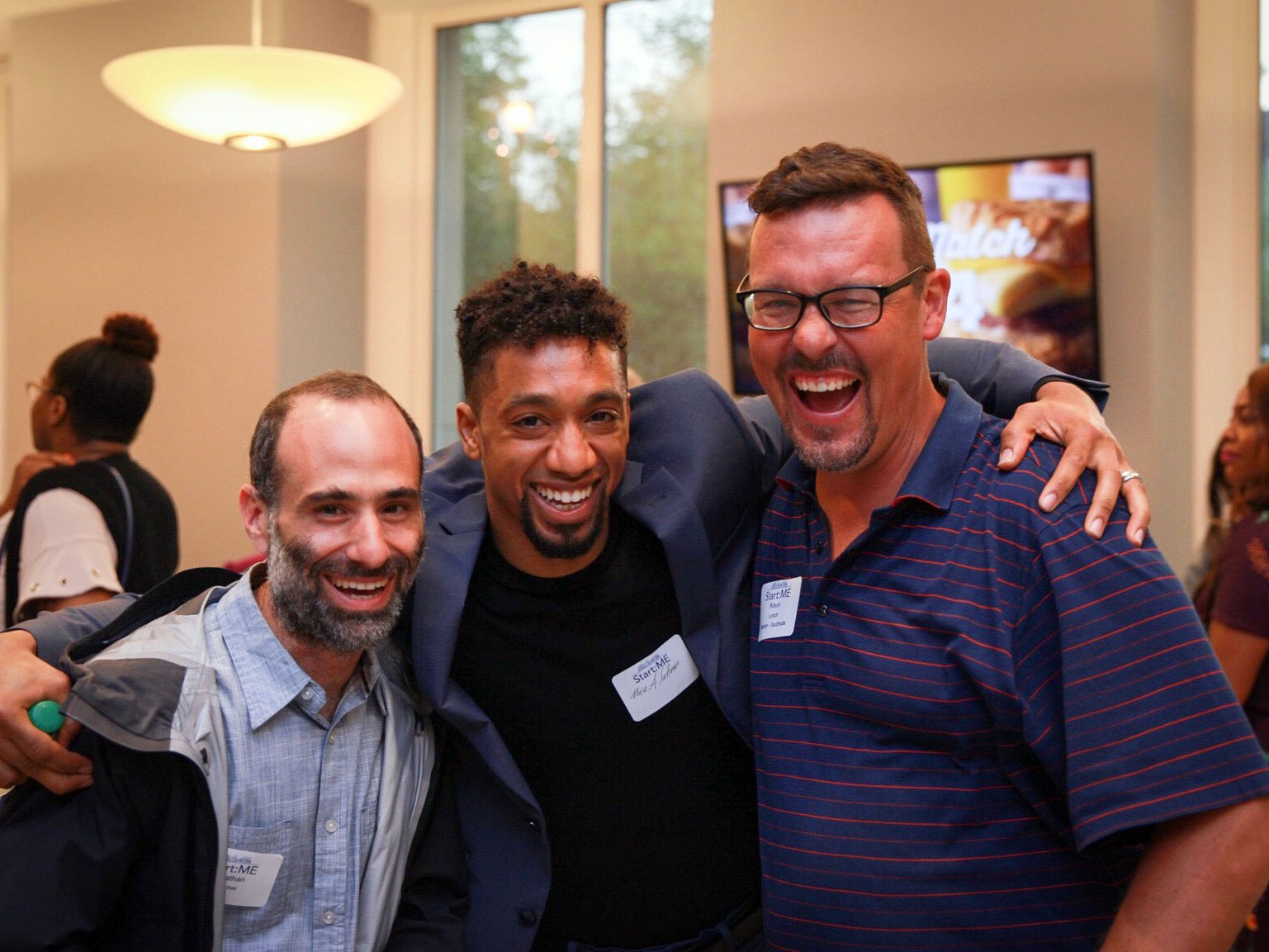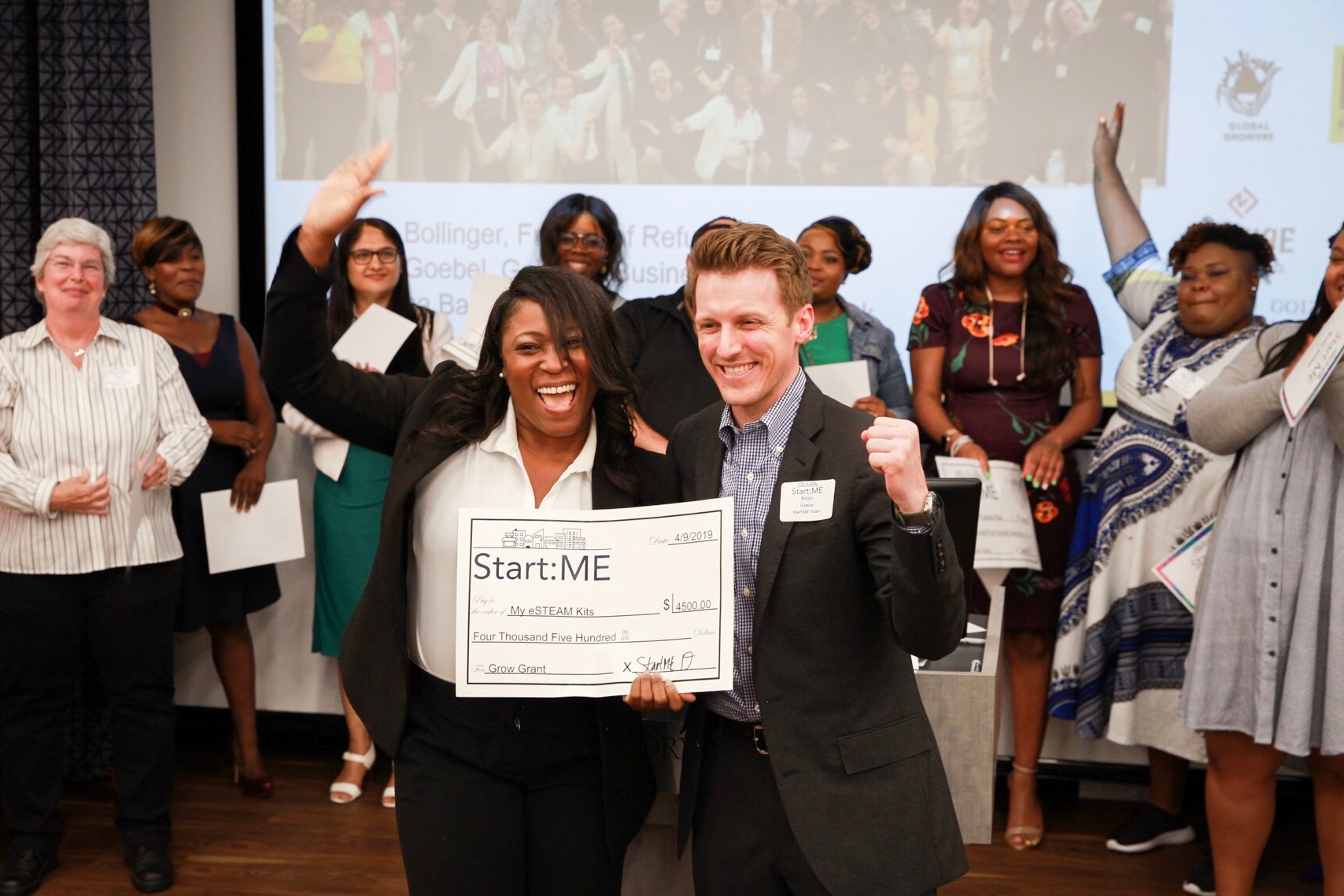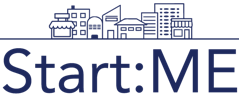 ATLANTA  – Forty-seven promising entrepreneurs in the Clarkston, East Lake and Southside Atlanta communities have completed an extensive mentoring and business training program offered through the Goizueta Business School's Start:Micro-Entrepreneur Accelerator Program (Start:ME).
Start:ME celebrated the 47 ventures completing this year's program with its Entrepreneur Showcase on Tuesday, April 9th at the Goizueta Business School in Atlanta.  The event featured food and beverage sourced from Start:ME alumni, pitch presentations from top ventures, and grant investment award announcements.
The 14-session accelerator program provides business know-how, mentorship support, and early-stage capital to promising micro-entrepreneurs (those with 1-4 employees) to develop viable and sustainable businesses. Entrepreneurs supported one another while competing for peer-selected seed investment grants from a $31,500 pool ($10,500 in each community).
The following entrepreneurs were selected to receive seed invest grants to help grow their businesses: 
Start:ME Growth Grants of up to $4,500
Jahari Soward of My eSTEAM Kits (Clarkston)
Musa and Micole Hasan of Bread And Butter Farms (Clarkston)
David Sessions of Peach State Pressure Wash (East Lake)
Keith Forrester of Poppa Corn's Gourmet Popcorn (East Lake)
Jeannell Darden of Moisture Love (Southside Atlanta)
Stephanie Richardson-Parker and William Parker of The Moxie Maids (Southside Atlanta)
Start:ME Start Grants of up to $1,500
Tonica Logan and Brandie Bishop of The Progress Place (Clarkston)
Shaista Amani and Barbara Murphy of Amani Catering (Clarkston)
Joi Faison Saleem of Doorway (East Lake)
Sheldon Prescott and Naima Smart of Tidy Tooty (East Lake)
Jamekia Harper of Gohealthyhair (Southside Atlanta)
Elizah Turner of Rules of Entertainment (Southside Atlanta)
Community Impact and Peer-of-the-Year Grants of $500
Oluwatominsin Falegan of Lulu (Clarkston)
Mary Ellen Sheehan, Htwe Htwe, and Jeff Alexander of Royal Thanaka (Clarkston)
Brittany Sapp of Bsapp's Transition Services (East Lake)
Josh Bennett of Bennett's Accounting Services (East Lake)
Erica Baker of Black & Bilingual (Southside Atlanta)
Yakini Horn of Yaya's Natural Hair Boutique (Southside Atlanta)
Other businesses represented in the 2019 cohorts offer everything from craft brewing to baked goods, construction to clothing, farming to fair trade products.
The program is offered annually by Emory University's Goizueta Business School in partnership with trusted community lead nonprofit organizations Friends of Refugees, East Lake Foundation, Focused Community Strategies (FCS) and Purpose Built Schools Atlanta.
Since its inception in 2013, Start:ME has supported more than 200 local businesses and awarded 57 working capital investments in the form of loans and grants. Start:ME also engages more than 75 volunteer mentors with significant professional business and/or entrepreneurial experience to provide critical support for entrepreneurs participating in the program.
Visit startmeatl.org for more information.
Additional details on 2019 Start:ME entrepreneurs
The ventures include:
Generated over $1.7M in annual revenues in 2018
Account for 65 jobs
Occupy 7 brick & mortar locations
78% of the ventures are owned/operated by people of color
70% are owned/operated by women
18% are owned/operated by foreign born entrepreneurs
About Goizueta Business School
Emory University's Goizueta Business School believes that business schools need to do more than simply train the workforce. Goizueta goes beyond class work and research to be of service in the boardroom and on Main Street. Together with our partners, we build ecosystems, small businesses, and communities.
About Start:ME Clarkston
Goizueta Business School works with Friends of Refugees and local partners Clarkston Community Center, Global Growers, Refugee Women's Network, Refuge Coffee Co., New American Pathways, Georgia State University Clarkston Campus, and Partnership for Community Action to support entrepreneurs in Clarkston, GA. The Clarkston program has graduated 97 ventures since 2013.
About Start:ME East Lake
Goizueta Business School works with the East Lake Foundation and local partners Charles R. Drew Charter School, The Villages of East Lake, East Lake Neighborhood Community Association (ELNCA), Kirkwood Neighbors' Organization (KNO) to support entrepreneurs in the East Lake and Kirkwood communities of Atlanta. The East Lake program has graduated 74 ventures since 2015.
About Start:ME Southside
Goizueta Business School works with Focused Community Strategies (FCS), Purpose Built Schools Atlanta along with local partners The Villages at Carver YMCA, The Villages at Carver, Carver High School, the Capitol View neighborhood, and the Atlanta Volunteer Lawyers Foundation to support entrepreneurs in the Southside of Atlanta. The Southside program has graduated 32 ventures since 2018.