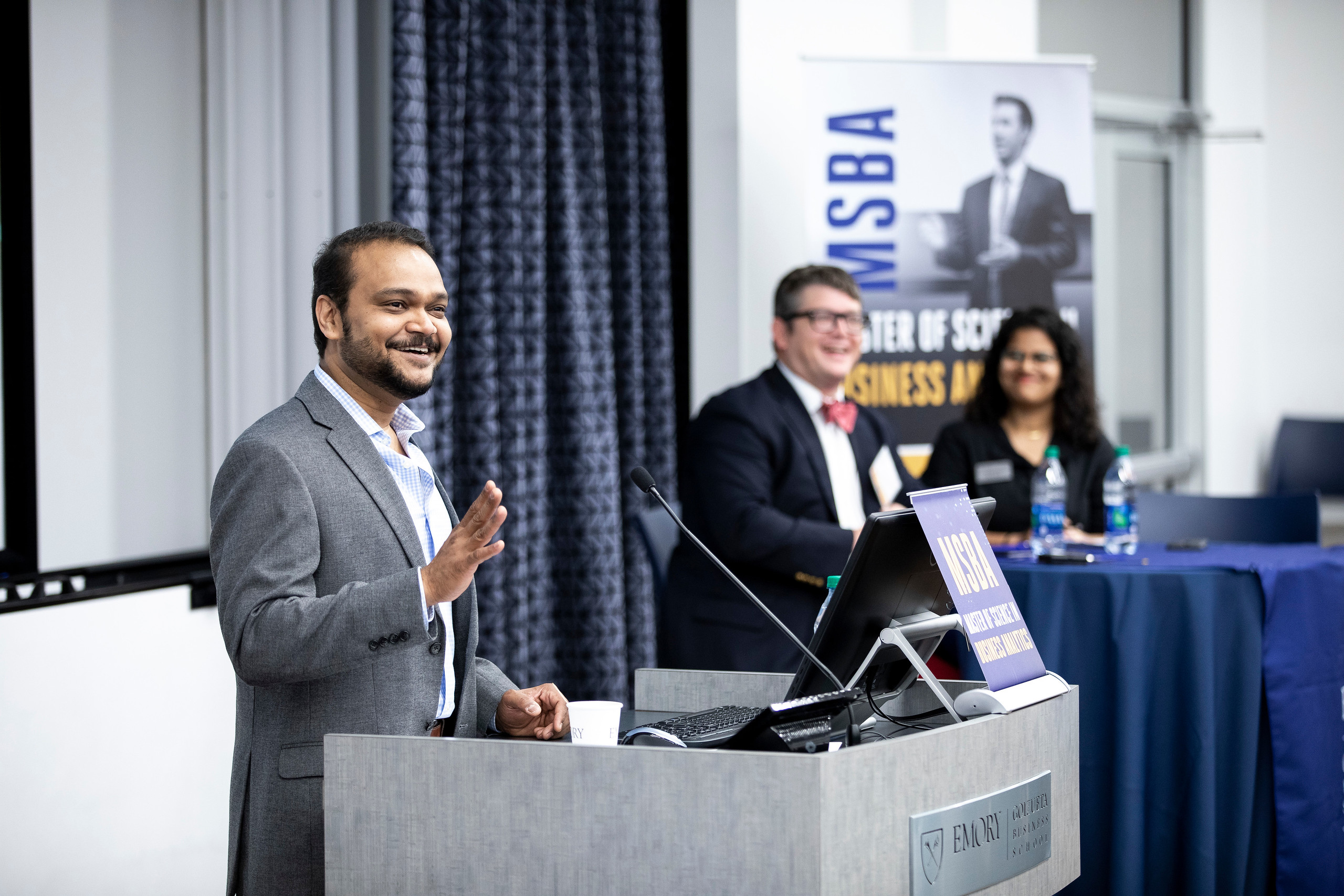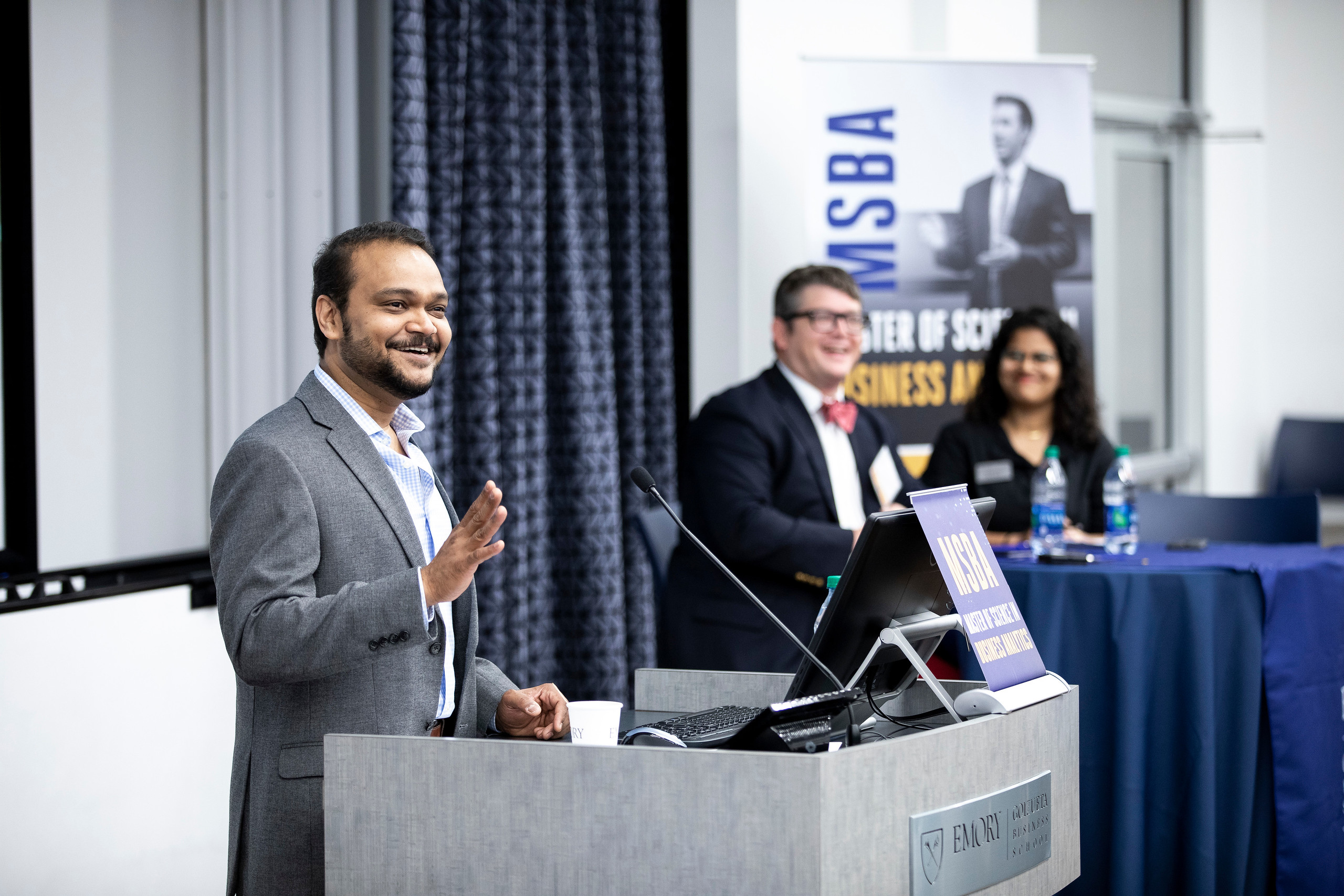 Artificial intelligence, machine learning algorithms, natural language processing, the industrial internet of things and crime-fighting robots all converged at Goizueta's second annual Business Analytics Conference and student showcase on May 3. The conference was the culmination and celebration of year-long academic activities in Goizueta's STEM-designated Master of Science in Business Analytics program.
Associate Dean and MSBA Program Director Ramnath Chellappa envisioned the event as an opportunity for academics, students, alumni and practitioners in the field of big data to connect and discuss trends in AI, machine learning and other applications of analytics to business. With 13 speakers and panelists representing multiple areas of business, the day delivered on the vision and provided attendees numerous opportunities to connect and collaborate. Capgemini Invent's Chief of Intelligence and Vice President for Artificial Intelligence and Data Sciences Severence MacLaughlin kicked off the day with his energizing and well-received "AI for Business—An Evolution or an Extinction Event." MacLaughlin explained, "AI is a collective term used to describe machines that can mimic the human mind, learning from experience and adjusting to new inputs."
Next, Rajkumar Bondugula, principal data scientist and senior director at Equifax, shared with the audience "How to Take Your Team Along on a High Performance Computing Journey." He reinforced the importance of explaining the business use case in common terms when training employees. An audience member from one of the MSBA program's Capstone partners indicated their company was facing similar challenges and appreciated hearing best practices.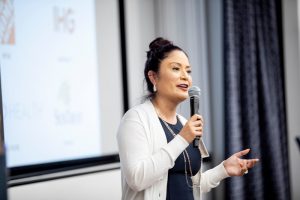 Abhimanu Kumar, Senior Data Scientist at Apple, shared his personal insights during "Going Beyond Machine Learning and Deep Learning in Predictive Analytics." Then Goizueta alumna Mercedes Soria, EVP and Chief Intelligence Officer at a Silicon Valley startup and MSBA Capstone partner Knightscope wowed a full crowd with her company's mission to deliver autonomous security as a game-changer in the fight against crime. Soria explained, "We're not in the security business. We're in the robotics business, and our tools are artificial intelligence, natural language processing and self-driving technology to make the U.S. the safest country on Earth."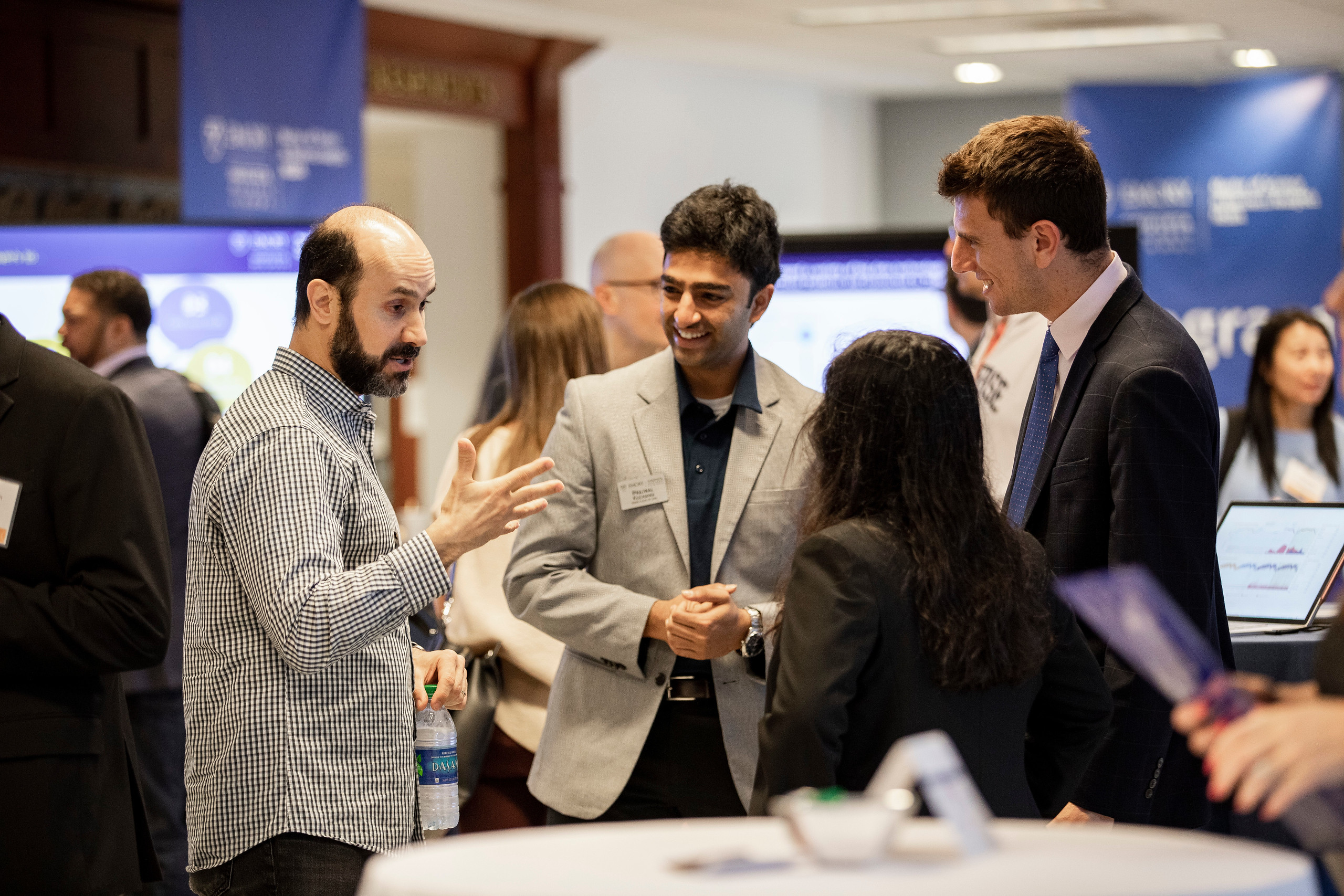 During the student showcase, the master's in business analytics degree Class of 2019 invited guests to learn more about their business data science skills through interactive presentations and demos. The showcase was comprised of five stations highlighting the MSBA student experience: Community, Capstone, Big Data, Analytics Toolbox, and Visualizing.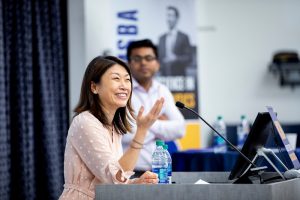 The Home Depot's Head of Data Science Search and Personalization Huiming Qu shared that she "…loved the time talking with students and feeling the energy they have."
Conference attendees also had the opportunity to hear from an all-star panel, which included Emory University alum Johnny Lee, principal and national practice lead of forensic technology at Grant Thornton; Chris Miller 03MBA, executive vice president of Capgemini Invent; and John Preli, director of enterprise risk management at The Weather Company – IBM Watson.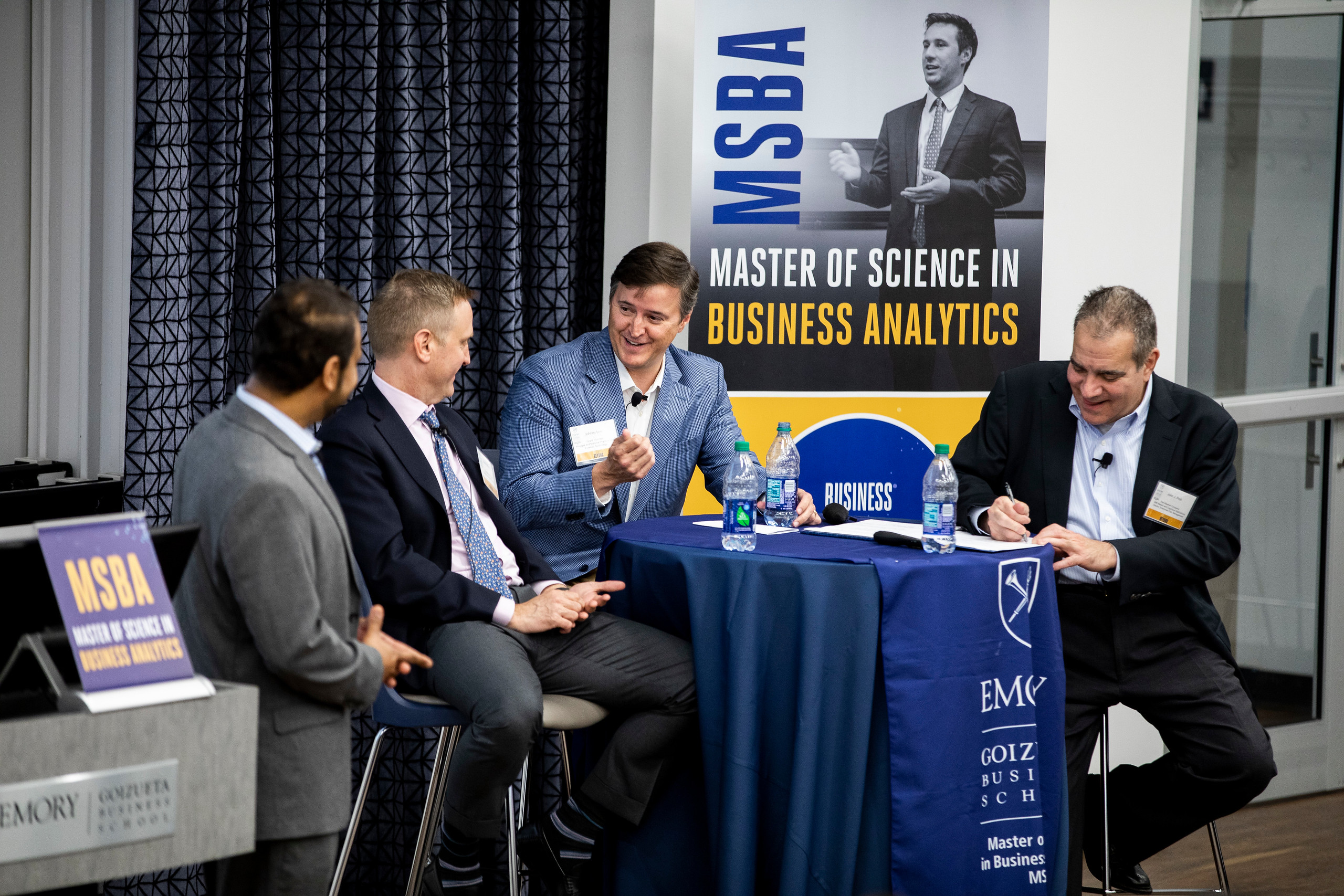 Other speakers, such as Robert Joseph, director of industrial strategy for Industry 4.0 at Stanley Black & Decker, educated the group on how the industrial internet of things applies smart sensors and data science to transform manufacturing. Mercedes-Benz USA's Kuashik Datta shared insights on innovation, engaging the audience with a fun YouTube video on how things happen when no one is looking.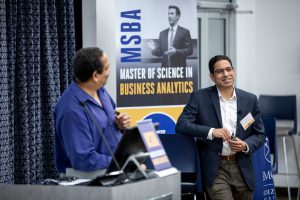 Vinod Kadadi 12MBA, vice president of delivery, auto and transportation at Digital Management Inc., shared a case study on how AI enables competitive advantage. Kadadi, who also attended the inaugural Goizueta Business Analytics conference, shared, "This year's intentional focus on connecting and collaborating while delivering content was noticeable and even better than the first!"
The event closed with a powerful combination: Joe Sutherland, head of data science at Search Discovery, discussed the misconceptions of AI, while Intel's Director of Technology Muhammad Abozaed examined how ethical applications of AI will improve humankind.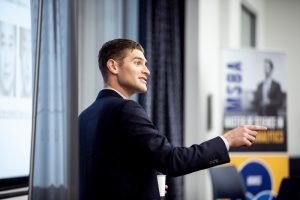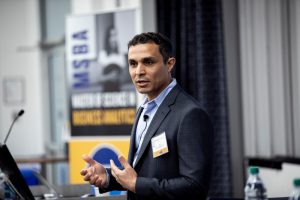 Joe Sutherland and Muhammad Abozaed
The MS in Business Analytics program at Goizueta Business School trains next generation business data scientists to speak the languages of business, data and technology for translating analytics into actionable insights.