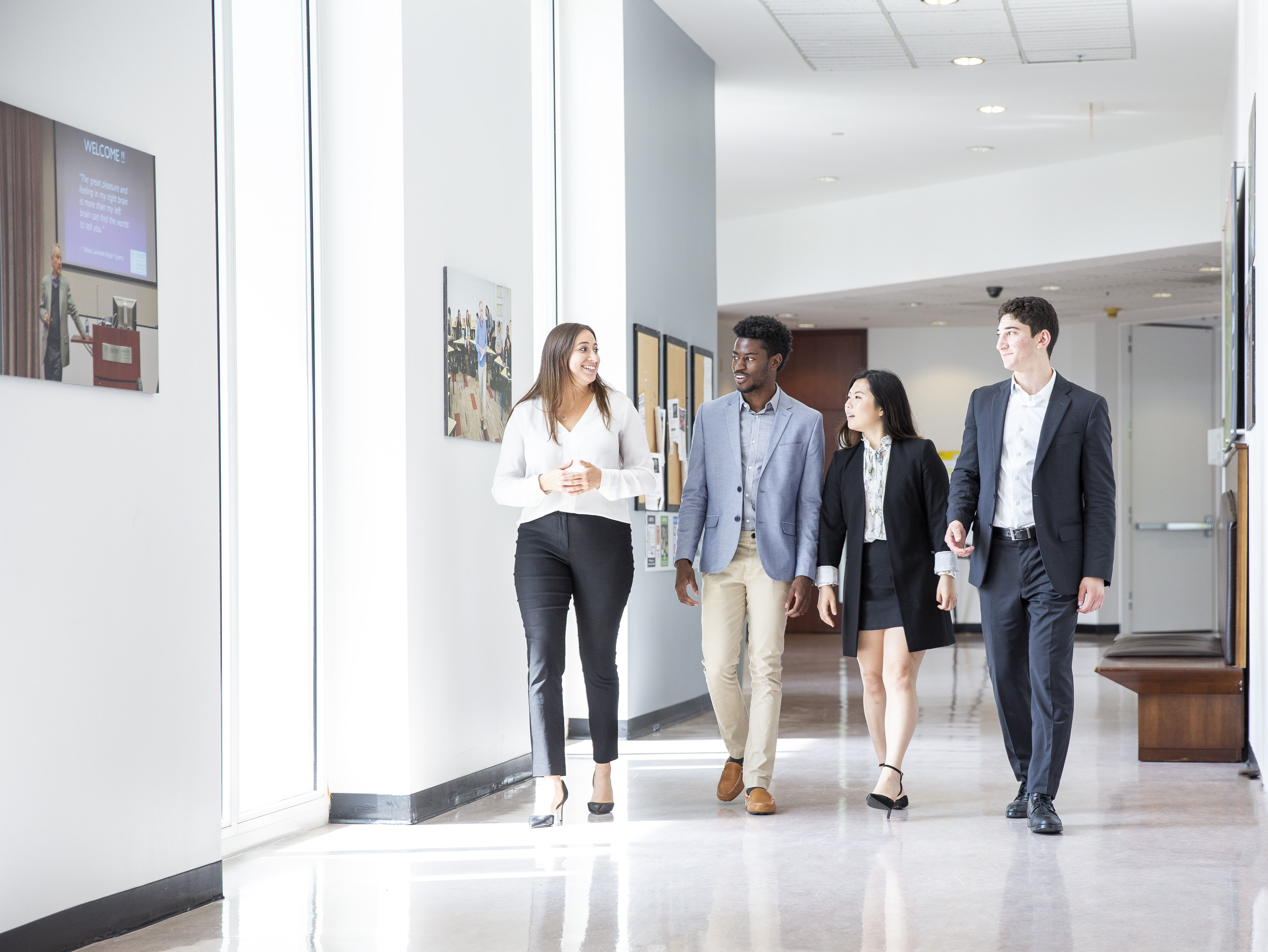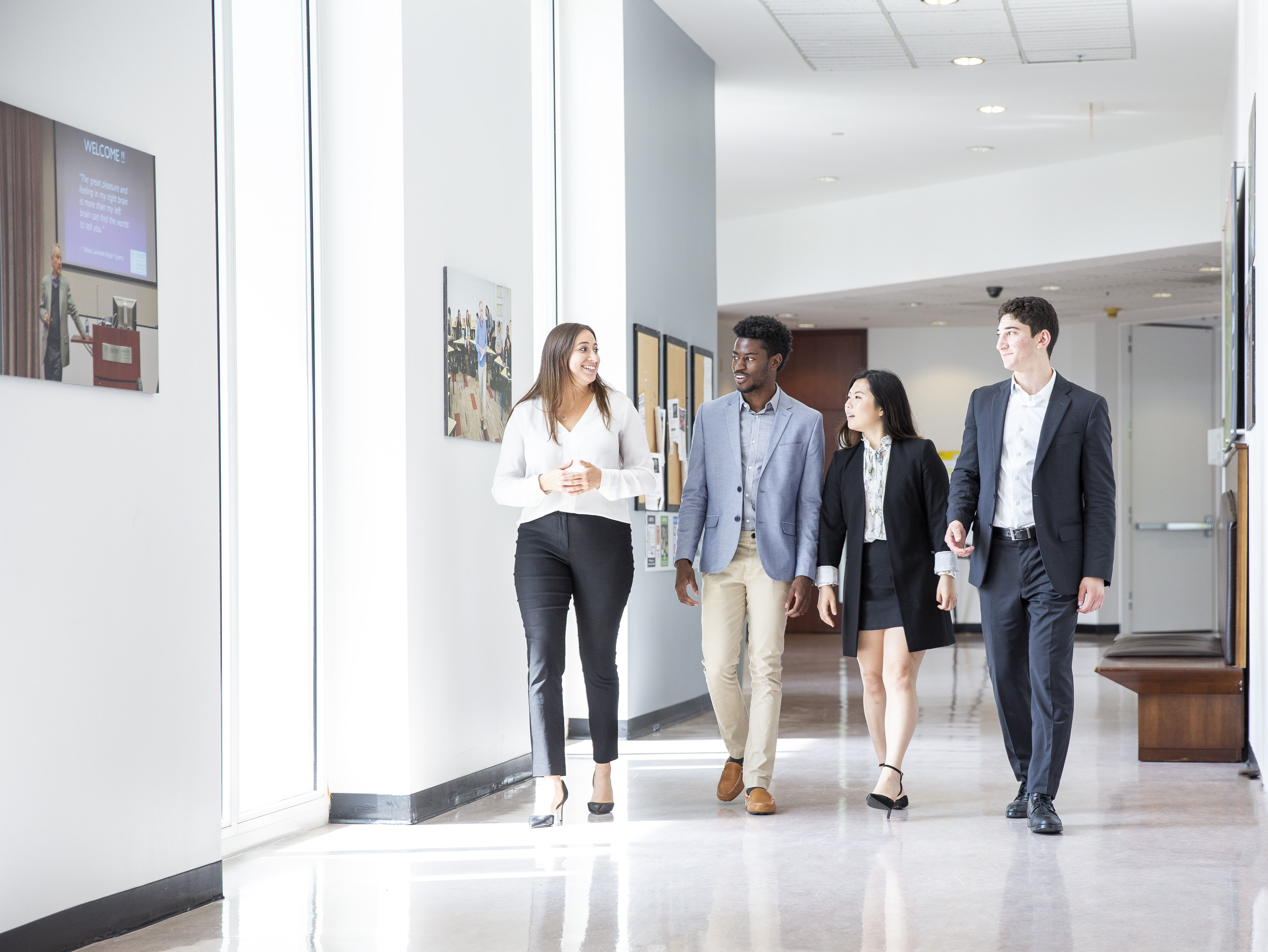 The Goizueta BBA program consistently reports one of the highest placement rates in the country, a trend that continued with the most recent graduating class. In 2019, 96% of graduating BBA students received a job offer within three months. This consistently high job offer rate, one of the data points collected in the 2019 BBA Employment Report, helps to illustrate the value of a Goizueta BBA degree.
"The BBA CMC team continues to drive strong results year over year due to the caliber of and demand for Goizueta BBAs," said Jane Hershman, senior director of Goizueta's BBA Career Management Center. "Our strong 2019 results are more than a reflection of the job market."
Salaries on the rise
2019 BBA graduates saw significant increases in both salary and signing bonuses from previous years. The mean base salary for 2019 grads was $69,036, an increase of $2,739 from 2018, and the median signing bonus was $7,500, an increase of $2,000.
"Our 2019 salary and bonus numbers reflect consistent successful placement outcomes in traditional areas of business, like financial services and consulting, which continue to be desired first destinations for BBA graduates," Hershman said.
Salaries were highest for BBA graduates entering the financial services and consulting industries, and more than half the graduating class entered the workforce via one of these two industries.
Additionally, Hershman explained, emerging industries are attracting a growing number of BBA grads. "The increase in salary and bonus this year can also be partially attributed to increased student interest in emerging areas of business, such as data science and software engineering," she said. Graduates who entered the technology and science field had the highest signing bonuses, averaging $12,430.
National, global network of Goizueta BBA alums continues to expand
2019 saw an increase in the number of BBA graduates who took positions outside of the South and Northeast regions of the U.S., with marked increases in employment in the mid-Atlantic, Midwest and internationally.
"We are especially excited about increased student interest in new markets – we saw an uptick of students accepting full-time offers in cities like Chicago and Washington, DC, which historically haven't been on our students' radar," said Sarah Leist, associate director of employer relations for the BBA Program. Due to these trends, future graduates will benefit from stronger alumni networks in more regions, which Leist said the BBA CMC team is working to help build. "We are looking forward to leveraging our young alumni to make inroads and new connections in these areas and cities alike," she said.
On the job experience leads to high placement rates
The most recent BBA grads also expanded their horizons while still in school. International internships were up from 7% in 2018 to 9% in 2019 across 11 countries (up from 9 in 2018).
Nearly all graduates (97%) participated in an internship during their time at Goizueta, whether in the U.S. or beyond. Students' internships mirrored their eventual job placements, with financial services, consulting and accounting topping the list of industries. Students were well-compensated for their time, earning an average of $27.49 an hour at their internships.
Graduates have a reputation for excellence
Graduates of Goizueta's BBA program continue to be highly sought after by top hiring companies, including many in the Fortune 500. The academically rigorous BBA program, with its focus on leadership and experiential learning, paired with a hands-on team of dedicated professionals at the Career Management Center, sets up graduates to pursue their loftiest dreams.