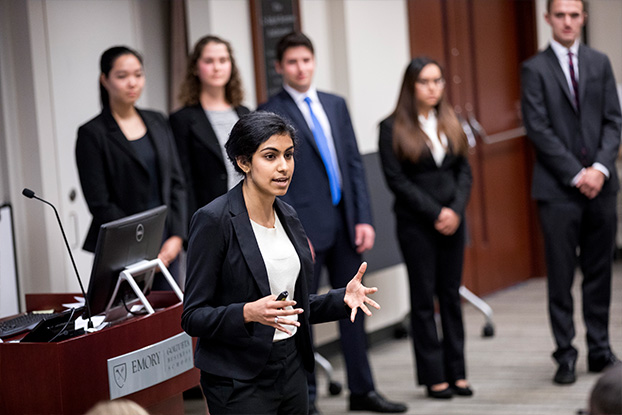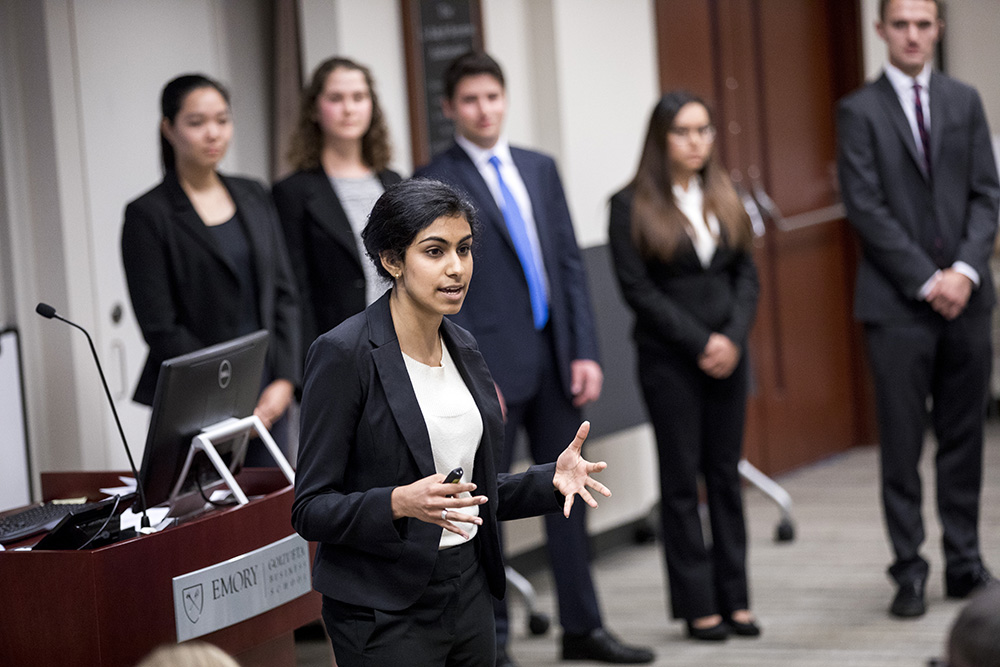 When passersby recently walked through Patterson Green, it was hard to miss two unusual items resting on the lawn. Two lavish Mercedes vehicles visited Goizueta caused onlookers to slow their step and snap a few photos. While the cars added a unique touch to the green, they were actually serving a larger purpose.
Professor in the Practice of Organization and Management Molly Epstein teaches Business Communication Strategy, a class focusing on live case studies allowing students to demonstrate their communication strategies, professional presentation skills and business writing.
For the past six semesters, students have worked with clients such as Newell, Deloitte, PwC, Coca-Cola Procurement and Coca-Cola Sustainability. Most have asked questions involving the millennial generation and issues of technology.
This year, the class partnered with Mercedes-Benz USA, focusing on how to connect buyers with the new A-Class. Students were tasked in creating a communications strategy for Mercedes to launch the first A-Class sedan in the U.S. market.
"We use live, interactive cases so that students experience the types of challenges they will face in their careers," Epstein said. "The best challenges ask students to solve ambiguous problems to which there is no one correct answer. In response to the ambiguous problem, students think both creatively and strategically to identify and implement original solutions. Students apply the communication strategy to analyze potential buyers, clarify their ideal message outcome, then craft a message to persuade potential millennial buyers."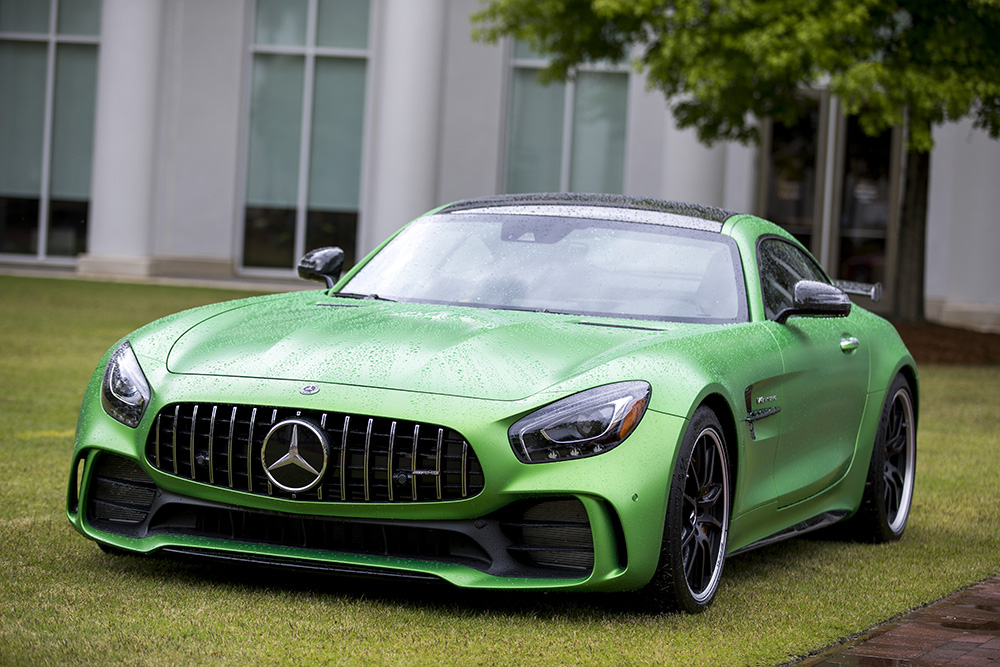 At the end of the course, the top student teams presented their communication strategies, platforms and messaging to MBUSA leadership, including CEO Dietmar Exler.
This year's winner was Team Jaxx, which included
Jue (Jennifer) Chen
Priyanka Desai
Daniel Genzelev
Devon Sullivan
Gabe Hart
Teresa (Zimeng) Wang
Deepa Raju (Graduate teaching assistant and team coach)
"MBUSA's leaders demonstrated a powerful interest in connecting with our students," Epstein said. "Leaders met with students three times over the course of the semester and provided detailed information. They showed a desire to hear student ideas and share information to help students create a better strategy. To have the CEO participate by coming to three student meetings was unprecedented."
Students understand the value of working on live case studies with clients, not only for the skills they learn, but also for the opportunities such as internships or job offers.
"When leaders see our BBA's skills for abstract problem solving, they seek them out as employees," Epstein said. "Students responded to MBUSA leaders' involvement by making the project a priority and delivering their very best work."