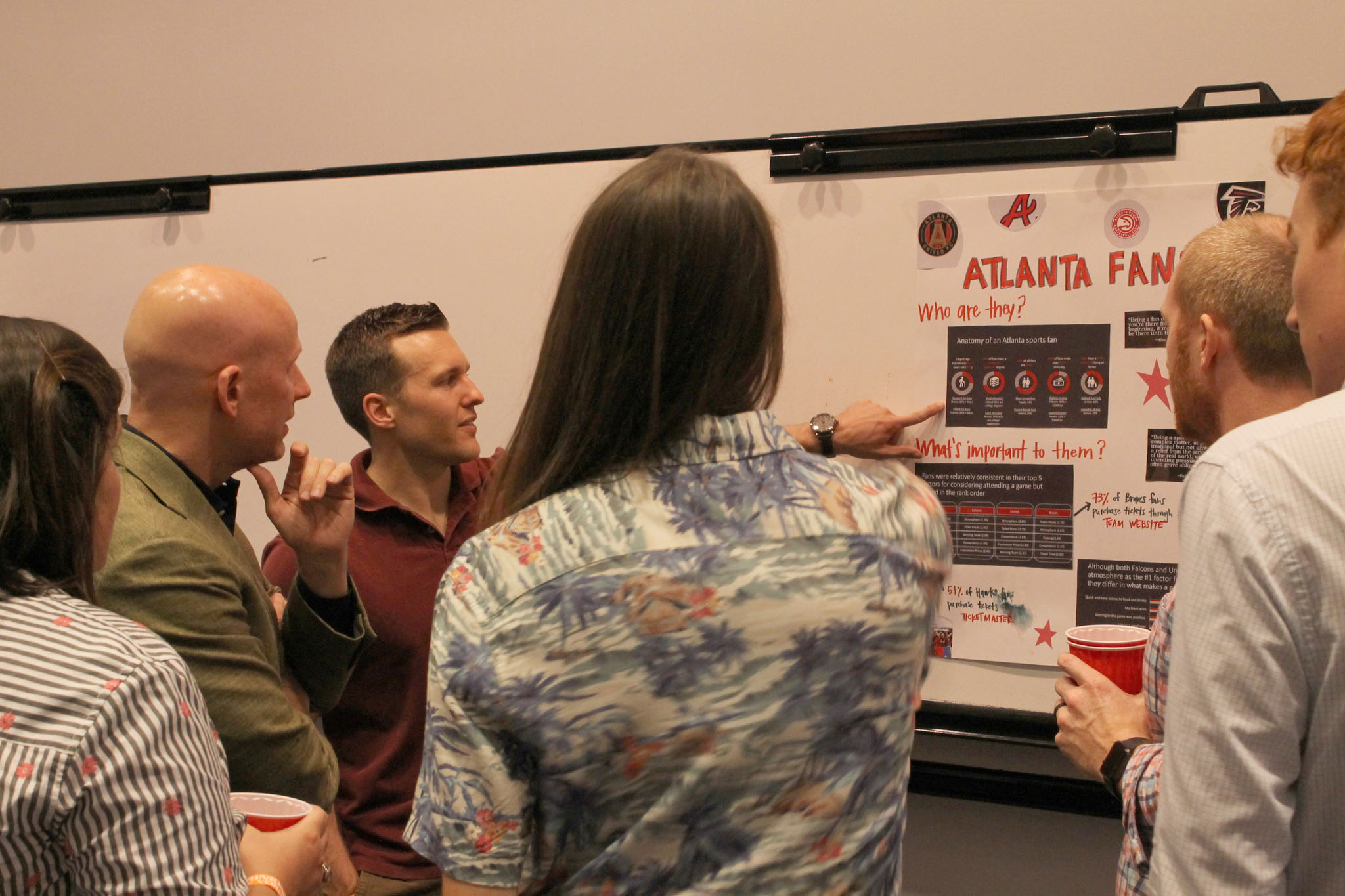 A select group of Emory MBA and BBA students celebrated their last day of classes with a final project presented to representatives from the Atlanta Hawks, Falcons and Braves.
In the beginning of the spring semester, students in Professor Mike Lewis' Sports Marketing Analytics class helped create The Atlanta Sports Survey. The survey was later emailed to Atlanta sports fans to gauge their preferences, behaviors and experience at sports games. Students analyzed surveys from 3,000 respondents. This is the second year the Emory Marketing Analytics Center has conducted The Atlanta Sports Survey.
The presentations were set up in a science fair format where students discussed their findings to Lewis, Atlanta Hawks Vice President of Analytics David Elgin, Falcons Fan Insights Specialist Craig Melissas and Braves Director of Business Intelligence Justin Watkins.
The class broke up into 12 groups to present their findings of the survey. Topics ranged anywhere from how to grow fandom, attendance and game experience, how much Atlanta sports fans care about winning, variation in attitudes across Atlanta teams, and the influence of social media on fan interaction and sentiment in the Atlanta sports market.
One group analyzed the drivers and deterrents to game experience and attendance by using descriptive statistics, cross tabs and correlation analyses.
The group found that all the sports teams' fans highly value atmosphere. What makes up atmosphere? Giving fans an experience they can only get at the game and not at home watching on television. It can be anything from generating noise, doing chants, wearing jerseys similar to thousands of other fans and feeling the same emotions as the person next to you.
The group also looked at impactful elements of game enjoyment and found MLB and MLS fans value transportation and parking the most. Meanwhile, concessions have the most impact on NBA and NFL fans' experience.
Another group in class looked into how social media influences fan interaction and sentiment in the Atlanta sports market. The group found "heavy" social media users prefer to watch their sports teams play in-person. Of the top 25 percent of social media users most likely to follow their teams through social media, 78 percent prefer to watch them in person. Only 2 percent of social media users prefer to stream games online over other methods.
Across all four Atlanta teams, findings indicate there's a value-added opportunity to target parents of children who actively follow teams through social media.