In an unprecedented era of medical calamity, joblessness, and economic upheaval, Goizueta alumni have helped community members stay clean, well-rested, and fed. "We all need to do what we can, especially from the business standpoint," said Colin McIntosh 12BBA, CEO and founder of Sheets & Giggles, a eucalyptus bedding manufacturer that relies on sustainably managed biodiverse farms. "The COVID-19 pandemic has rocked our world. We're proud to have pledged 1% of our profits, equity, time, and products to local Colorado charities in addition to supporting numerous environmental causes."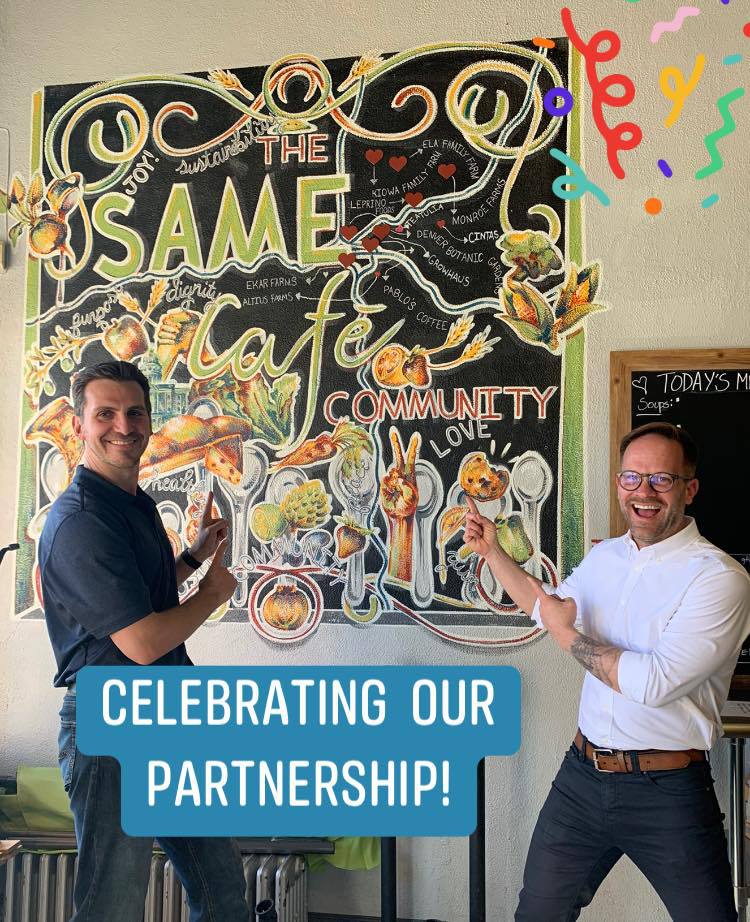 Boris Katsnelson 99BBA, CEO of leading kitchenware brand Ultra Cuisine, said, "Community is one of our core values. We believe in the power of bringing people together and giving back to our communities. Human connection fuels our world and our products help consumers create lasting memories around baking and enjoying meals together. This in no way drives why we practice social responsibility, but we have learned that many consumers want to do business with socially conscious companies."
As coronavirus cases surged and consumer panic buying impacted product availability on store shelves, Kevin Rodgers, founder of Shwaxx Laboratories, LLC, an aspiring B Corporation, shifted gears immediately for production of antibacterial soaps and sanitizers. "We believe the best way to prevent illness is to avoid being exposed to this virus at all. However, some business owners have felt backed into a corner financially. Their livelihood is based on their ability to serve the public in confined spaces," Rodgers said. "To help barbers, hair stylists, and cosmetologists take steps to wash their hands often and prevent the spread of COVID-19 in their work environment, we opted to not only educate the community but also distribute our antibacterial soap and hand sanitizer free of charge. These new products were never about making money but were designed to help businesses stay up and running during this pandemic."
"COVID-19 is impacting lives and livelihoods in unprecedented ways across the world," said Brian Goebel 09MBA, managing director of Social Enterprise @ Goizueta. "Entrepreneurs and business owners have responded by pivoting their offerings to serve neighbors in need, increasing charitable contributions to support front line nonprofit partners, and collaborating in innovative new ways via public-private partnerships."
Providing Tools for Essential Workers
Embedded in the fabric of the East Lake Atlanta community, Rodgers worked closely with his Goizueta student consultants and analysts from the Emory Impact Investing Group to evolve Shwaxx Laboratories, LLC. "I kept asking myself, as a laboratory how do we become an essential business in this current climate? How can we affect change in a good way?" As a licensed master barber and product developer, Rodgers specializes in handcrafted cleansing and styling products for the natural hair industry. "Handwashing in the beauty industry has always been paramount, and our environments are supposed to be sanitary and cleansed."
Producing liquid antibacterial hand soap and hand sanitizer was a natural evolution for his product line. "As a 2018 graduate of the Goizueta Start:ME microbusiness accelerator program, my corporate business plan has always included contributing to my community in a meaningful way," Rodgers said. "Community business owners were crying out for resources. COVID-19 made the choice for me to return to my roots and create antibacterial soap products. For the first six weeks of the economic shutdown, I studied the World Health Organization and Centers for Disease Control and Prevention guidelines for sanitizing products until I created our proprietary formulas."
Shwaxx purchased raw materials in bulk and ramped up production. Soon the company was giving away bottled soaps and sanitizers in bulk to hair care professionals as well as creating educational materials to keep business owners apprised of current public health regulations and guidelines.
Rodgers didn't stop there, however. "We also are pleased to support the efforts of Nicholas House, an Atlanta homeless shelter that keeps families together in times of crisis and enables them to achieve self-sufficiency." Rodgers said. "The public needs the help that Shwaxx can give. I'm very proud that we are doing our part to fight this pandemic."
"Crisis situations are daunting; however, they also present new opportunities. Small business owners have transformed what they do to adapt to COVID-19 by meeting their customers online, forming new coalitions to remain resilient, and serving neighbors who need help," said Goebel. "These actions not only demonstrate their flexibility, but also their deep commitment to customers' wellbeing."
Helping the Homeless Rest Easy
"Because of coronavirus and unemployment, homeless shelters are overburdened," said McIntosh. "The city of Denver realized that we'd have a huge influx of homeless after job layoffs. When individuals are symptomatic, they can't mix with general shelter population. We learned that one of the shelter's greatest needs during this increased capacity was fresh linens for the patrons served."
Since the onset of the pandemic, Sheets & Giggles has donated $40,000 to the Colorado COVID-19 Relief Fund along with more than $20,000 in new linens to homeless shelters. In addition, the company is coordinating with the Colorado Mask Project to encourage everyone (not just Coloradans) to wear a non-medical mask when they go out.
A company with heart, Sheets & Giggles "is obsessed with Planet Earth," McIntosh said. "Last year we donated 20% of our revenue between Black Friday and Cyber Monday—totaling over $17,000—to the World Wildlife Fund to help koalas impacted by the bushfires in Australia."
"As a company, we do everything we can to make a positive impact on the planet," McIntosh said. To celebrate last year's sales, Sheets & Giggles planted 20,000 trees (one per order), and last month the company announced it had donated an additional 10,000 trees in one fell swoop to join One Tree Planted's Million Tree Challenge.
"We also know that every year, about 10 million tons of textiles end up in landfills. We want to put a stop to that waste, so we reward our customers through the #Give2Sheets program for donating their sheets. What you may not know is that blankets and sheets are the number two most requested item at homeless shelters behind socks," McIntosh said. "Our company is definitely not done giving back to our community. We plan to continue to donate to pressing causes and effective charities as our company grows."
Feeding the Hungry and Enabling Restaurant Workers
Hunger in America has become an unfortunate reality for many families as joblessness impacts every aspect of daily life. In Denver, Colorado, the vegetarian and vegan-friendly So ALL May Eat Café (SAME) has seen a surge in need for meals. As a nonprofit, "For nearly 14 years, SAME has been serving healthy meals with dignity to everyone, regardless of ability to pay. During COVID-19, SAME responded to the emergency need by quadrupling the number of meals served," said Brad Reubendale, SAME Café's executive director. With the help of donations from companies like Ultra Cuisine, "SAME will continue to expand service and replicate the SAME model with SAME Cafés in new communities, So ALL May Eat."
"We found SAME to have exceptional mission alignment with Ultra Cuisine," said Katsnelson. "We are very impressed with their work, especially to feed so many in need during the COVID-19 time."
Ultra Cuisine aligned with SAME to support feeding our community's hunger. For each registered product purchased on the company website or through Amazon, the company donates one healthy meal to the SAME Café in Denver," Katsnelson said. "We have outfitted the SAME Café kitchen with Ultra Cuisine products. In addition, our company provides essential tools to graduates of Cook to Work, SAME Café's flexible restaurant industry job training program where students obtain skills that translate into employment in the food service industry."
"We are thrilled to support their cause, and if consumers choose Ultra Cuisine products to support SAME Cafe, it is a win-win all around," he said. "We live in the era of great need on so many levels. It is deeply gratifying to step up and make personal and professional contributions to our nation's shared success."