Goizueta Business School celebrates and recognizes the innovative thinking and drive of its entrepreneurs. Emory Business shares this inspiring alumni story in recognition of Global Entrepreneurship Week 2021.
Since the start of Colin McIntosh's 12BBA career, finding meaning and making an impact has been at the forefront of his work. He turned down an offer at Drizly, which was acquired for $1.1 billion dollars by Uber, to work at bettering the lives of animals. His last startup, Revolar, combatted sexual assault and violence. His sustainable bedding company Sheets & Giggles, founded in 2017, is equally conscious.
"It was crucial for me to build a socially responsible company," McIntosh says. "From day one, I wasn't going to do anything that doesn't make me feel proud, and that's baked into the company. My goal was to sell a sustainable product that does good just by existing at a company that does good along the way."
McIntosh graduated from Goizueta with a BBA in Finance and Business Law. He credits his education for equipping him with skills that have served him well as a CEO. Citing business law and negotiations classes, he speaks of negotiating deals with major retailers. McIntosh's philosophy class gave him the structural and persuasive writing skills that translated into building a brand voice.
The Denver-Based Company with a Big Sense of Humor and Clear Brand Voice
McIntosh's voice for Sheets & Giggles presents itself in advertising and social media. He wants the voice to entertain and educate people, as well as add social commentary when warranted.
"I genuinely don't see most brands as communities. Founders often use cliches like 'we're a family here,' and I don't want that type of thinking because, honestly, why would somebody care about what a bedsheets company has to say about current events?" he says. "When I think about the brand voice and our 'community,' I realize it's a group of smart, like-minded people not easily swayed by cheap promises. Our authenticity sets us apart. People read our website and know, 'I can trust this company. It's not actively trying to sell me and wants me to have fun reading.'"
When I think about the brand voice and our 'community,' I realize it's a group of smart, like-minded people not easily swayed by cheap promises. Our authenticity sets us apart.

Colin McIntosh 12BBA, CEO of Sheets & Giggles
Sheets & Giggles has indeed delivered incredible impact: they've shipped more than 100,000 sustainably made eucalyptus sheets, comforters, duvet covers, and pillowcases; planted tens of thousands of trees to replenish our forests; and in the last year, donated bedsheets to homeless shelters and $100,000 to charitable causes, including $40,000 to the Colorado COVID-19 Relief Fund.
Retail giant Amazon recognized Sheets & Giggles as one of six small businesses making a huge impact during the pandemic. Other accolades include the Good Housekeeping 2021 award for Best Overall Sheets and two features on Good Morning America.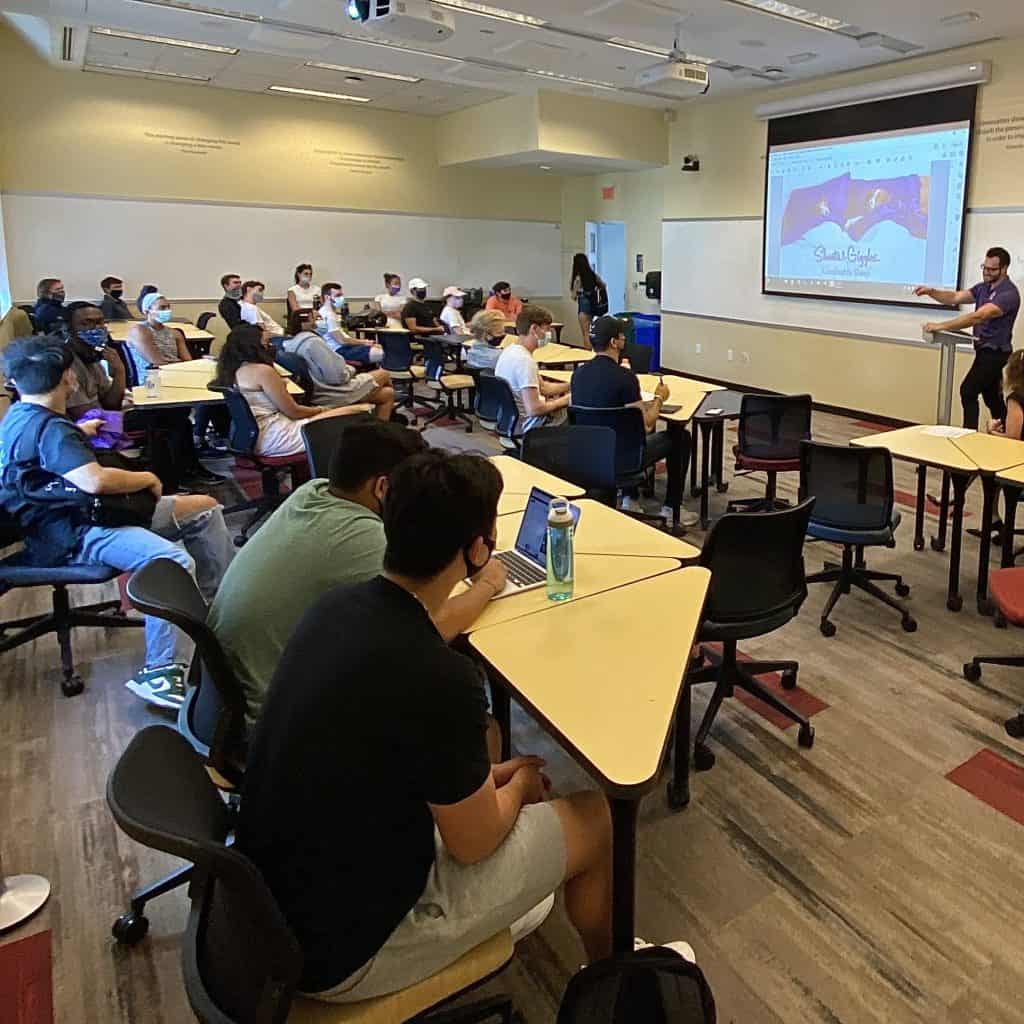 Embracing Failure Leads to Success
"I've been fired three times in my career," McIntosh says. "Struggle, failure, and emotional turmoil are the keys to success because they make you realize, 'Okay, well, I should have done that differently,' and next time you do. Don't be afraid of mistakes."
The key to success for McIntosh lies in taking notes, embracing failure, and conducting a cost-benefit analysis. "Write down your business ideas, flesh them out, think about things over time, and reflect on your outcomes," McIntosh says. "Be a little neurotic."
McIntosh used the notes he took during a crowdfunding campaign at his old company to inform the methodology for his own crowdfunding campaign to launch Sheets & Giggles. By doing so, the new venture captured $300,000 in pre-ordered eucalyptus sheets.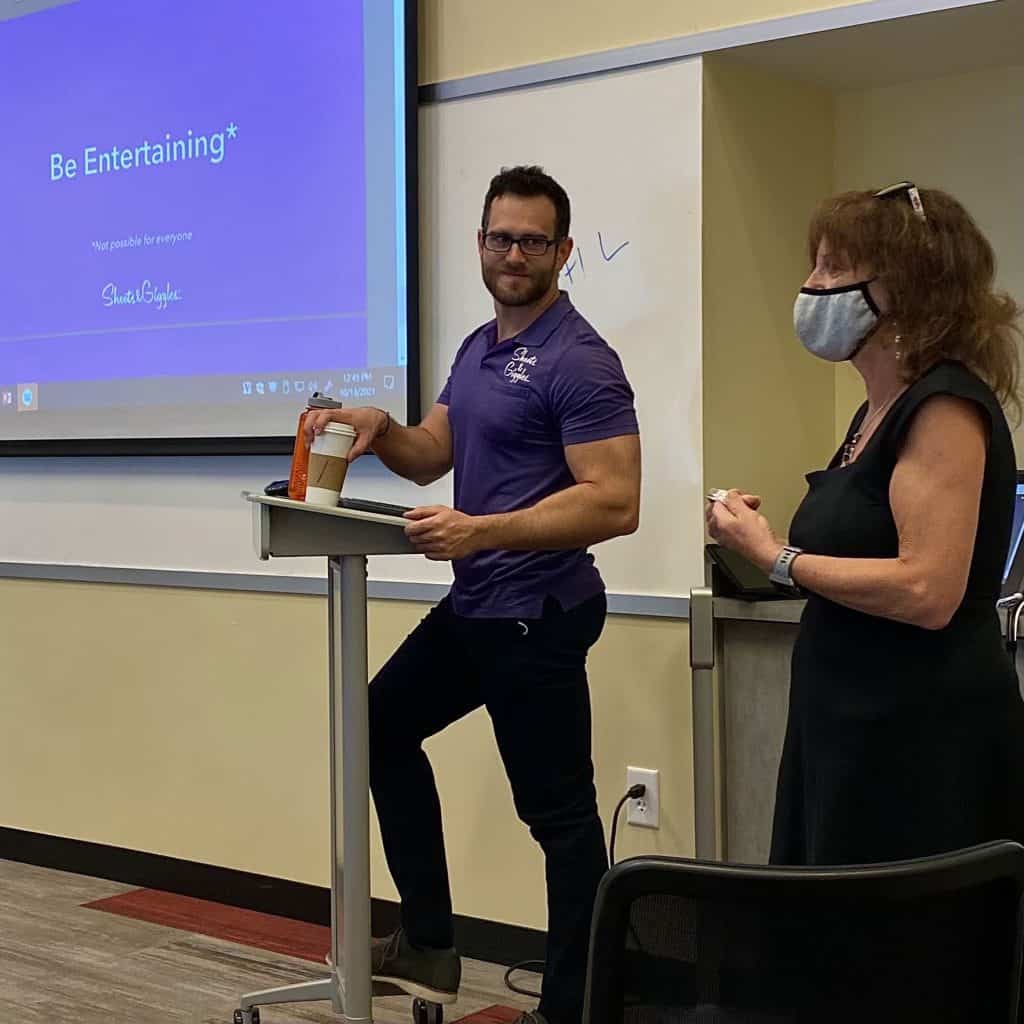 "Part of taking risks is conducting a cost-benefit analysis. If you asked 100 people, 'Would you ever start a business?' Half of them would say, 'one day,' and the other half would say, 'no, that's not for me.'" McIntosh notes. "Of those who say no, 90 percent would probably say, 'I don't have a good enough idea' or 'I'm too risk-averse.' Aspiring entrepreneurs should look at worst- and best-case scenarios. If you start a business and it fails and you're someone who went to a university like Emory, your worst-case scenario might be eventually working for a kickass company with good benefits, stability, and the financial ability to buy a home, have a family, and take two vacations a year. That's a pretty good—and very privileged—worst-case scenario. So, why not start that business and see where it takes you?"
Sharing Creative and Practical Vision with Goizueta Students
McIntosh returned again this year to Goizueta to participate in Senior Associate Dean of Undergraduate Education Andrea Hershatter's entrepreneur class. He loves the resources provided by The Roberto C. Goizueta Center for Entrepreneurship & Innovation, a new center offering multi-disciplinary and cross-vertical experiences to develop the entrepreneurs, intrapreneurs, investors, and innovators of tomorrow.
Sheets & Giggles plans to expand its product roadmap in the coming months to include pillows, apparel, and the world's most sustainable mattress—a biodegradable, recyclable mattress made from eucalyptus, natural latex, and recycled steel in plastic-free packaging.

"Four years ago, I had nothing but a good pun and a decent idea," he says. "Four years from now, who knows where Sheets & Giggles will be—well, probably still in the bedroom, but you know what I mean."
The Roberto C. Goizueta Center for Entrepreneurship & Innovation launched in 2021, representing an expanded scope and elevated commitment to entrepreneurship and innovation for the Goizueta Business School. The school offers more than 15 different courses for undergraduate and graduate students from introductory to advanced skills.
Read more about Sheets & Giggles' commitment to giving back to the community.