When prospective students have visited campus to hear about Goizueta's Real Estate Program, Roy Black often took them to Dolive, a large meeting room on the fifth floor of Goizueta's east building. From that room's panoramic window, Black would point to various buildings on the horizon. "You see that building?" he'd ask the visitor. "A former student manages it. And for that one over there?" He'd tap the glass. "One of our alums does the leasing."
It's a big selling point, Black explains, that Goizueta is located in one of the country's most vibrant real estate markets, and, as a result, the home to a robust real estate job market.
Black, professor in the practice of finance and director of Goizueta's Real Estate Program, has a law degree, a master's degree in real estate, and a PhD in business administration. He joined Goizueta in 1998 to teach real estate finance. In 2007, he was asked by then-Goizueta Business School Dean Larry Benveniste to build a real estate program "brick by brick," recalls Black. This August, Black will retire from Goizueta. "I'll miss it, but the program has turned a corner," he explains. "It will survive because there are great people supporting it."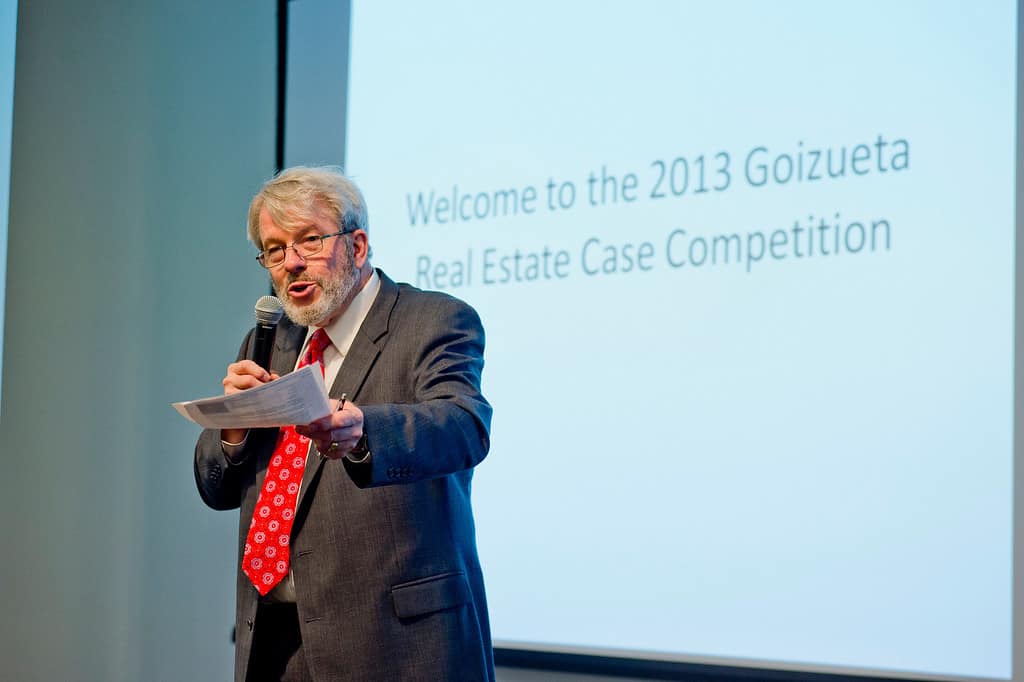 Black highlights the resounding success of the inaugural Emory Real Estate Conference, held in Buckhead in April, as a prime example of the kind of support the program has within Goizueta and the greater community. The conference was organized and co-chaired by students John Schellhase 23EvMBA and Bernard "Bern" Clevens 22MBA. A sold-out crowd of 550 people attended the event.
Black remains in constant touch with the program's alumni. Several have served as adjunct professors. "They share their hands-on experience," notes Black. "Their years of experience in the real estate profession give them a tremendous amount of credibility."
The real estate program's involvement with the Emory Center for Alternative Investments, the formation of the Goizueta Real Estate Club, and the ability for students to analyze and make investments through the Real Estate Private Equity Fund are all elements of the program Black is proud to have been a part of and which he believes sets Goizueta's real estate program apart.
Growing Real Estate at Goizueta
Though Black is proud of how far the real estate program has come, he'd love to see a full-time faculty member dedicated to fueling its future growth. Creating a Real Estate Center that conducts research and provides the greater real estate community with cutting-edge research is also on his wish list. "We have the breadth," explains Black. "Now we need to go for depth beyond what the other real estate programs have. Real, innovative stuff that's next frontier."
As he nears his retirement, Black is dusting off his list of hobbies. He's "dibble-dabbled in portraiture," he says, and plans to do more. He also has a collection of Baroque-era musical instruments he'd like to learn to play—and hundreds of books on his reading list.
"Goizueta and the real estate program was a wonderful opportunity, and I am glad to have been a part of it."

– Roy Black
Read more about the inaugural Emory Real Estate Conference. Learn more about the Goizueta Real Estate Group (GREG), which offers a robust calendar of annual events and experiential opportunities within real estate. Join the Emory Real Estate Alumni Group on LinkedIn.
Join Goizueta alumni and community members in supporting 2O36, our ongoing campaign to fund strategic priorities such as endowed faculty professorships, student scholarships, and more. Learn more about how you can invest in Goizueta's future.