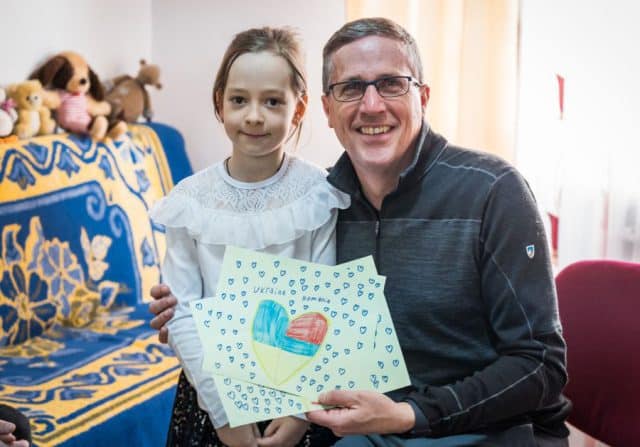 Emory alumnus Michael Nyenhuis heads UNICEF USA's efforts to provide safe haven for kids in war-torn Ukraine—and in countries around the world.
Since its invasion of Ukraine in February 2022, Russia has brazenly targeted populated urban areas—hitting schools, hospitals, and residential areas with bombs and missiles—and wreaked havoc on the nation's infrastructure. The war has displaced more than 7 million Ukrainians, most of them children and women, according to UNICEF, the United Nations (UN) Children's Fund.
"What makes the humanitarian crisis in Ukraine unique has been the speed with which so many people have been forced to leave the country," says Michael J. Nyenhuis 12EMBA, president and CEO of UNICEF USA. "It's been challenging for neighboring countries to take them in and support them. UNICEF works to help these refugees find a place to live and cope with the trauma of everything they've left behind, which includes family members who remained in Ukraine to fight."
Established by the UN shortly after World War II, UNICEF has become the world's largest humanitarian aid organization dedicated to protecting children's welfare. Operating in more than 190 countries and territories across the globe—including Ukraine for the past 25 years—UNICEF strives to make sure every child in every nation around the globe is healthy, educated, protected, and respected.
"Following Russia's aggression and annexation of Crimea in 2014, we scaled up UNICEF's presence and programming in Ukraine," says Nyenhuis, an Emory alumnus who received an executive MBA from Goizueta Business School in 2012. "As the current war shows no signs of stopping, we have deployed hundreds of workers to provide safe water and medical supplies for children and families, as well as longer-term assistance such as education and psychosocial care."
The organization has not only provided aid inside Ukraine, but also across the country's borders.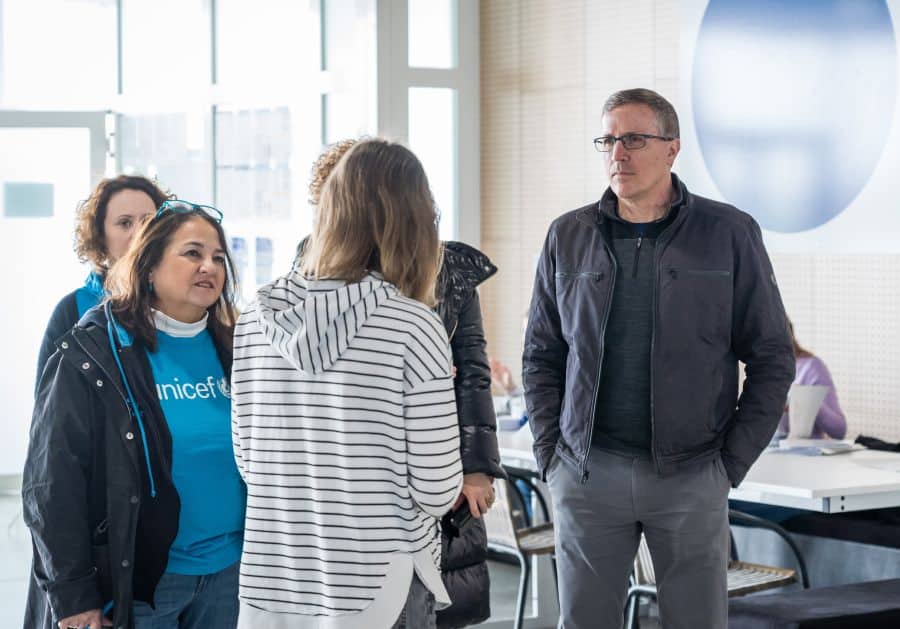 "We've set up refugee support centers—which we call Blue Dot Centers—in neighboring nations like Poland, Moldova, Romania, and Hungary," Nyenhuis says. "These centers are safe spaces equipped to receive thousands of refugees a day. They help children and their families find lodging and transportation, register them for counseling and protective services, and check on their overall health."
Working from the United States, Nyenhuis and UNICEF USA have played critical roles in building public awareness, promoting advocacy initiatives, and leading fundraising efforts for those affected by the Ukrainian crisis.
"The US is ultimately UNICEF's biggest financial supporter," he says. In 2021, UNICEF USA raised more than $1 billion in private resources to support children's welfare needs globally. And since the war in Ukraine, an outpouring of continued donations has instrumentally helped fund the setup and operation of these Blue Dot Centers on the country's borders.
This past spring, Nyenhuis flew to the Ukraine-Romania border to see firsthand how the centers were providing children and families with safe spaces at border crossings. While there, he met with a large group of children who had fled an orphanage in Ukraine—and the experience shook him.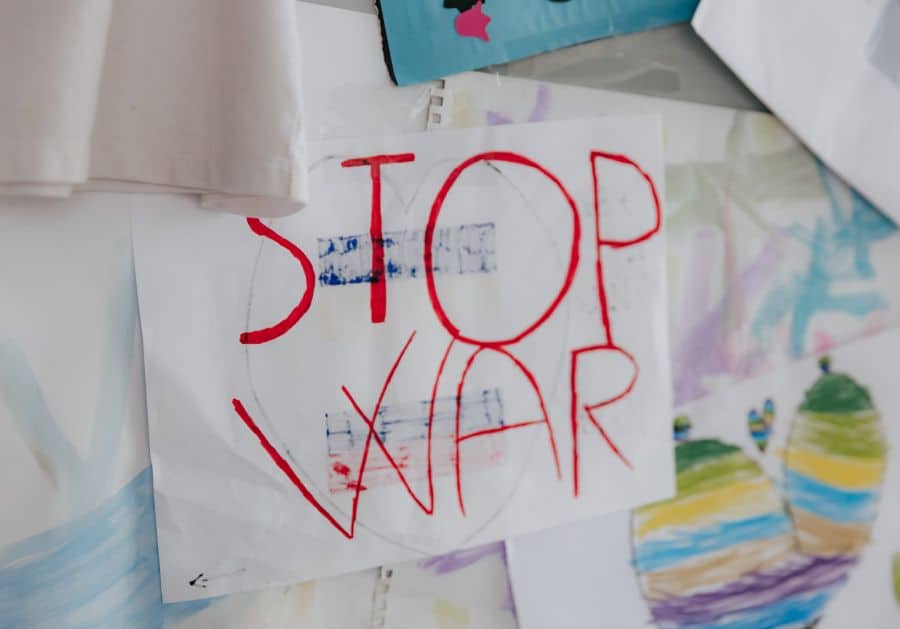 "These kids fled with their caregivers, who in the midst of all that fighting and trauma, somehow loaded all of them up on a bus, drove them to the border, and crossed over into the country," he says. "I can't imagine the fear and confusion they felt as the life they knew was upended. Luckily, we were able to welcome these children and give them refuge, make sure they were fed and clothed, and then place them in a group home in Romania."
Nyenhuis also had the opportunity to speak with many women and children whose husbands and fathers stayed put in Ukraine to fight for their country. "So many families are being split up by the war—the long-term mental and social ramifications are devastating," he says.
The UNICEF USA leader returned to the US fired up to reinforce the urgency of his organization's efforts—and the impact the Blue Dot Centers were having. Unfortunately, that sense of urgency is difficult to sustain over time due to distractions and donor fatigue, Nyenhuis says.
"It's easy for Americans to lose interest in what's going on thousands of miles away in a foreign land," he says. "It's easy to turn our short attention spans to whatever crisis comes next in the news cycle. But with crises like the one in Ukraine, it's important to keep telling these stories and urge more and more people to get involved—to be active participants and not just casual observers."
Continue reading this feature and learn more about Nyenhuis's career and UNICEF response to humanitarian crises like this around the world on Emory Magazine.