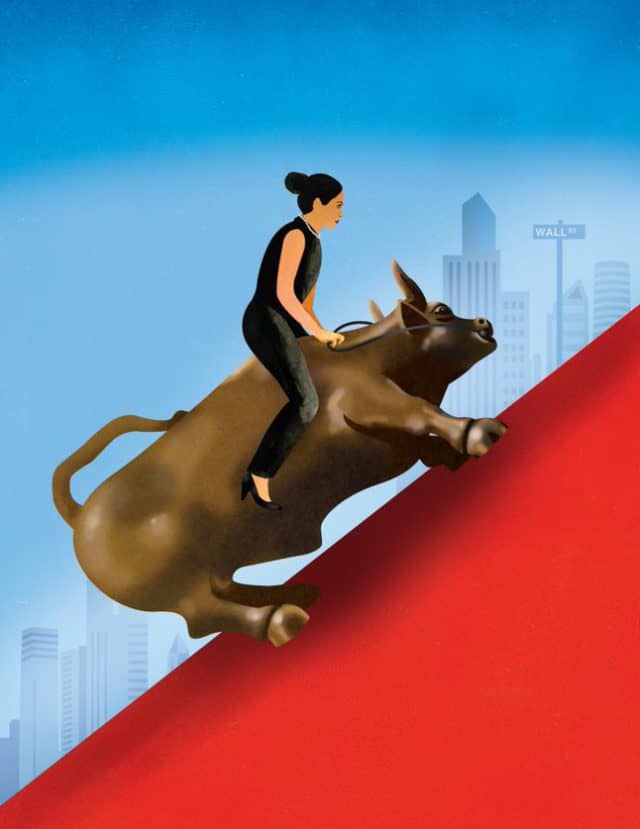 In fictional tales, finance leaders are often portrayed as larger-than-life, broody men driven by ruthless greed and ego, like the infamous Mr. Potter in It's a Wonderful Life or Leonardo DiCaprio's Jordan Belfort in Wolf of Wall Street.
In reality, a new kind of leader is rising to the top of the finance field in some of the world's largest firms with trillions of dollars in assets under management: Goizueta women graduates.
Through innovative degrees, focused forums, networking groups, and its newly launched Finance Lab, Goizueta Business School is actively preparing women to advance in the industry.
Within the United States, arguably the world's largest economy, the financial services industry accounts for approximately $4.8 trillion in annual revenue.
Across the country, close to one million businesses actively serve the finance and insurance industries. At Goizueta, nearly 23 percent of Full-Time MBA graduates accept employment in financial services businesses, with more than 32 percent taking roles in finance and accounting.
Though finance employment openings for women have increased since the early days of their entry into the workforce, advancement opportunities still lag those for men. Consider this fact about the financial services industry shared in Deloitte's "Leadership, representation, and gender equity in financial services:" By mid-year 2021, women held only six percent of CEO roles within the S&P 500 companies.
Statistics show that parity, equity, and equality for women in finance may have improved slightly in recent decades. According to the newly released Crist|Kolder Associates "Volatility Report 2022," the percentage of female C-suite has increased for the fourth consecutive year, with the number of female CFOs nearly doubling over the last ten years.
The industry is eager to see better representation, and there are really no barriers anymore. There has never been a better time for women to enter the field of finance.

Allison Dukes 06EMBA, chief financial officer at Invesco Ltd., a financial services firm with approximately $1.5 trillion in assets under management.
Finance Leaders Need Influence and Skills
As Dukes notes, "Finance is a broad field, and there are so many paths one can take. Fundamental finance skills are obviously necessary to master in a finance career." She adds, "To lead, one must have the ability to influence decision making and strategy. A successful finance leader doesn't just keep score, rather they seek to create more value for a company."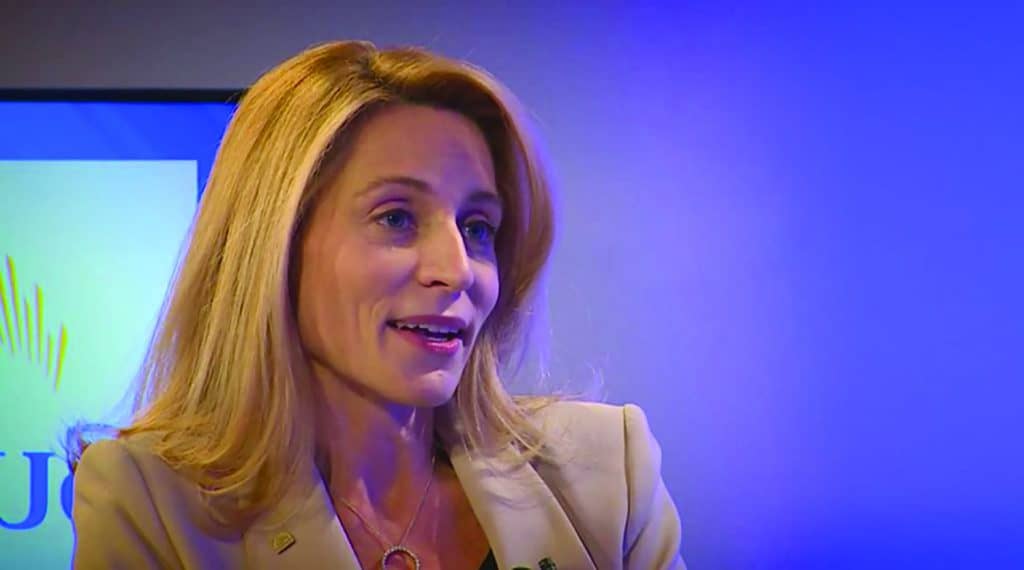 Still, rising to leadership requires knowledge, technical skills, and charisma. In the historically male-dominated financial leadership community, "There is some progress, but it's far too slow given the number of talented people from underrepresented groups I've come across during my career in finance," says Kirsten Travers-Uyham, Goizueta associate professor in the practice of finance and academic director for the newly launched Master of Analytical Finance degree program. Travers-Uyham has deep experience in senior roles for the investment banking and hedge fund industry.
In addition to technical finance skills, we want our students in our Master of Analytical Finance program to learn the soft skills necessary to thrive and grow in the modern finance workplace. These skills will help open doors for our students, including the women in our first cohort who comprise 46 percent of the class.

Kirsten Travers-Uyham
Goizueta is intentionally focused on recruiting a more gender-balanced class for this degree, partnering, for example, with Spelman College to recruit their female graduates into the program. In addition, Goizueta partnered with MBAchic to sponsor the event "Breaking into the Field of Fintech," for which Mari Kikaleishvili 21MBA, product manager at Fiserv, served as a panelist.
For students Lauren O'Banion 23MAF and Minjeong Seok 22C 23MAF, the Master of Analytical Finance degree will merge their love of finance with the technical, hands-on, practical experience needed to embrace opportunity within the industry. O'Banion builds on her recent internship with Regions Bank where she was a business capital analyst for Regions Business Capital. Seok comes to the program with internship experience as a performance and insights intern for The Coca-Cola Company. Both women gained invaluable industry knowledge in data analysis and project management as well as time management, critical thinking, and teamwork.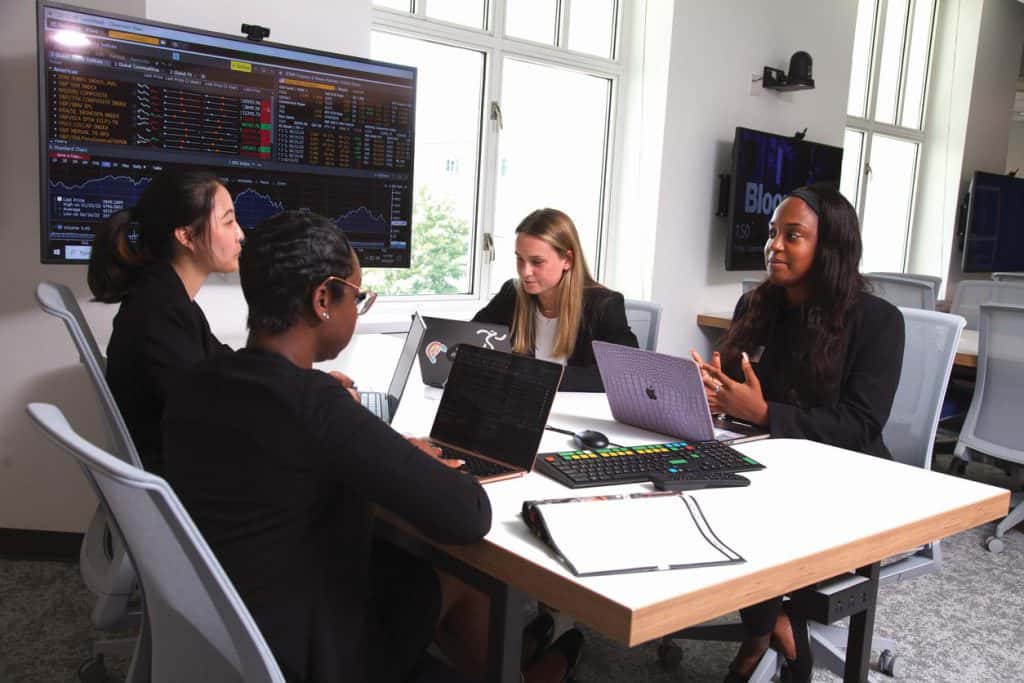 Drawn to the unique composition of this new degree program, O'Banion shares, "This internship-style graduate program allows us to gain more real-world experience than a typical master's program. There are four different rotations: global markets, asset portfolios, investment strategies, and a final 'in practice' rotation on a global leadership team."
In Goizueta's newly constructed Finance Lab, students gain an immersive experience. O'Banion continues, "We'll be learning from the best of the best and have access to state-of-the-art tools, real-time market data, and trading platforms to model, trade, and collaborate on real-world consultancy projects with industry clients."
Seok, too, was captivated by "the program's classroom setting–a feature I'm familiar with–and preparation for the industry–a challenge I would face to advance my future."
Mentors Matter
Forging a path from business school to the C-suite includes many milestones. Rebecca Ginzburg 94BBA, president and chief operating officer of Junto Capital Management, a $5 billion long/short equity fund with 50 team members, collaborated to build her firm almost a decade ago. As president she leads the firm and works closely with team members, representing the firm to external partners and driving the strategic direction of the firm in conjunction with the CEO.
Ginzburg exemplifies leadership and shares her core values. "It is unfathomable to me that anything outside of my own performance would impede my success," she says. She encourages women who aspire to grow. "We need to have a mindset that we control our own destiny and that we own our outcomes."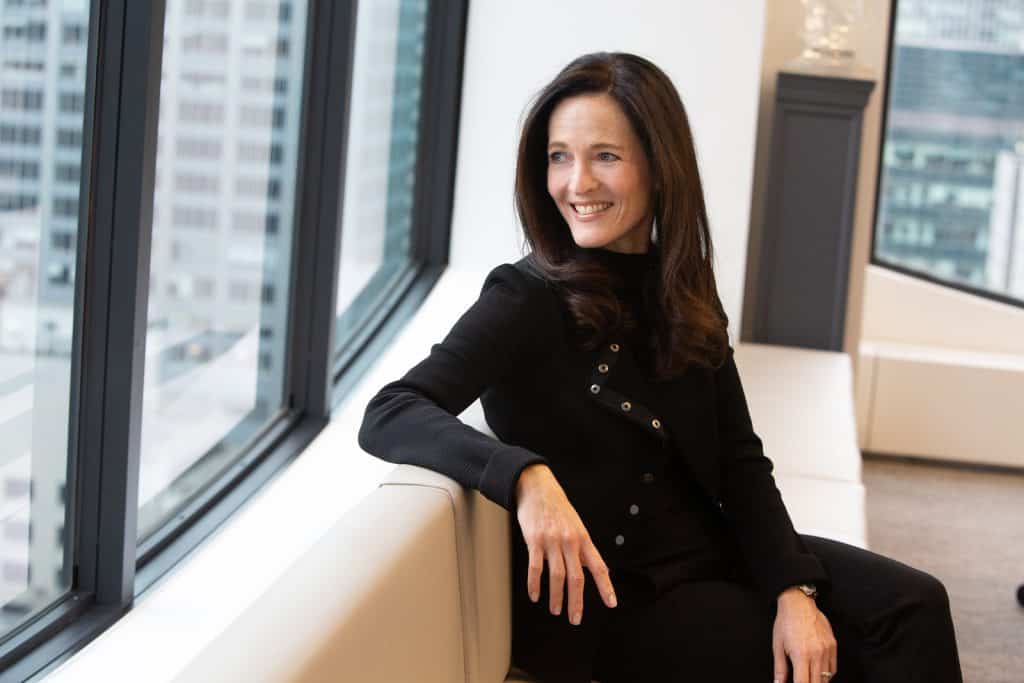 "Mentors are critical and have shaped who I am as a person–wife, mother, friend–and who I am professionally and how I affect my role at Junto. I credit my relationship with my parents for recognizing early that I had a lot to learn, and that forging relationships founded on trust was critical," she says. "I have incredible mentors, both men and women, and they are extremely important to me. Mentors are the ones who tell you what you may not be able to see on your own, who expose your blind spots, who provide you with constructive feedback to understand where you are falling short, and who give you the confidence and reassurance to get back on track."
"No one can succeed without having failed. Take the time to evaluate mistakes and failures and to learn from them," Ginzburg says. "Turn to your mentors in those dark moments–they want to see you succeed."
As history has shown time and again, women help women along the rise to the peak of their careers. Networking and mentoring are critical to success in the finance world, and nonprofit organizations and social groups such as Women of Wall Street, 100 Women in Finance, CEO Circle, and Girls Who Invest offer industry educational opportunities for women, supporting career growth at all stages, from pre-career through C-level and beyond.
Paying It Forward
In Finance circles, talk surrounds a concept known as the "multiplier effect." The theory is that for every one woman who advances to a C-level or board position, three more will be promoted to senior level roles.
Clifton Green, Goizueta's John W. McIntyre Professor of Finance, elaborates. "The multiplier effect describes the important influence of role models," he says. "Studies have shown that women teachers and leaders can have significant effects on the choices that young women make."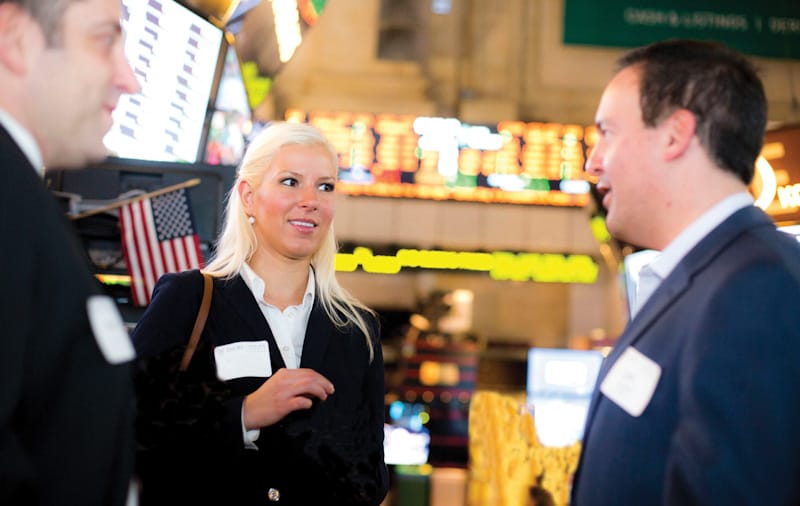 Goizueta offers women access to powerful personal and professional development opportunities. The Goizueta LeadHership Program was designed to nurture female business students and provide a series of workshops throughout the year that address topics such as communicating your personal brand, executive presence and leadership style, managing career and family obligations, and cultivating advocates. Goizueta also partners with The Forté Foundation to further women's advancement in business leadership.
BBA students are invited to join Goizueta Women in Finance, a forum that focuses on the unique challenges and opportunities that exist for women in the finance industry. At the graduate level, and for those BBA students with professional experience, Executive Women of Goizueta and Graduate Women in Business help women encourage each other to remove barriers, promote diversity, and develop into stronger leaders. Both groups offer interactive events, seminars, and speaker series featuring business and academic leaders to explore roles beyond Wall Street in corporate finance, budgeting, lending, credit, and risk management, among other specialties. Students are also invited to participate in the Goizueta Alumni Mentor Program for practical insights, professional coaching, and industry-experienced guidance.
As Goizueta women finance leaders agree, intentionality in career choice is vital. Ginzburg points out, "You must consider their interests and their talents, and hopefully find an industry and company that enables you to leverage both. There needs to be a balance of searching for growth while working hard to be elite in your current role."
Don't let being a woman get into your psyche about what you are or are not capable of doing, of what you may be limited by.

Rebecca Ginzburg 94BBA
She continues. "A career is a journey. One step needs to be sturdy and successful before the next can be taken. This does not mean that you should not take calculated risks and push yourself to do more–this is critical," says Ginzburg. "Of great importance is aligning yourself within a firm and team that you believe in, where you share values and ethics, where you believe in the culture. When this comes together, and you have trust, you are off to the races!"
Learn more about Goizueta's Master of Analytical Finance degree program.