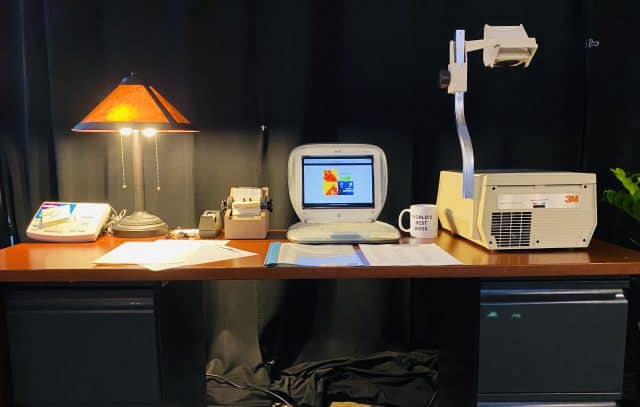 When students shuffled into Wesley Longhofer's Business and Society class this August, they were expecting to learn about the social responsibilities of business—a class that Longhofer has taught with enthusiasm and dedication for the better part of a decade.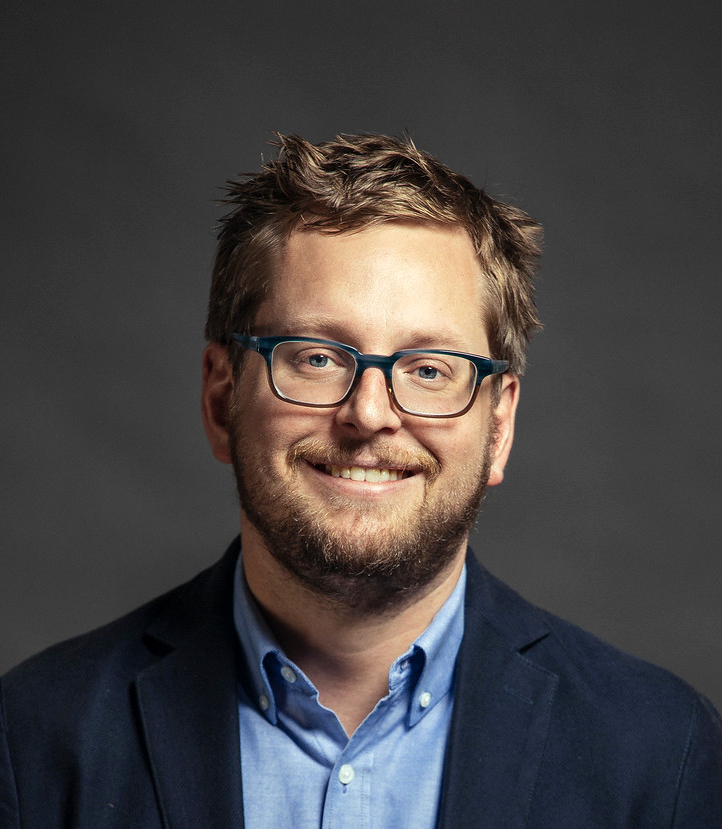 What they were greeted with instead was the same core curriculum, the same commitment from Longhofer, but with an added bonus: The 144 students would be working with two artists all semester to create a project through Emory's Arts and Social Justice Fellows Program.
"I've always tried to do creative projects in class to push students to reimagine what's possible. I want to challenge some of the things that we take for granted about what a corporation is for and recognize that companies can achieve a broader purpose, such as providing meaningful jobs or innovative solutions to the climate crisis," says Longhofer, Goizueta Foundation Term Associate Professor of Organization & Management and executive academic director of the Business & Society Institute.
The semester-long project paired business principles with artistic styles of Dadaism and the use of holographic technology.
The art project forced students to exercise their creative muscles. They had to focus on what they believe in, what their values are, and how to advocate for those values. Learning how to express yourself is a vital business skill.

Wes Longhofer
The Arts, Social Justice, and Business
Emory's Arts and Social Justice Program was created in 2020 as a way for artists, students, and faculty to "explore how artistic expression can inspire change," says the Arts and Social Justice Fellows Program website. Given the size of Longhofer's class, he was granted the unique opportunity to partner with two artist fellows: Jessica Hill, actor and improviser, and Kacie Willis, podcaster and sound designer.
Emory business students are very, very smart, and I loved how thoughtful and insightful they were while sharing their opinions about business and societal issues.

Kacie Willis
"It was also great that so many were willing to trust the creative process and put their all into their artistic homework assignments and class exercises," says Willis.
Longhofer enjoys bringing creative elements into class where he can, getting his business students out of their traditionally structured minds and providing them the space to think of innovative ideas to complex business and society issues. The program seemed like the perfect opportunity to do something a little different than business as usual.
"Business and Society was unique to the ASJ program because not only was it one of the biggest classes we've worked with, but it was also our first class to have two artist fellows contributing with each other and the professor," says Jacque Pritz, Emory Arts program coordinator. "It was exciting to see their creative process unfold throughout the semester, which led to an exciting installation for the final showcase."
Trust the Process
The class project, in conjunction with the other installations from classes around Emory, was presented in early December at the Switchyards Downtown Club. Longhofer's students worked diligently throughout the semester on various homework assignments, including a Dadaism interpretation of their resumes, to pull together the final project. After running their resumes through a special software program, the students were given unique, unintelligible interpretations of their documents in return.
"I was so excited! I can't remember the last time any of my college classes had an art component," says Dariana Rodriguez 23BBA. "While there are a lot of creative aspects to business in terms of problem-solving, it is easy to get caught up in the technical side of things."
The art component of the class added a unique aspect to my schedule that allowed me to be creative and think about business problems in a different way.

Dariana Rodriguez
In addition to the Dadaism pieces, 12 students recorded videos, using Goizueta's holopresence technology. In their clips, students described the business skills they currently possess and what they are capable of accomplishing in the future.
"Leveraging Goizueta's technology to create art was one of the coolest aspects of the project," says Rodriguez. "Hearing and seeing myself and my classmates talk about our current and future capabilities was an out-of-body experience. I also liked the combination of the past and future through technology."
The project, Longhofer explains, was a juxtaposition between past and present as well as present and future, incorporating now-antiquated equipment from the 1990s, mixing it with student pieces and voices, and rounding everything out with the futuristic hologram.
"The project encouraged them to recognize that life is chaotic and confusing and goes in different directions—and that's a beautiful thing, too," explains Longhofer. "Once they work for a company, they'll realize that things aren't as buttoned up as you might think they are in an Excel spreadsheet or PowerPoint deck. You're dealing with ambiguity all the time, and you need to be creative if you want to solve those ambiguous problems. Art can be a really great way to untap that creativity."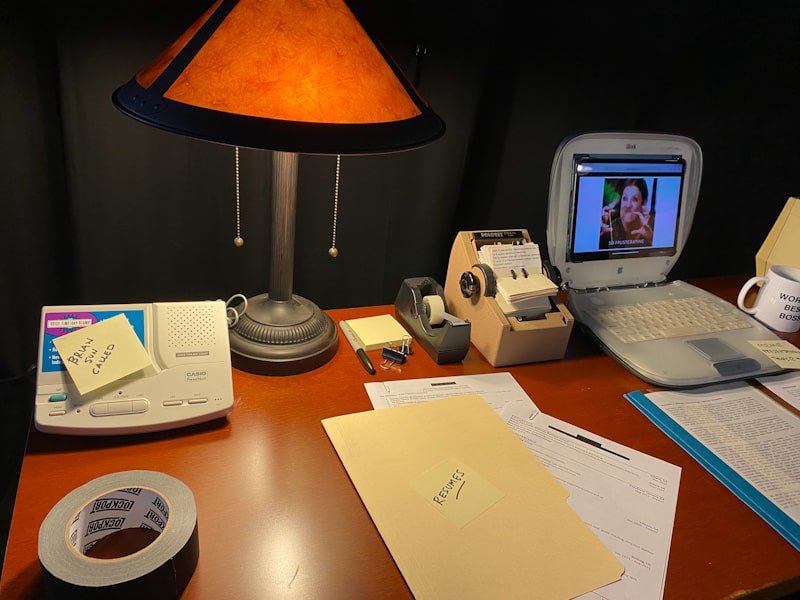 Untapping Creativity to Solve Ambiguous Problems
During the semester, the students split into smaller groups to work one-on-one with the artist fellows, participating in improv and applied theater sessions—not the average business school experience for Goizueta students.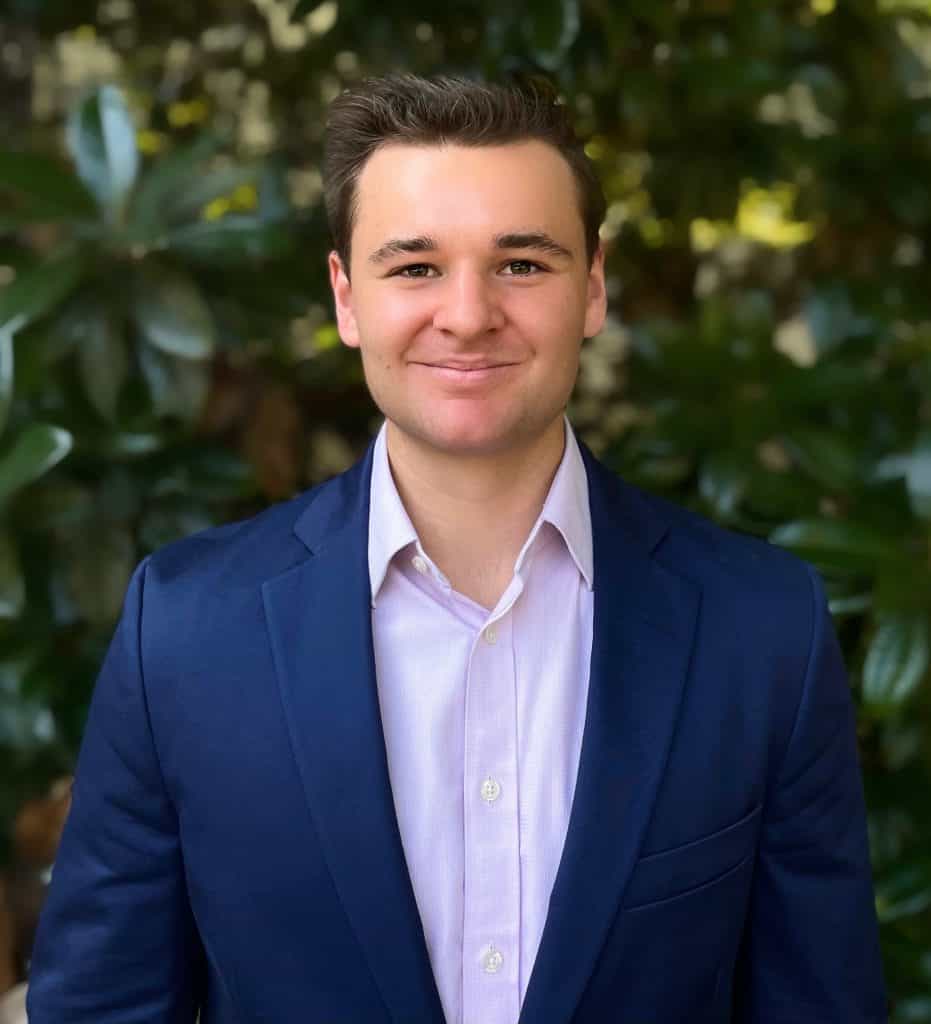 "It was pretty entertaining to watch a room full of BBAs act out scenes of going to the beach or engaging in a huge rock-paper-scissors tournament. What appeared like skits and games always had deeper implications for work and life, so our experiences were good reminders about remaining open-minded and feeding one's creativity," reflects Jackson Pentz 23C.
Pentz continues: "We might think that business and acting are completely different professions, but both require the ability to read people, to interpret all types of communication, and make decisions without complete information."
There is an improv artist in every good business person, and the more we learn to think like one, the more agile and holistic our solutions will be.

Jackson Pentz 23C
Goizueta's Business and Society Institute develops the next generation of business leaders to be equipped with unique thinking and problem-solving skills through coursework and hands-on experiences, like the Arts and Social Justice Program.