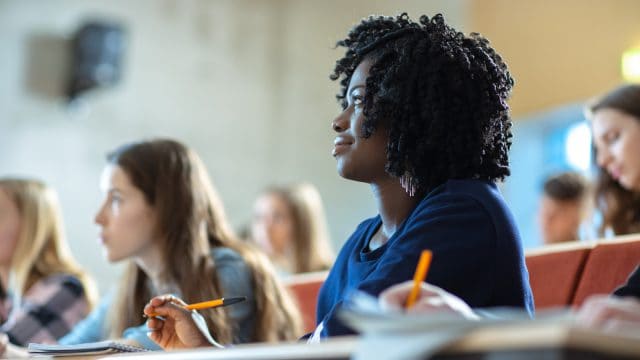 Goizueta Business School continues to expand academic and co-curricular offerings with personalized experiences that prepare students to drive toward the future of business. With a focus on equipping the next generation of principled leaders to positively influence business and society, this year, Goizueta has launched new courses across program areas, including expanded online offerings in the Evening and Executive MBA and more opportunities to level-up your career with Emory Executive Education offerings.
Emory Executive Education
Digital Acumen
Most every function inside organizations large and small is under pressure to understand digital trends, integrate digital practices, and evolve business models to create value for customers, employees, and shareholders. What sources and uses of data might unlock new value streams? How might AI and machine learning offer new insights, automate work, and simplify processes. In what ways might experimentation unlock new insights for our customers or employees? In collaboration with Professor Anandhi Bharadwaj, Emory Executive Education is responding by partnering with organizations in their transformation journey to ensure digital acumen becomes a part of every employee's DNA, starting with senior leaders. We see this as a business problem and opportunity, not a technology problem.
Dental Business Certificate Program
Emory Executive Education and The Pathway, a continuing education program for dentists, partnered to create the Dental Business Certificate Program. Registration is scheduled to begin in September 2023. Led by Professor Tom Smith and taught in conjunction with Professors Ryan Hamilton, Charlie Goetz, Peter Topping, David Schweidel, and industry experts, the program focuses on providing dentists with the enhanced leadership, and practical business and analytical skills to develop and maintain a successful practice, high-performing teams, and outstanding patient experiences.
Goizueta Executive Women's Leadership Program
No glass ceilings, only open doors. The Goizueta Executive Women's Leadership Program focuses on critical skills and competencies proven to elevate individual capability and confidence and help women leaders contribute to organizational value creation. This unique and immersive development experience provides an opportunity for women leaders to recognize strategy versus planning, create a strategy map for a current organizational initiative, refine their self-awareness and leadership behaviors, and learn to communicate more effectively so their voices are heard and their ideas influence the strategic direction of their organizations. Professor Karen Sedatole is the faculty director for this program, taught by Professors Kristy Towry, Melissa Williams, John Kim, and Erika Hall in conjunction with industry experts including Julie Fasone Holder, Rebecca Messina, Nikki Evans, and David Nour.
Negotiations & Influence
Get results at the Negotiating Table. The newly developed Emory Executive Education Negotiations & Influence course will help you master highly effective and dynamic negotiation strategies. You'll feel more confident making tough decisions within the realm of bargaining, have the ability to close deals more effectively, and enhance your overall negotiation capabilities. Professors Erika Hall and Richard Berlin will lead the learning and discussion on negotiations as a necessary component of human life and teach you how to shape the style and approach you need to be a more effective negotiator.
Healthcare Executive Leadership Program and Chief Nursing Executive Certificate
Building on the success of the Chief Medical Officer Program introduced last year, Emory Executive Education, in collaboration with faculty and staff across the business school and Woodruff Health Sciences, is launching two new senior leadership programs: one for healthcare executives; the other for nurse leaders. Both are aimed at providing the perspectives, skills and tools, senior leaders need to advance their careers in healthcare organizations. In partnership with Emeritus, an online education platform, we will shortly begin accepting applications for December 2023 starts for both programs. In addition, we have developed four shorter online courses: Executive Decision Making for Healthcare Leaders with Professor Steve Walton; Innovating Healthcare: A Strategic Approach with Professor Charlie Goetz; Healthcare Strategy and Leadership: Communication Strategies for Healthcare Leaders with Professor John Kim; and Resolving Conflict and Influencing Others with Professor Emeritus Rick Gilkey.
Undergraduate BBA Program
Special Topics in Accounting: Firm Fundamentals & Mispricing
This course focuses on the optimal use of accounting information for forecasting and on the identification of market inefficiencies in using accounting information. Students will identify relevant research, access appropriate databases, and use effective tools for performing analyses to distinguish between the fundamental value versus investor sentiment components of stock prices. Using these accounting signals will therefore aid in selecting stocks that potentially earn abnormal stock returns and beat the market.
Also available to students in Goizueta's MBA programs.
AI in Marketing
David Schweidel
This course examines the burgeoning role of AI in marketing decisions and actions. The course will adopt the customer equity framework, which links the value of the customer to the organization to the following components: customer acquisition, customer retention, and relationship development. The course will be built around these components, examining the application of marketing technology and AI to support growth through each component and using the customer journey to tie these components together.
Also available to students in Goizueta's MBA programs.
Advanced Marketing Strategy
This course provides an overview of the key concepts and tools needed to develop and implement effective marketing strategies. Topics covered include market research, segmentation, targeting, positioning, and the development of a comprehensive marketing plan. These topics will be covered in relation to the lifecycle of a business, with learnings applied to the strategic needs of new businesses, established business, and businesses facing competitive stresses. Students will have the opportunity to apply their knowledge through a case study analysis and a group project, where they will develop and present a marketing plan for a real-world product or service. By the end of the course, students will have a thorough understanding of the strategic aspects of marketing and be able to develop and implement effective marketing strategies.
MBA Programs
Sustainability Measurement & Reporting
"What gets measured gets done, what gets measured and fed back gets done well, what gets rewarded gets repeated." – John E. Jones III. Sustainability is a cause for concern for all of us, as it is about taking extraordinary care to preserve and protect our planet and our people. This course focuses on how companies can tell their Environmental, Social, and Governance (ESG) story with meaning, relevance, context, and success.
Machine Learning for Fundamental Analysis
This course covers how fundamental analysis, valuation models, and portfolio optimization can be used for making investment decisions, both conceptually and practically. Students will learn how to design an end-to-end fundamentals-based investing system from concept to implementation, including state-of-the-art valuation models and the application of innovative methods such as various machine learning algorithms for out-of-sample prediction.
Compensation and Management Control
Karen Sedatole
"You get what you pay for" is more than a warning about cost and quality tradeoffs. When it comes to employees, performance-based compensation practices are a key driver of the day-to-day decisions being made. The Compensation & Management Control course is designed to broaden and deepen students' conceptual and technical understanding of performance measurement systems, performance-based compensation, and other management control techniques aimed at ensuring decisions are made in a way that advances organizational objectives.
Coaching a Problem-Solving Team
The fundamental purpose of this course is to assist students in the development of essential leadership and problem-solving coaching skills to accelerate their careers. As part of the course, participants serve as IMPACT Coaching Fellows (ICFs) assigned to one or more IMPACT project teams in the two-year, full-time MBA program. Over the course of the semester, ICFs meet with their teams weekly, observing team dynamics and meetings with project sponsors and faculty. ICFs help their teams follow the IMPACT Structured Problem Solving approach to deliver high quality, high impact work to their project sponsors. During the process students learn to perform effective coaching and communicate with purpose and clarity; build trust through credibility, reliability, and intimacy in relationships balanced with appropriate self-orientation; and apply principles and processes of structured problem solving in a coaching context.
Foundations of FinTech
This course examines the emergence of financial technology and its disruption of traditional financial services. The term "FinTech" refers to companies using technologies like mobile, AI, and blockchain to transform critical functions of the financial system. FinTech's meteoric rise over the past decade has attracted substantial interest from students, regulators, and practitioners. However, given the relative novelty of FinTech, pedagogical resources on the topic remain scarce, and several salient questions—such as how FinTech firms create value—remain unanswered. Our discourse begins with the acknowledgment that new technology has not fundamentally altered the core functions of the financial system, namely intermediation, payment services, wealth management, and risk sharing. Technology rather effectively and creatively alleviates the frictions faced by intermediaries in discharging these functions. The course curriculum is, not surprisingly, organized across these key functions. For each function, students will examine the underlying economics, frictions, incumbent institutions, emergent FinTechs, and role of technologies.
Special Topics in Accounting: Compensation and Management Control
Karen Sedatole
This course focuses on how to align employee decision-making with organizational objectives, highlighting various forms of compensation and management control systems that rely on accounting and performance measurement information (i.e., internal information). This course will help students translate organizational objectives into action through the design of effective performance measurement techniques, performance-based compensation schemes, and other management control mechanisms.
Consistently ranked as a top-tier business school, Goizueta offers programs designed to challenge and transform the world of business.