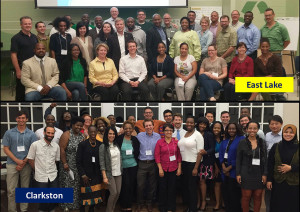 To many, the phrase "startup accelerator" conjures images of support networks for 20-somethings working on the next great app.
Likewise, the word "microentrepreneurship" often is associated with small, community enterprises in the developing world.
As worthy as both terms are, when faculty and staff with Emory Goizueta Business School's Social Enterprise @ Goizueta got to thinking about it, a huge group of entrepreneurs in Atlanta were getting left out of the equation. Aspiring restaurant owners, daycare operators, educators, boutique owners and a host of other people with great ideas could use just as much help getting businesses off the ground.
To support the communities in Emory's hometown, Peter Roberts, academic director of Social Enterprise @ Goizueta, helped launch the Start Micro-Entrepreneur Accelerator Program — Start:ME — in 2013. The program brings Goizueta's body of experience to a 14-week business development program for local, early-stage business owners employing fewer than four people.
"We use our research and knowledge to help local micro-entrepreneurs learn business principles and develop the acumen they need to move forward," said Brian Goebel, the associate director of Social Enterprise at Goizueta and Start:ME program director.
In the process, Start:ME aims to help neighborhoods in which it operates.
"All our research shows that the more strong small businesses there are in a community, the healthier that community is," Goebel said.
That's significant in Atlanta, where, despite a huge influx of investment in intown communities, many low- to moderate-income neighborhoods face a significant micro-business gap: There are 27% less small businesses than comparable higher-income neighborhoods
Helping entrepreneurs thrive
The hands-on program launched in 2013 in Atlanta's Clarkson community with the support of CDF: A Collective Action Initiative, recognized for its large population of refugees. Earlier this year it started a branch serving Atlanta's East Lake and Kirkwood neighborhoods with the support of the East Lake Foundation.
Each cohort is made up of about 15 micro-entrepreneurs, and Start:ME empowers them in three ways: knowledge, networks and capital.
Knowledge comes in the form of business training covering basic skills, such as record-keeping and writing business plans. By focusing on the neighborhood level, Start:ME naturally helps its entrepreneurs form a growing network in their own community, as well more than 30 mentors hailing from such organizations as the Coca-Cola Company, Siemens, SunTrust and Invesco, all of whom volunteer their time.
Each cohort selects three of its most promising entrepreneurs to receive a loan from a $30,000 fund allocated to each group. Partners, including Access to Capital for Entrepreneurs and Georgia United Credit Union, finance and deliver the program, and winners are selected by their peers.
The big winners
On May 7, Start:ME's winter cohorts came together for a commencement featuring a keynote talk by Noel Khalil, CEO of Columbia Residential.
"For some people, our purpose isn't to be the person getting a check, it's to be the person producing the check," he said, describing the entrepreneurial mindset that drives small business owners.
"In your product, don't focus on what you accomplish, focus on what your customers accomplish because of you," he advised.
"All in, all the time" was the evening's mantra, and, indeed, many of this semester's entrepreneurs gained skills they needed to take their small businesses from a part-time endeavor to a full-time pursuit.
"The program is phenomenal in terms of getting a grasp on developing a business vision and focusing it like a laser beam," said Maralene Ferguson Bates, whose Clarkston-based Sankofa Education Services provides a variety of tutoring services to everyone from kindergarteners to adults preparing for tests. Her cohort awarded her one of this semester's loans.
"It got me to the point where I can see the business crystallize, how to run it and which direction to take it," she said.
"I've been doing electrical work for 20 years, but I didn't have any business knowledge," said Dion Reina, a member of the East Lake cohort. His body of skills has been enough for his company, Smart Choice Electric, to serve as a successful part-time endeavor, but he needed more business training to transform it into a full-fledged company.
"I learned about licensing, insurance and how to create a small business plan," he said.
Helena Quick, whose Fourth Quarter Fitness is dedicated to helping prenatal and post-natal woman maintain a healthy lifestyle that benefits both mom and baby, also gained basic skills.
"I didn't even have a pitch before I started," she said, adding that her cohort also provided her with increased motivation to succeed.
"You want to try harder every week."
[highlight]A number of entrepreneurs said building a network and having access to mentors was one of the most valuable aspects of being in Start:Me.[/highlight]
"By being in Start:ME, I was able to network with people who have already run successful businesses as well as people in the same position I'm in as a novice or established business owners with novice practices," said Ronnie Thomas, whose organization, Fun Weird Science, provides hands-on after-school and summer enrichment programs in STEAM (science, technology, Engineering, Art/Design and Math). A member of the East Lake cohort, he was another of the night's loan recipients.
The mentors were critical for Bates' ongoing success.
"That was one thing I needed in terms of growing my business — the hands to guide me and the ears to listen," she said. "The mentors are phenomenal because of their experience, and they are very helpful. The program itself is helpful, but the mentors are unsurpassed."
Bates' mentor was Nadia Bredthauer, founder and CEO of Pro Pueblo, a fair trade retail company. She volunteered her time to help early-stage entrepreneurs avoid the mistakes she made when starting her own company.
In Bates, she saw a woman with the drive and skills necessary to find long-term success.
Other loan recipients in Clarkston's cohort were Gary Chang of Simple 'n' Pure Natural Products and Latoria Rachal of Up and Running Accounting. In East Lake, Monica Tookes of Monica Tookes Art and Nicole Boney of Sweets, Treats and More also received loans.
[highlight]Additionally, Nicole Massiah of East Lake's Krumbz Bakery was selected to receive a business loan from the Emory Impact Investing Group (EIIG). It is the first time the student group has awarded a loan to a local Atlanta micro-entrepreneur.[/highlight]
To learn more about Start:ME, visit startmeaccelerator.org.
More on Partners and Winning Entrepreneurs