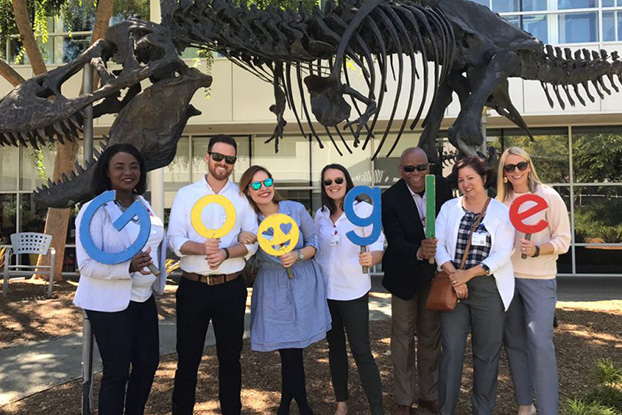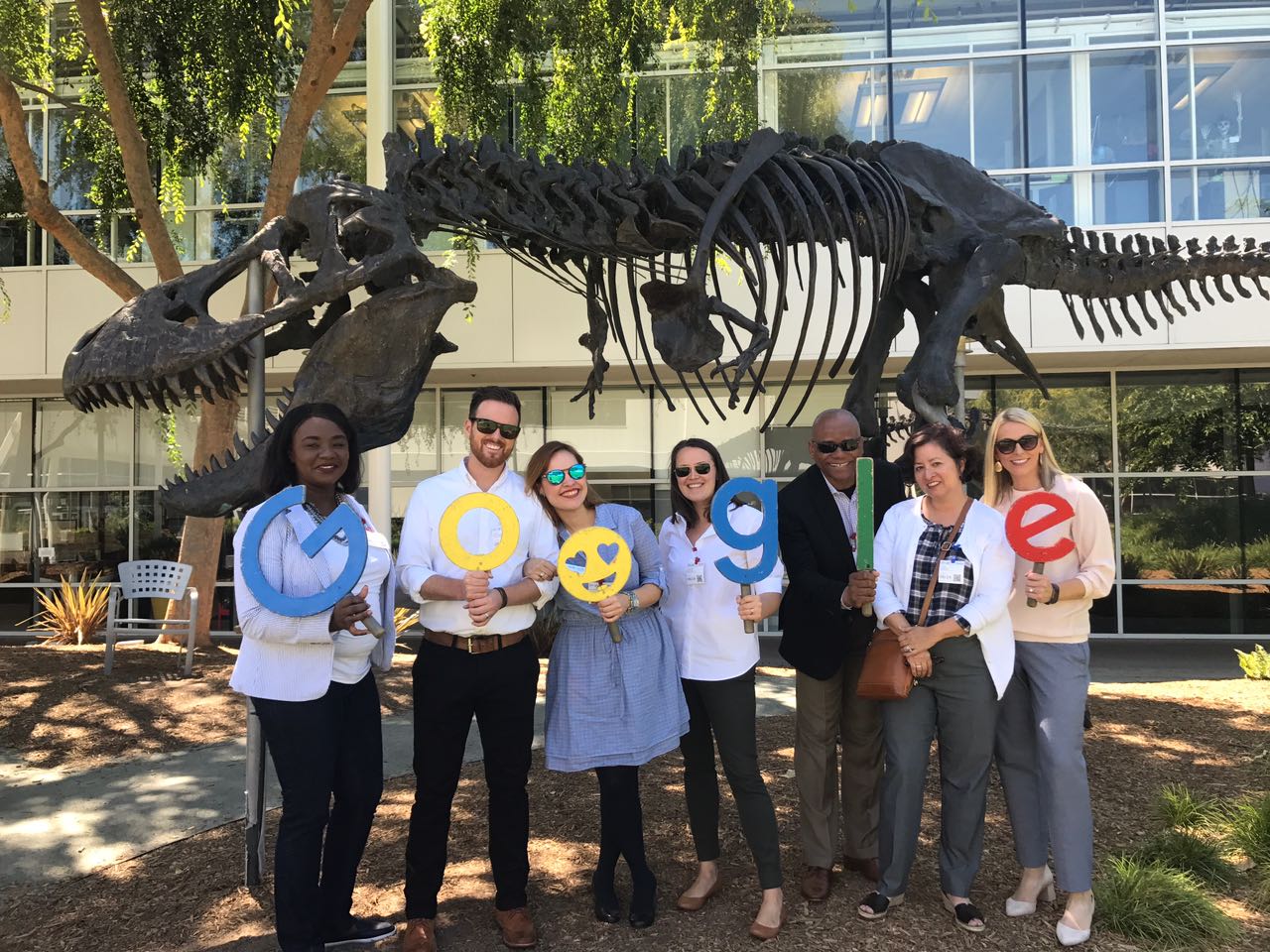 One week, two cities, 13 on-site corporate immersions, dozens of speakers providing limitless insights, and facilitation and support from more than 30 Emory alumni.
The MEMBA West Coast Business Practice Immersion was a whirlwind of learning, networking and growing for students as they visited Seattle, San Francisco and Silicon Valley in June.
The trip is a new immersion experience at Goizueta that exposes students to technologies, practices and cultures that have fundamentally restructured business practices in the 21st century.
Andrea Hershatter, who teaches entrepreneurship and is senior associate dean of the BBA Program, led students through a series of experiences designed to provide insights into disruptive technologies, innovative workforce cultures and high-growth ventures occurring within the West Coast ecosystem. The course consisted of a series of site visits, including Starbucks, Google, Survey Monkey, Uber, Fitbit and Amazon, as well as guest speakers and alumni working events.
"While many of our MEMBAs conduct business with West Coast companies and some live and work out there, there is particular value in immersion into the culture and perspectives of many of the world's most forward-thinking companies including the top three of Fast Company's 2017 World's Most Innovative Companies," Hershatter said.
While the ecosystem on the West Coast, particularly in Seattle, San Francisco and Silicon Valley, offer a magnetic lure that attracts talent, ideas and the capital and resources needed for deployment, Hershatter said the firsthand exposure to a multifaceted set of approaches and perspectives helps students understand important drivers of change and innovation.
"It allows them to draw their own conclusions about the myths and realities of the West Coast environment," Hershatter said.
Students were able to visit with a wide range of companies through the immersion experience. The oldest companies were Microsoft, founded in 1975, and Starbucks, where the original beanery opened in 1971. Two others launched in the 1980s, three in the 1990s, four in the 2000s and three in the 2010s.
Half of the companies have a market cap of over $100 billion, while two are in startup phases, having raised between $40 and $60 million. Six are publically traded, two are subsidiaries of public companies and five are privately held.
"In aggregate, observing impact and innovation across a diverse array of industries of varying scale and utilizing widely disparate business models was extraordinarily illuminating," Hershatter said.
Students had the opportunity to hear directly from, among others, BBA and MBA alumni Zander Lurie, CEO of Survey Monkey; Bill Carr, former head of digital music and video at Amazon; Will Hockey, founder and CTO at Plaid; Josh Sigel, COO at Innit; Andy Simpson, creative strategist at Facebook and Steve Carlin, chief strategy office at Softbank Robotics.
"Our alumni not only led sessions themselves but also brought in C-suite and managing director-level colleagues who gave generously of their time and insights," Hershatter said.
When former Senior Associate Dean for Working Professional MBA Programs Doug Bowman first envisioned the West Coast experience, his intention was to add to the already existing immersions that allow students to develop additional perspectives while also building deeper relationships with their classmates.
"A defining feature of Emory Goizueta is our engaged, accessible network," Bowman said. "We always had a capstone (global) immersion at the end of the Modular MBA for Executives program; West Coast Business Practices adds an immersion at the halfway point in the program. Students now have a shared context to reflect upon during the second half of their program."
The design of the class, for Hershatter, was for students to not only develop their own understanding and conclusions about the environments they witnessed but also identify some practices and approaches worthy of emulation in their own environments.
"From the outside looking in, one might not expect that Goizueta as an East Coast business school would have such a deep West Coast presence," Hershatter said. "However, each one of our visits was supported by alumni, most of whom are senior-level decision makers in their organizations. The end result was a Goizueta-specific immersion that provided access and transparency far beyond traditional company visits."
[ngg_images source="galleries" container_ids="1″ display_type="photocrati-nextgen_basic_slideshow" gallery_width="600″ gallery_height="400″ cycle_effect="fade" cycle_interval="3″ show_thumbnail_link="0″ thumbnail_link_text="[Show thumbnails]" order_by="sortorder" order_direction="ASC" returns="included" maximum_entity_count="500″]
---
About Emory University's Goizueta Business School
Business education has been an integral part of Emory University's identity since 1919. That kind of longevity and significance does not come without a culture built around success and service. Emory University's Goizueta Business School offers a unique, community-oriented environment paired with the academic prestige and of a major research institution. Goizueta trains business leaders of today and tomorrow with an Undergraduate degree program, a Two-Year Full-Time MBA, a One-Year MBA, an Evening MBA, an Executive MBA (Weekend and Modular formats), a Doctoral degree and a portfolio of non-degree Emory Executive Education courses. Together, the Goizueta community strives to solve the world's most pressing business problems. The school is named for the late Roberto C. Goizueta, former Chairman and CEO of The Coca-Cola Company. For more information, visit goizueta.emory.edu or follow us on Twitter (@emorygoizueta).