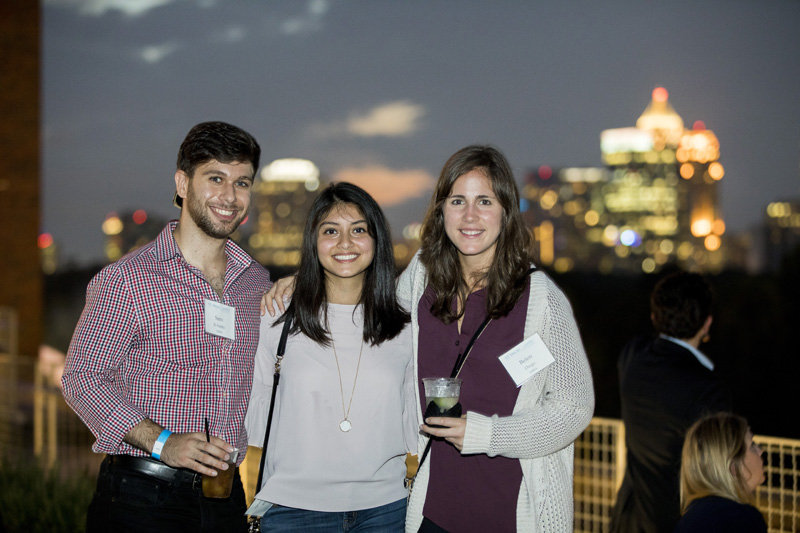 With a sunset-lit Atlanta skyline in the background, more than 250 alumni, faculty and staff recently gathered on the rooftop of the well-known Ponce City Market for the annual Goizueta All Alumni Atlanta Mixer.
The event is an opportunity for alumni to reconnect with other alumni and interact with Goizueta faculty and staff.
"This signature event is a wonderful time for all of our alumni, family and friends to reconnect," Dean Erika James said. "Events like this reinforce our mission to continually strengthen our Goizueta community."
This year featured classes from 1979 through 2017 and included a wide variety of individuals from varying careers and programs.
"It was great to see so many alumni at the Ponce City Market event," Assistant Dean for Development and Alumni Relations David Mainella said. "The level of energy and excitement was high. Now, more than ever, we need engaged alumni, and I hope we can identify ways to use that enthusiasm as we move forward into Goizueta Business School's second century."
View the gallery:
[ngg_images source="galleries" container_ids="3″ display_type="photocrati-nextgen_basic_slideshow" gallery_width="600″ gallery_height="400″ cycle_effect="fade" cycle_interval="5″ show_thumbnail_link="0″ thumbnail_link_text="[Show thumbnails]" order_by="sortorder" order_direction="ASC" returns="included" maximum_entity_count="500″]