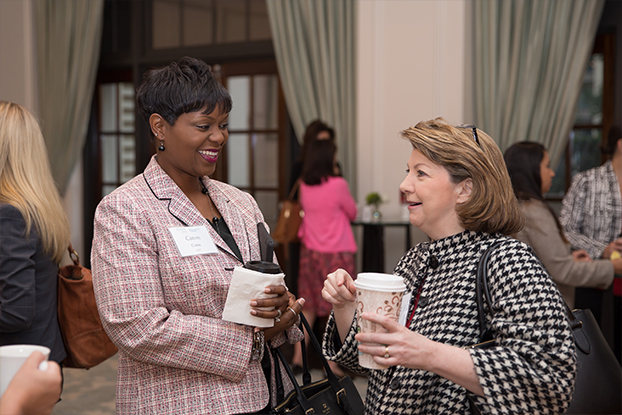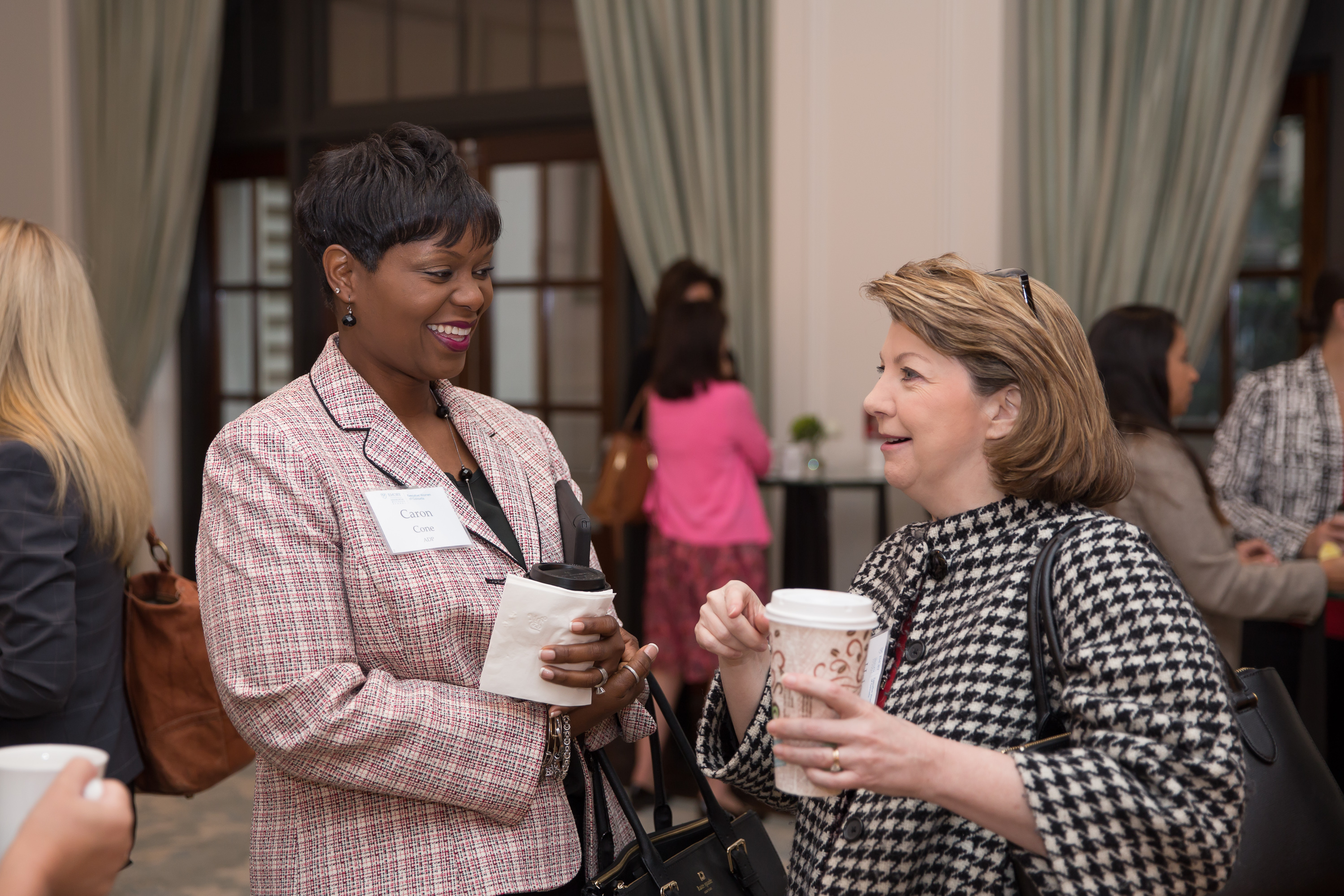 Many statistics show that progress for women in the C-suite and boardrooms in American companies is far from equitable.
But peel back a layer of those numbers, and what's revealed are areas where women can position themselves for better opportunities and take control of their destiny.
"Women Wired for Change" was the theme of the 2017 Executive Women of Goizueta conference held at Atlanta's St. Regis hotel this past fall. Many of the conference speakers examined the ways women empower or hinder themselves depending on their level of confidence, tenacity and willingness to risk and embrace change.
Opening keynote speaker Christine Hurtsellers, CEO of Voya Investment Management, challenged the overflow audience to check their confidence levels.
"Men boast 30 percent more and women boast 30 percent less, while 22 percent of women didn't apply for a higher position because they were not qualified, versus only 13 percent of men,"Hurtsellers shared. "And when it comes to salaries, men negotiate salaries four times more than women."
In spite of being only one of eight female CEO asset managers in the US, Hurtsellers is no stranger to the mental second-guessing she calls the "confidence gap." During her speech, she shared two instances in which the enormity of an opportunity shook her confidence.
The first occurred during the uncertain times following the economic downturn of 2008 and 2009. Hurtsellers was running a mortgage hedge fund for ING that was doing well in spite of the economic crises. The nonagency mortgage side of the business, however, had terrible performance, and parent company ING needed a government bailout to keep operating. To get the bailout, ING—which later rebranded as Voya Financial—had to sell off the hedge fund business.
"So, I am in a company that is up for trade sale and there is a lot of uncertainty, a lot of volatility, really dark days and the fixed income business is really bad," she said. "Then the company decided to let go the head of fixed income, then his successor comes in and resigns after only three days. Imagine the morale, right?"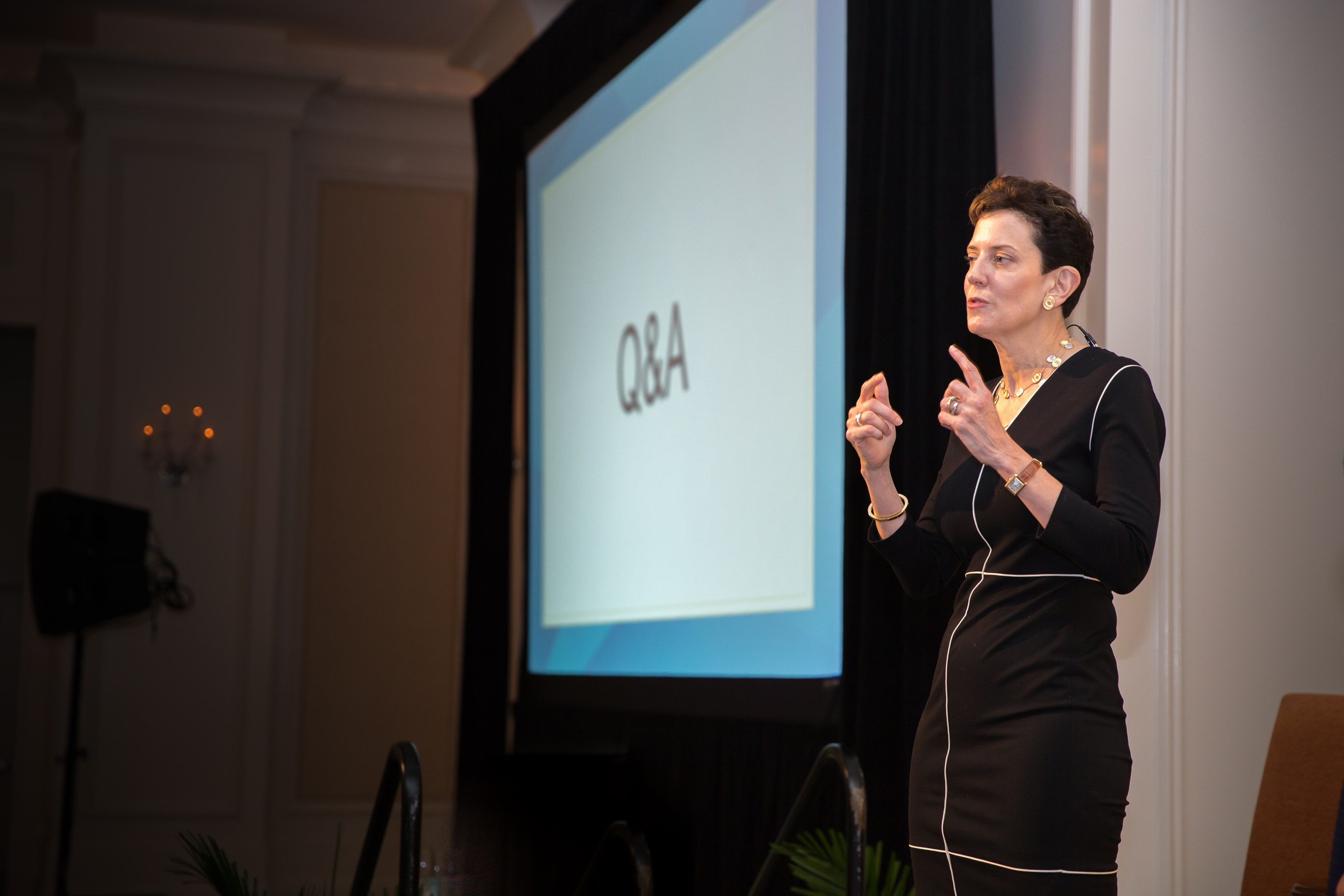 Hurtsellers was tapped to take over the troubled unit. Immediately, she was besieged with self-doubt.
"I didn't feel like I had the skill set, and I knew this was going to be an incredibly difficult job." After some rest and reflection, however, she accepted the job the next day.
She faced a similar decision with her current job.
"Another confidence gap in my life came as I was undergoing chemotherapy for cancer," she said. "My boss called and said, 'Christine, the CEO has quit and the board of directors and I would like you to take this job.'"
Shaken, she was in bed recovering from another round of chemo. Again, she hesitated.
"But I took the job. One of the tools I use to manage the confidence gap is a lesson from renowned author Dale Carnegie, and that is to relax and think about the worst possible outcome," she said. "Then accept, 'Yes, this can happen.' Next, start devoting time to improving your odds by creating an action plan to get through obstacles."
Today, Hurtsellers is healthy and energized about the future. She challenged the audience to reach higher.
"A successful career path will have ebbs and flows and learning," Hurtsellers said. "Most important though, is to have a continual belief in yourself, perseverance and a willingness to take some risk."
The "Wired for Change" conference continued this theme with featured speakers including Spanx founder Sara Blakely (belief in self and perseverance); Zainab Ghadiyali, product manager at Airbnb and co-founder of wogrammer (tenacity); Dagmar Boggs 15EMBA (navigating change within an organization); and Martha Brooks, chairman of the board at CARE (global impact and change). Other speakers shared on innovation and entrepreneurship, such as Janelle Fitzpatrick, founder and CEO of the Stair Barrier; Lisa van Kesteren, CEO of SeeLevel HX; Mary-Cathryn Kolb, founder and CEO of Brrr; and moderator Tricia Dempsey, president of Agile Resources.
View the Gallery
[ngg_images source="galleries" container_ids="14″ display_type="photocrati-nextgen_basic_slideshow" gallery_width="600″ gallery_height="400″ cycle_effect="fade" cycle_interval="2″ show_thumbnail_link="0″ thumbnail_link_text="[Show thumbnails]" order_by="sortorder" order_direction="ASC" returns="included" maximum_entity_count="500″]