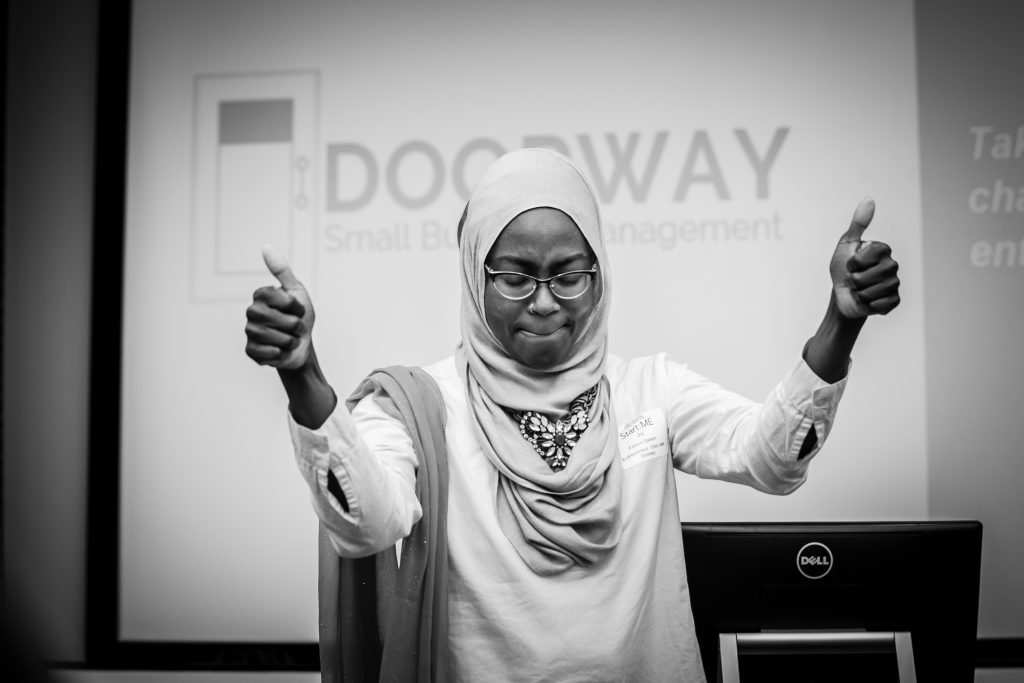 Joi Faison Saleem moved to the front of the auditorium and took a deep, mind-clearing breath. She then introduced the audience to not just her business, but her passion.
So confident was Saleem she gave the pitch with just the title slide on the screen. Her company, Doorway, supports small businesses operations and process improvements. Saleem's controlled and polished presentation matched that of the organized and efficient services she provides.
"We start with what causes headaches in a business' processes," Saleem says. "What is a business owner worried about, keeps them up at night? From there, we offer customized systems to better manage day-to-day operations, financials, client relationships, and the looming email inbox. Depending on the client preference, we apply tech tools to enhance system performance."
Saleem was one of three entrepreneurs to deliver a business pitch to an energized audience of more than 200 attendees during the 2019 Start:ME Entrepreneur Showcase April 9.  In all, 47 small business owners gathered at Goizueta Business School to be recognized for their work in the Start:Micro-Entrepreneur Accelerator Program (Start:ME) offered by the school and the social enterprise research center, SE@G. Entrepreneurs in Clarkston, East Lake, and Southside Atlanta completed the 14-session program, thus gathering skills necessary to expand their business and—for some—additional capital for hiring and growth.
There is no debate small business has a large impact on local economies. According to Brian Goebel, managing director of SE@G and Start:ME program director, 92 percent of businesses in America have four or less employees and less than $50,000 in startup funds. The Start:ME program provides select business owners with know-how, mentorship support, and early-stage capital. A total of $31,500 in seed investments were awarded to 18 entrepreneurs April 9, with recipients decided by peer and mentor voting.
Businesses in the Spring 2019 cohort account for more than $1.7 million in revenue and 65 jobs. The owners are a diverse group: 78 percent are people of color; 70 percent are women; 18 percent are owned by men or women born outside the United States.
Since its inception in 2013, Start:ME has supported more than 200 local businesses and awarded 57 working capital investments in the form of loans and grants. Leaders of the program credit 295 new or retained jobs to Start:ME participants and a total, annual revenue of $6.3 million.
The program is offered each year in partnership with nonprofit organizations including Friends of Refugees, East Lake Foundation, Focused Community Strategies (FCS), and Purpose Built Schools Atlanta. Grant funding is provided from various sources, including two Goizueta student-led groups: Goizueta Enterprise Investment Group and the Emory Impact Investing Group.
"We bring knowledge to the table—accounting, marketing, customer-focus, networks and more," Goebel told the standing-room only crowd at the showcase and awards reception. "We have great peer mentors who come out and help… Mentors who offer far more than a cup of coffee through deep engagement"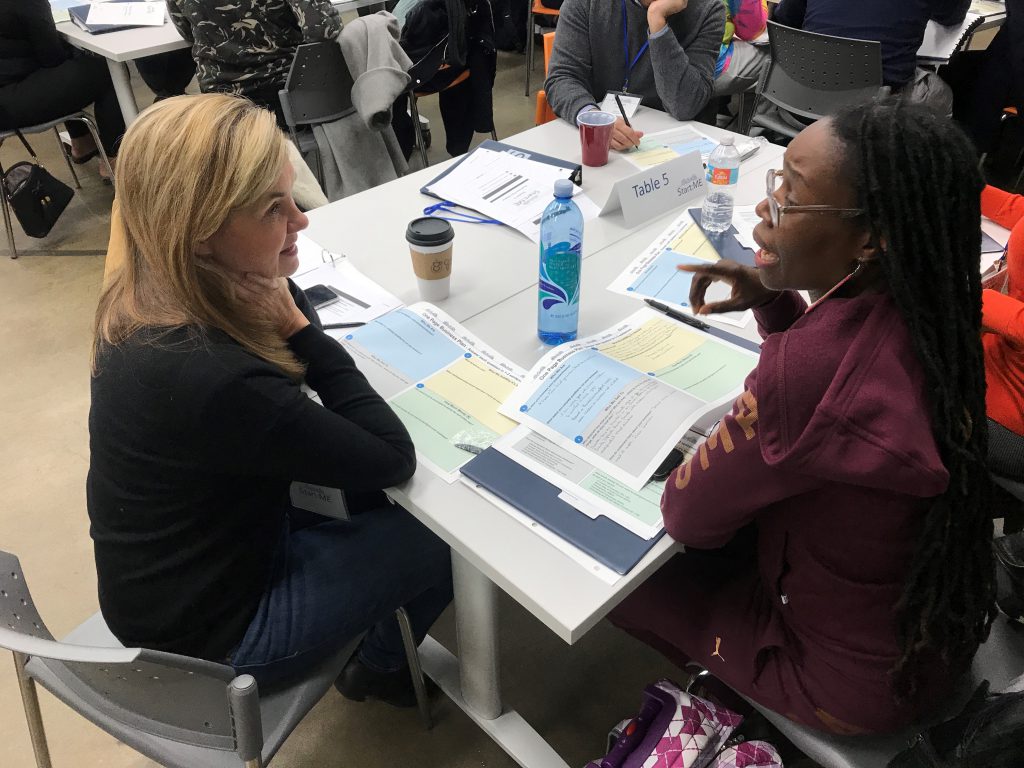 "I volunteered with Start:ME because I wanted to give back to the community," says Southside mentor Amy Dresser of Homrich, Klein and Associates. "The entrepreneurs all showed such great dedication and watching their progress was inspiring and rewarding. My great surprise was how much I took away from Start:ME—it motivated me to spend more focused time working on my business."
The focus and types of business vary by cohort and year, but most ventures began with at least some motivation to positively impact the communities in which they work.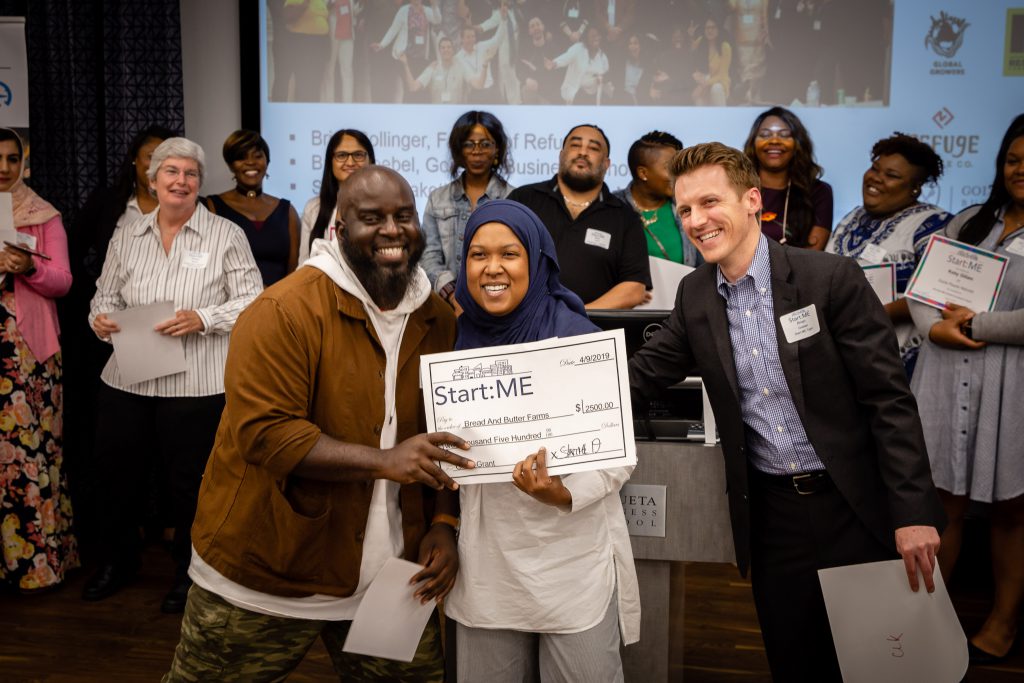 Musa and Micole Hasan received $2,500 at the showcase event to support their business, Bread & Butter Farms. The couple hopes to diminish food deserts in and around Clarkston by developing methods to encourage successful back-yard farming.
Clarkston has one of the highest concentrations of refugee families in the United States. What the Hasans provide is not only healthy, it is a sense of home.
"We are attempting to remove barriers from the individuals who can really benefit from zero chemical fresh produce by offering weekly deliveries of produce, eggs, fresh baked bread, etc.," write the Hasans. "Most residents are accustomed to fresh produce in their country and I think that by offering them that small piece of familiarity could make living in a new country just a tad easier."
By completing the Start:ME program the Hasans not only gain insight into logistics, but advice on how to grow the business. But there are also intangible rewards for those who complete the program, including the knowledge that every business can succeed.
"Confidence and support are the two gifts I left with after completing StartME," summarizes Saleem, who represented the East Lake cohort at the showcase. "I started as an unsure newbie business owner with not too much of a network outside of loving family and friends. And during the StartME journey, I joined a new family of amazing mentors and fellow entrepreneurs.
"I completed the tasks and watched my confidence rise with feedback and improvements. Now I no longer doubt my ability to rock this business and I have the StartME community to prove it. I am humbled. I am grateful. I am all the better because of them."
---
The following entrepreneurs were selected to receive seed invest grants to help grow their businesses: 
Start:ME Growth Grants of up to $4,500
Jahari Soward of My eSTEAM Kits (Clarkston)
Musa and Micole Hasan of Bread And Butter Farms (Clarkston)
David Sessions of Peach State Pressure Wash (East Lake)
Keith Forrester of Poppa Corn's Gourmet Popcorn (East Lake)
Jeannell Darden of Moisture Love (Southside Atlanta)
Stephanie Richardson-Parker and William Parker of The Moxie Maids (Southside Atlanta)
Start:ME Start Grants of up to $1,500
Tonica Logan and Brandie Bishop of The Progress Place (Clarkston)
Shaista Amani and Barbara Murphy of Amani Catering (Clarkston)
Joi Faison Saleem of Doorway (East Lake)
Sheldon Prescott and Naima Smart of Tidy Tooty (East Lake)
Jamekia Harper of Gohealthyhair (Southside Atlanta)
Elizah Turner of Rules of Entertainment (Southside Atlanta)
Community Impact and Peer-of-the-Year Grants of $500
Oluwatominsin Falegan of Lulu (Clarkston)
Mary Ellen Sheehan, Htwe Htwe, and Jeff Alexander of Royal Thanaka (Clarkston)
Brittany Sapp of Bsapp's Transition Services (East Lake)
Josh Bennett of Bennett's Accounting Services (East Lake)
Erica Baker of Black & Bilingual (Southside Atlanta)
Yakini Horn of Yaya's Natural Hair Boutique (Southside Atlanta)