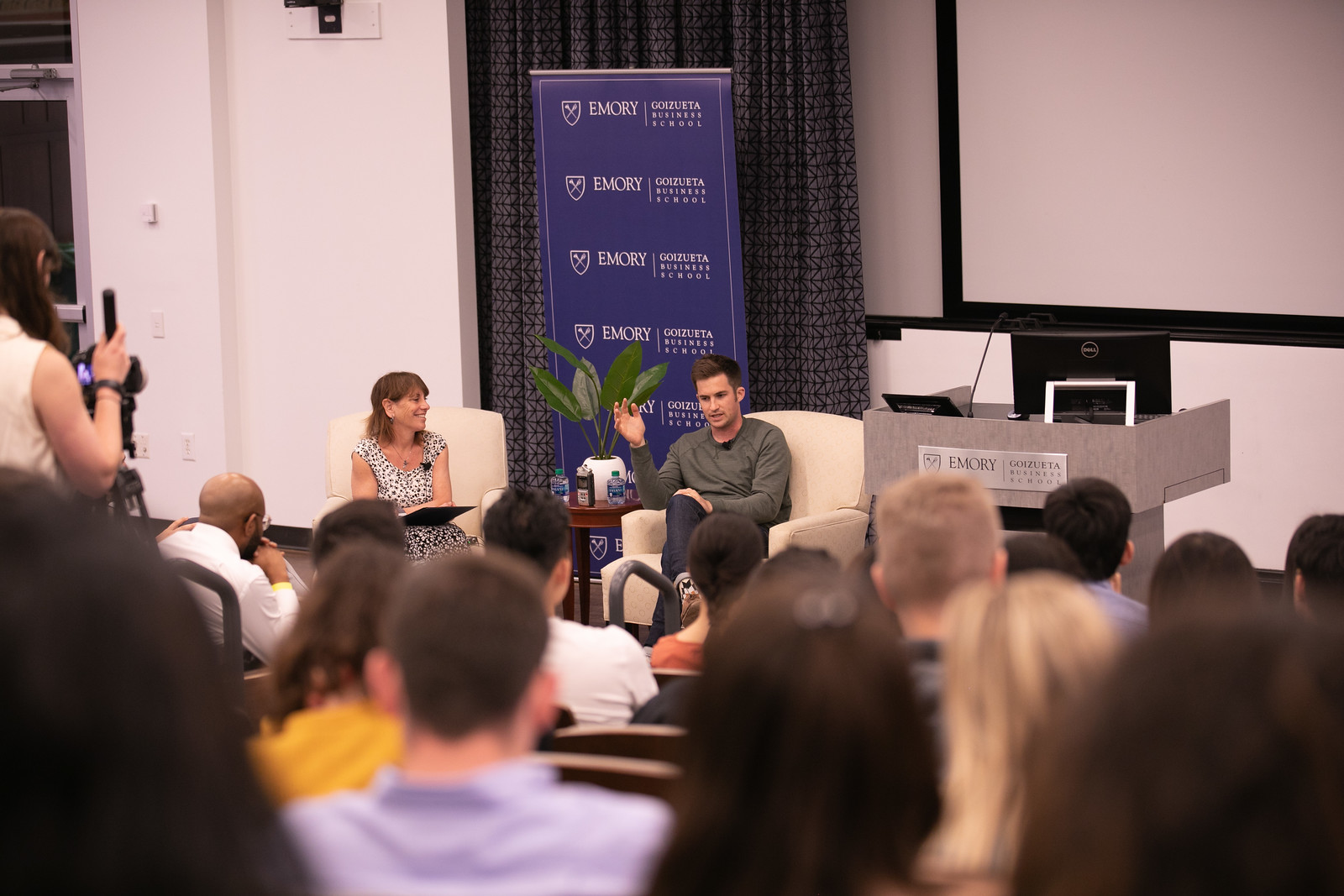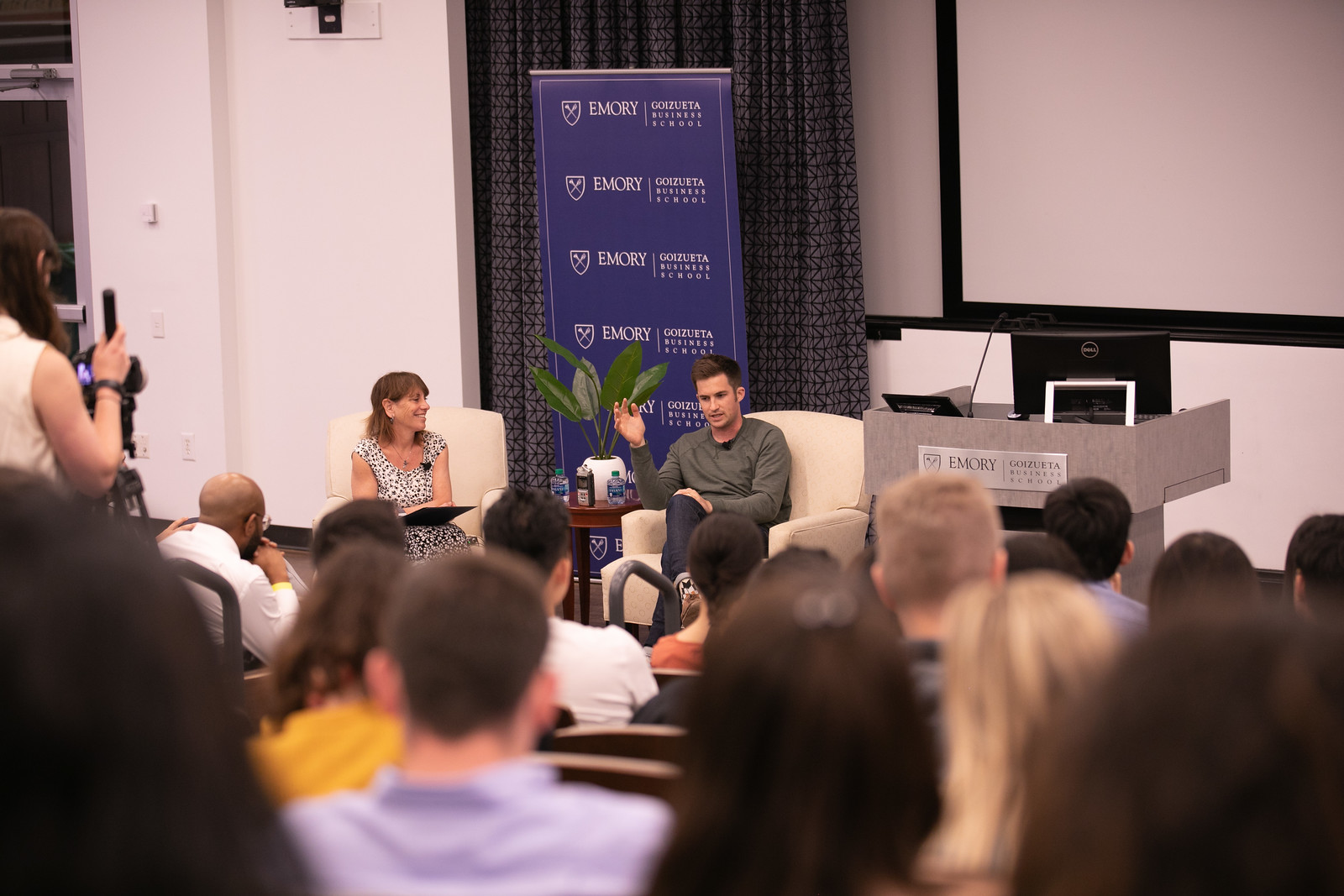 This year doesn't just mark Goizueta's centennial — it's also the fifth anniversary of the Emory Entrepreneurship Summit. The keynote brought together two extremely successful Emory alumni: David Politis 04C, founder and CEO of BetterCloud, and William Hockey 12BBA, co-founder and CTO of Plaid.
Politis graduated Emory with a bachelor's degree in economics. He laughs that at the time, his grades weren't strong enough to get into the business school.
Hearing the story of his success, encompassing life before and after Emory, it's clear that for Politis, failure isn't a bad thing. Building BetterCloud to where it is today — operating in 60 countries and employing 250 people in Atlanta, New York and San Francisco — demanded lessons learned beyond the classroom.
ABCs to overseas
Business lessons for Politis started early on, were taught by his father, and learned through osmosis. He accompanied his father (an entrepreneur himself) on business trips to places like China, Ukraine and Nigeria. "My dad would literally take me to meetings when I was 10 years old, give me a piece of paper and say 'Take notes,'" says Politis. It wasn't exactly a trip to the park, but it was time with his father, time that left an impression and would pay dividends later in life.
"I spent a lot of time with him and really grew up wanting to be an entrepreneur," says Politis. "When I was in college at Emory, he would BCC me on every single email. And I read every single one." That's where Politis got a lot of the passion he has for entrepreneurship.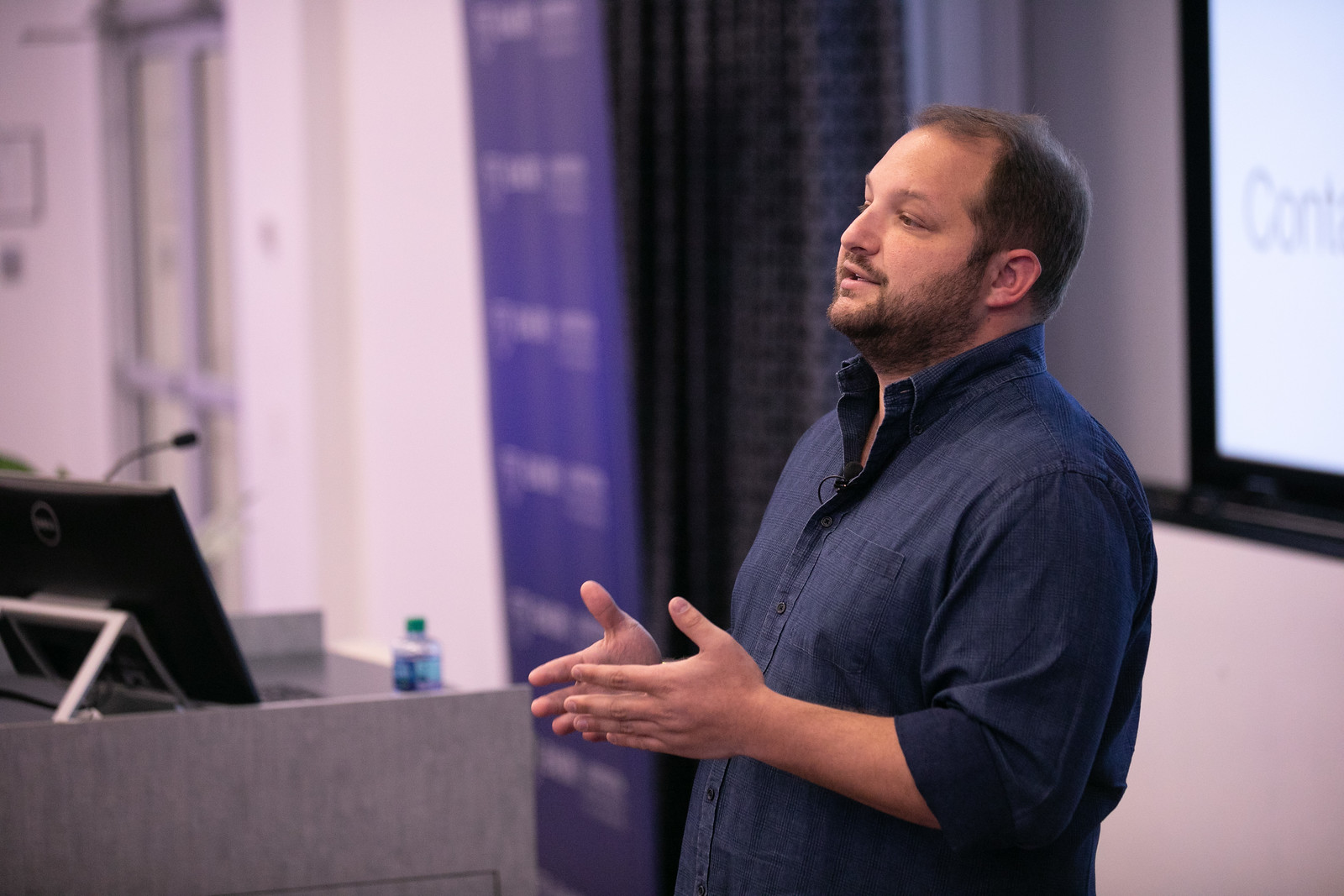 Enter … exit Emory
His decision to attend Emory was driven because of Goizueta's renown as one of the best business schools. He reasoned that being an Emory graduate would position him well to get accepted. But although he found his grades somewhat lacking, he found direction. "All I wanted to do really was start a business."
"College was an amazing experience," says Politis. "My time at Emory really shaped the rest of my career."
After graduating in 2004, he started working at a small Atlanta IT company, which didn't go well. When severe downsizing dropped the employee count from 16 to two (including him), Politis found himself the CEO of a company within six months of graduating. "I learned so much from this experience," says Politis. "If I could give one piece of advice coming out of this, [it'd be] if you want to be an entrepreneur and you're not going to start something, find somewhere where you can go and have a real impact." Find somewhere you can own a large portion of the business in terms of the work you're doing, "because you get questions that you wouldn't normally get and responsibility that would take years to get elsewhere."
He was able to grow the company to about 200 employees before leaving in 2010 for Cloud Sherpas, a cloud computing company. He was brought on to grow the company, which he did, expanding its employee base from 10 to 100 in just over a year. Ranked as one of the fastest growing Atlanta-based companies, Cloud Sherpas employed 2,000 people when acquired by Accenture.
Define the problem, define your success
"While I was at Cloud Sherpas, I got this idea to start my company," says Politis. It sprang out of customers' needs to manage and secure newly installed infrastructure. He saw the very real need, so he created a very real solution.
"At BetterCloud, we connect the cloud applications a company is using to do work — Slack, DropBox, etc. — and we help its IT and security teams manage and secure those platforms at a high level," says Politis. Starting a company like this took funding (and lots of it) to build the technology, and he was able to raise $100 million.
"My goal for BetterCloud was to make this the most successful company that I've been a part of," says Politis. "And 'most successful' in my mind is everything from how we treat our customers, how we treat our employees, to the IP that we've built, to the core economics of the business, to the outcome at the end." According to him, BetterCloud is still in the early part of the journey. "We're seven years in, but it's got a long ways to go."
From his experiences, Politis shared what he considers five keys to his success:
Obsess over your customer. "This is the most important. Understanding them, who they are, what they do every day, the issues that they have, and really driving to delight them. Doing this has made a massive difference at BetterCloud."
Improve the machine every day. "First-time entrepreneurs are always trying to be perfect — that's a big mistake. Focus on the small improvements that you can make each day."
Don't do it for the 'gram. "Don't talk about how you're just crushing it all the time. It doesn't help you at all. It's good to understand where the problems are — don't make it look all perfect."
Your team is everything. "Find people who are going to fill in where you're weak. Learn to delegate. Starting a business, it's scary to hand over real big parts of it to others, but that's a key element."
Enjoy the journey. "Don't start a business and try to be the next Zuckerberg. It's too long of a road and you don't know what's going to happen, so while you're going through it you have to enjoy the journey — making friends, building yourself and your own skills every day."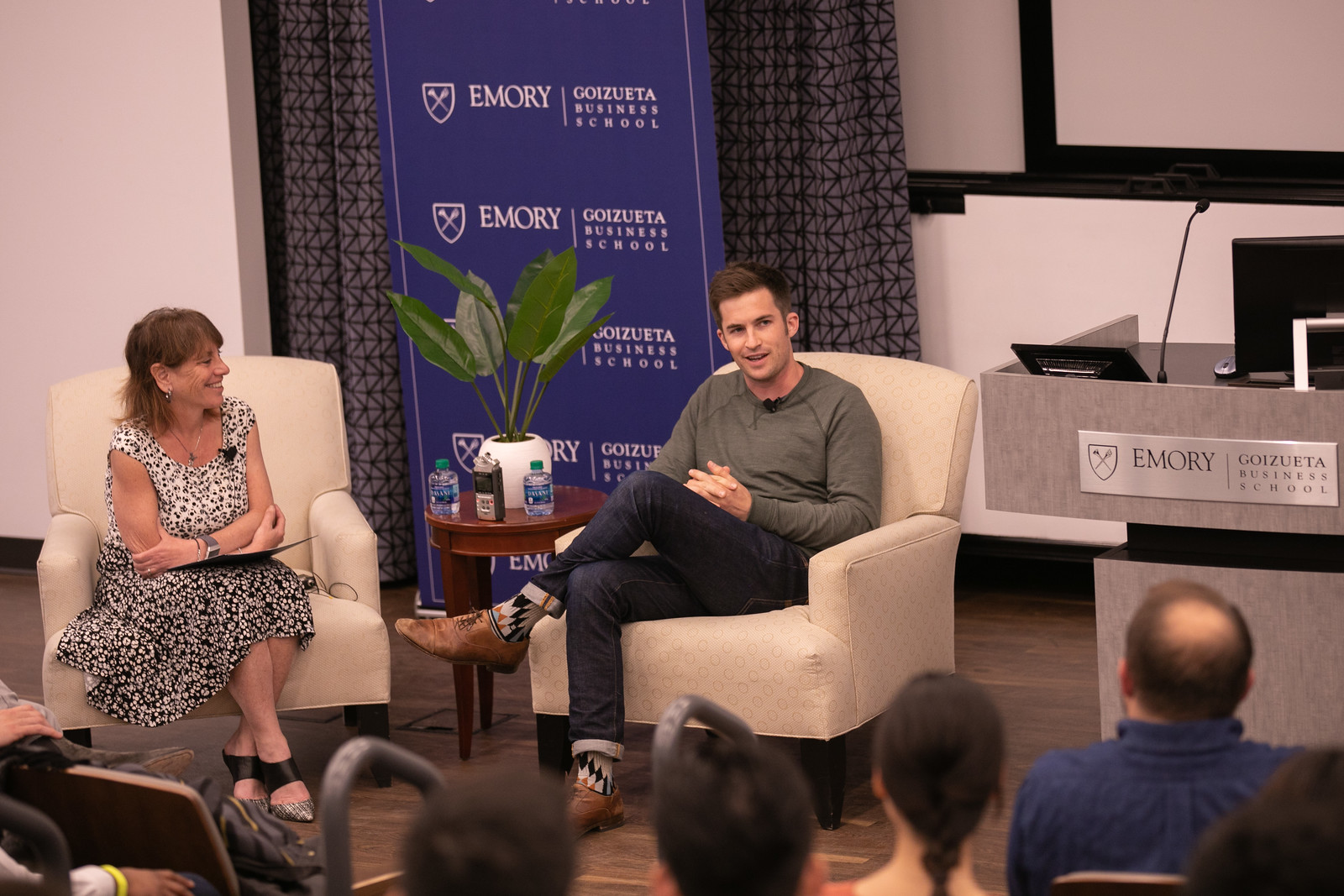 Ever seen a plaid unicorn?
Goizueta grad William Hockey has. He's the co-founder of Plaid, a startup focused on democratizing financial services through technology.
An astounding one in four people in the U.S. with bank accounts uses Plaid. Even more astounding is its raising $250 million at its $2.65 billion valuation earlier this year.
Hockey sat down with Andrea Hershatter, senior associate dean and director of Goizueta's BBA program, to share his journey with gathered Summit participants.
Like Politis, Hockey's parents were in small business. "My grandpa owned a welding shop, and my dad owns his own construction company," says Hockey. "When I was younger, in elementary school, they asked you what you wanted to do. I said I wanted to be a farmer, but my parents pulled me aside and were like, 'yeah, no.' And so I started getting into welding at my grandpa's shop."
He enjoyed building things and discovered programming. As he describes it, "programming was kind of like the socially acceptable way to build things." To him, when you're programing, you're building software, just like you're building a house or working on a car. "You're creating something," says Hockey. "It felt very tangible to me." And he kept at it.
His studies and early work experience introduced him to other pursuits like finance and consulting "because that's what business people do." Yet the need to create was still there.
Climbing and creating
While at an indoor climbing gym, Hockey and good friend Zack Perret (Plaid's then-future CEO) started talking about how they were both at a unique place and time in their lives. "We wanted to go and do something ourselves," says Hockey. "And we decided we wanted to start something in the next 20 years. So, when's a good time to start that?" While they read that most successful entrepreneurs are 55 years old, "we just ignored all those articles … we had absolutely nothing to lose. I had no wife, no kids, and was lucky enough not to have any student debt, and I figured why not?"
The two decided to treat it as a couple years off. Go build something. Enjoy it. And "in the worst-case scenario, we'd end up having to find a job afterwards."
Owning a company wasn't necessarily a driver for Hockey, but creating something was. Creating Plaid was as arduous as it was amazing. In New York, Hockey and Perret lived bottom dollar "and it was great." They got a free space from one of their friends and got to work. "It was about convincing people to give us money" and getting Plaid off the ground.
Seek satisfaction, find a solution
"You should never start a business to make money," says Hockey, echoing Politis' earlier sentiment. "That never entered our consciousness. We were like, we're going to build something that's going to fail and then we're going down." They found it interesting, fun and different. "And we kind of fell in this hole of financial service."
People regularly rate financial stress as the largest stress point in their life, more so than health. "Yet nobody's ever said, 'Oh my God, the bank changed my life.' And we wanted to change that." But they didn't really know how.  
Begin with a finite focus
When they started in 2012, they didn't really have any investors, just a few from a small startup they knew. "They were using our product because they were our friend." The co-founders, however, thought that if they did something in financial services it would grow.
"We were trying to sell this one very specific niche for a small development community," says Hockey, "and I think we got lucky and picked a good time to get into the market." Contrary to companies that look at a big market and try to add value to it, Plaid picked a small niche problem, solved it and expanded it.
"One tactical piece of advice I'd give is to work at a startup before you start a business," says Hockey. "You don't have to, but I think the most successful entrepreneurs have … it enables you to move so much quicker once you're actually the one starting a business."
Hockey considers the lessons that were extremely painful for him, his co-founder and their employees. "We'd never been in a real business before," and had he that experience, he feels perhaps they could have circumnavigated some struggles. "Just work at one for six, 12, 18 months, and it will save you an immense amount of time. I think we probably would have moved two years faster if we would have worked at a startup for six to 12 months beforehand."
It's sound advice that aspiring entrepreneurs should heed. And with both BetterCloud and Plaid hiring, that first step might be closer than you think.