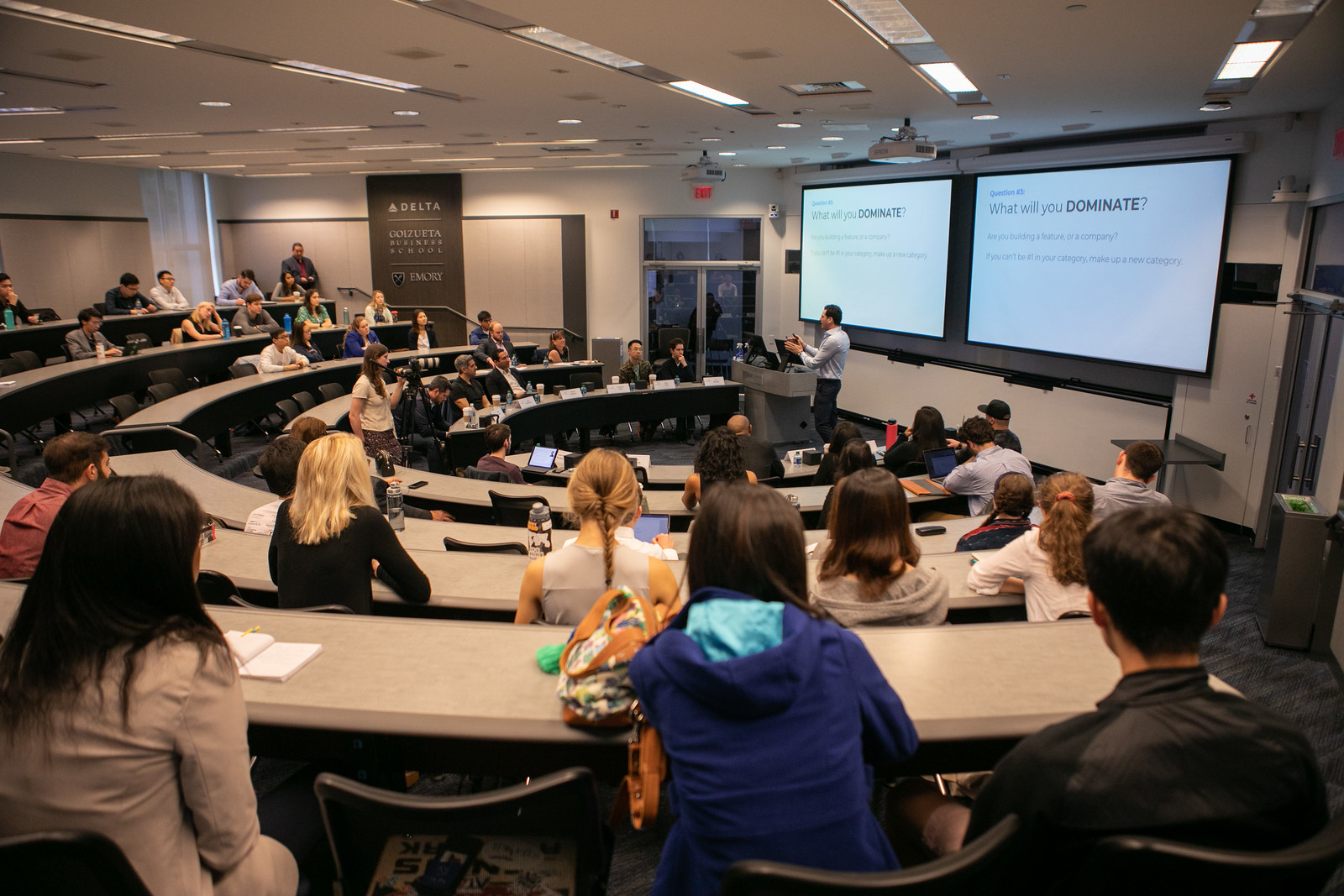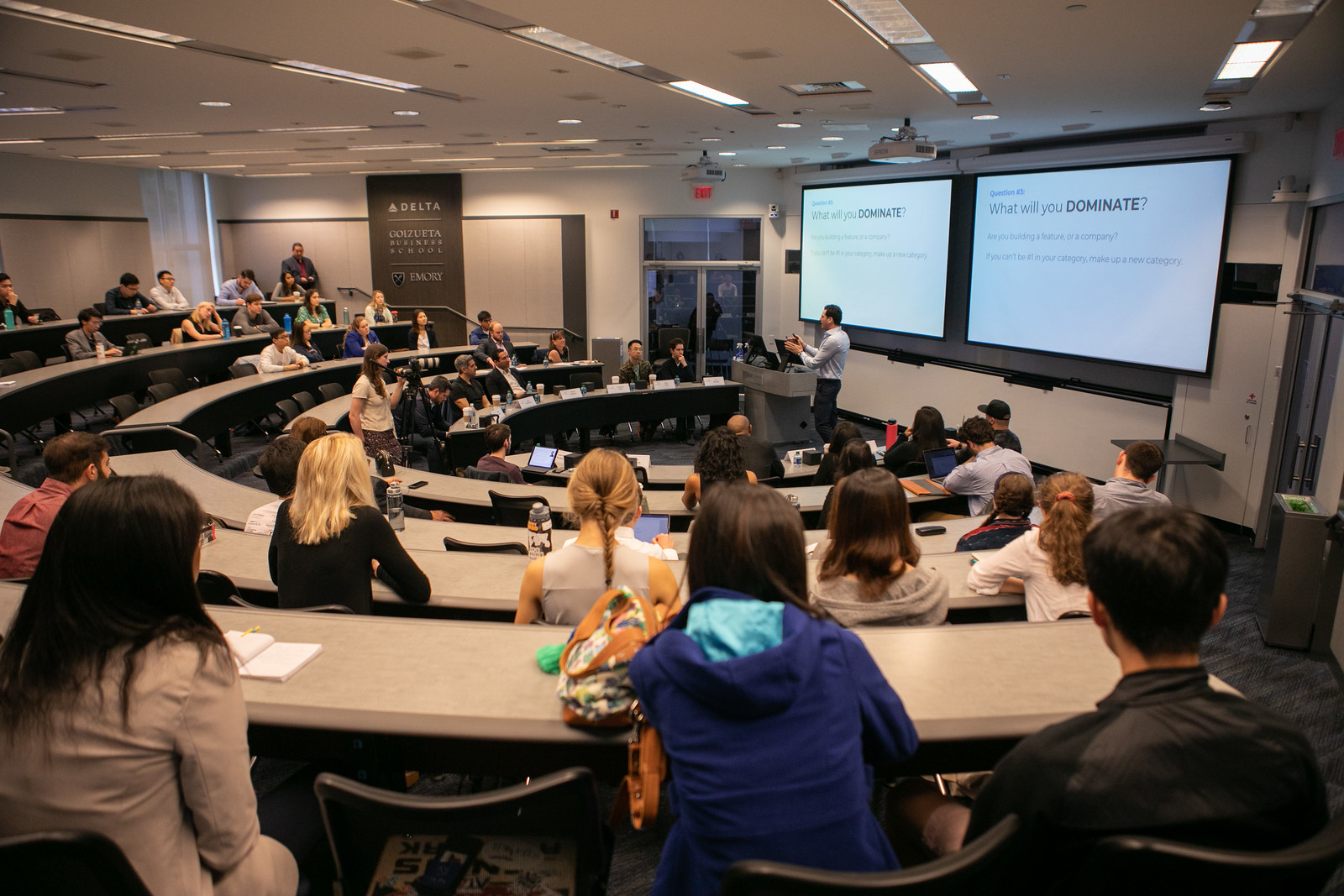 The fifth annual Emory Entrepreneurship Summit, which took place April 4-5, gave student attendees the opportunity to be immersed in the ecosystem.  During the Summit, participants had the chance to network, hear from successful entrepreneurial alumni, learn from micro-entrepreneurs and present their own ideas in the "Pitch the Summit" competition. Attendees also heard the kickoff Founders' Addresses from William Hockey 12BBA, co-founder, president and CTO at Plaid and David Politis 04C, founder and CEO of BetterCloud.
Pitch the Summit
Prior to the Summit, student entrepreneurs had the opportunity to compete in early rounds of the Pitch the Summit competition.  Those who advanced to the final rounds presented their ideas to a panel of distinguished entrepreneurial judges, who selected the most successful three pitches which were then delivered in an open session.
The winning team was named Innohealth Diagnostics and was pitched by Angela Udongwo 20MPH. The team developed a test for the parasitic disease schistosomiasis, which they hope will increase early detection and lower the rate of the disease. The winners will receive guidance, financial support, and a seat for a semester in Atlanta Tech Village.
Alumni entrepreneurial spotlights
A highlight of the fifth annual Emory Entrepreneurship Summit was the alumni entrepreneurial spotlights. A dozen BBA and Emory College entrepreneurs returned to campus to candidly discuss the highs and lows of building ventures. They offered insights and words of advice to students interested in the entrepreneurial path.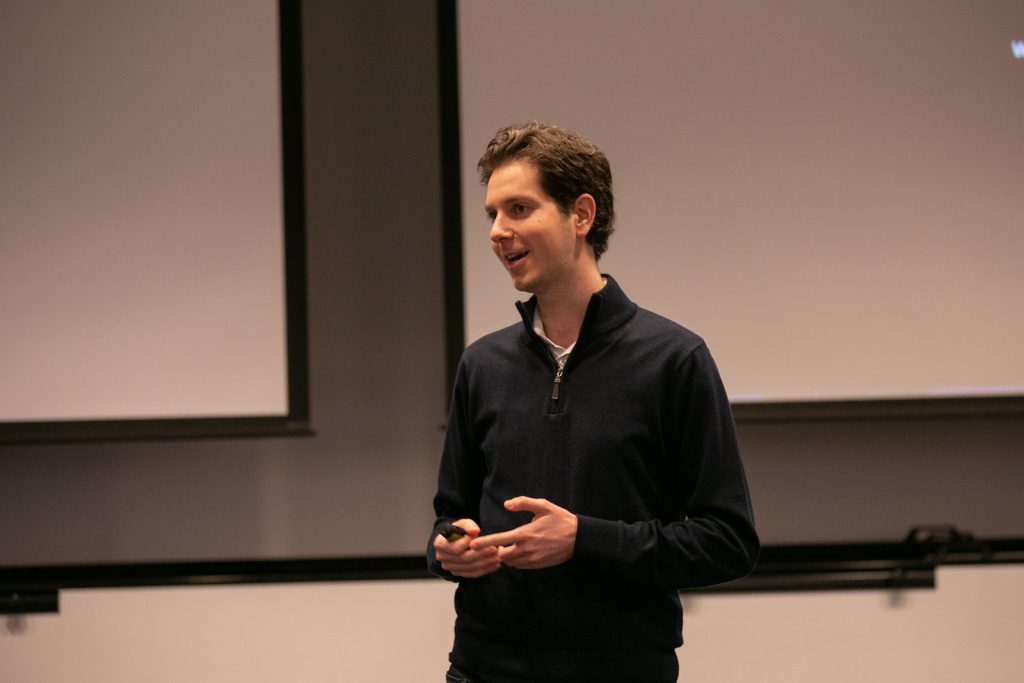 Cyril Berdugo 11BBA
During his talk, Berdugo reminded the students they were in one of the best business schools in the world, and that the platform for their success was all but guaranteed. He then challenged the students to ask themselves what they would do if they knew they were not going to fail. For Berdugo, the answer to that question was real estate. His company, Landis, purchases properties for renters and allocates part of the monthly payment towards a down payment, allowing clients to transition to homeownership.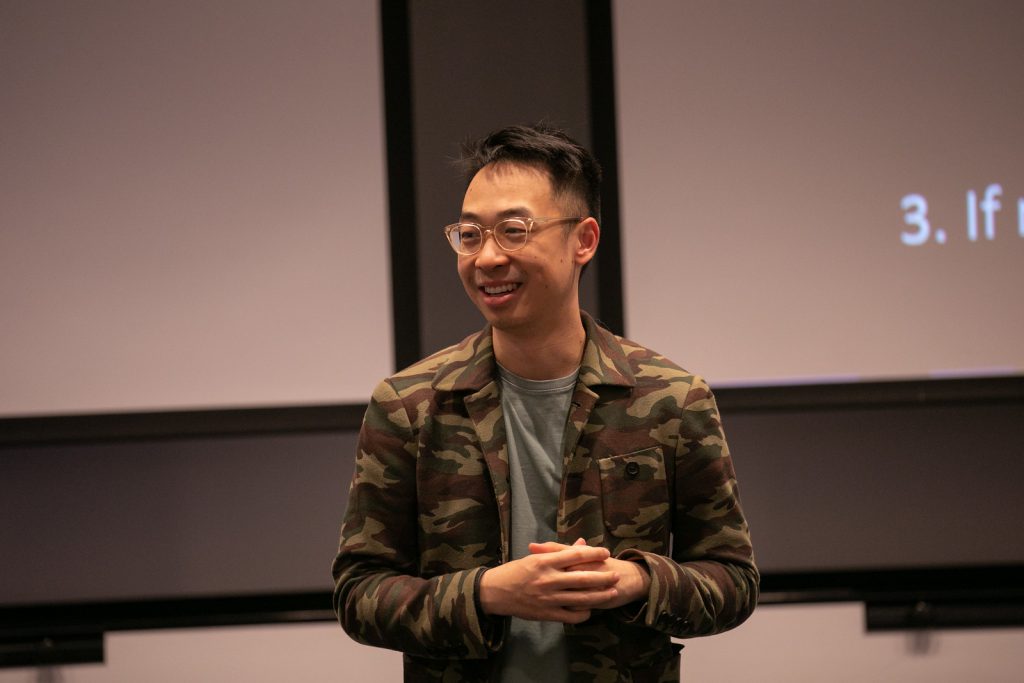 Eden Chen 09BBA
Before founding Fisherman Labs, Chen explored a career as a pastor and a banker. In addition to his primary company, which creates digital products and experiences for brands, Chen is currently running two other companies.  He shared his eclectic interests with the students and urged them to use today's incredible technology to follow their dreams. If you have an interest or idea, Chen advised the students, use the vast learning resources and global network of the internet to learn everything you can about it. Then, go out and build it—and launch it as fast as possible.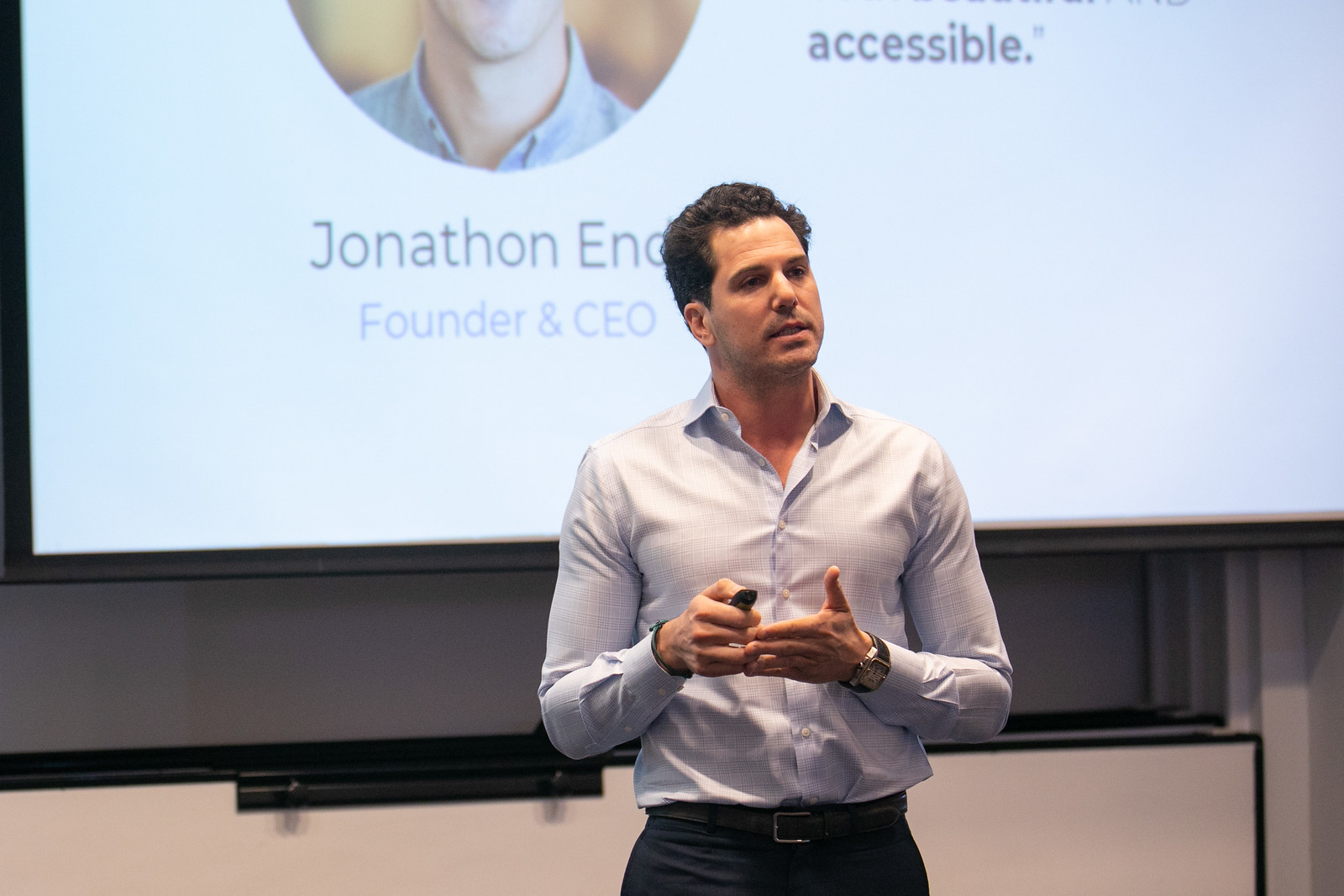 Jonathan Ende 05BBA
Ende's key takeaway for the students was finding your focus. His company, SeamlessDocs, helps governments take existing forms and processes and turn them into elegant and accessible online user experiences. Ende cautioned the students not to try to do too much and be wary of ideas you can't explain in a single sentence. Once you have fine-tuned that sentence, the point is not to sell, it's to tell a compelling story with the perfect customer in mind.  With focus and persistence, Ende said, you can do absolutely anything.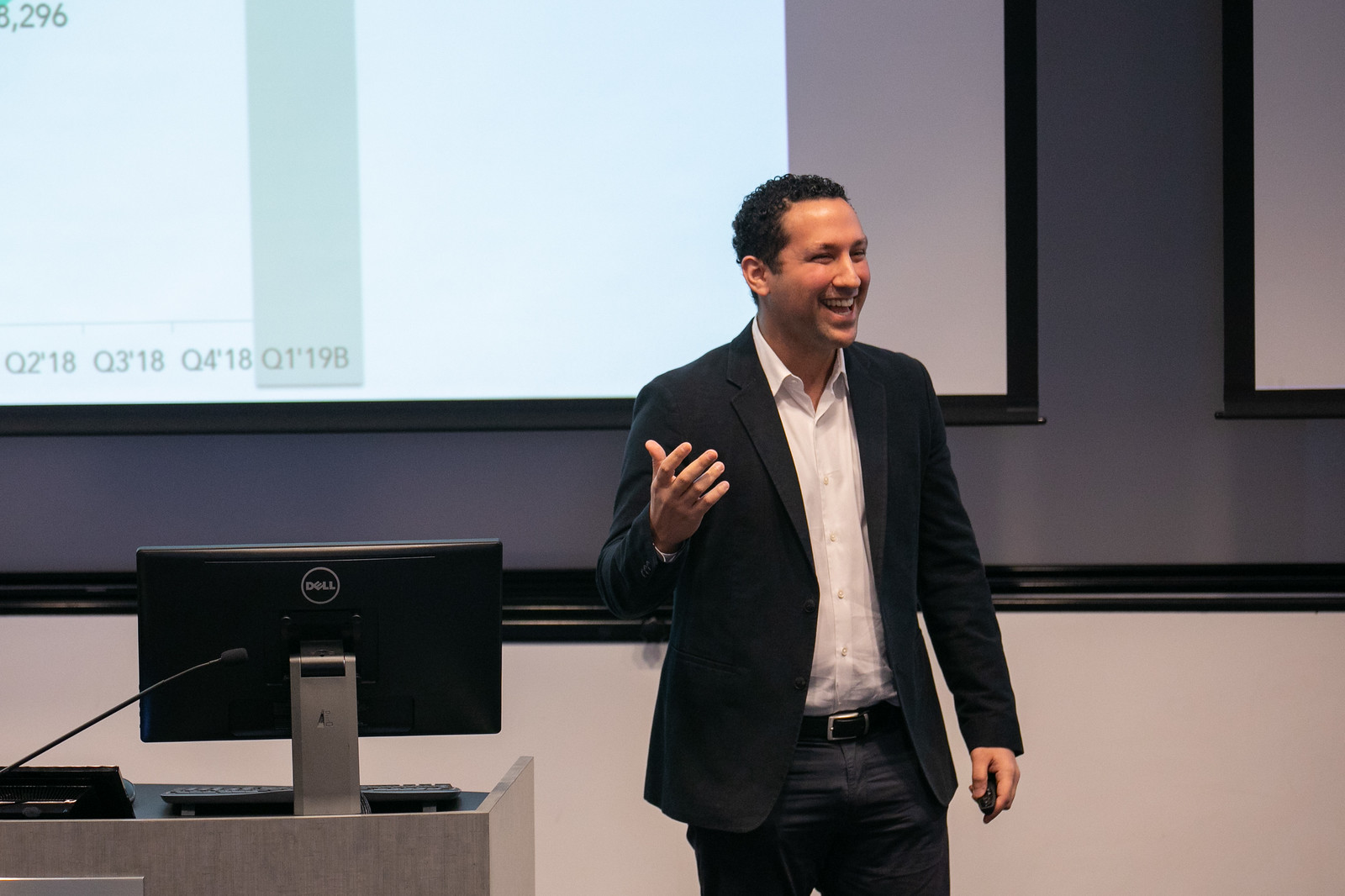 David Gelbard 09BBA
Looking back on his career, Gelbard told the students, it was his relationships and reputation that propelled him forward more than anything else. He emphasized the importance of self-awareness: knowing what you're good at and where your gaps are and finding the right people to fill them in. Gelbard's company, Parachute, offers patients online shopping for medical equipment and healthcare supplies and aims to overhaul the antiquated systems hospitals use to order vendor products. "Don't run for the sake of running," Gelbard says, "you have to know where you want to go."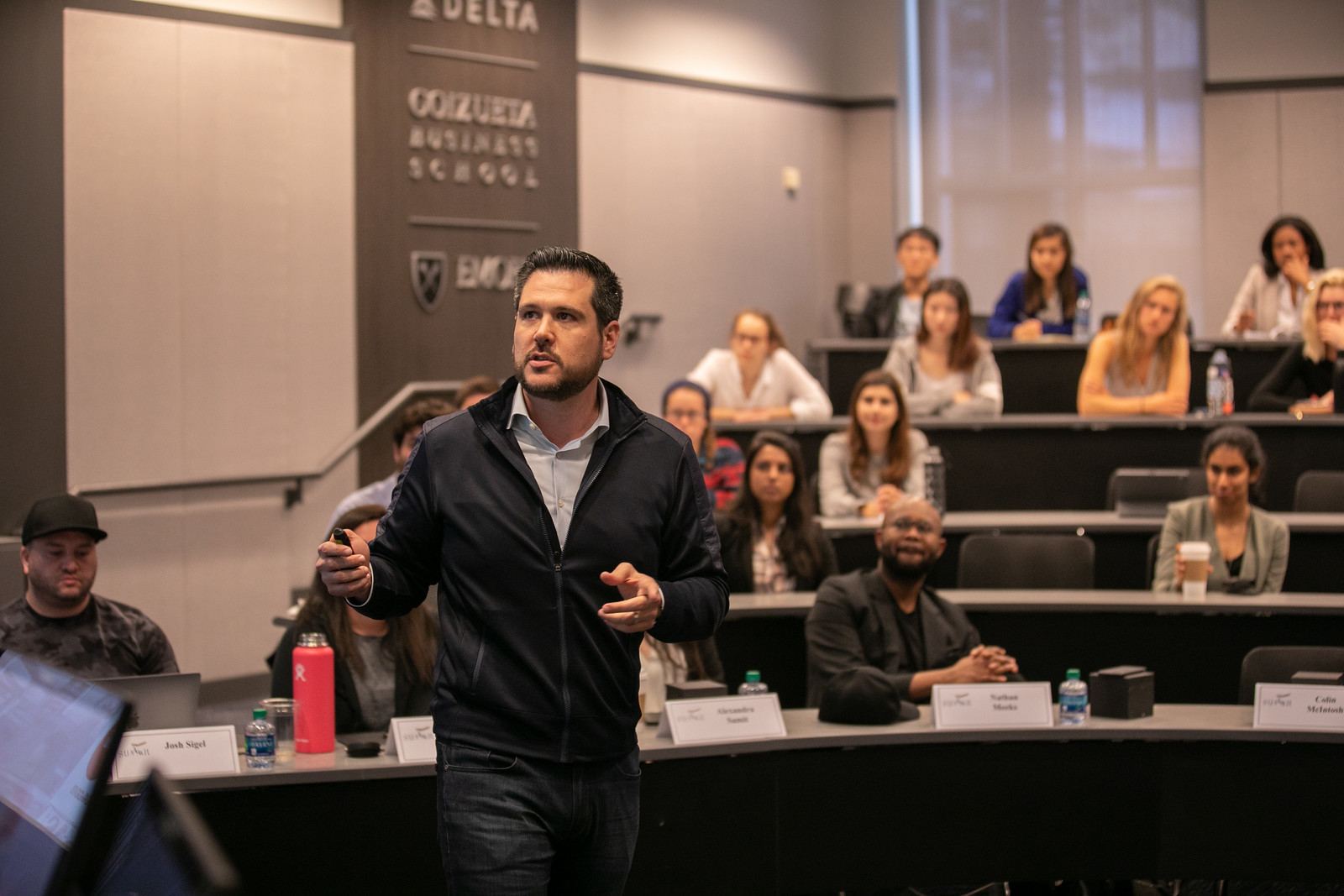 David Gaspar 02BBA  
During his talk, Gaspar shared the journey of one of his earlier startups with the students. He founded a marketing company that worked to leverage social media influencers but existed before the boom of Instagram stars that make up that industry today. Gaspar warned the students that if no one is doing what you're doing, you're either early or you're wrong. And in his opinion, early is exactly the same as wrong. Gaspar is currently using his significant entrepreneurial experience as managing director at DDG, a consulting company that provides tools in strategy, branding, and product development to create transformational growth for established companies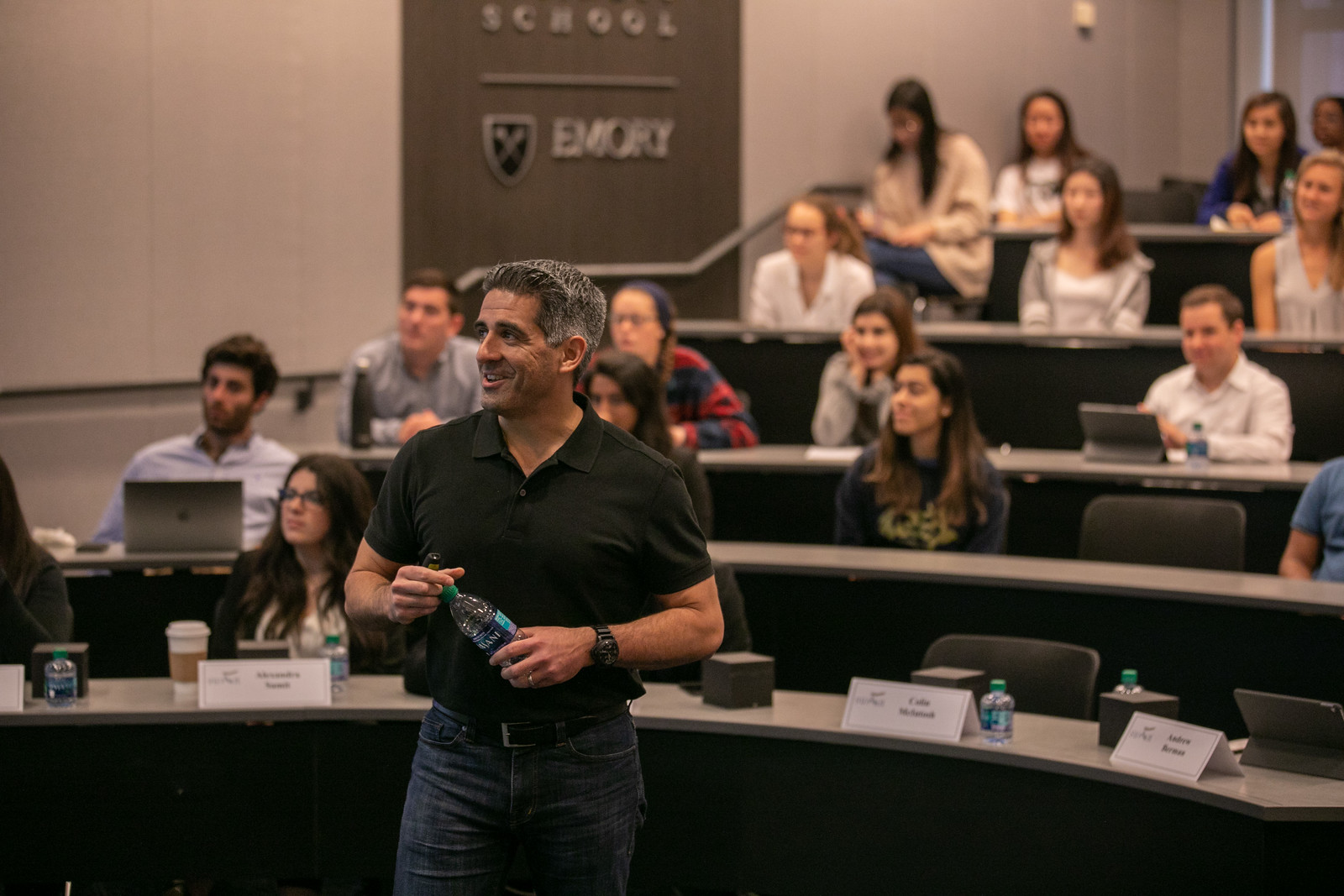 Todd Richheimer 02BBA
Richheimer started his career as a lawyer, where he realized the legal industry is tech-backward. His company, Lawfty, provides case generation technology for attorneys in the personal injury space. Richheimer warned students that there is no such thing as an "a-ha moment," but that curiosity leads to ideas. In his experience, hustle, relationships, and perseverance build businesses, and only the strong survive in entrepreneurship. Richheimer told the students that although there will always be challenges, they should persevere and remember that work should be fun.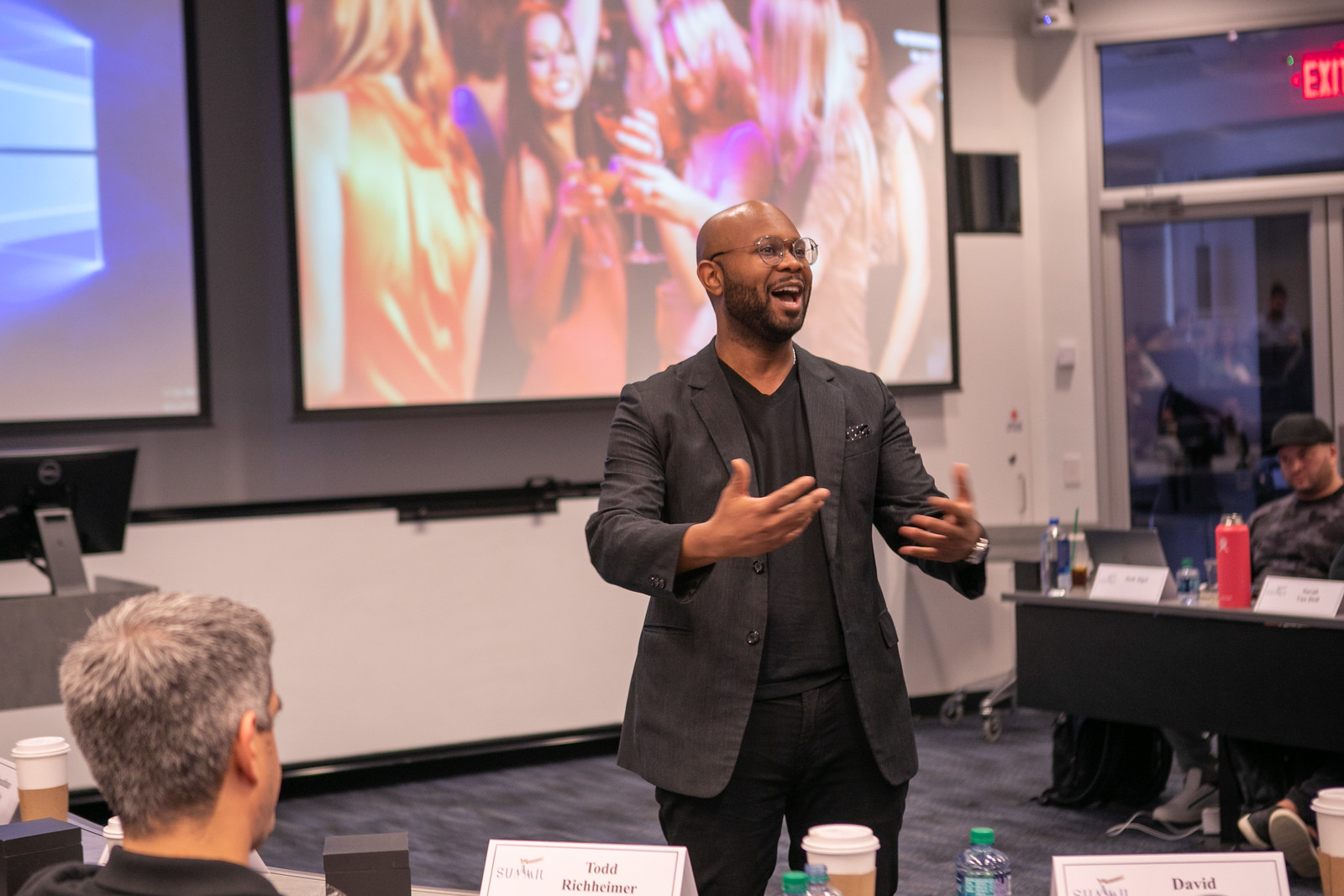 Nathan Meeks 07BBA
For Meeks, people are what matter. During his talk, he told students the relationships they cultivate, and the team they build, is the difference between life and death in a company. He cautioned against depending on one source for growth, whether it's a client, marketing channel or even a feature set. Meeks originally founded Gigzolo as a platform for finding and booking musicians and other artists for private events. As the company has matured, the focus has evolved to provide clients with data insights that allow them to create events that will resonate with their target audiences.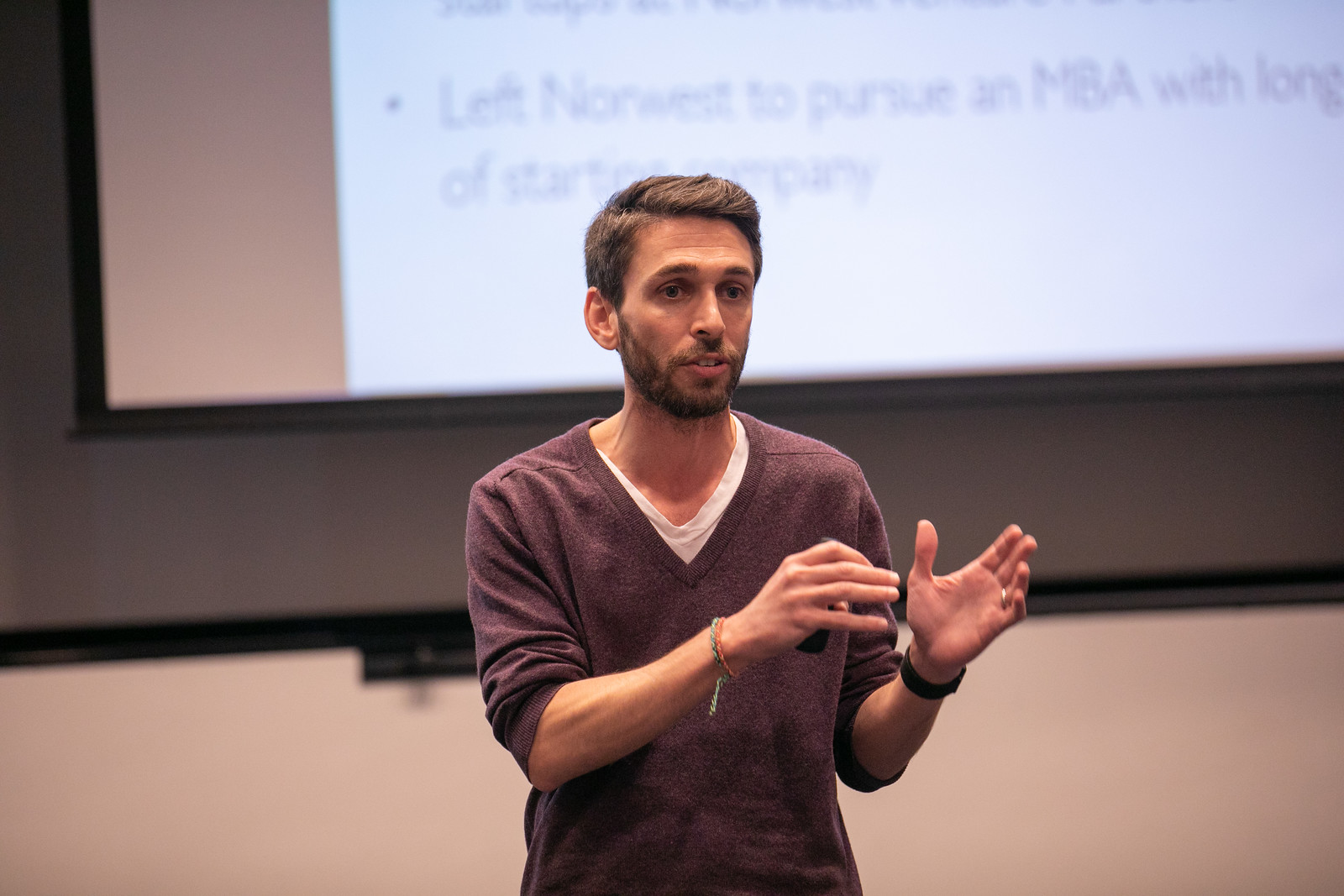 Andrew Berman 07BBA
Berman founded Nanit, a smart baby monitor that uses computer vision and machine learning to track sleep and breathing. Currently working on a new startup in the enterprise voice space, Berman has plenty of experience in growing ventures and securing VC funding. He told the students that in the fundraising stage, you have to sell a dream, and then build a product that people love.  He provided additional advice: Companies go out of business because they run out of capital, running a business is tough — it's 24/7/365 — and lack of speed kills startups, so remember that perfection is the enemy of good.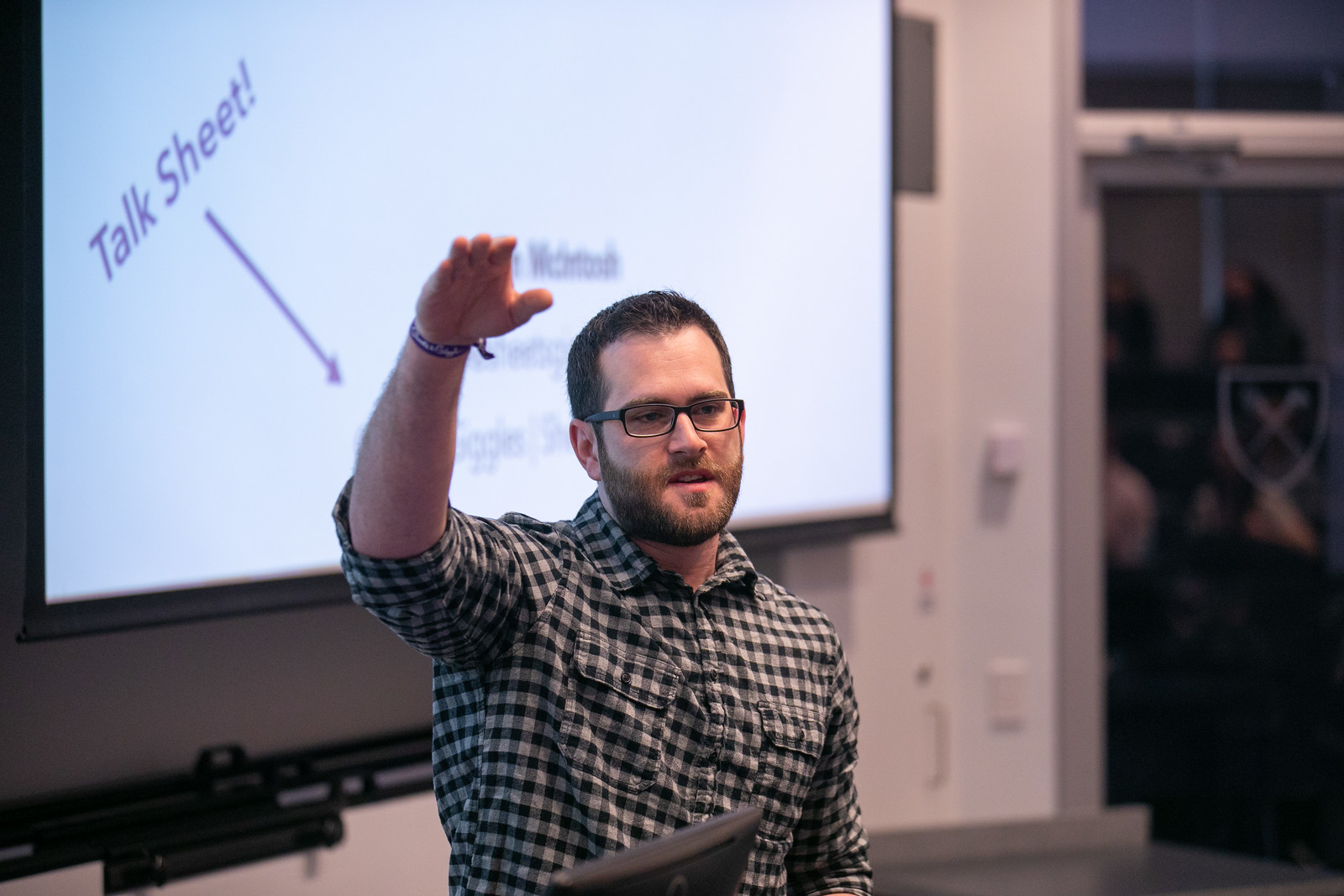 Colin McIntosh 12BBA
Sheets and Giggles, the company McIntosh founded, makes bed sheets from eucalyptus trees. The company separates themselves from the competition with playful but effective advertising and a focus on sustainability and quality. McIntosh visited the Summit directly from TechStars Denver, where his company was selected as part of the 2019 class and was on deck to pitch at Demo Day. He told the students he balances financial goals with offering the highest premium product and being environmentally friendly. In a startup, he said, finances take priority, because "you can't do sheet without a healthy business!"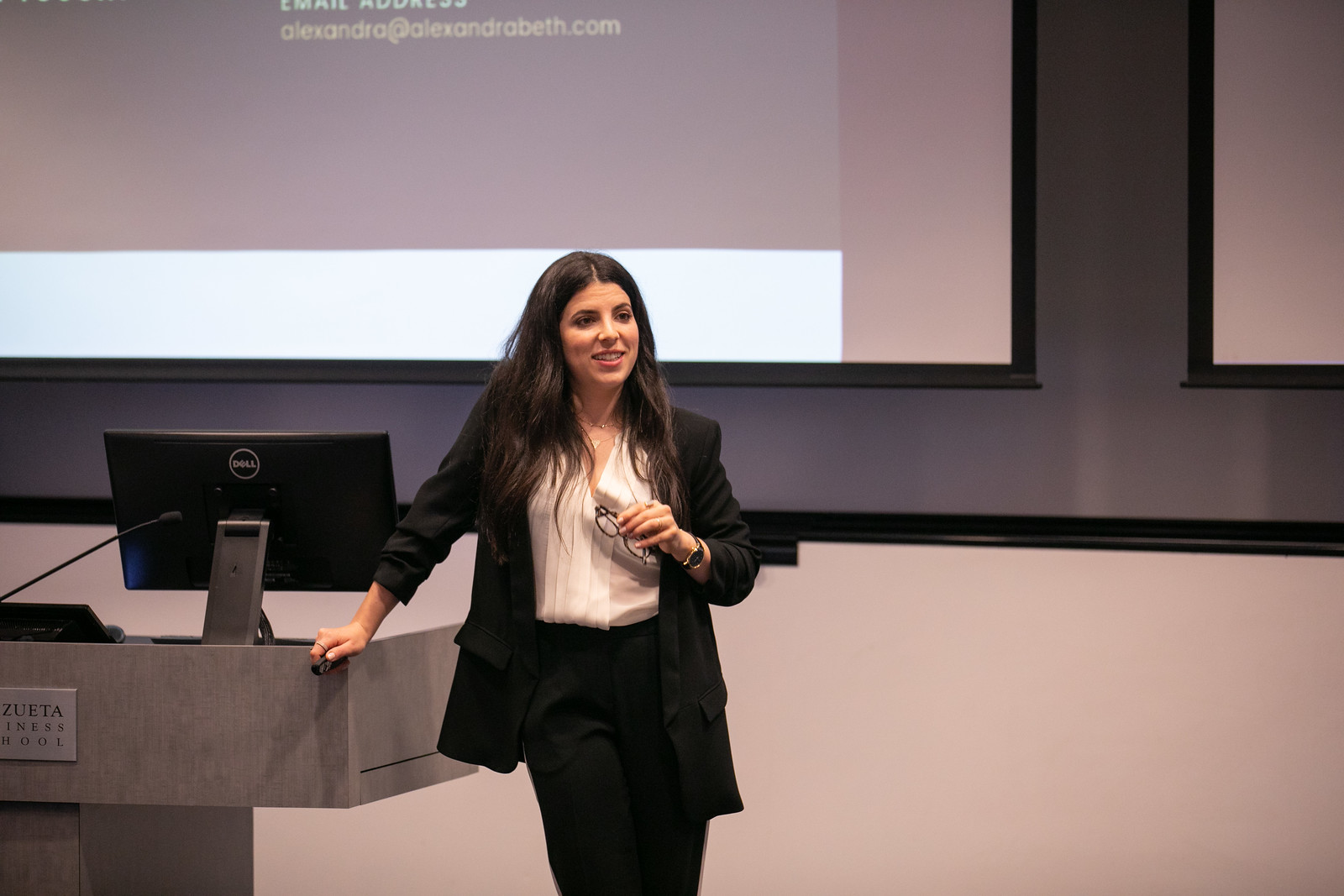 Alexandra Samit 09BBA
Samit is a jewelry designer who owns and operates Alexandra Beth Designs.  She started her business as a side line in high school and currently sells her products online and at artisan booths in Soho and Chelsea Market in New York City, where the company is based. Samit used her time in college to intern with jewelry designers and strongly recommends interning to gain experience and contacts in the industry you're interested in. When developing a product, Samit told the students it's crucial to research everything, test out pricing during a soft launch and most importantly, listen to your customers.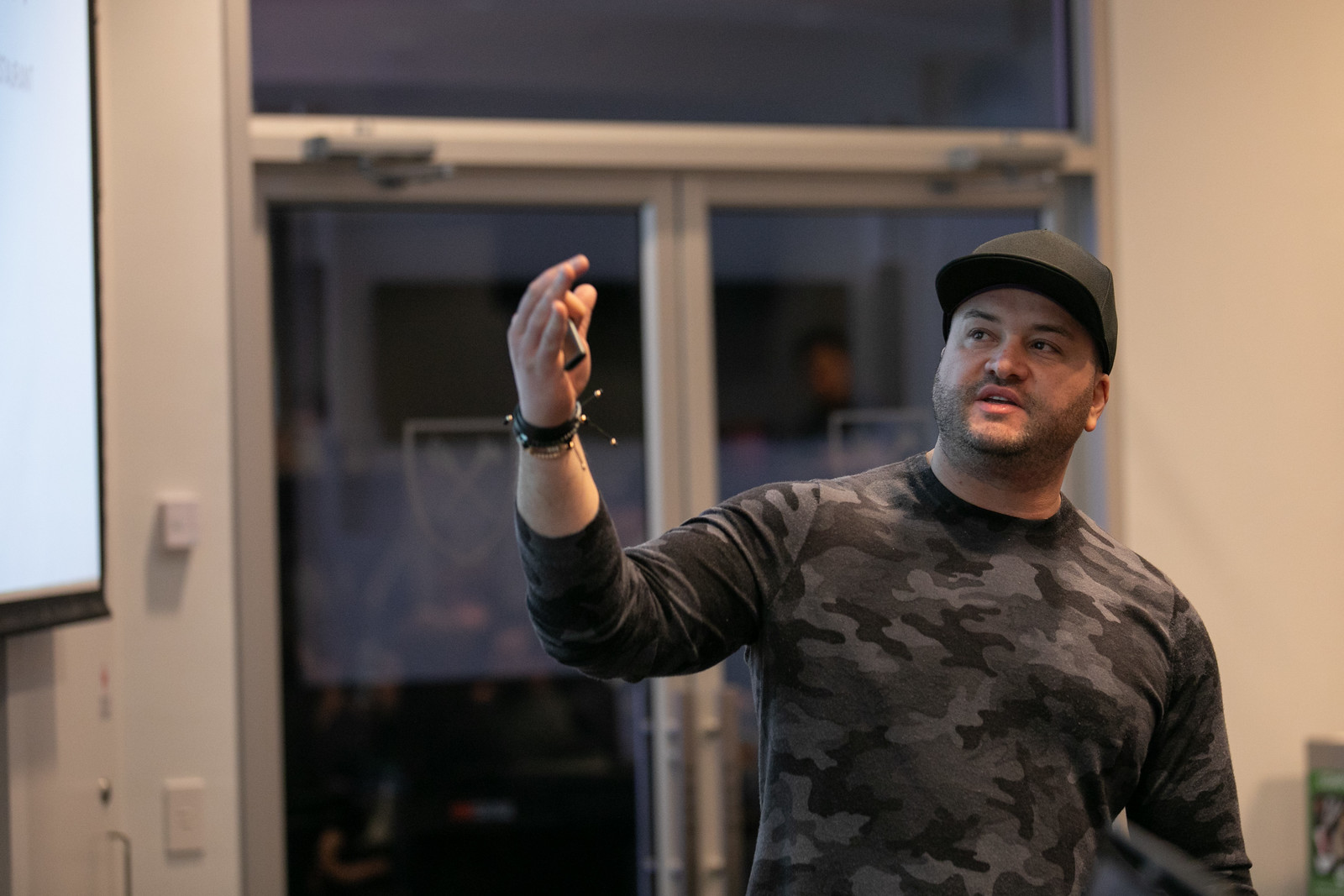 Joshua Sigel 02BBA
Sigel started his career as an analyst and went on to run operations in the food and beverage industry, but he wanted the chance to be truly innovative.  He started Lasso Ventures, a venture management firm, so he could help companies generate revenue, access expertise and leverage synergies. He is concurrently working on a side venture, underscoring his entrepreneurial philosophy that there is not one path, but rather multiple ways to deploy ideas. The quality of his decisions along his journey, he told the students, have been directly proportional to the number of conflicting thoughts he could simultaneously entertain.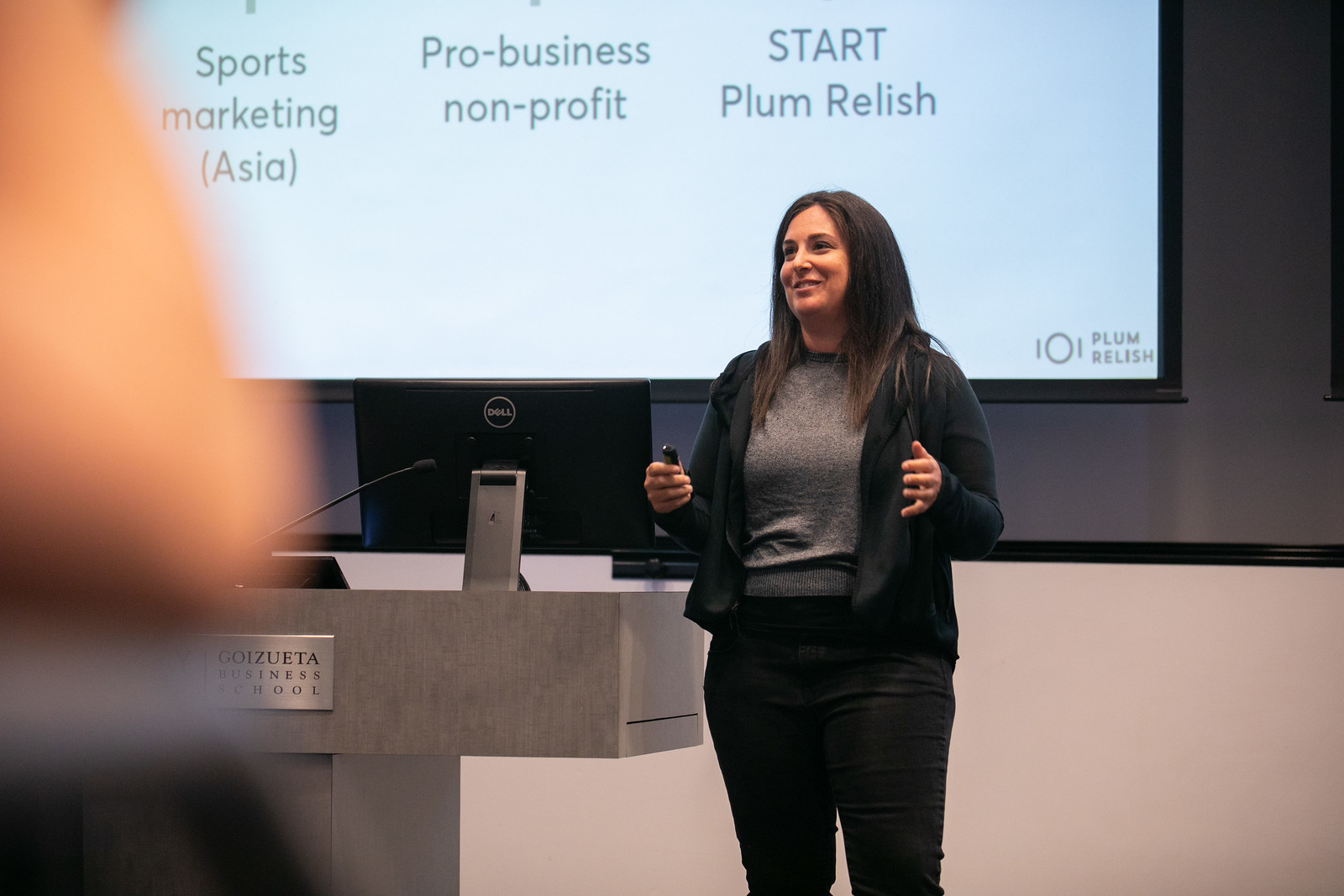 Sarah Van Dell 04C
Van Dell shared her nonlinear path with the students. She said that while she did not always identify as an entrepreneur, she grew up comfortable picking her own path and pursuing whatever sparked her intellectual curiosity.  She founded Plum Relish as a way to tap into the corporate lunch market by providing lunch delivery service from higher-end restaurant groups.  The uncertainty of the food industry excites her. "Put us on a boat," she says, "We don't know where we're going, but we kind of know it's open ocean."  Among other insights, she told attendees to suspend disbelief and show up for yourself. Be true to what you want to be doing.