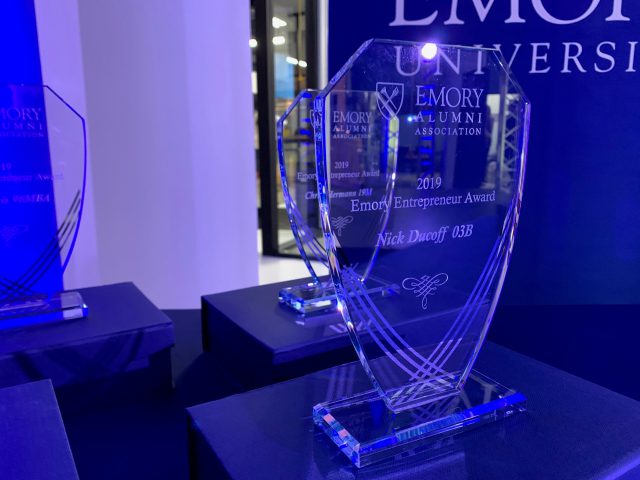 "Creating opportunities means looking where others are not." – Mark Cuban

At 39, Nick Ducoff 03BBA has had more impact across a number of industries and accepted more challenges and risks than many will experience in a lifetime. From practicing law to serving as CEO of a technology business to heading up new ventures as vice president for a university, Ducoff has seen connections and opportunities with each career move and leveraged them to make change for the better.
His current venture is no exception. Founded in 2017, Edmit is an online educational resource and consulting business that helps families make wise financial decisions as they navigate the college selection process. Edmit is gaining national notoriety with educational, corporate and nonprofit organizations.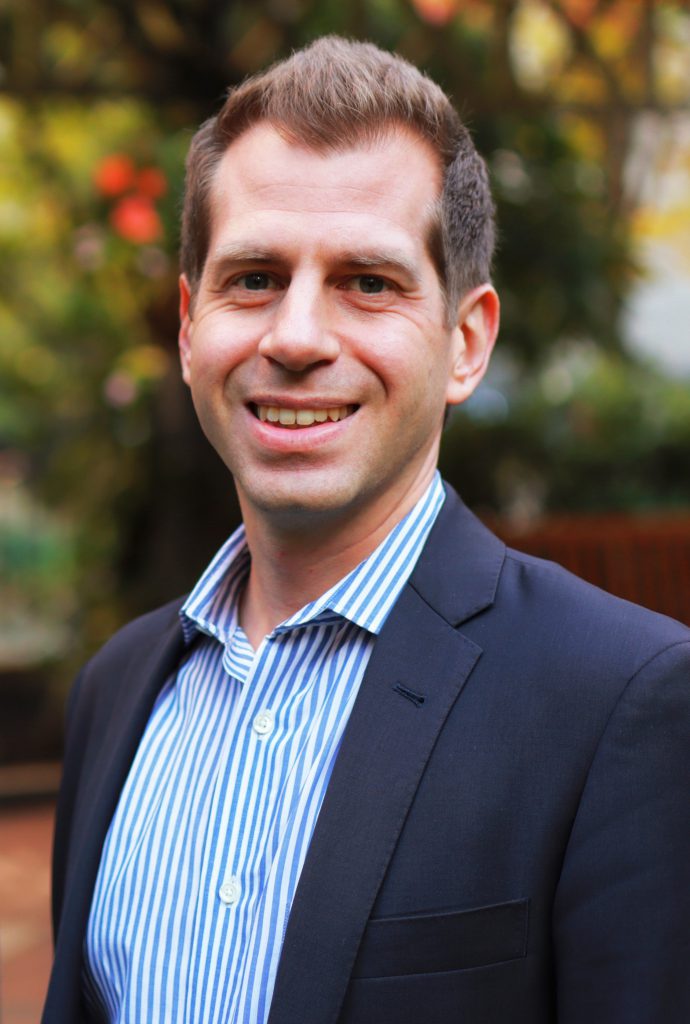 As a result of Edmit's success, Ducoff received the 2019 Emory Entrepreneur Award in the Financial Services category on February 27. This alumni award is sponsored by the Emory Entrepreneur Network, which annually recognizes alumni across a range of industries who have launched a business that has achieved significant advancement through innovation, profit, or influence. In addition, Edmit won the prestigious 2019 startup competition at the SXSW EDU annual event. The South by Southwest Education Conference and Festival fosters advances in learning.

For Ducoff and business partner Sabrina Manville, what began as an idea to help families financially prepare for life beyond college has turned into a thriving business, helping more than 500,000 families across the United States make sound educational investments.
"TrueCar transparency" for college
Today, Edmit has eight full-time employees and is supported by double-bottom-line investors−those that measure their performance in terms of positive impact−such as Founder Collective, Rethink Education, and Precursor Ventures.
"Edmit helps families make smarter college borrowing decisions so they're better off after college," Ducoff said. "There are over 45 million people with student loans in America and we want all of them to have access to Edmit for free. We make this possible thanks to our corporate partners who pay for Edmit for their customers, prospects, and employees." Today, he estimates that the average Edmit family saves $5,000 in college costs.
Ducoff drew on his professional and personal experiences in creating the idea for the business. Earlier in his career and armed with a law degree from the University of Texas, Ducoff worked as a venture capital lawyer. One of his clients invested in a company called TRUECar, which helps car buyers ensure they're paying a fair price.
"The initial idea for Edmit was TRUECar for college," he noted, where students and families would know more precisely the true costs of obtaining a college degree before just jumping in.
Add to this his experience as cofounder of the big data firm Infochimps, which was sold in 2013 to CSC Corporation, and subsequent roles in higher education.
"As vice president for new ventures at Northeastern University, I saw firsthand how affordability and value played into student and family decision-making," Ducoff said. The lack of resources available to evaluate "one of the largest and most important investments they'll make," he said, was glaringly apparent.
Along with Manville, who held an innovation role at a university prior to forming the company, and their own experiences as parents, the duo was confident they could create an online network to serve as a central resource hub for families wanting to make the best financial decisions possible for college and address the ever-rising tuition costs. As a result, they took a calculated risk and left their stable university jobs to launch Edmit, which has since found an important niche in the marketplace. Their book Better Off After College, augments their offerings.
Leveraging opportunities is key to success
Ducoff credits his professional success, in part, to the foundation he received at Goizueta and the ability to take advantage of key opportunities.
"If you survive long enough, you're bound to have some kind of success, but the difference between good and great is creating successive big opportunities and capitalizing on them," he said.
Practicing law that focused on tech and emerging companies, for example, led to Ducoff founding a technology business, which led to heading up new ventures at a university. And all experiences served as important building blocks for the launch of Edmit, he said.
"I'm quite intense and have a very high-risk tolerance," Ducoff added. "I try to balance that intensity with empathy for employees and others through eastern philosophy and meditation, but I don't want to lose it entirely as I think my intensity is a competitive advantage."
An avid reader, he balances his intensity by collecting and reading books, along with spending time with his family.
And one important lesson he has learned as an entrepreneur is to take everything in stride, preparing for the unexpected. "I try to make myself immune to surprises. Anything can happen at any time and it is important to be able to handle anything. Nassim Taleb's book Antifragile helped me see the world this way."

Preparing for growth
True to his nature, Ducoff continues to seek out opportunities to grow and evolve his business.
As he pursues his goal of assisting more families throughout various college financial planning stages, Ducoff is exploring key partnerships with student lenders, financial institutions, and employee benefits providers. In addition, he hopes that schools will also adopt Edmit in the future. The founder of Naviance, which is used by over 12 million students in schools, is one of the company's advisors.
With a 2020 goal to help families avoid extensive years of student loan debt, Ducoff says, that providing this kind of support to thousands of families is the most rewarding aspect of his career so far.
More Goizueta winners
Ducoff is not the only Goizueta alum who was recognized on February 27. The Emory Entrepreneur Network also honored the following Goizueta alumni:
Peter Davis 96MBA (and his co-founder Trenton Spindler 12C) – Business-to-Business category. Davis is CEO of GreenPrint, a public benefit company.


Jamie Koh 07BBA – Hospitality, Food & Beverage category.
Koh leads numerous businesses in the food & beverage industry in Singapore.


David Wu 11BBA – Technology category.
Wu is CEO of Motus Nova LLC, a medical device company.

Gerald Yao 14BBA – Media category.
Yao is chief strategy officer and co-founder at FiscalNote, a media and technology company.
Flavio Zaclis 01BBA – Venture Capital category.
Zaclis is founder of Barn Investments in Sao Paulo, Brazil. To read more of Zaclis, visit here.