Each year, Goizueta MBA students work closely with a range of companies and organizations to develop strategies to solve their real-world business problems. These consulting projects are part of Goizueta IMPACT, which uses a signature approach to experiential learning, developed to build the bridge from theory to practice.
Three of the consulting projects for the Two-Year MBA class of 2021, focused on the unique needs of organizations catering to people of color. Those organizations were aspire TV, Kenny Leon's True Colors Theatre, and Walker and Company, the makers of Bevel.
"Goizueta IMPACT has two goals: to accelerate career readiness for our students and extend the value of the business school into the business community," said Lynne Segall, associate dean, Goizueta IMPACT. "We are fortunate to work with a diverse mix of organizations, and we appreciate them trusting us with these projects."
aspireTV celebrates real Black culture and urban lifestyle
As an independently owned national cable network founded by Earvin "Magic" Johnson in 2012, aspireTV strives to change the way people see themselves and each other through reflecting, sharing, and celebrating the experiences of Black culture and urban lifestyle.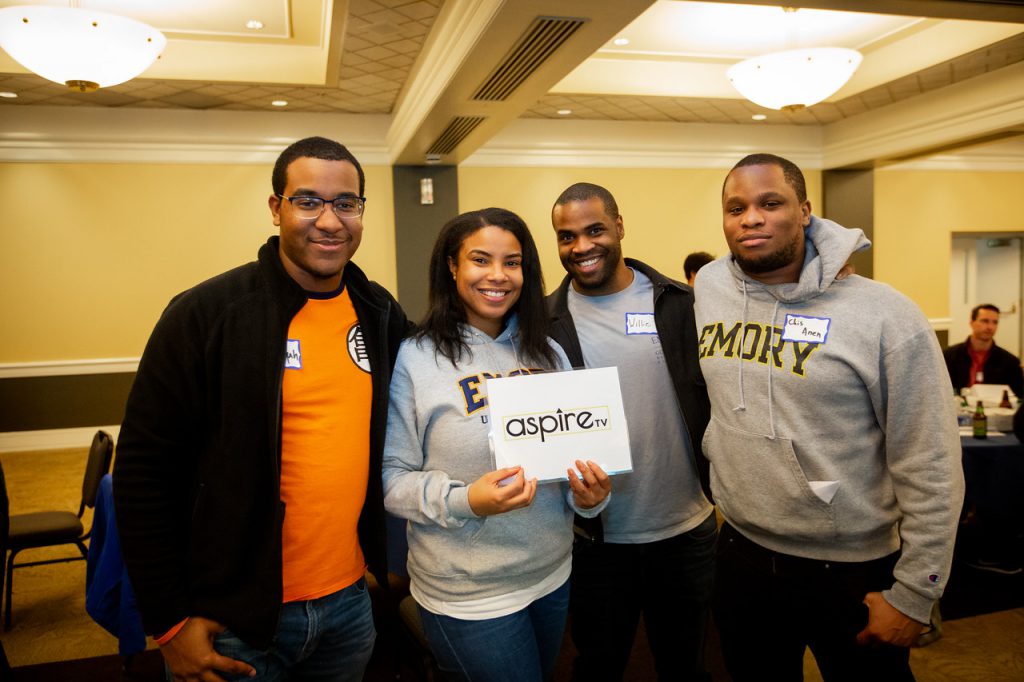 The MBA team working with aspireTV included MBA students Mikayah Merrell, Lyndsey Fridie, Chis Anen, Malek Mhadhbi, and Willie Sullivan. Asked to model the optimal way to tap into the buying power of the Black community and better support Black-owned enterprises, students used primary and secondary research to focus their evaluation on how to grow and scale the network's "Shop with Purpose" aspireMKTPLC. The marketplace is a no-cost platform for Black small business owners to share their products with a larger audience.
"These students didn't embrace just the project but the brand and its audience as well when answering the question at hand," said Melissa Ingram, general manager of aspireTV. "They were so thoughtful in their research, and, ultimately, I believe it was their passion that led to such practical recommendations that we've already begun researching and developing them.
"For example, one recommendation from the students was to integrate the Shopify app into our existing marketplace site. As a result of this recommendation, we are currently working with a developer and exploring themes for the current integration of Shopify into the aspireMKTPLC site."
"I loved where this team landed. I know it was a journey — from a hard-to-pin-down scope to deciding how deep to go," said Amy Zehfuss 99MBA, an adjunct lecturer at Goizueta and founder of Springboard Strategy who served as the team's advisor. Zehfuss praised the group's rigorous research and practical approach. "The students really pulled this together nicely, and the final delivery of recommendations was excellent."
True Colors theatre company gives voice to diverse artists
The mission of Kenny Leon's True Colors Theatre Company is to celebrate the rich tradition of Black storytelling while giving voice to bold artists of all cultures, thereby supporting and propelling individuals and institutions in their quest for understanding.
The MBA team working on the project included Jacob Housen, Danni El Tayeb, Carson Gernert, Dhruv Garg, and Asif Ahsan. True Colors' Managing Director Chandra Stephens-Albright 85C explained the theatre's situation prior to the project. "True Colors is all about engagement both on and off the stage," said Stephens-Albright. "We were experiencing declines in attendance, and we were looking for insights on our audience so that we could engage with them beyond the stage." The MBA students "did a great job analyzing the data we provided, asking incisive questions and incorporating the hard data with their experience of attending a performance."
"The project the True Colors team embarked on gave them an opportunity to tackle a common marketing challenge — understanding an organization's customers—using data sources that are becoming more widely available," said David Schweidel, professor of marketing and faculty advisor to the students. "Connecting the external data to the organization's ticketing and donation data enabled the teams to develop customer personas that will facilitate True Colors' marketing efforts. The same tactics could be employed regardless of the industry in which an organization operates."
Stephens-Albright said True Colors intends to use the brand persona information the team developed to inform the organization's marketing strategy. "The program was so impactful that we continue to work with Dr. Schweidel at Emory to create a product that will help other theatres do this work!"
For Danni El Tayeb, sharing this experience with his classmates was an added plus. "IMPACT gave us the opportunity to build on our team's diverse strengths to come up with data-driven recommendations for True Colors," said El Tayeb. Jacob Housen agreed. "We were excited to take what we learned in business school and apply it in a way that had both strategic and community impact."
Bevel makes health and beauty simple for people of color
Bevel launched in 2013 as a shaving-products brand specially designed for Black men and their specific skin and facial hair needs. This direct-to-consumer (DTC) business was heavily focused on subscriptions and could only be purchased online. With expansion into key retail establishments such as Target and Amazon, Bevel sought a strategic approach that could guide future direct-to-consumer growth.
"We were tasked to determine if Bevel's direct-to-consumer marketing strategy and investment should evolve following the company's recent expansion into brick and mortar stores and ecommerce sites," said Katie Merchent. In addition to Merchent, the Bevel project team included fellow 21MBA students Kristen Little, Sumit Kumar, Scott Jospin, and Pallav Upadhyay.
The MBA project team initially hypothesized that a more equitable distribution of resources across purchasing channels would be the right course of action. But they determined that the size and increased spend of the DTC consumer segment more than justified reallocating marketing dollars to emphasize DTC.
"After conducting competitor analysis and surveying target customers across the country, we concluded that DTC is the most attractive purchase channel for Bevel's most lucrative consumer who spends three times more than the average consumer," said Merchent. "Our findings reinforced the value of collecting and analyzing consumer insights in the ever-changing retail space. Overall, it was a valuable experience that enabled us to apply classroom studies to a real client project."
"We really enjoyed working with the students and getting a fresh set of eyes on a current business challenge," said Tia Cummings, vice president of marketing for Bevel. "The work they did benchmarking our DTC site versus our key competitors provided some great insights that we wouldn't otherwise have had."
Interested in becoming a Goizueta IMPACT client? Learn more about our project-based partnerships.