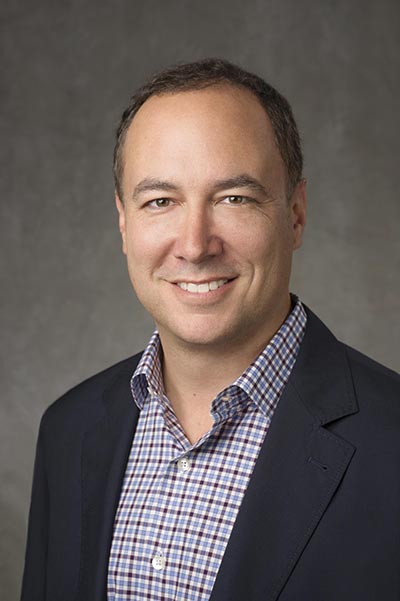 Early in 2020, Jim Lanzone 98JD/MBA was taking a bit of a break. After more than eight years serving as the president and CEO of CBS Interactive, and four of those years as the company's first Chief Digital Officer, Lanzone left CBS after it merged with Viacom at the end of 2019. He was acting as a strategic advisor for the newly formed ViacomCBS, and he'd signed on as an executive-in-residence at Benchmark Capital, but these roles weren't for the long-term. He was thinking about what he'd do next.
Then COVID-19 hit.
Lanzone, who lives in San Francisco, spent the bulk of his spring hanging out with his family and mountain biking at Lake Tahoe. Then Tinder called.
Tinder, which launched in 2012, is the world's most popular dating app. Available in 190 countries and in more than 40 languages, Tinder is also the world's highest grossing non-gaming app, bringing in nearly $1.2 billion in revenue in 2019. The company was looking for a new CEO. Was Lanzone interested? Yes.
Lanzone became Tinder's CEO in August 2020 and recounted his journey as part of "Learning & Leading: Goizueta Distinguished Speaker Series," a virtual chat between himself and Jeffrey Rosensweig, associate professor of finance and director of The Robson Program for Business, Public Policy, and Government. The event was themed "Reinventing yourself in a world of disruption" — a topic Lanzone is well versed in.
Recording of Learning & Leading: Goizueta Distinguished Speaker Series with Jim Lanzone above.

Taking advantage of the hand you're dealt
In some ways, taking the helm at Tinder brought Lanzone full circle. In the late 1990s, he was earning dual degrees at Goizueta and Emory Law when he took a summer internship at InformationAmerica, an Atlanta-based internet company. With no experience, he was asked to create an online presence for the firm, which he built, learning on the fly. Lanzone then joined Roger Barnette 98MBA and Richard Carrano 98MBA in starting eTour, an early web discovery site. It became a top-50 website and was poised to go public when the market crashed in 2000. Ask.com (then known as Ask Jeeves) acquired eTour in 2001, and Lanzone went along for the ride. He found a mentor at Ask.com and was tapped to lead product management.
At Ask.com, Lanzone took a "Jenga" approach to product improvement. He started "poking at the blocks and seeing what might move," he said. At the time, he found an old "ask us" product on the Ask Jeeve's web page that rarely saw traffic because it didn't work well. He replaced it with a regular search engine, and user growth skyrocketed. "There's always an answer on the page," he explained. That single change resulted in twice as many user searches—and a doubling of revenue. Lanzone would rise up the ranks to CEO at Ask.com. "I got really lucky," he said.
In 2005, Ask.com was sold to IAC/InterActiveCorp and Lanzone followed. Founded by Barry Diller, IAC helps build great brands and oversees a portfolio of companies that includes Match Group, which houses several online dating brands, Tinder among them.
Making difficult choices
Lanzone's next stop was entrepreneur-in-residence at Redpoint Ventures. It was quickly followed by a "soul-searching moment," he told Rosensweig. He received two offers: take a CEO role at a public company or go back to his start-up roots. By 2008, he had a wife, Shannon, whom he'd met on his first day of law school at Emory, three kids, and a mortgage.
Lanzone reminded those on the call that the vast majority of start-ups don't work out. But entrepreneurs, in spite of the odds stacked against them, just "got to do it," Lanzone said. "You have to feel it—and I imagine this is the same [feeling] if you're going to quit your job and go to Hollywood or quit your job to go join a band. You don't want to die with your music still in you, right?"
He chose to found and run the start-up Clicker Media Inc., a company that cataloged all broadcast programming available online. Less than two years later, in 2011, Lanzone sold Clicker to CBS, joining the broadcaster as head of Interactive. Accustomed to the scrappy flexibility of start-ups, the corporate climate of CBS had its challenges. For instance, while CBS.com existed, visitors couldn't yet stream content.
"It took us three years to actually get [CBS All Access] approved, built and launched, and then another three years to get our first original show, which was Star Trek Discovery," Lanzone said. "But we got things started." As of October 2020, CBS All Access/Showtime is the fifth largest streaming platform after Netflix, Amazon, Hulu and Disney+.
Bringing something new to the table
Shortly after Tinder approached him, Lanzone knew he'd take the job. "At the end of the day, it's probably one of the 20 best brands in the history of the internet. Everybody knows Tinder," he said.
Lanzone believes he brings something to the table that Tinder hasn't had before—a product person with an eye for new surface areas. For instance, this past September, Tinder held its second annual "Swipe Night" event, a U.S.-only event in 2019 that went global this year. A first-person, interactive event, Tinder members move the story forward by swiping at key points in the experience. Each choice not only dictates the story, but it impacts who they'll match with later. The response to Swipe Night was overwhelming and validated Lanzone's vision of what Tinder could be. In a press release announcing Swipe Night, Lanzone said: "We're committed to driving innovation on Tinder that creates more ways to bring our members together, entertain them and help them meet and get to know new people."
Lanzone, who turns 50 in January, admitted he's not Tinder's target audience but recognizes that he doesn't have to be. "Twenty-three years of managing consumer internet products of all different kinds has been extremely valuable," he said.
For instance, when user experience data suggested the Tinder app didn't work as well for women as it did for men, Lanzone personally tested the site by posing both as a male and female "in a non-catfishing way," he told Rosensweig. "To know how to make better products, you have to use them," he said. "The experience for women is absolutely just eye-poppingly different." In his first month as CEO, Lanzone increased the makeup of Tinder's executive team from 30 percent female to 60 percent female. "There were a lot of good-hearted men trying to solve that problem for women," he said. "It's not the same thing."
When and why to make a move
Rosensweig asked Lanzone when he thought was the best time to make a career move. It comes down to the moment, explained Lanzone. "I would argue that you regret the acts of omission much more in life that you regret the acts of commission," he said, adding, it's important to follow your instincts.
"The better the company is, the less turnover they have in the executive ranks," said Lanzone. "You may just get blocked." If that's the case, you might have to go somewhere else to grow, he added. "You've got to think five, ten years down the road or you'll wind up getting stuck."
As for his time at Goizueta, Lanzone says he is still close with several of his classmates, including a couple whom he considers some of his best friends, Scott Bowman 98MBA, CFO, Phylos Bioscience, and Zander Lurie 99JD/MBA, CEO, SurveyMonkey. "I joined the MBA program, and it was like seeing in color for me," Lanzone said. "Over the years, whether it's Emory or Silicon Valley, my network has been a huge part of making my way in the world."
The "Learning & Leading: Goizueta Distinguished Speaker Series" was created to inspire connections between students, alumni, faculty, staff and the broader business community.