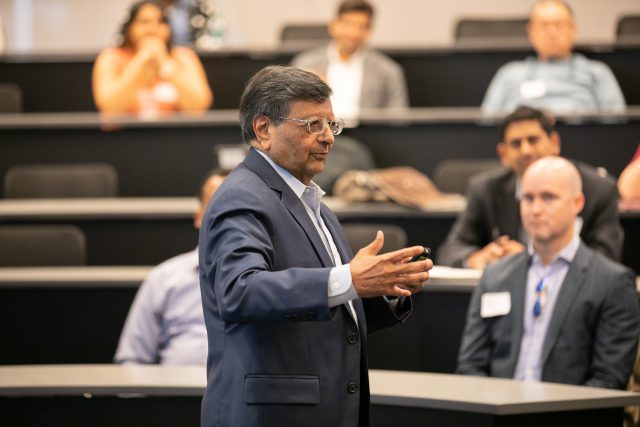 Professor Jagdish Sheth, Goizueta Charles H. Kellstadt Chair in Marketing, is no stranger to receiving awards that acknowledge his scholarly or philanthropic impact, and this latest honor is a culmination of his enduring dedication to education.
This month, Sheth accepted the honor of having a university school named after him. The former IFIM Business School in Bangalore, India, has been renamed the Jagdish Sheth School of Management (JAGSOM). As a distinguished and frequently awarded global leader, Sheth remains humble about this latest recognition.
"As India gets globally integrated, it will become increasingly necessary for management schools to meet or exceed global benchmarks, global accreditations and global recognitions," he said. "I am honored that Sanjay Padode, Atish Chattopadhyay, the governing board and all the faculty invited me to rename IFIM in its journey toward becoming a globally admired school and recognized as Jagdish Sheth School of Management."
A prolific writer, Sheth's scholarly research includes more than 350 research papers and books on global competitive strategy, consumer psychology, relationship marketing, marketing theory, geopolitics and more. His work has been cited so often by his peers and journalists that he has just been named to Emory University's MilliPub Club. Established in 2009, the MilliPub Club honors and recognizes current Emory faculty who have published one or more papers that have been cited more than 1,000 times. His paper "Why we buy what we buy—a theory of consumption values" from the 1991 Journal of Business Research is considered a citation classic and represents high-impact scholarship.
Known to Emory for his inquisitive nature, warmth, wisdom and philanthropy, Sheth earned the Emory University Thomas Jefferson Award for enriching the intellectual and civic life of the Emory community. He is also a recent recipient of the 2020 Padma Busham Award, India's third highest civilian award. As an honoree, Sheth was praised as "an Indian who has made exemplary contributions on a global scale and generated national pride" for literature and education.
Among his other awards are the Viktor Mataja Medal from the Austrian Research Society in Vienna and the 1989 Outstanding Marketing Educator Award from the Academy of Marketing Science. He was twice named the "Marketing Educator of the Year" by Sales and Marketing Executives International and has received all top four academic awards bestowed by the American Marketing Association. These include the PD Converse Award for Marketing Theory, the Charles Coolidge Parlin Award for Marketing Research, the Richard D. Irwin/McGraw Hill Marketing Educator Award and the William L. Wilkie "Marketing for a Better World" Award.
While receiving is gratifying, for Sheth, bestowing awards on others and giving back is an integral part of his makeup. As part of the Sheth Family Foundation, the scholar and his wife, Madhuri Sheth, fund more than 60 nonprofit organizations and provide educational awards to more than a dozen colleges and universities.
At Emory, the Sheth Fellowship supports PhD candidates at Goizueta who pass their comprehensive exams. The Sheths also sponsor the annual Emory University Sheth Distinguished International Alumni Award, which honors an alumnus/a who is highly distinguished, either nationally or internationally, in their business, profession or life's work, and who has made outstanding contributions to humanity, science, art or human welfare.