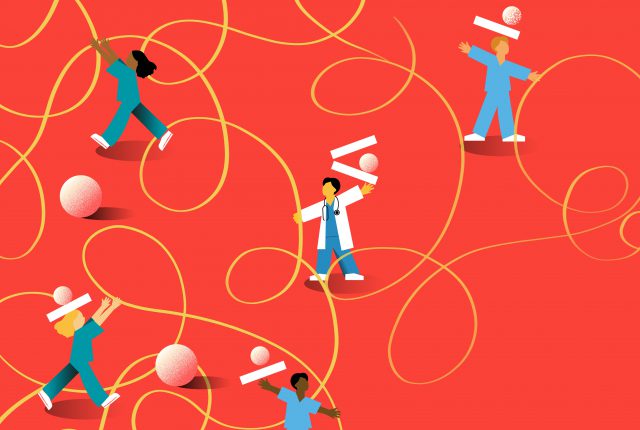 With patients in need, Goizueta MBAs launched Emory Healthcare Telehealth.
Prior to the new coronavirus pandemic, investments in telehealth at Emory Healthcare in Atlanta, GA had been limited, but in 2019, Emory Healthcare planned to change that. It formed an internal telehealth team and established a goal to provide 1000 telehealth visits in 2020, a figure that seems laughable now. On January 21, 2020 the first confirmed case of COVID-19 in the U.S. was reported in the state of Washington, and in weeks it became clear that the coronavirus would disrupt outpatient care for the foreseeable future.
In response, the U.S. Congress and the Centers for Medicare & Medicaid Services issued emergency public health orders, paving the way for telehealth to become a viable option to face-to-face medical visits. "We knew the only way we were going to be able to continue with robust access to outpatient care, at least in the short term, was by telehealth," said Gregory Esper 09MBA, MD, associate chief medical officer at Emory Healthcare and medical director of Emory's telehealth initiative.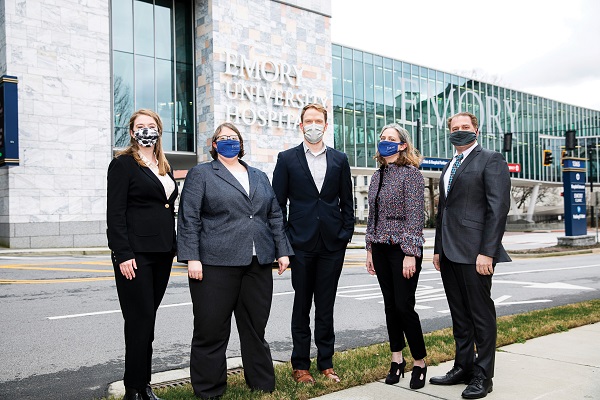 In early March, the team—Esper, Sarah Kier 20EMBA, vice president, patient access, Emory Healthcare physician group practices, Rob Sweeney 18MBA, administrator, Emory Healthcare, and Emma Winchell, project manager, Emory Healthcare—went into "hyper-execute mode," said Esper, as it worked to ensure continuity of patient care. Amy Comeau 11EMBA, vice president, marketing, Emory Healthcare, was a key health system partner whose team developed the telehealth brand, Emory Connected Care, and innovatively spread the word to patients and families.
On March 13, 2020, the European travel ban took effect, and by St. Patrick's Day, most of Emory Healthcare's non-employees were working from home. As a safety precaution and to preserve personal protective equipment (PPE), in-person visits at Emory Healthcare clinics were significantly reduced and that's when Telehealth took off: between mid-March and the end of 2020, Emory Healthcare's telehealth team facilitated approximately 436,000 telehealth visits—an astounding increase from their initial goal of 1000.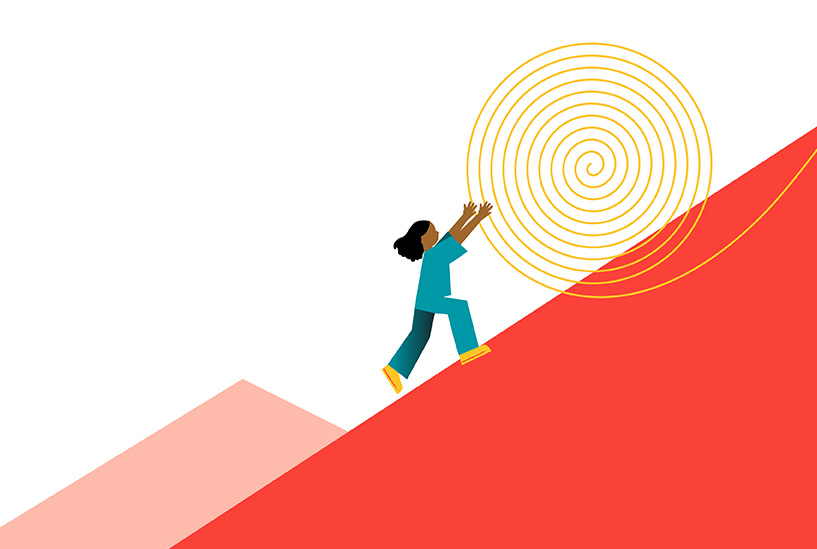 "You've heard the saying, 'Never let a good crisis go to waste,'" said Comeau. "The laser focus on COVID-19 response allowed all of us to perform at the top of our game and to really push innovation for the benefit of our patients and our organization."
As the pandemic forced the telehealth team into overdrive, one of the principles Esper learned at Goizueta kept running through his mind. "If you create the right incentives, the market will happen," he said. "That's exactly what happened with telemedicine." To help the team move an initiative like Telehealth through the Emory Healthcare system, Esper relied on knowledge gleaned from his organizational behavior and leadership classes with Rick Gilkey and Peter Topping, both professors in the practice of Organization & Management at Goizueta.
For the four Emory Healthcare leaders armed with an MBA from Goizueta, it turns out that instituting an outpatient telehealth program which did not exist "allowed us to put into action what we learned in our business courses," explained Esper, "Which is just awesome."
Kier, who was in the last semester of her Executive MBA program while working to get Emory Healthcare's Telehealth initiative up and running, "felt the full benefit of my degree almost immediately," she said. "It was an amazing, unique, and meaningful culmination of all the education, all the practical lessons come to life."
Why a Revolutionary Business Model Changed Health Care
Before the pandemic, the Telehealth team had designed three training modules, which helped the team hit the ground running. The first module addressed telehealth basics. The second reviewed legislation and regulations, and the third guided physicians through steps before, during, and after patient visits. For physicians to be certified to conduct telehealth sessions, they needed to complete the training, pass an exam, and commit to using Emory Healthcare's Telehealth standards.
To ensure that the system's nearly 2400 healthcare providers could access the training, take the test, and document that they'd passed, resources needed to be organized and easily accessible. "It was very detailed operational work," described Esper, "and Emma Winchell was the lynchpin for the certification process."
Emory Healthcare, an academic medical center with 11 hospitals and over 250 clinical sites, delivers care for more than 820,000 patients annually. There are more than 70 subspecialties at Emory Healthcare, and from a telemedicine perspective, certain subspecialties made sense to target first. The Telehealth team then used what it learned from those experiences to cascade insights into other subspecialties.
While Emory Healthcare's senior leadership was accessible and provided guidance, for all intents and purposes, the Telehealth team and their clinical partners within the sections were blazing a new trail. "That felt good," said Kier. "We knew we'd execute successfully and get it done, but no one knew what the end zone would look like once we got there. We were focused on the now – we needed to do a thing and we needed to do it fast."
Information Management and Delivery Take Top Priority
While Kier, Sweeney, and Winchell organized the training, Comeau and her marketing team built the Emory Connected Care brand and developed content to inform patients about how to access resources and care. To communicate with leadership and deliver information to different stakeholders, Comeau relied on her "soft skills," she said—something she'd learned the importance of while at Goizueta. "You can't get stuff done alone," said Comeau. Leaning on established partnerships and building new ones across and through the organization helped her align resources and priorities to market the program and provide patients much needed information on what to expect.
Comeau had a limited background in finance prior to taking financial classes as part of her core curriculum in the EMBA program. She credits her ability to make a business case for getting the green light for certain Emory Healthcare Telehealth campaigns and initiatives. Being able to crunch numbers to make a compelling case, added Comeau, is a skill she relies on "every single day."
As outpatient care shifted to Telehealth, Sweeney and Winchell organized daily informational Zoom meetings for providers. They also implemented a "hub-and-spoke" communication model. Rather than Sweeney and Winchell fielding inquiries from across the system, each subspecialty had representatives that shared concerns and reported best practices to the Telehealth team. "They were key for telling us what they were seeing from an operational standpoint," Sweeney said.
Sweeney came to Goizueta from the U.S. Department of Defense and had no prior experience in healthcare. By happenstance, Sweeney's Goizueta IMPACT project (where students act as consultants to solve real-world business issues for sponsoring clients) paired him with a pharmaceutical company. Some of what he learned on that project—discerning who the stakeholders were, finding out and focusing on what was most important—was instrumental in understanding the regulatory environment around telehealth. Working on that IMPACT project also gave him insight into how to structure information so "it's easy to digest," Sweeney said. "Being exposed to business situations where you were in uncharted waters and had to figure out how to swim. That was a big takeaway."
Iterate, iterate, iterate.
Given the speed of the project's implementation, some aspects did not get the level of attention they might have in a non-COVID-19 environment, but the team held firm when it came to quality of care. "Keeping patient experience, provider experience, and the standard of care just as high quality as it would have been in person was really important to all of our stakeholders," stated Kier.
For example, during the initial phases of the rollout, doctors often had to talk their patients through the ins and outs of Zoom. Rather than burden clinicians, the Telehealth team created a pool of contact center agents who worked with patients prior to their telehealth sessions and got them Zoom-ready. "Watching the iteration happen up and downstream was really cool," added Kier. "We went from totally new and a bit shaky to really good operationally quickly." If issues were ubiquitous, Comeau and her team created messaging to help alleviate them, creating how-to videos and what-to-expect content.
As a result of the effective ramping up and the use of telehealth during the pandemic, the money billed via Emory Healthcare Telehealth has been similar to that from in-person visits, as have been patient satisfaction scores. Another positive outcome of the team's hard work is that the processes the team implemented for the Telehealth rollout have proven applicable to Emory Healthcare's patient and employee vaccination programs. "Many of the mechanisms developed for communicating with our (Telehealth) patients, we're now using and improving upon for our patient vaccinations," explained Comeau.
COVID-19 Alumni Insights
"Generally, business has more ambiguity than medicine. In medicine, someone comes to you with a clear problem or complaint that has a well-studied scientific solution. Initially, COVID was unique in that we did not have robust data defining a solution. The ambiguity that COVID brought to the hospital caused me to think back to my education at Goizueta. My IMPACT projects gave taught me the tools to identify applicable frameworks to help solve the types of problems COVID created in and around the hospital. Additionally, COVID created logistic problems. Today, we are trying to determine how best to administer the vaccine to everyone."

Adlai Pappy 19MD/MBA, anesthesiology resident at Harvard's Brigham and Women's Hopsital in Massachusetts
"The pace at which we were getting information was constant. I remember thinking at times, is there even a point on working on this until an hour before it's due because we're just going to have to change it. I learned about agility, for lack of a better word. I would work so hard on some of these things and make them look beautiful and then they got changed. You just have to deal with it, you know? There's no option. You can't be, 'but this isn't perfect.' You can make it look the best it can, but it needs to go out because of how important it is for that information to be out in the public."

Neha Bansal Ox17 21MSBA When the pandemic began, Bansal was an ORISE Fellow at Centers for Disease Control where she worked on the Clinician Outreach and Communications (COCA) team, which was responsible for creating content regarding emerging health threats such as COVID-19. She left her post in August 2020 to earn an MS in Business Analytics from Goizueta.
"The pandemic emphasized the power of a team and reinforced creativity and collaboration. We all learned that urgency, creativity, and teamwork make a difference not only during these challenging moments, but at all times. The strength of our teams further improved communication, collaboration, and cross-collaboration among various specialties and services, which will be critical in response to any obstacle that comes our way in the future.

Dealing with the pandemic made me more agile, tenacious, strengthened my leadership skills, and fortified my ability to multitask. Going through the Goizueta Executive MBA program expanded the depth and the width of my mindset not only as a physician but also as a leader."

Christine Charaf 20EMBA, MD, FACP, Assistant Professor of Medicine, Emory University School of Medicine, Adjunct Faculty Member, Morehouse School of Medicine, and Staff Physician, Veteran Administration
"This pandemic has taught me the importance of being incredibly purpose-driven with a clear human focus. As terrible as the pandemic has been, the necessary response reaffirmed that business is about pursuing a noble purpose and putting employees and human relationships at the heart of how a business operates."

David DiLoreto 05MBA, Principal, Sg2, a Vizient Company. DiLoreto's firm works with health care providers to plan and predict future demand for health care services.
"Because of COVID, the business models that were inevitably going to fail over the next 10 years have failed in two months. Someone pressed a button and now we're 10 years ahead and our capabilities aren't. And we have to adjust. This disruption is a catalyst for digital transformation and for adapting new business models and letting go of old business models that would have failed over time anyway. It just happened in an instant."

Sanchit Rege 12MBA Director Digital, Direct Channel & Metasearch Strategy, Hyatt Hotels Corporation. Rege lives and works in Zurich, Switzerland.
"There is still so much to learn about COVID and all of the challenges that have come with it. The Goizueta experience prepares its students to work through ambiguity and to become comfortable with being uncomfortable, but not everyone gets to go through that experience. That's why we must be leaders and be the calm in the storm."

Eric Neydorff 19MBA, Finance Business Partner, SARS CoV-2 Vaccine, Moderna Therapeutics
Lessons Learned in 2020 Guide Future
As Esper reflected on all that happened in 2020, he felt a sense of accomplishment. Over the course of a career, the moments where you get "to leverage all your skill and desire and knowledge to bring about a change" are few and far between, he said. "To this date, for me, the launch of telemedicine at Emory is that moment."
Esper and his telehealth teammates certainly don't wish for anything like COVID-19 to strike again, but they've come out of the experience with a sense of pride. "If you're in a situation where it's fourth down and there are 22 seconds left in the game—do you want the ball or not?" Esper asked. Thankful for the skills he learned during his Goizueta MBA program he said, "It's performing like this that tells me that if a team like ours has the ball, we can do something with it. That gives us confidence. And we hope it gives Emory Healthcare confidence in us as well."
---
Learn more about Connected Care through Emory Healthcare Telehealth. Explore Goizueta Business School's IMPACT program.