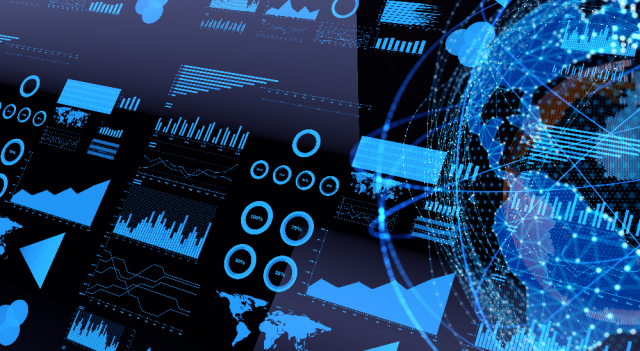 Now in its fifth year, Goizueta's STEM-credentialed Master of Science in Business Analytics (MSBA) Program has distinguished itself from the competition through its focus on real-world learning in training tomorrow's leaders in business data analytics.
The 10-month MSBA program bridges the divide that exists between business, tech, and data by creating a business data scientist — one who speaks the language of business while being technically savvy and fully trained in data science.
The centerpiece to accomplishing this goal of creating future business data scientists is the Capstone Project during the Spring semester that builds on students' foundational training in the areas of statistics, managing big data on the cloud, machine learning, and data visualization.
Student consulting teams work with business and data leaders in Fortune 500 firms, as well as small startups, guided by Ramnath K. Chellappa, associate dean & academic director of Master of Science in Business Analytics and Goizueta Foundation term professor of Information Systems & Operations Management, along with Panagiotis Adamopoulos, assistant professor of Information Systems & Operations Management, and mentored by MSBA Managing Director Scott Radcliffe. Projects are vetted carefully to ensure they add true value to the client firms, while strengthening the workplace readiness of the MSBA graduates.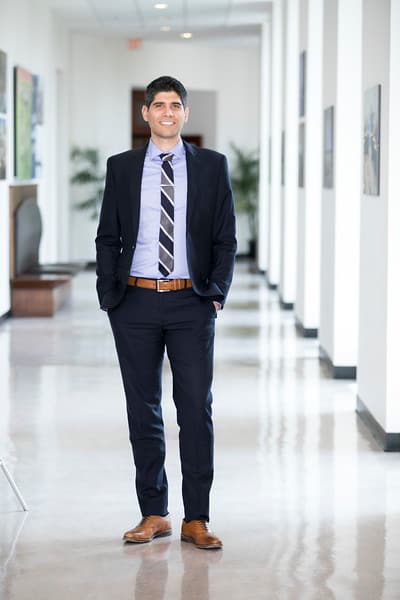 Students apply data and technical skills to solve clients' business problems using firms' proprietary data, and in some cases also integrating with publicly available datasets. Deliverables include a robust technical handover package with empirical models, code, and cleansed data, a business deck explaining the benefits and methodology, and an executive dashboard developed on a visualization platform such as Tableau.
Radcliffe notes, "During my many years as an analytics leader in industry I learned that technical skills are table stakes for the business data scientist. Our broader approach to real-world analytics consulting experience enhances the ability to understand the right problem, articulate the problem, and define the fundamental data requirements," he explains. "Our students learn skills to build trust among team members, create a reliable working environment, and accelerate productivity in project management."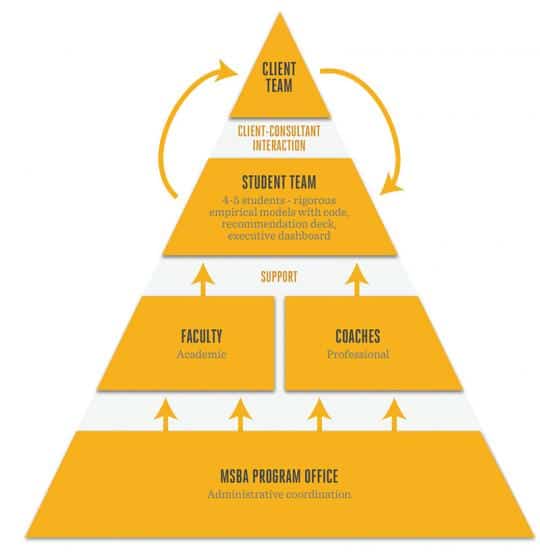 Student Teams Work with Real-World Client Data Challenges
Clients rely on Goizueta MSBA students to work with sensitive data and solve real-world data challenges. Project vetting and team assignment is an involved process. Radcliffe and Chellappa, meet with industry partners and their business and data specialists. Project definitions are created. MSBA projects involve proprietary datasets with significant liability implications for the clients, so a concurrent engagement with the firms' legal and IT security divisions is established.
On 'pitch day' for students, project sponsors showcase their business problems and students rank their preferences. Through an optimization algorithm, skill-balanced teams of four students are matched to each project.
Chellappa points out, "Our program is special in that we find one unique project per team, so we end up working with about 11-14 firms in many verticals from healthcare to retail to banking." Projects may address fraud detection, marketing, human resources, or other functional areas. "We aim to offer students a broad exposure to different industry applications."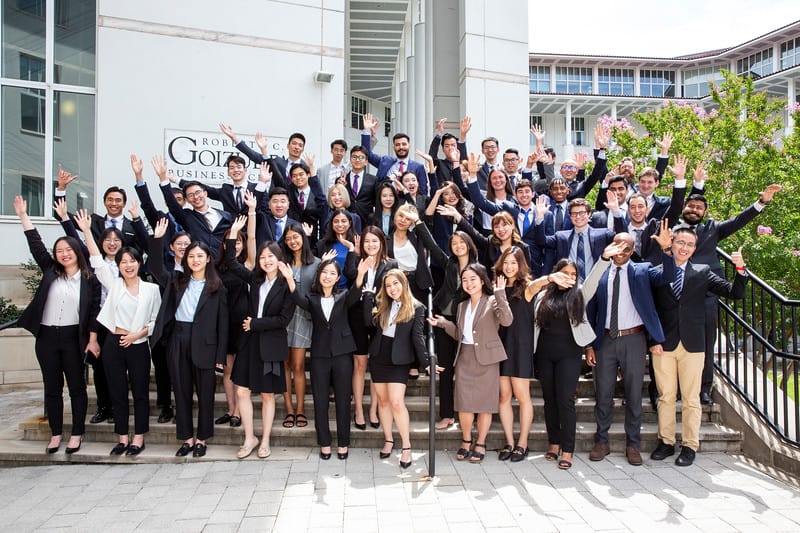 MSBA Students Gain Career Advantages with Real-World Data Analytics Skills
For students, the time and work invested in a Capstone project can pay huge dividends by opening doors to careers in business data analytics.
For recent graduate Mary Boken 21MSBA, that real-world experience combined with the knowledge gained in the program led to a job offer with Invesco prior to graduation for the company's technology rotational program called "ITAP" (Invesco Technology Associates Program).
"Capstone was a great experience that allowed me to experience the challenges that come along with a real-world data project." she said. "It was also a good opportunity to work with business partners to align the needs of the business with the capabilities of the team, constantly striving to achieve alignment between different stakeholders."
For Boken, whose capstone team project involved predicting bust-out fraud detection for Truist Bank, the Capstone project was a good exercise to help her thoroughly understand the business problem and the available data before jumping into a solution.
"I learned how to lead a technology project and manage a project end-to-end, which will be useful at any stage in my career," she said. "I also learned how to turn business requirements into technical solutions, and on the other end, communicate technical results as actionable insights to business partners."
Boken's cohort and recent graduate Grace Jieru Zeng 21MSBA agrees. "The program last year was vigorous but rewarding, where I substantially enhanced my business mindset and data science competencies. I feel more prepared than ever to start my career journey in the field." Zeng has recently accepted a position as a business intelligence analyst in the Supply Chain Department with The Home Depot. "I am very excited to leverage the knowledge I have learned at school to create value and impact," she said.
Goizueta Builds Corporate Partnerships for Long-Term Growth
In addition to providing invaluable real-world experience for students, the Capstone project is helping to forge important relationships with Fortune 500 companies and startups. Capstone sponsors also are heaping praise on MSBA students and the impact the projects have on their companies. To date, some 18 companies have worked in partnership with students on projects.
"It's been nothing but positive," said Saurabh Parikh, Chief Data & Innovation Officer with CONA Services. "We liked that the project was approached with a view of solving a real-life business problem and not only from a technology point of view." Although this was the first engagement with Goizueta, Parikh noted that CONA looks forward to partnering more "on projects that allow students a real-life platform to put their skills to use," and that allow the company to "gain from fresh thinking and access to a talent pool."
Anqi Zou, Vice President, Enterprise Data Manager for Truist Bank agrees. "Our overall experience has been extremely positive to say the least," she said. "Students from MSBA have always taken a methodical approach to our business problems and delivered tangible results with good-quality code, as well as thought-out presentations to our business and analytics leaders."
Truist has been a sponsor of the capstone project since 2019 and has welcomed "at least 10 Goizueta MSBA graduates" to join the company. MSBA students have worked on capstone projects across multiple lines of business at Truist, including deposits account attrition and fraud detection use cases.
Zou views Truist's partnership with Goizueta as a win–win for her company and Goizueta. "We have recruited diverse and competent talent coming out of the program, conducted multiple Capstone projects using innovative approaches that drive business impact, and broadened our teammates' horizons through MSBA-hosted events, such as the Business Analytics Conference."
Perhaps most important for students, the real-world experience the capstone project offers sets them apart from the competition, according to Taiyi "Phillip" Fang 19MSBA. He accepted a position soon after graduation with Truist, having worked with the company on a Capstone project related to addressing credit card fraud. Today, he serves as vice president, data scientist II and leverages data analytics to build fraud detection models.
"The MSBA program is built in a way that suits the need for both technical and businesspeople," he said. "What makes MSBAers different is that with the similar level of technical competencies, we have better business sense and the skill to communicate technical terms to non-technical people." It is this perspective and ability to build a bridge between business, data, and technology that will continue to set MSBA students up for success for years to come.
Read more about Goizueta Business School's Master of Science in Business Analytics.