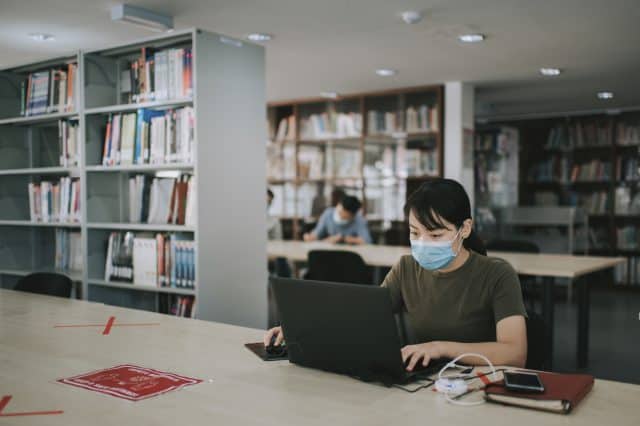 Goizueta is one of the nation's very first business schools, but there's nothing old school about our programs built to challenge and transform the world of business and beyond. That's why we're consistently ranked as one of the best of the best.
Here's a look at the new Spring 2022 course offerings in Goizueta's Full-Time MBA programs:
Entertainment, Culture, and Media: Georgia is the fourth largest center for film and television production in North America and the Entertainment, Culture, Media (ECM) industry represents more than 6 percent of U.S. gross domestic product. Professor of Organization & Management Giacomo Negro will teach Strategies for Entertainment/Media, focusing on the framework for analyzing ECM industries with experiential learning bridging theory and business.
Philanthropy: Brian Goebel, managing director of The Roberto C. Goizueta Business & Society Institute, and Tene Traylor, instructor of Philanthropy Lab, will conduct an experiential learning course introducing business school students to the role of philanthropy in solving public problems with a focus on addressing inequality in Atlanta. The special topics lab will feature guest lectures from philanthropic leaders in the field. The course will lead to student grantmaking of approximately $60,000 to local nonprofit organizations.
Bias at Work: During this course, students explore the science of bias in the workplace and use that knowledge as a foundation for designing and assessing effective policies and interventions within organizations. Instructed by Associate Professor of Organization & Management Erika Hall, students will also learn how disadvantage accumulates through policies and institutions, best practices for serving as an ally, how to conduct bystander intervention, tips for feeling included in the workplace, and best practices for navigating thorny issues.
Negotiation: Live training in negotiation is a component of Professor in the Practice of Organization & Management Michael Sacks' experiential learning course. Students build a theoretical understanding of interpersonal and group negotiations. Being able to negotiate constructively is key to enhance leadership and craft the highest value agreements for a company. This practical knowledge also applies to negotiating job offers and home purchases.
Innovation: Managing Innovation teaches concepts and practical approaches to innovation management within established companies. The topics include managing and funding a robust pipeline of innovative ideas from inception to launch, understanding the essential concepts and economic models, and building an organizational model for innovation management. "Our students are excited about the innovation strategy course because it gives them state-of-the-art, highly practical training in how to manage innovation inside large, incumbent businesses. Most MBAs go to work for large corporations, not start companies as entrepreneurs, yet business programs tend to focus largely on entrepreneurship," says Associate Professor in the Practice of Organization & Management Renee Dye.
Corporate Strategy: Dye will also instruct Corporate Strategy on the concepts and practical skills in corporate portfolio management. The course will introduce students to the basics of corporate financial structure and governance, restructuring and bankruptcy, and how to apply the core principles of U.S. antitrust legislation.
Emotional Intelligence: Leading with Emotional Intelligence, a January accelerated "ACE" course, allows students to delve into the topic as a method of leadership development by focusing on self-awareness, self-regulation, empathy, and organizational networking. Professor in the Practice of Organization & Management Karl Kuhnert will focus on the principles of effective interpersonal communication to address conflict in professional settings.
Entrepreneurship: Charlie Goetz, senior lecturer of Organization & Management, will instruct Introduction to Entrepreneurship, covering all essential steps in building a new venture prior to its launch in the market. The follow-up course Applied Entrepreneurship focuses on the process of managing, growing, and handling issues related to implementing an entrepreneurial venture after the launch of the business in the market.
Learn more about Goizueta's Full-Time MBA programs.