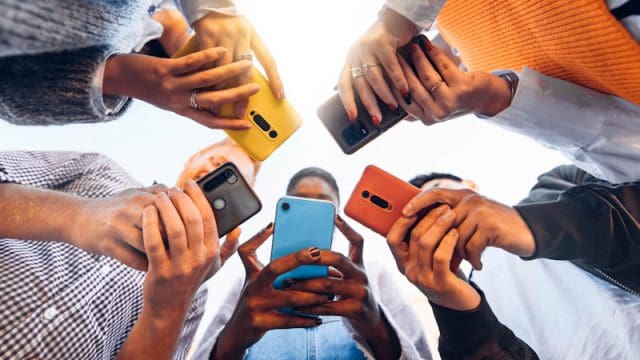 "The average person encounters 6,000-10,000 ads in a single day, and our attention spans have perfected the art of tuning out," says Marina Cooley, Goizueta lecturer of marketing. To advertisers she recommends, "Becoming a compelling storyteller is your best chance to break through."
In her Content Marketing course, Cooley delivers powerful lessons on social media platforms (now and future), the science behind sticky ideas, storytelling techniques, and how to manage cult brands. More than that, she teaches students how to translate these skills to create content that goes viral.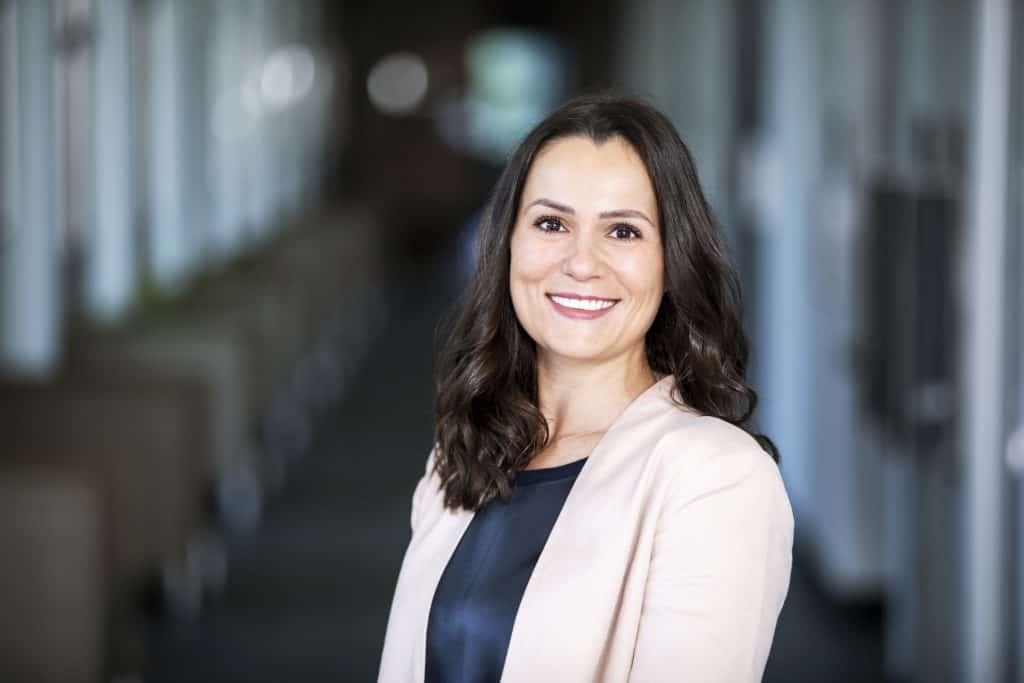 Cooley evolved her popular class by "looking for a way to effectively teach the science of sticky ideas in the context of a world where we are exposed to 10,000 messages a day," she shares.
To maximize student experience, she ruled out working with a failing company and creating a new content strategy and content. "Not enough real-world application," she says. She recruited start-up brands and had students build content strategy and create deliverables. "There wasn't enough of a direct cause and effect," she recalls.
Tapping into her 15 years in consumer packaged goods and expertise in brand positioning for such notable names as Honest, Gold Peak, Coca-Cola, and Lavva, Cooley pivoted the class's direction to what she dubs "a crazy experiment."
She created a class TikTok account and assembled 27 groups to work for 27 days. The objective?
Apply class lessons and try to create a video that goes viral. Cooley invited Bari Rosenstein, a leading TikTok brand creator, to lead "Anatomy of a TikTok" and share insight to flatten the learning curve.
Injecting Humor, Commonality, and the Unexpected into TikTok Videos Pays Off
So, what critical elements work together to create a viral video? "A visually shocking first 5 seconds to pull them in, then creating a knowledge gap, which is a question the audience can only find the answer for by watching the full video, and a short enough video that requires the audience to watch multiple times to catch all the details," Cooley points out. "And authenticity…staged content just doesn't work."
With this algorithm in mind, the class set a purpose for the account: "to create a sense of community for college students through relatability—the humor, the struggles, the student experience," Cooley explains.
With millions of views, hundreds of thousands of likes and comments, and more than 10,000 shares for the top three class videos alone, this marketing experiment paid off. Here is a glimpse into these highly successful—and viral—videos.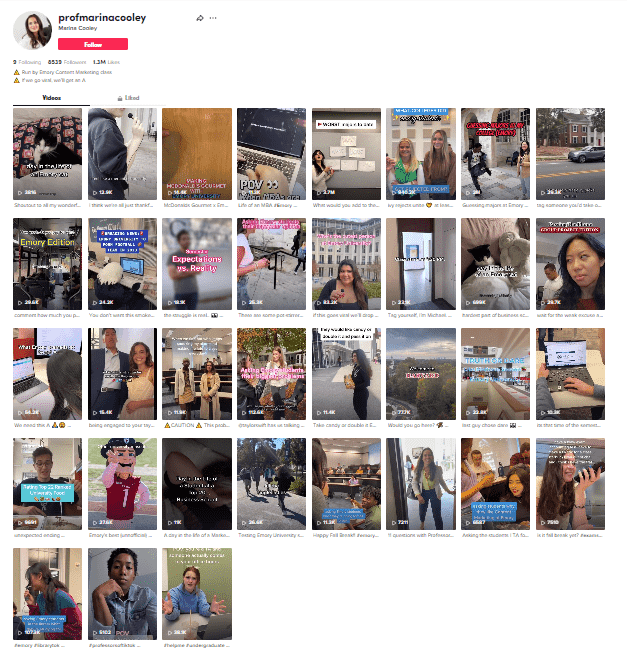 "Day in the Life of an Emory Cat"
A sunup to sundown glimpse at campus life "was our first truly viral breakthrough," Cooley says. The video gained popularity with an unexpected star: one very cool cat named Loki. Authentic and humorous details include the cat whipping up a protein shake, taking a drive, and visiting with Emory University President Gregory Fenves.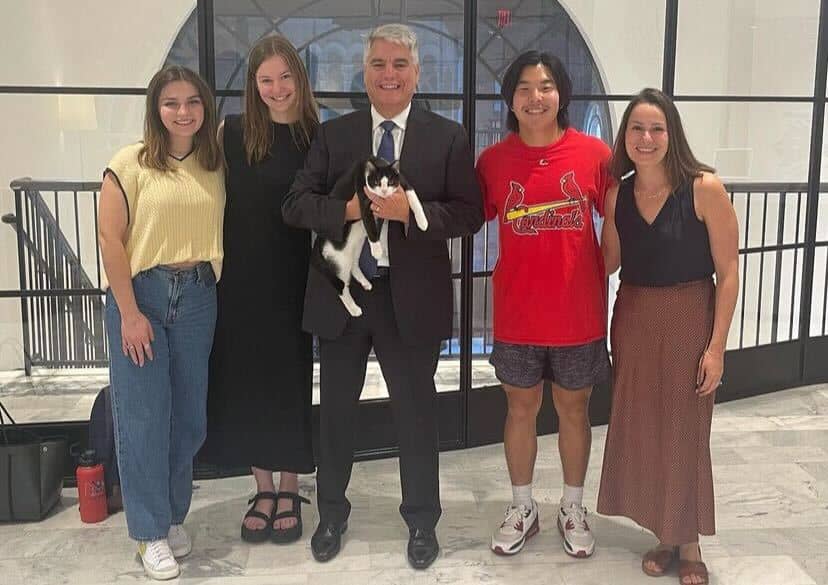 Using a cat as lead actor was both novel and challenging. "Not only did we think it had the potential to break through the chaos, but it also meant that we did not have to be in the video," says cat owner and co-creator Rebecca Brazaitis 24BBA. "One of my teammates Madison had the idea to make him have a 'bro' persona, and we just ran from there!"
Brazaitis shares that Loki is a very well-mannered cat. "We were nervous for the scene with President Fenves, and while we were waiting for the president, we had Loki practice 'sitting' in the chair," she recalls. "Amazingly, when the president sat down and we started to film, he stayed in his place and was the perfect actor!"
The students really elevated their editing and creativity to make Emory proud.

Marina Cooley comments on the students appealing to audiences of all ages and demographics.
"When my groupmates and I were coming up with the video idea, we were thinking about some of the things we learned in class about creating sticky content, but we were also just throwing a dart at a board," Brazaitis shares. "While we can do our best to create great content, what actually breaks through the noise is sometimes content that is so unexpected. You just have to be consistent. This was such a fun experiment!"
"Guessing Majors at College"
Despite a longer-than-average length for a TikTok video at two minutes 30 seconds, audiences loved this video. "Thirty percent of people watched the whole video," Cooley says. "That's an eternity in TikTok time and an unbelievable watch-through rate."
With a tongue-in-cheek nod to college major stereotypes and an engaging interviewer, this video's power comes in appealing to all college students and highlighting self-effacing laughter and "the knowledge gaps created for every major," Cooley explains. With a universal touch, the video represented majors across the business school and liberal arts, including computer science, pre-med, French, and dance.
"The video was fun, relatable (to all college students around the world), fits perfectly with the professor's TikTok account, and featured many interesting characters," shares Aidan Ha 24BBA.
The TikTok's length was an important consideration. "Would it have done better if it was shorter? My guess would be it would have gotten more views, but with fewer engagements," Ha says. "I think one reason the video did so well was that there is so much content packed into one video. Every clip was different, fun, and entertaining."
He adds, "That gave users many things to react to and many things to comment about, which drove a lot of engagement. When engagement is good, TikTok pushes the video to more people."
Is social stardom in Ha's future? "I had a big adrenaline rush when the video first blew up, which if I am being honest, got me daydreaming about becoming a successful influencer. I've come back to earth now, but who knows, I might make a video or two in the future just for fun!"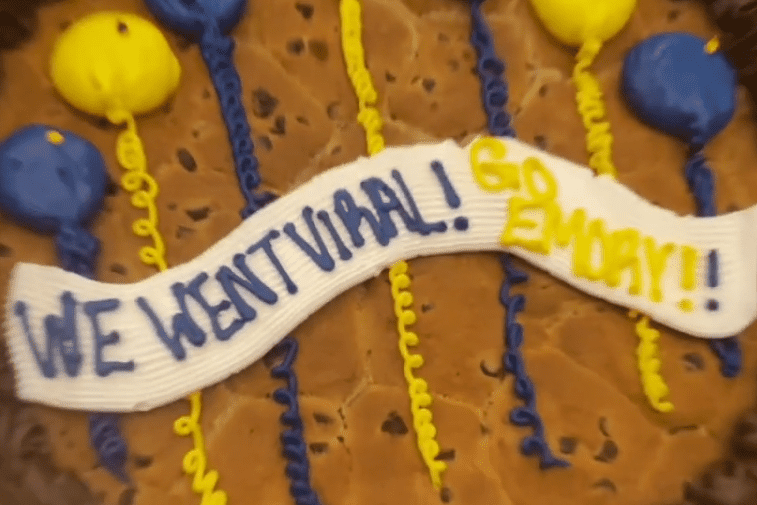 "Worst Majors to Date"
For college students, bad dates are a proverbial rite of passage. Tapping into the inevitability—and humor—in this shared experience, this short video became an instant hit that is quickly approaching 4 million views. "This video worked because it was under 30 seconds, presented a knowledge gap of 'what is at the top of the pyramid,' and had so much clever text added at each major reveal that you had to watch over and over," Cooley says.
On-camera star Margaret Chang 23BBA "was quite nervous about having my face in the video, but the positive feedback eased my worries," she says. "My group and I had no idea our video would be so popular. We were expecting views somewhere in the 10,000s, maybe 100,000 if we were lucky."
When the video started taking off a couple hours after being posted, it felt almost surreal watching the numbers multiply by the second.

Margaret Chang 23BBA
Conceptualizing in class with her group, "We agreed that whatever we settled on needed to be as simple as possible, capitalize on some well-known trend, be short in length, relate to our target audience, and, most importantly, be funny," Chang explains. With a pyramid reveal in mind, "We thought about what to rank and decided on 'the worst majors to date' because it would speak to a wide audience of college students (everyone has a major) and spark active discussion in the comments (people have surprisingly strong opinions on this topic). We filmed our video the very next day in Woodruff Library."
The Science of Growing Community Through Viral Videos
TikTok has truly democratized the dissemination of content creation.

Marina Cooley
While the mechanics of virality and sticky ideas remain unchanged, distribution platforms continue to evolve. "It's a wonderful proof point that the science works."
Success, it seems, is derived from consistency. In evaluating how content creation becomes viral, Cooley admits: "I didn't fully believe that and thought there was a lot more luck involved." She notes, "Having posted content for 27 days, I can now attest that, yes, consistency matters so much to the algorithm. The algorithm absolutely rewards consistent posting and content that is good enough to be shared. It's built on virality."
With a focus on strategy and analytics, Goizueta marketing faculty are challenging the status quo in business and preparing the workforce of tomorrow to lead. Check out the transformational research and projects of our marketing faculty.